FibroGen (NASDAQ:FGEN) is a San Francisco-based biopharmaceutical company focused on the discovery, development and commercialization of novel therapeutics to treat anemia and fibrosis.
The company's lead anemia product candidate, FG-4592 (roxadustat), is an oral small molecule inhibitor of Hypoxia-Inducible Factor Prolyl Hydroxylase (HIFPH). By inhibiting HIFPH, the stability of HIF-2α in the kidney is increased, which results in an increase in endogenous production of erythropoietin [Ref]. FG-4592 previously made it through to phase 2 clinical trials, but it was temporarily suspended in May 2007 following the death of a trial participant from fulminant hepatitis in the FG-2216 trial. FG-2216 has the same MOA and similar chemical structure as FG-4592. However, FDA resumed both clinical programs with no evidence of direct cause [ref].
FG-4592 is the only drug in the limited and varied pipeline supported by commercial collaboration with Astellas Pharma (OTCPK:ALPMF) and AstraZeneca (NYSE:AZN).
Besides small molecule FG-4592, FibroGen lead IPF drug candidate FG-3019 (pamrevlumab) is a monoclonal antibody under clinical development for treating Idiopathic Pulmonary Fibrosis (IPF), pancreatic cancer and liver fibrosis.
[ref]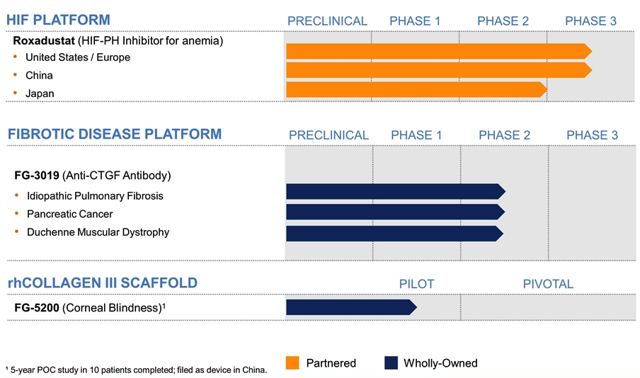 FibroGen has data from multiple studies coming out in early 2017. First, the company is expecting to announce top-line Phase 3 data from the China trial in 1Q17 for roxadustat in the treatment of anemia in chronic kidney disease (CKD). Also, Phase 2 interim results for pamrevlumab in the treatment of pancreatic cancer are expected in 1Q17 and Idiopathic Pulmonary Fibrosis by Q217.
Based on comparable and fundamental analysis, FGEN will underperform the market with a high estimate of $23 and a low estimate of $12. This target includes potential serious adverse effects in the current trials with little prospect of success, low financial outcome from future sales of roxadustat, declining market share and attacks from competitors in Europe and Asia, difficulties in securing company's debt.
FibroGen's Expected News Flow
[ref]

Roxadustat
Roxadustat's clinical strength is supported by Phase 2 data in which hemoglobin and serum iron levels in anemic CKD patients improved even in the absence of iv iron supplementation [ref]. Roxadustat corrects anemia in both treatment-naïve patients not on dialysis, and is also effective for maintenance of hemoglobin in patients with CKD both on and not on dialysis; 96% of patients not on dialysis had an increase in hemoglobin of at least 1 g/dl. With a time to response of 21 days, it is considerably faster than the 49 days with the usual starting doses of the ESAs Epogen and Aranesp [ref]. Serum iron levels remain stable even in patients undergoing rapid erythropoiesis, and peak erythropoietin levels remain in the physiological range. Maximum efficacy was achieved with three-times weekly dosing during the hemoglobin correction phase, with twice-weekly dosing during the hemoglobin maintenance phase [ref].
Besides early positive data, there is a lack of late-stage data and questions that will be answered very soon in 2017; hypertension was reported in 7% of patients in phase 2 trials, which although it is lower than the rate seen for ESAs it may still be clinically meaningful. Edema, urinary tract infection and nausea were other commonly reported adverse events seen in trials. At this stage, patients have not shown significantly adverse effects associated with carcinogenicity. Of note, two-year carcinogenicity studies in rats and mice were negative [ref]. No reference to carcinogenicity or any other studies in primates.
Studies in some parts of the globe are tampering the overall development as patients who may not be on dialysis but are in range of dialysis and not defined as "non dialysis" to FDA are enrolled in clinical studies.
Market
CKD is a worldwide critical healthcare problem that drives significant healthcare cost; in the US, prevalence of CKD has increased dramatically in the past 20 years to 15% of the population [ref].
Roxadustat will potentially be the first-in-class oral treatment for anemia associated with CKD. Although ESAs were introduced nearly 20 years ago, the CKD anemia market in the US is limited to the treatment of dialysis patients; the oral availability of roxadustat may increase access to anemia therapy for the largely underserved population of patients with anemia and CKD not yet on dialysis. As an oral agent, the drug has the potential to overcome the treatment barriers and inconveniences of current ESA therapies, including administration by injection and the need for iv iron supplementation. Dyslipidemia and hypertension are highly prevalent in CKD patients and are major cardiovascular risk factors in this population; data confirming improved cardiovascular outcomes would represent a significant commercial advantage.
The dialysis setting represents a primed market due to patients' urgent need for hemoglobin stabilization; 50% of patients with CKD stages two to five have absolute or functional iron deficiency.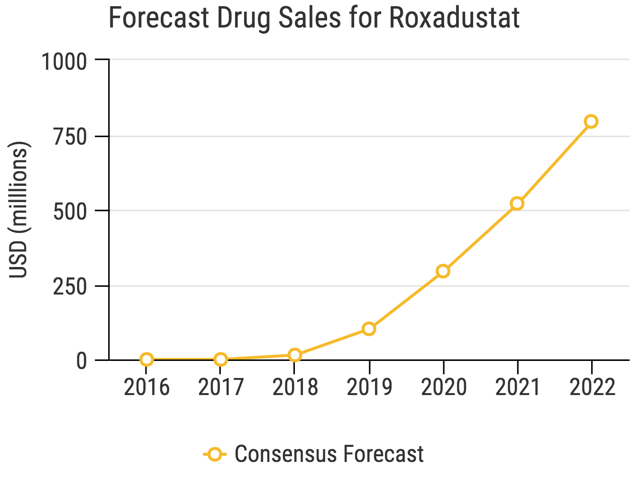 On the other side, roxadustat is facing many threats, first of all regulatory risk. The side-effect profile is not yet clear given the generalized way the drug works along with poor specificity of small molecules [ref]. Epogen and Aranesp (ESAs) are well-entrenched and effective market leaders and will challenge any new entrants in this market. Familiarity with oral-only medications in dialysis bundles may be low among physicians, at least in early launch; confirmed safety and efficacy in real-world use is also likely to be critical for growth as roxadustat might face more adverse effects in the ongoing clinical studies. Most importantly, FibroGen faces a major challenge from competitors as Akebia and GSK.
Competitors
Akebia (AKB-6548)
Akebia Therapeutics, Inc. (NASDAQ:AKBA) is a biopharmaceutical company focused on delivering innovative therapies to patients with kidney disease through the biology of Hypoxia Inducible Factor (HIF).
Akebia's AKB-6548 (vadadustat) has the same mechanism of action of roxadustat and entered phase 3 testing with two independent studies in 2016. INNO2VATE is a clinical study related to anemia-CKD whose patients are in dialysis. PRO2TECT includes non-dialysis patients with anemia-CKD. For both studies NDA-filing pending positive data due in 2019 after data release. CEO John Butler stated the company expects data in late 2018 from PRO2TECT and in 1H19 from INNO2VATE [ref].
On December 20, 2016, the European Patent Office revoked two patents for HIF-related technology in Europe from FibroGen.
"While we believe that this patent would not have impacted our ability to commercialize in Europe, we are pleased that the EPO has confirmed that another of FibroGen's patents associated with HIF is invalid," stated John P. Butler, President and Chief Executive Officer of Akebia. "Our focus continues to be advancing our Phase 3 program for vadadustat, while progressing our discussions with potential partners regarding a geographic collaboration for vadadustat in regions not currently partnered." [ref]
In December 2016, Otsuka Pharmaceutical entered into a co-exclusive agreement with Akebia Therapeutics to develop and commercialize Akebia's vadadustat for anemia associated with CKD in the US. Otsuka would exercise an option to convert the economic arrangement, from a profit share agreement to a mid-single digit royalty to be paid by Akebia to Otsuka based on sales of vadadustat in US. [ref] Akebia is still seeking to outlicense the program for Europe.
In December 2015, Mitsubishi Tanabe Pharma (MTPC) entered into an exclusive agreement to develop and commercialize Akebia's vadadustat for anemia related to CKD in Japan and other Asian countries [ref]. MTPC would make tiered royalty payments from low teens up to twenty percent based on the net sales of licensed product.
GSK (GSK-1278863)
GSK also has a potential player in the space, GSK-1278863 (daprodustat), for which a phase 3 trial started in November 2016 [ref].
The phase 3 program includes two studies evaluating the safety and efficacy of daprodustat compared to recombinant human erythropoietin: ASCEND-D (anemia studies in CKD: erythropoiesis via a novel PHI daprodustat-dialysis) and ASCEND-ND (anemia studies in CKD: erythropoiesis via a novel PHI daprodustat-non-dialysis). Both studies are expected to complete in 2020-2021.
The forecast drug sales for daprodustat is $16.4M in 2019, $32.8M in 2020, $98.5M in 2021 and $131.3M in 2022, which will dent roxadustat sales of at least 20% depending on the competitive marketing strategy.
Iron therapy via an iron delivery compound may also be effective; phase 3 data of Rockwell Medical's (NASDAQ:RMTI) Triferic, a soluble ferric pyrophosphate, showed that delivery to hemodialysis patients via dialysate could replace 5 to 7 mg of lost iron and significantly improve hemoglobin from baseline to end of treatment [ref]. Triferic was accepted for commercialization in US and China early in 2016 [ref].
Active Deals
In September 2004, Astellas Pharma gained exclusive rights to develop and market FibroGen's erythropoietic small molecule for anemia and certain other FibroGen compounds with a similar mechanism of action in Japan. After several milestones in June 2016, FibroGen announced initiation of phase 2 clinical study in Japan of roxadustat/asp1517 for the treatment of anemia in CKD by Astellas. Projected milestones are $815M, of which half- paid since 2006. Astellas and FibroGen have not disclosed yet any tiered royalty and any other contingent license payment.
In July 2013, AstraZeneca and FibroGen entered into a strategic collaboration to develop and commercialize FG-4592 for the treatment of anemia associated with CKD and end-stage renal disease (ESRD) in the US, China and all major markets excluding Europe, Japan, Commonwealth of Independent States, South Africa and the Middle East [ref]. Projected current milestone payments are $1.645B, of which $197M paid since 2013; FibroGen would also receive tiered royalties on future sales in the low 20% range.
Initial Public Offering
In November 2014, the company announced the pricing of 8.1M shares of its common stock at a public offering price of $18.00 per share on the NASDAQ Global Market. The IPO was a total of 9.315M shares of common stock of FibroGen, with gross proceeds of approximately $167.7M. At that time, the company raised net proceeds of $171.8M from the IPO [Ref]. The 180-day lockup period expired on May 13, 2015. Company insiders got the chance to sell. In the following three days, FGEN opened at $23.62 and dropped 14% to $20.38. In the same period, Nasdaq Biotech (NBI) and NASDAQ Composite (IXIC) returned +0.69% and +1.14%.
Stock Price and Valuation
Company insiders have sold 276,985 shares in 20 transactions in the last 3 months reflecting a previous 12-months trend, in which selling outperformed buying by 5 times (751,848 shares). Shares of FibroGen have a 52-week low of $14.38 and 52-week high of $31 with a market capitalization of $1.35B. The shares are hovering around $21.
FGEN underperformed the market and closed 2016 with -30.82%. SPX and NBI returned 11.77% and -18.14%.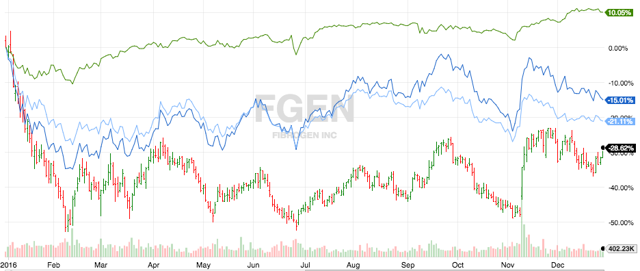 The company reported ($0.38) EPS for the 3Q16, negative ROE of -40.38% and negative net margin of -45.93%. The current ratio of 4.11 is lower than a group of comparable in the same sector, market cap, market target and IPO date. Net cash/share is negative (1.05) and much lower than comparable. D/E of 0.55, cash to debt 2.48, BV/share 3.51 and EPS -1.29 (TTM).
Forecast drug sales for roxadustat will reach $1B in 2021-2022 with revenues 50:50 between FibroGen and AstraZeneca.
Any future capital raise will be dependent more likely on potential success of fibrosis drug, FG-3019 in multiple indications.
I project that FGEN will underperform the market over the next 6 to 12 months. This projection is based on an analysis of three key factors that influence common stock performance: earnings strength, relative valuation and recent price movement. Based on comparable and fundamental analysis FGEN will underperform the market with a high estimate of $23 and a low estimate of $12.
In the short term, upcoming FDA meetings around changes in the Phase 3 program and whether there are any timing, regulatory, or powering implications will be essential to determine any 52-week changes in the market price.
Disclosure: I/we have no positions in any stocks mentioned, and no plans to initiate any positions within the next 72 hours.
I wrote this article myself, and it expresses my own opinions. I am not receiving compensation for it. I have no business relationship with any company whose stock is mentioned in this article.
Additional disclosure: The opinions expressed herein by the author are his alone, and do not reflect the opinions of QStat Consulting or any employee thereof. QStat Consulting is not responsible for the accuracy of any of the information supplied by the author of this article.