This Isn't Just An Online Bookstore Anymore .... It's A Non-stop Growth Machine
The picture below is a napkin sketch supposedly drawn by Jeff Bezos near the time of Amazon's (NASDAQ:AMZN) IPO.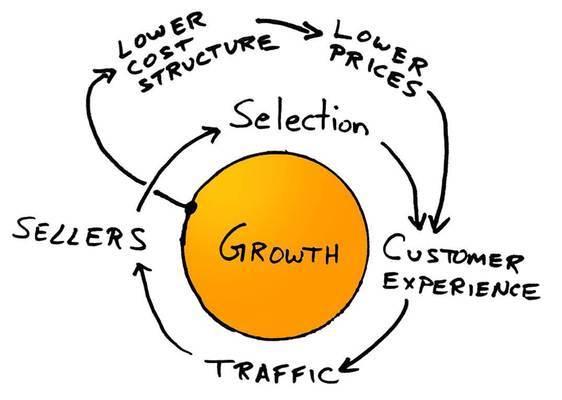 In 1995, Amazon was an online bookstore doing $500K in revenue. In 2016, Amazon is a tech titan with industry leading exposure to a mouthwatering array of bullish tech trends (US e-commerce, cloud, AI, machine learning, drones, streaming, etc..) on pace to do nearly $140B in revenue. That's a lot of growth.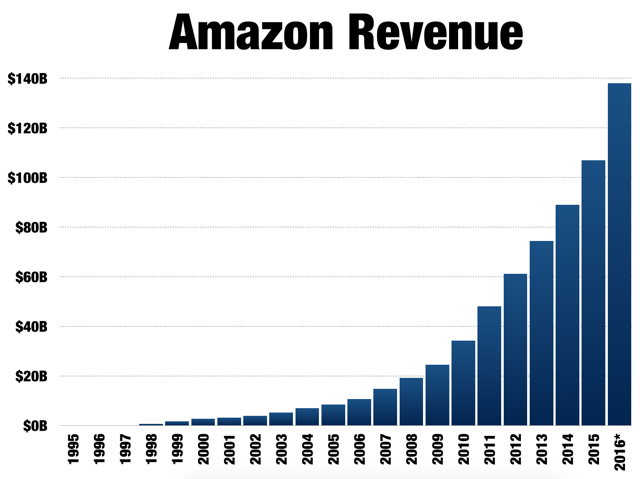 To say that Amazon's owner/operator/founder Jeff Bezos (who still owns 17% of the company) is an excellent CEO almost seems like an insulting understatement.
Amazon's methodical dominance across multiple industries has proven that Jeff Bezos is one of the 21st century's greatest visionaries.
Amazon is by far my favorite mega-cap stock. Although the company has reached unfathomable scale with nearly $140B in revenue and a market capitalization of $350B, there is a lot of juice left in the tank.
To simplify what we're dealing with, I've lumped Amazon's businesses into three buckets, core Amazon.com e-commerce, AWS and Other.
The Core Engine: Amazon.com
Amazon.com's core retail business is nowhere near maturity. We are still in the first or second inning of retail going online, and there's no question who stands to benefit the most.
As of Q3 2016, less than 10% of US retail sales were done online (according to the US Dept. of Commerce).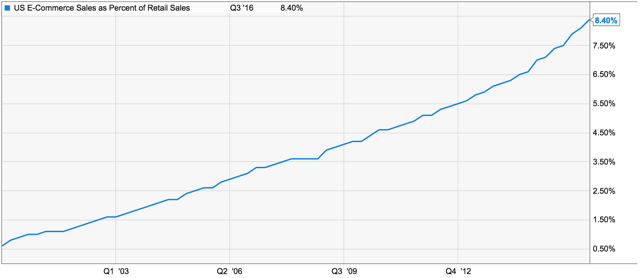 Amazon is poised to capture the bulk of these dollars. In 2015, the company accounted for more 51% of all US e-commerce growth.
Although this chart from Fortune is a little over a year old, it gives some perspective into just how far ahead of the pack Amazon is.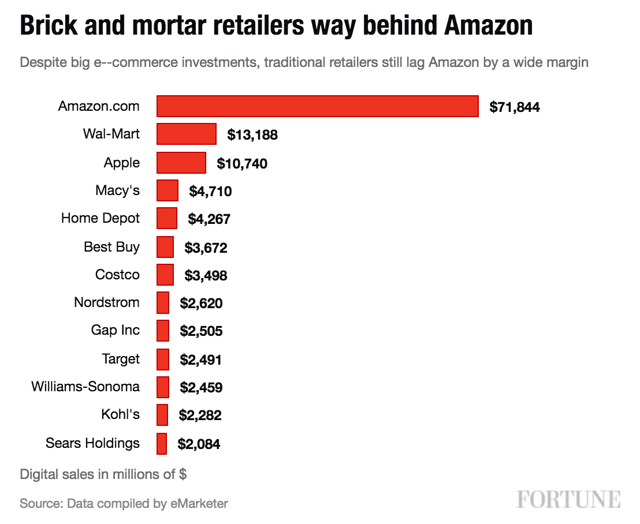 Amazon.com's core e-commerce business continues to enter new categories with methodical consistency. As more and more purchasing power continues to shift online and Amazon offers more and more products, there's no question who the beneficiary of this sales tidal wave will be.
Amazon's Next $100B Business: AWS
Amazon pioneered the cloud computing industry when it launched AWS in 2006. Since then it has been investing dramatically in expanding AWS to reduce costs for its end users and add on new features and services to make it more useful.
Much like it's doing in e-commerce, in the cloud, Amazon has left its competition in the dust ...
This screenshot from RightScale's 2016 State of the Cloud Report shows AWS's dominance in cloud computing.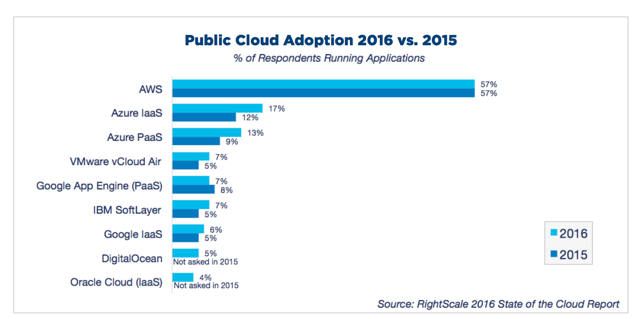 Microsoft's (NASDAQ:MSFT) Azure Cloud Platform is catching up, but still has a long way to go. Regardless, the cloud computing market as a whole is setting up for massive growth over the next decade.
As more and more consumers create more data, enterprises will need more and more infrastructure to store and analyze it. IBM (NYSE:IBM) recently reported that 2.5 quintillion bytes of data are being created per day, and that 90% of the world's data was created in the last two years.
Still not amped about AWS and the cloud? Look at the numbers. AWS grew more than 50% in Q3, and is now at a $3.2B quarterly revenue run rate (~$13B on an annualized basis).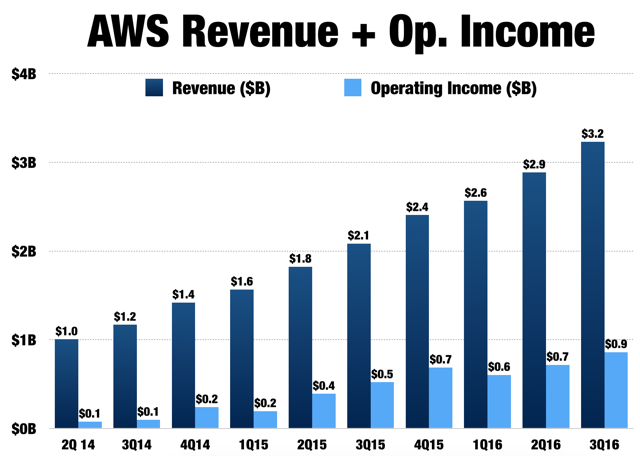 To top it off, the business looks like it has the potential to produce quite the profit. Operating income from Amazon's AWS segment was nearly $900M in Q3, and was up over 100% Y/Y.
As the growth rate of AWS continues to be nearly double the rate of Amazon's total revenue growth it is eating up a bigger and bigger chunk of total sales.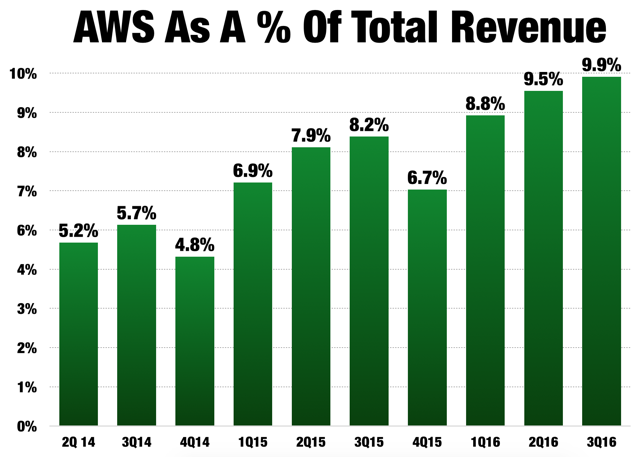 Other, AKA Moonshots: Alexa, Prime, Kindle, Go
Jeff Bezos is an innovation machine. Amazon is quietly putting its hand into tons of new industries. Although none of its new projects have seen the commercial success of Amazon.com or AWS, a couple may be getting close. My two personal favorites are Prime, Go and Alexa.
1. Alexa. Much to the dismay of Apple (NASDAQ:AAPL) and Google (NASDAQ:GOOG) (NASDAQ:GOOGL), Amazon is on its way to becoming the first tech company to bring artificial intelligence to consumers daily lives. TechCrunch estimates Amazon sold 9X as many Echo devices this holiday as last year. I'd say it's catching on.
2. Prime. This is the company's Trojan Horse. A $99/yearly subscription that subconsciously guilts you into making every purchase on Amazon to take advantage of the free shipping you just bought. Oh yeah, and it has free streaming movies, shows and books.
3. Go. If you haven't seen the YouTube trailer for Amazon Go, it's a must watch. A grocery store that uses machine learning, artificial intelligence and a network of cameras to track everything in your shopping cart so you never have to wait in line again? Not a bad idea, and a massive addressable market if it decides to take this concept all the way.
Growth Is Great, But Wait ... Where Are The Profits?
You may have heard the rumors, an unfathomably high P/E ratio, a history of $0 in net income, etc. Sure, growth is great, but where the hell are the profits? Shouldn't Amazon's industry domination and revenue growth be leading to massive earnings?
All valid questions. On the surface, there's no doubt that Amazon looks like it's a business that can't make a profit to save its life.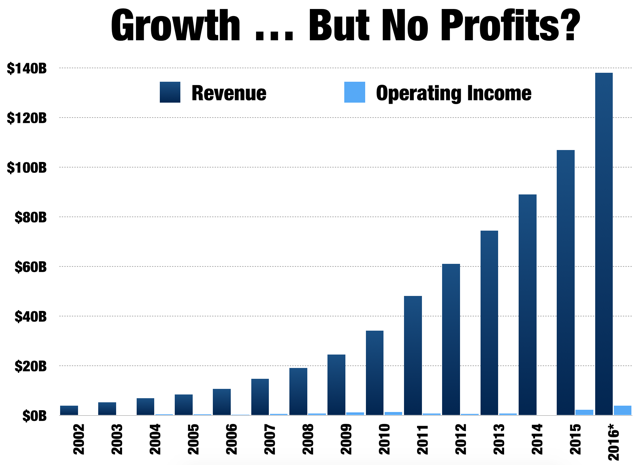 However, these two metrics are relevant, but do not tell the whole story.
Amazon isn't just one business. In fact, it's not even two businesses; it's a collection of hundreds and hundreds of divisions, each with their own profitability targets and working at different stages of maturity. Collectively, these businesses are perennially operating near breakeven, but if we look under the hood, there's a lot more going on.
Why The Bear Case Of All Growth No Profits Is A Wild Misconception
Amazon's lack of profits couldn't be more intentional. Like clockwork, Amazon cognizantly reinvests every penny of earnings directly back into growing its business.
This company runs like a well oiled machine. Bezos knows exactly what he is doing. If his finance background at a quantitative hedge fund DE Shaw doesn't convince you he's a finance wiz, then all you need to do is look at Amazon's operating cash flow.
Amazon's operating cash flow has been positive since 2002 and appears to be on track to rise 51% in 2016 to $18B (my estimate).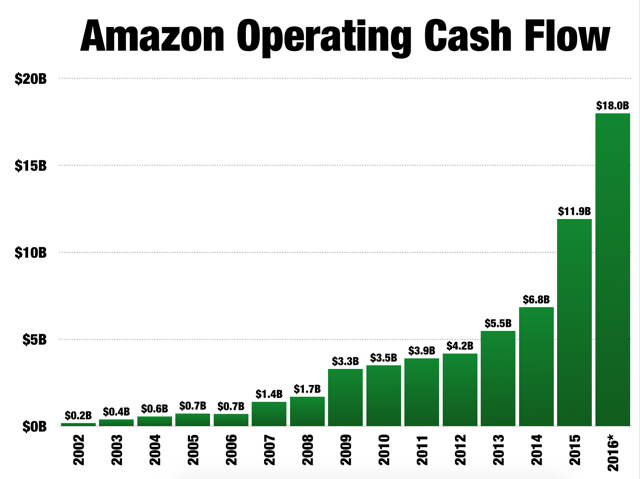 Amazon's operating business looks like a cash machine. The only reason cash isn't piling up on the balance sheet is because the company invests nearly every penny of this cash flow right back into building its future.
So where is all that cash flow going? Warehouses, Cloud Computing Infrastructure and Bezos Next Big Scheme
As the stream of Amazon's available cash flow grows, so do its investments.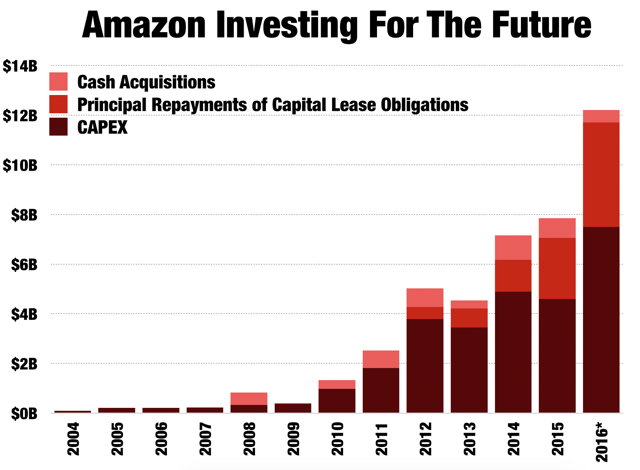 The company has been pouring billions of dollars into building new warehouses and infrastructure to fuel growth for many years to come. I'd argue this is an excellent move.
Google is a great example of a tech company that grew with incredible speed and profitability, and actually surpassed Amazon's overall revenue in 2007, despite being a decade younger. However, that victory was short lived. Amazon's decision to reinvest every drop of excess cash instead of letting it hangout on its balance sheet, is slowly proving Bezos's brilliance.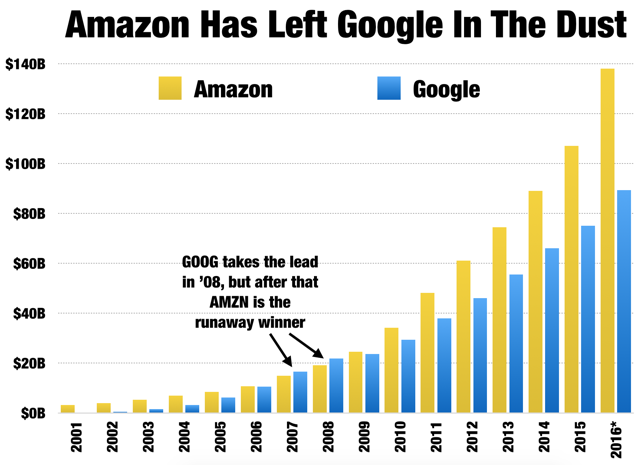 Although Amazon is sacrificing current earnings for growth, it is consistently growing its earnings potential.
Valuation Summary
With a market cap of $350B and EBIT in 2016 of $4B (my estimate), Amazon is valued at a P/EBIT of 88X.
Although GAAP earnings are virtually non-existent, Amazon's long-term earnings power continues to rise exponentially.
This year's EBIT of $4B vastly understates Amazon's earnings power. If the company were to stop investing for the future it would generate close to $18B in cash flow. That puts the Market Cap/2016 Operating Cash Flow multiple at 19X.
Amazon is on pace to grow 28% in 2016. If the company grows on average at a growth rate of 25% in 2017 and 2018, it will produce 2018 revenue of $216B. With sales at that level, a rough estimate of the company's operating cash flow points to $35B+ in 2018.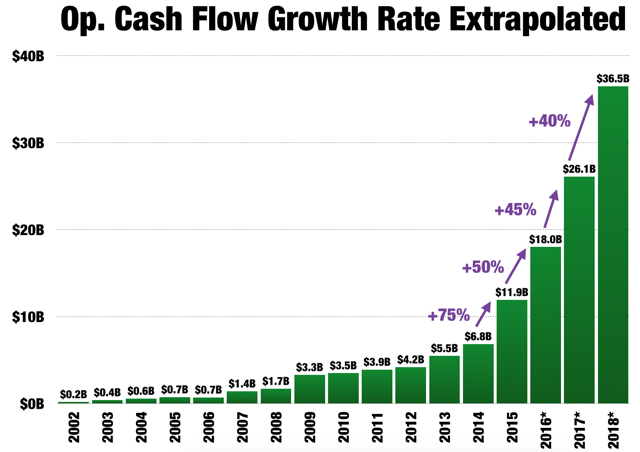 With revenue of $216B and operating cash flow of $35B, a $1T market cap Amazon would only be valued at 4.6X revenue and 29X operating cash flow.
As Amazon's e-commerce, cloud and moonshot businesses continue to grow beyond 2018, the case for a $1T market cap will become stronger by the day.
Risks
It is difficult to separate how much of Amazon's spending is going to maintain its current business and how much is fueling growth. For this reason, the precise profitability of its operating business remains a mystery.
If Amazon cannot continue to post a growth rate above 15%, the market is likely to become a lot more skeptical of its future profitability and potential. This could dramatically reduce the P/S valuation at which the company is valued. However, the beautiful thing about Amazon's business model is that it's very easy to slow the rate of investing, if the cash flow from its core business were to temporarily falter. This makes the risk of bankruptcy minimal.
Amazon's Biggest Asset Isn't In Any Of Its SEC Filings: Bezos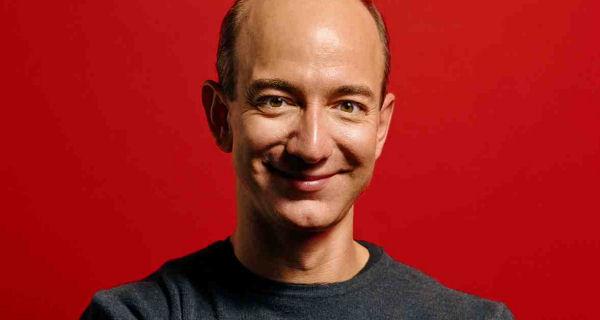 The benefit of having a visionary owner/operator/founder in Jeff Bezos cannot be understated. He has taken Amazon from an online bookstore to one of the world's 10 largest companies by market cap. There is no telling what industry he will disrupt next.
Conclusion: $2,000 per share? $1T Marketcap? Yes.
Skeptics that preach of Amazon's unfathomable P/E ratio are simply using surface level financial metrics that don't do the justice to the full story. The only reason Amazon isn't spitting out tens of billions in profit is because it's re-investing every penny of cash flow into an even grander future.
Believers in the future that Bezos is building have been aptly rewarded with a stock that has produced an annualized return of 22% since a 1997 IPO despite two recessions (2001 and 2008).
As Amazon marches beyond $200B in sales in 2018 and operating cash flow continues to pile up, skeptics will slowly face the reality that Bezos is a fiscal genius, and Amazon's choice not to produce a profit could never have been more intentional.
Disclosure: I/we have no positions in any stocks mentioned, and no plans to initiate any positions within the next 72 hours.
I wrote this article myself, and it expresses my own opinions. I am not receiving compensation for it (other than from Seeking Alpha). I have no business relationship with any company whose stock is mentioned in this article.