As many of my followers know, real estate investment trusts (REITs) tend to be my primary area of focus, but I have decided to change gears for a while. My goal going forward is to identify companies that would be excellent additions to the most conservative income investor's portfolio. I expect that some of my picks will be controversial, but my plan is to show yield-chasers why choosing a stock that pays a lower-than-expected dividend can make sense, and why income investors need to think about the long term gain and review corporate financials. The first company I am going to review is Stepan Co. (NYSE:SCL).

Stepan Co. Overview
I want to set the tone early on about SCL, because it is one of the most consistent dividend-paying companies you can buy (one of 27 companies with a 48+ year annual dividend increase track record), but most people (including myself) have never heard the name. SCL is a chemical company that specializes in surfactants, polymers, and other specialty products (more explanation on these product lines to come). SCL been in business for over 82 years and has been paying a growing dividend since 1968 (49 consecutive years of growth) and has executed five 2-for-1 stock splits since 1972.
According to SCL's corporate profile, they claim that their competitive advantage comes from the fact that it does not have "competitors to precisely match its businesses because its products have a specific focus."
Worldwide Reach
SCL has 18 plants in total spread throughout 12 countries. Through geographic diversification, SCL is able to maintain and expand operations in North America, South America, China, Philippines, and Europe.
Product Lines
To better understand the company's product lines, I decided to do a little research online in tandem with the company overview to better explain what each product line means to SCL.
Surfactants - According to the Essential Chemical Industry, "Surfactants are one of many different compounds that make up a detergent. They are added to remove dirt from skin, clothes and household articles particularly in kitchens and bathrooms. They are also used extensively in industry." In addition to surfactants, SCL produces germicidal quaternary compounds which are essential for killing germs, mold, and mildew. The following lists give you an idea of what types products are dependent on surfactants:
Consumer Products
Detergents
Fabric Softeners
Hard Surface Cleaners
Shampoos
Lotions
Toothpaste
Cosmetics
Industrial Products
Gypsum Wallboard
Moisture Repellence (Paint & Coatings)
Spreading & Application (Agricultural Products)
Polymers - According to the Essential Chemical Industry, polymers are formed by many molecules of a simple compound joining together. The primary category of polymers made in large bulk, but more recently three new types of polymer categories are:
Specialty Polymers - Small quantities made for specific purpose.
Degradable Polymers - "Developed in order to improve the environmental legacy of these important compounds."
Composite Polymers - Reinforced plastics.
The following is a breakdown of SCL's polymer product line offering and common uses for those polymers.
1. Phthalic Anhydride
Plasticizers
Polyester
Alkyd Resins
2. Polyurethane Polyols
Laminate Board
Coatings
Adhesives
Sealants
Elastomers Formulations
3. Polyurethane Systems
Reinforcement
Thermal Insulation
Specialty Products - SCL's specialty products focus primarily on consumer applications that include natural flavors for the beverage industry and esters for the food and pharmaceutical industry, according to SCL's corporate profile.
Many of the products that SCL develops compounds for are common household goods that are more resistant to recession and financial disturbances. I see this as a competitive advantage for SCL.
Capitalizing Higher-Margin Products
Several product lines have seen flat sales over the last half decade, but other areas have seen tremendous growth, primarily in polymers. The following graph demonstrates the significance of polymers to SCL's rapidly growing revenues.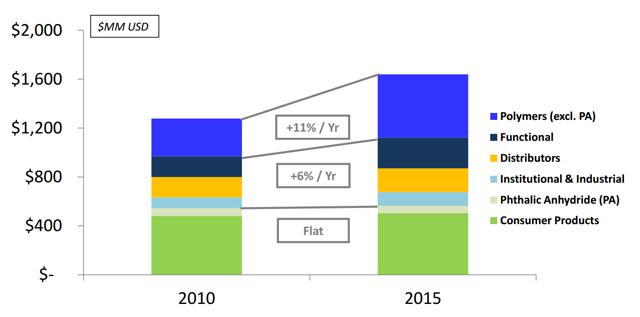 Source: September's Investor Presentation - KeyBanc Basic Materials & Packaging Conference
Based on this graph we can see that the greatest opportunity for growth appears to be in polymers. In many ways, this makes perfect sense, because polymers improve the efficiency of nearly every industry from construction to healthcare. In the KeyBanc Investor Presentation, SCL noted that polymers sales were almost flat, but the operating income from the polymer segment was $2.5 million for the first nine months of 2016 when compared to the first nine months of 2015. This increased income is approximately a 10% year-over-year increase. It is also worth noting that a new specialty polyol reactor in Poland began production in Q4-2016.
The benefit polymers add to the SCL product line can be seen in the most recent revenue and operating income section of the Q3-2016 10-Q Filing.

If we only reviewed SCL's revenues, we would be looking at a very lackluster year of growth for the company. We could also assume that the company is overwhelmingly dependent on surfactants, but when we review the operating income statement we can see a very different story. SCL has made tremendous efficiency improvements that have improved the profitability of all three segments, but most significantly for polymers and specialty products.

In SCL's case, operating income provides clarity as to why their company is such a powerhouse for shareholder returns. Even with revenue almost completely stagnant, operating income grew over 17.7% year-over-year. The same trend is true for the specialty products, as this product line is close to doubling the operating income in the first nine months of the year.
Operating Income Efficiency
I have prepared the following table to put this in a different perspective that better represents how significant these improvements really are. (Remember, this chart is covering the first nine months of 2015 and 2016 sales/operating income).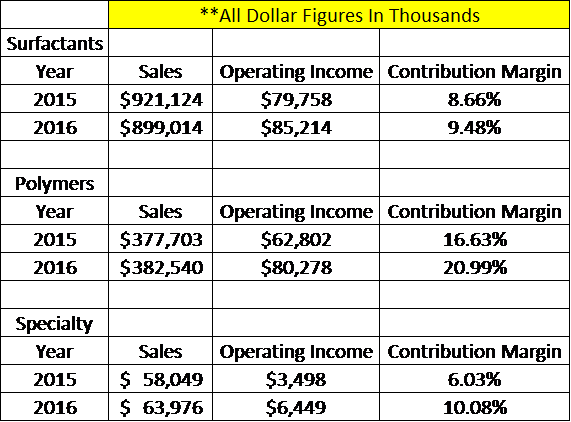 This table tells me that SCL is doubling down on efficiency, because the improvement in contribution margin clearly demonstrates a company that is improving processes and focusing on getting the most bang for the buck.
Dividend History
By now I am sure that many readers are wondering why I am so excited about a company that has a current dividend yield of 1.01%, but I encourage you to think about the following items:
Dividend Growth Rate (5 year average) - 8.30% (SCL Fundamentals Report - Investor Relations)
1 of 27 "public companies in the United States, which has paid increasing dividends for at least 48 consecutive years." (September Investor Presentation)
Five one-for-two stock splits since 1972
Extremely low payout ratio of 18.9% (www.dividend.com)
While an investment in SCL will only yield 1.01% at today's levels, investors' need to be considerate of the regular dividend increases and the potential for stock splits in the future. A payout ratio of just 18.9% is one of the lowest I could find.
Here are some comparable chemical company payout ratios according to dividend.com (these are not necessarily direct competitors):
Dow Chemical (DOW)- 50.5%
Eastman Chemical (NYSE:EMN) - 30.3%
SCL has the safest and most consistent dividend I could find in the chemical industrial arena.
Bottom Line
While I am not suggesting this company is right for a large stock position, I would contend that a small one should be considered, especially for those who have several years before needing the income. Establishing a portfolio of good yield-on-cost companies will be what sets a portfolio apart when the income becomes necessary in retirement. Although revenue growth was minimal, we are seeing a company that grew operating income at 17.7% year-over-year (first nine months comparison, 2015-2016), so locking it in with time on your side should result in above average gains).
Final Note: If you enjoy my articles please take the time to follow me. While I enjoy performing analysis, following me is the best method for showing me that SA subscribers are finding my work useful.
If you have any suggestions to improve my articles or if you would like me to perform analysis on a stock please feel free to message me and I will do my best to make it happen.
Disclosure: I/we have no positions in any stocks mentioned, and no plans to initiate any positions within the next 72 hours.
I wrote this article myself, and it expresses my own opinions. I am not receiving compensation for it (other than from Seeking Alpha). I have no business relationship with any company whose stock is mentioned in this article.
Additional disclosure: This article reflects my own personal views and is not meant to be taken as investment advice. It is recommended that you do your own research. This article was written on my own and does not reflect the views or opinion of my employer.