Due to tax-loss selling, some beaten down stocks provide more opportunity starting a new year. As investors are encouraged to sell the stock to claim the tax benefits prior to year-end, some irrational selling takes place.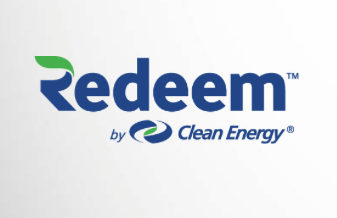 Clean Energy (NASDAQ:CLNE) is one of those stocks that ended December at multi-month lows. The natural gas fuels company has yet to convince the market of a sustainable investment thesis leading to the downward pressure on the stock. The current price has provided some buying opportunities in the past.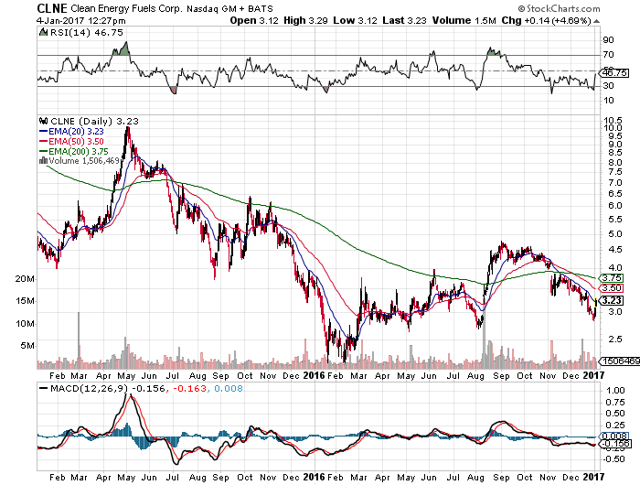 The problem with the stock is that Clean Energy has a history of fueling investor demand based on hype and not real fundamentals of the business. The most visible example being the debate over missing comp sales numbers versus new fueling station construction growth.
The company again ended the year with a focus on new station construction projects. In fact, the last operations related press release focused on these projects for new stations with Clean Energy targeting 62 new stations completed in 2016.
The press release includes multiple trucking, transit and refuse companies that plan to expand the use of CNG, LNG or RNG. Examples include Burrtec Waste Industries contracting Clean Energy Fuels to build a CNG fueling station in California to fuel 50 CNG refuse trucks to Frank C. Alegre Trucking signing a fueling agreement for five new LNG trucks.
What the press releases never do is reconcile the usage levels of previously built fueling stations and announced customers. Remember that any typical fueling station type operation would focus on a combination of new construction and comp sales at existing stores opened at least a year.
Contributor Biting Lemur made a valid attempt to work up some comp sales figures based on publicly available information. His thesis that comp sales are growing at an 11% clip since the start of 2014 provides a highly incomplete picture.
The data actually supports the thesis that comp sales are mostly flat over that three-year period when business should be booming from customers shifting to natural gas fuels. A prime example of the problems being the results for Q3 when gallons delivered were only up 5% to 84.5 million.
Going back to 2013, the gallons delivered were 56.4 million during that period. The Q3 numbers and associated growth rates over that time period are as follows:
2013 - 56.4 million gallons, 17% growth YoY
2014 - 68.6 million, 22%
2015 - 80.6 million, 17%
2016 - 84.5 million, 5%
As mentioned by Biting Lemur, the comp numbers are further convoluted by the RNG fuel sold via utilities. This RNG amount has actually declined in the last year and typically averages somewhere in the 1 to 2 million gallon level per quarter.
As well, comp sales typically focus on stores or in this case fueling stations opened for more than 12 months making the calculation even more difficult. Parsing out the stations not open for 12 or 18 months might be technically possible, but Clean Energy definitely doesn't provide the data for the fuel sold based on station.
The real key data point is knowing whether the company is able to infill the mature stores with more fueling customers. Adding a new customer at a new station isn't nearly as meaningful as adding a new customer to an existing station. The whole problem all along is that for the most part these trucking, transit and refuse companies need stations close to their home base and not random stations within a city that can be shared.
Ultimately, the recent Q3 number is highly reflective of my investment warnings all along. The company had opened 44 stations YTD and is on a expansion rate in excess of 10% (targeting 62 stations for the year and a total base approaching 600) this year, yet gallons delivered only a grew a meager 5% for the quarter.
The numbers are suggestive of negative comps of up to 5% during Q3, yet CEO Andrew Littlefair made the following tone deaf statement to investors in the earnings release:
I'm pleased with our third quarter financial results together with our growth in volumes and improved capital structure, particularly the dramatic reduction in our current debt balance. And we continue to see positive momentum in the use of natural gas and renewable natural gas as a vehicle fuel as demonstrated by multiple customer gains and expansions.
Again, Clean Energy is focused on growing total volumes and customers while shareholders need the company to grow volumes per station. The hidden customer losses or utilization levels not captured in the statements from the executives is why the stock is near all-time lows.
Trading near the lows and a market value of $420 million, Clean Energy probably provides a short-term trading opportunity. Tax-loss selling pushed the stock down to where Clean Energy was due for a bounce.
The company is at least producing positive EBITDA on a regular basis now, but the long-term story isn't going to change until the business shifts to a comp sales growth monster.
The key investor takeaway is that Clean Energy has the financial position to warrant not shorting the stock into the ground at levels around $3. The investment picture is still murky as the natural gas fueling company hasn't solved the equation that builds the business long term.
Disclosure: I/we have no positions in any stocks mentioned, and no plans to initiate any positions within the next 72 hours.
I wrote this article myself, and it expresses my own opinions. I am not receiving compensation for it (other than from Seeking Alpha). I have no business relationship with any company whose stock is mentioned in this article.
Additional disclosure: The information contained herein is for informational purposes only. Nothing in this article should be taken as a solicitation to purchase or sell securities. Before buying or selling any stock you should do your own research and reach your own conclusion or consult a financial advisor. Investing includes risks, including loss of principal.