For those invested in Fabrinet (NYSE:FN), the last few months have been an exercise in frustration and disappointment. Since reaching a 52-week high of 46.50 back in early October, the stock has fluctuated rapidly and has lost momentum whenever it appears a breakout might be imminent: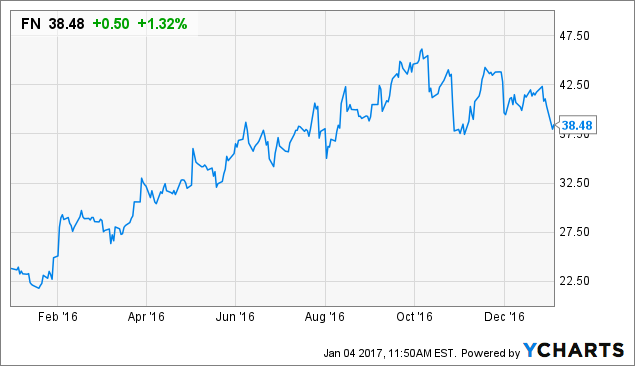 FN data by YCharts
What has caused this volatile finish to 2016? In my opinion, it has been a mixture of some caution and skepticism surrounding the so-called super cycle that is currently driving demand for fiber optics for telecommunications and data communications applications, and the poor earnings results of some companies that are in markets related to Fabrinet. Yet despite these short-term headwinds, Fabrinet has continued its streak of outstanding earnings results that has made it one of the darlings in the fiber optic space over the past couple of years.
For Q1 2017, which was a week longer than Q1 2016, Fabrinet reported revenue of $332 million, up 53% year-over-year ("YoY"), and earnings per share of $0.80, which beat estimates by 9 cents and was a substantial increase over Q1 2016 and Q4 2016. In addition to continuing the company's streak of outstanding earnings reports, Fabrinet's recent results are also far outpacing my original earnings projections for 2017. Back in May of 2016, I wrote my first article on FN, which can be found here, and presented the following projections:
| | | |
| --- | --- | --- |
| Quarter | Estimated Revenue | Estimated EPS |
| Q1 2017 | $275.1 million | $0.59 |
| Q2 2017 | $288.9 million | $0.62 |
| Q3 2017 | $303.3 million | $0.66 |
| Q4 2017 | $318.5 million | $0.69 |
| Total | $1.2 billion | $2.56 |
At the time, Fabrinet was hovering just above $36 a share and these earnings estimates yielded a favorable forward P/E of around 13.7. I used this data to calculate a conservative 12 month price target of $50 a share. While the stock hasn't moved much (recall from the chart above that the stock price is around 38.50), Fabrinet's operating results have significantly outperformed my expectations.
Fabrinet CFO TS Ng noted on the Q1 2017 conference call that adjusting quarterly revenue for the extra week gives $302 million in sales, which is a 42% YoY increase. Investors were not provided with an adjusted EPS number but it's safe to assume that this number would be around $0.75 per share. This beats my original revenue and earnings projections by 10% and 33% respectively.
The company's Q2 2017 guidance of $334 million in revenue and $0.79 EPS (the midpoints of management's guidance range) represents further robust growth over both Q1 2017 and Q2 2016. Basically, manages expects the results of the second quarter, which is 13 weeks, to match the performance of the first quarter, which was 14 weeks. Using the adjusted figures from Q1, Q2 represents revenue and earnings growth of 11% and 5% respectively.
Finally, combining Q1 and Q2 provides 1H 2017 revenue of $636 million and EPS of $1.54, which shows Fabrinet on a path to break $1 billion in annual sales for the first time, and pretty handily at that. The company's growth has been remarkable, and though the stock has taken a bit of a break after a huge multi-year run-up, I think the company's operating results warrant further stock gains.
Based on the current progression of sales from quarter to quarter, Fabrinet's annual sales figure looks like it could possibly match its current market capitalization. On the earnings side, if we assume combined Q3 and Q4 2017 EPS of $1.50, which is highly conservative considering the company's estimated $1.54 in EPS for 1H 2017 and the top and bottom line growth over the past quarters, we would get a forward 2017 P/E ratio of under 13.
Make no mistake, the super cycle is real. 100 Gbps connections for both the telecom and datacom markets are ramping up and will be for the next few years. Legacy 10 Gbps and 40 Gbps are being overhauled for 100-gig, which is not just beneficial but necessary for companies to keep up with the competition. Taking an even longer-term perspective, we're not even close to the theoretical limit of fiber optic technology and so the upgrade cycles will keep coming. Fabrinet is a top player in the space and stands to reap huge benefits in both the short-term and long-term windows.
When one considers this growth potential, a forward P/E of under 13 sounds silly. However, don't jump the gun because there are certainly potential headwinds and obstacles to consider. First, Fabrinet doesn't exactly have an economic moat. Optical communications is a crowded market, and while Fabrinet has entrenched advantages (contracts, reputation, etc.), the market landscape can shift rapidly.
Second, because the market is crowded, profit margins are fairly slim. Price wars are possible, perhaps inevitable, but Fabrinet's Thailand headquarters provides it with a very favorable tax rate, which gives the company an earnings advantage over some of its competitors.
Lastly, some are skeptical of the ongoing super cycle in terms of how long it will last and how long it will continue to bear fruit for the companies in the market. I don't view this as too much of an issue considering the sheer amount of legacy optical communication products are out there that need replacement. The jump from 40 Gbps to 100 is much more significant than from 10 to 40, and companies will be under increased pressure to upgrade if they want to compete.
With all these potential obstacles in mind, I am a buyer of FN at current prices. I've owned the stock since May and have been adding on drops along the way as I think the company's results will eventually boost the stock price out of the rut. Before investing, one should consider the three risks I mentioned above and decide whether the potential benefits outweigh those risks. I have decided that they do. Best of luck!
If you want to stay up-to-date on my articles, you can "Follow" me by clicking "Follow" at the top of this page or by going to my author page.
Thanks for reading!
Disclosure: I am/we are long FN.
I wrote this article myself, and it expresses my own opinions. I am not receiving compensation for it (other than from Seeking Alpha). I have no business relationship with any company whose stock is mentioned in this article.