DCP Midstream Partners (DPM) announced a reorganization today that simplifies the 50/50 joint venture between Phillips 66 (NYSE:PSX) and Spectra Energy (NYSE:SE). As a result of the transaction, the assets of DCP Midstream and DCP Midstream Partners will be combined and will create the largest natural gas liquids ("NGL") producer and gas processor in the United States. The combined company will be renamed DCP Midstream, LP and the NYSE stock ticker symbol will be changed to "DCP". The JV's previous structure and the new, greatly simplified, structure are shown below: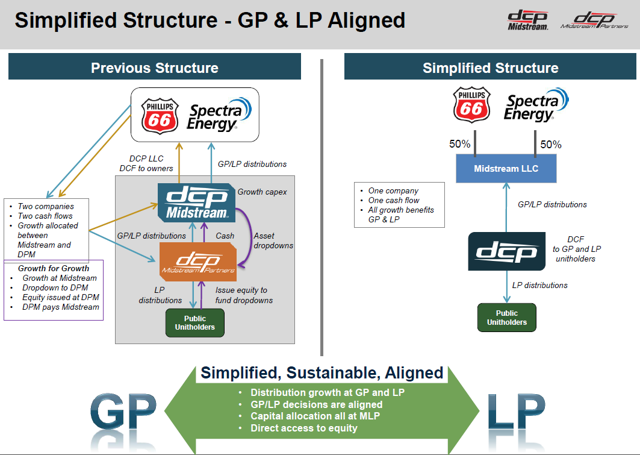 Source: DPM Transaction Presentation (available here).
The new structure effectively combines all midstream assets into the "new" DCP MLP in one fell swoop. Midstream contributed substantially all of its midstream assets, $424 million in cash, and $3.15 billion in debt to the new DCP in return for 31.1 million DPM units (~$1.125 billion). After the dust settles, the new Midstream LLC joint venture will own 100% of the IDRs and a 38% GP/LP interest in the new "DCP" MLP. The transaction was valued at an ~8x EV / 2017 estimated EBITDA multiple based on current commodity strip prices.
The transaction will align the interests of the GP/LP of the former entities into a more straight-forward MLP structure with simplified governance. The combination creates the largest G&P MLP in the United States with a pro-forma enterprise value of approximately $11 billion.
In addition to the reorganization, two organic growth projects were announced:
In the DJ Basin - a new 200 MMcf/d processing plant that is expected to come online in late 2018 with an additional 200 MMcf/d plant in 2019.
Expansion of the Sand Hills NGL pipeline to its full 365,000 bpd of capacity by the end of 2017, an increase of 30%.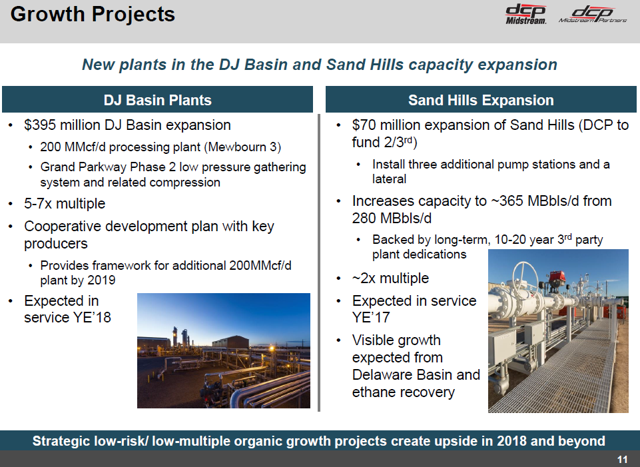 Both projects are extremely attractive, but the Sand Hills expansion is particularly timely given the production growth coming out of the Delaware Basin play of the Permian.
Observations
While the estimated 8x multiple placed on the transaction appears to be fair value, the deal appears to be more advantageous to the JV owners than it does to DPM unit-holders. I say this because, as I opined in a previous article on recent strength in propane prices (see Mont Belvieu Propane Hits A Two-year High), DPM was in an excellent position to - finally - benefit from rising NGL prices. Indeed, just this week RBN Energy's Top-10 Energy Predictions For 2017 was full of bullish prediction for natural gas, and specifically for NGLs. Here are RBN's top-3 predictions:
#1 Natural gas, particularly wet natural gas, will be a more attractive market than crude oil.
#2 Ethane production will be ramping up as rejection flips to recovery.
#3 The frac spread is coming back along with margins for gas processing.
While all these developments are certainly bullish for DPM, this transaction appears to be more beneficial to Phillips 66 and Spectra Energy because it increases DCP Midstream, LLC's direct ownership in the new DCP (the MLP) by 31.1 million DPM units, for a 38% total GP/LP ownership. In other words, the two JV owners are increasing their stake in the largest natural gas processor and NGL producer just as the long-awaited recovery in NGL prices appears imminent.
Summary & Conclusion
The announced transaction to simplify DCP's organizational structure makes sense and some would say is long over due. While the deal appears to a fair valued transaction, the truth is that the JV owners - Phillips 66 and Spectra Energy - are increasing their stake in the midstream G&P MLP just as a long-awaited price recovery in NGLs appears right around the corner. Going forward, that means higher tax-advantaged GP and LP distributions for the JV owners from the new "DCP".
As my readers know, I am not a fan of short-term stock moves, but I think the market's initial reaction is the correct one (see the chart below). However, for investors looking for income from MLPs, not only is DPM's yield very attractive (8.5%), but the JV owners have agreed, if required, to provide IDR givebacks up to $100 million annually through 2019 which provides downside protection for LP unit-holders. In addition - the two new organic growth projects are very attractive. So, the dip this morning may be a great entry point into DPM units. Meantime, I reiterate my BUY ratings on both PSX and SE.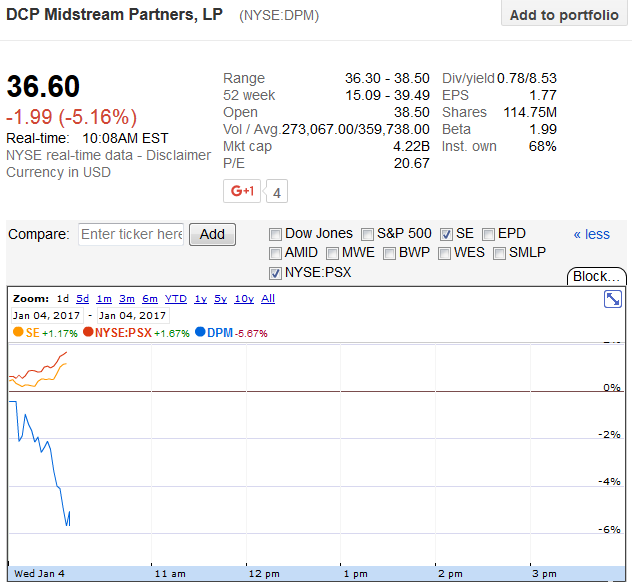 Disclosure: I am/we are long PSX SE.
I wrote this article myself, and it expresses my own opinions. I am not receiving compensation for it (other than from Seeking Alpha). I have no business relationship with any company whose stock is mentioned in this article.
Additional disclosure: I am an engineer, not a CFA. The information and data presented in this article were obtained from company documents and/or sources believed to be reliable, but have not been independently verified. Therefore, the author cannot guarantee their accuracy. Please do your own research and contact a qualified investment advisor. I am not responsible for investment decisions you make. Thanks for reading and good luck!