Tangoe, Inc. (NASDAQ:TNGO) is the next hot stock every M&A investor is looking at on Wall Street. This IT provider confirmed on January 3, 2017, that it had received two proposals to buy the company from Marlin Management Company, LLC and Clearlake Capital Group, L.P. and Vector Capital Management. I believe that the proposals are opportunistic, but they indicate the amount of institutional interest for this stock, which is, in fact, extremely undervalued. I will explain in this article why I think it is a buy.
Tangoe, Inc.
Tangoe was founded in 2000 in Orange, Connecticut. It is a provider of "Connection Lifecycle Management" (NYSEMKT:CLM). In the annual report, the company explained the services provided in the following way:
Our on-demand software and related services enable enterprises to manage and optimize the complex processes, expenses and usage policies associated with the complete lifecycle of an enterprise's fixed and mobile connection assets and services [Source: 10-K]
Tangoe has been growing for the last 15 years. We have only financial information for the last 3 years (the IPO was made in 2011), but I can see that the company has been expending and hiring too much until 2015, which means that the "growth philosophy" lasted at least until this year.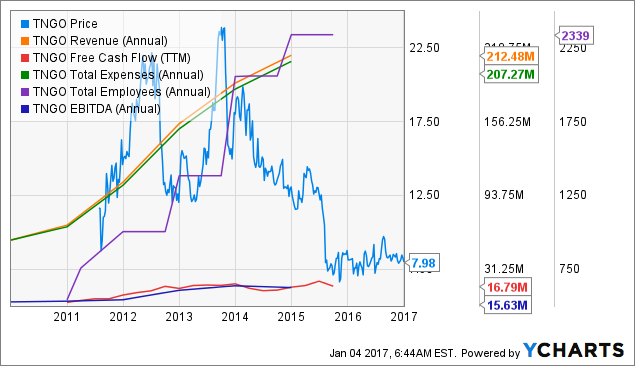 In addition, the company has grown its assets at a faster pace during these years. Moreover, it has very little debt and cash: its cash per share is $0.93, whereas its book value per share is $4.63.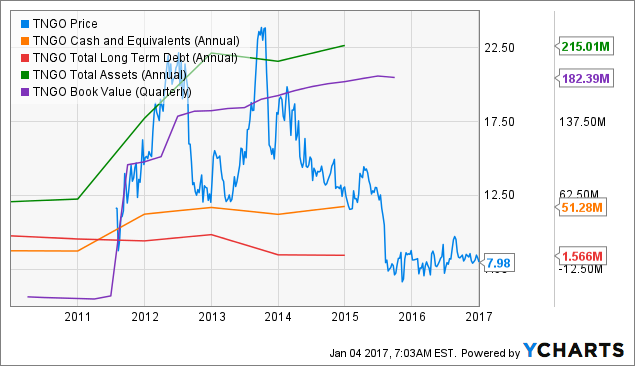 Its last reported ROE is negative, but it has been quite stable for the last 5 years. This is exactly the kind of financial performance and debt levels that a private equity such as "Marlin Management" or "Clearlake Capital" would look for.
Recent decline of the stock
In 2014, the company experienced a bad quarter, and the stock started declining. In two years, the stock price fell from $18 to $7.98. There is a very interesting article written in Seeking Alpha that explained this bad performance. I totally agree with its vision of the company:
The foundation of all sustainable shareholder wealth is operating profits. These are the source of all dividends and the growth of book value via retained earnings. In the absence of profits, there's little point to the whole exercise. Investors seem to have occasionally been impressed by the revenue growth rate at the firm (it's grown at a CAGR of ~30.6% over the past five years), but that revenue hasn't been turned into sustainable profits. [Source: Seeking Alpha]
However, there is something that the author had not taken into account: the fact that a company could be bought by a private equity. A PE fund could introduce cost management initiatives to make the company profitable again.
Board of Directors
I have seen old investors analyzing companies starting from looking at who are members of the Board of Directors and why. What I would like to look for in this case is a director with M&A expertise. I could not find anyone. This may mean that the company has not tried to sell itself before and other competitors have also not been contacted. Therefore, the price has not been inflated by rumors or inside information. I like this fact very much. We could be at the beginning of a sale process.
Revenue recognition
I could see in several SEC filings that the company is revising its revenue recognition policy. The company revised its 2014 and 2015 performance. In addition, the Nasdaq said that the stock of the company may be delisted since the company was unable to provide the documents on time. Tangoe asked for more time for the stock exchange, but the Nasdaq did not respond.
This is a text from one of these filings:
As reported in the Company's Current Report on Form 8-K filed with the Securities and Exchange Commission (the "SEC") on March 7, 2016, the Board of Directors of the Company, upon the recommendation of the Company's Audit Committee, determined that the Company will restate its financial statements for the years 2013 and 2014, all quarters therein, and the first three quarters of 2015. The Company has concluded that it made errors in recognizing revenue, primarily from business activities that are ancillary to the Company's core business. A majority of the errors relate to non-recurring revenue, including, for example, non-recurring revenue from strategic consulting and bill audit services with contingent fee arrangements. As a result of these corrections, the Company is revising its revenue recognition policies for several categories of revenue. [Source: SEC Filing]
I believe that the market does not like that the company is rewriting its past financial performance. Wall Street does not believe any more in the numbers shown and this is creating a lack of liquidity. This factor reduced the price of the stock, and, in my opinion, is creating a buying opportunity.
The buyers
Some other investors identified this stock before I did:
- Marlin Equity Partners manages $3 billion of capital under management. This fund offered $7.50 in cash per share. I checked the portfolio of the private equity, and it is managing technology and services companies. They know very well the industry and the way they can create a turnaround in this one. This fund owns 10.4% stake in the company.
- Clearlake Capitalis and Vector Capital Management, L.P. are two PE funds. Together they offered $7.00 in cash per share for each stock that they do not own. They have 14.78% and 9.85% of the company respectively.
I need to point out that these proposals are not binding. I believe that the company had not yet started to sell itself, so the PEs did not have time to assess its valuation.
The non-binding proposal from Marlin confirms that neither a potential delisting of Tangoe's shares from Nasdaq nor the failure to make Securities Exchange Act of 1934 filings on a timely basis by Tangoe will affect the terms outlined in the proposal. The non-binding joint proposal from Clearlake and Vector indicates that receipt of audited financial statements will not be a closing condition. [Source: SEC Filing]
There is something remarkable that this company has: these funds control more than 35% of the company. It may be very difficult for them to sell the shares in the open market, so I firmly believe that one of them will finally buy the company. Other institutional investors may also buy the company, since the amount of institutional investors is 97%. To cut a long story short, everyone believes that the company will be sold.
The number of shares and insider ownership
There is another interesting fact to be pointed out. The insiders are buying a big amount of shares right now. They truly believe that the company is undervalued.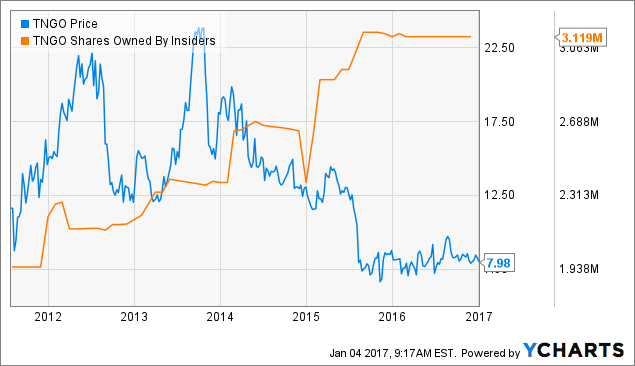 Conclusion
Some very bad financial results and the fact that the company is rewriting its financial figures are creating lack of liquidity in the stock. Institutional investors think that this is a good opportunity. Insiders think in the same way too, and I believe it as well. Are you going to buy?
Disclosure: I/we have no positions in any stocks mentioned, but may initiate a long position in TNGO over the next 72 hours.
I wrote this article myself, and it expresses my own opinions. I am not receiving compensation for it (other than from Seeking Alpha). I have no business relationship with any company whose stock is mentioned in this article.