Globalstar (NASDAQ:GSAT) is one of the leading providers in mobile satellite services. It is an essential company for leveraging mobile satellite communications for many remote industries around the world. The main crux of their story has been their impending FCC approval. Throughout that time it has attracted a numerous amount of short seller activists through the years.
It has also just unlocked major potential to be a big player in the realm of the Internet-of-Things (IoT), with the additional benefit of partnering with a major mobile broadband service, i.e. Sprint (NYSE:S), Verizon (NYSE:VZ) or AT&T (NYSE:T).
GSAT had been petitioning with the Federal Communications Commission (FCC) for over two years to approve something called: Terrestrial Low Power Service (TLPS) on a 2.4GHz band. In a nutshell, the proposal would allow Globalstar to use satellite signal frequencies in order to allow distribution of their mobile broadband services.
The original proposal was first met with opposition from many cable and software companies. The fear was that it would interrupt and cause interference along Wi-fi and bluetooth spectrums. Globalstar took this into consideration and with the support of trade groups in the industry, created a new proposal.
The FCC unanimously approved the new proposal, much to the delight of shareholders and company management. The stock found itself rising after the news before momentum stopped due to the announcement of an upcoming conference call on January 6th.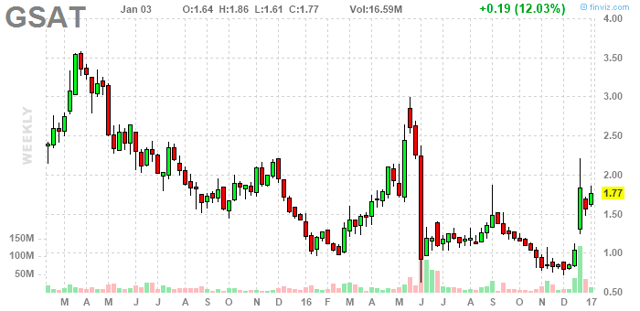 The new impending details that may come out of the conference call leave short sellers in a precarious position. Globalstar currently has a high short percent of float at 10.74 percent. The stock currently has 47.1 million shares held short.
Shorts may have to reconsider their position as the stock trends upwards to $1.90. This could also lead to a large short covering that would help launch the stock even higher due to the good news.
Despite all of the inclinations trending towards a growth filled year, the company is still below its high of $3.00 in 2016.
Confident Growth Ahead
This conference is going to be a crucial point of development for the company. CEO Jay Monroe has confidence that the next year is going to be an instrumental one. He stated, "We look forward to a busy 2017 as we plan to put our terrestrial authority to use for American consumers and pursue similar authority internationally. "
Globalstar wasn't alone in petitioning for its new proposal to be approved. Sprint indicated its support for the revised proposal. Public support from Sprint and the Wireless Communications Association International (WCA) elicits a second look at this company. The announcement of the FCC ruling is the first unlocked catalyst to open new doors of partnerships and a long-term leasing agreement to other major companies.
Partnerships & New Industries?
The potential for the company comes from the new deal and who they decide to partner with. An announcement that they've partnered with a major financed mobile company like Sprint, Verizon or AT&T could poise the company for a new era of sustained long-term growth.
IoT has long been a buzzword that has yet to fully take hold. But with the advent of Globalstar's STINGR system, a satellite unit dedicated for IoT, it seems that this company will play a pivotal role in a future staple industry.
IoT is still in its infancy but this is also the year that the monetization of systems will be in place and new revenue streams will be born. Our bets are currently on some kind of partnership with Sprint as they've showed outward public support.
The conference call is going to have a major market impact and set the tone for the rest of the year. More stable predictions can be set for the company at large when we figure out who they'll be partnering with and what kind of financial results come out of new industry growth.
Disclosure: I/we have no positions in any stocks mentioned, and no plans to initiate any positions within the next 72 hours.
I wrote this article myself, and it expresses my own opinions. I am not receiving compensation for it (other than from Seeking Alpha). I have no business relationship with any company whose stock is mentioned in this article.