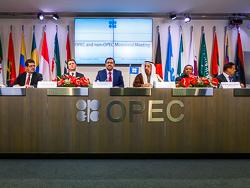 Source: OPEC.
With much fanfare, OPEC held a press conference on December 10th at its headquarters in Vienna to announce that an agreement had been made with various non-OPEC producers:
Azerbaijan, Kingdom of Bahrain, Brunei Darussalam, Equatorial Guinea, Kazakhstan, Malaysia, Mexico, Sultanate of Oman, the Russian Federation, Republic of Sudan, and Republic of South Sudan commit to reduce their respective oil production, voluntarily or through managed decline, in accordance with an accelerated schedule. The combined reduction target was agreed at 558,000 barrels a day for the aforementioned producers."
Less than a month later, it appears likely that a large portion of these cuts will not be forthcoming, except for expected declines in countries such as Mexico. The Russian Federation had promised to cut 300,000 b/d over the first six months. But last week, TASS reported that Deputy Energy Minister Kirill Molodtsov said there will be an increase in oil exports in 2017.
While increasing exports, Russia may cut production by about 4.5-5 million tons next year "to meet the global deal to cut output." Over the course of a year, that works out to be under 100,000 b/d, not the 300,000 b/d agreed to.
Russian's oil giant Gazprom Neft may temporarily stop production at several oil wells, but the main bulk of output cuts will be due to lower production growth rates, the firm's chief executive said.

The Republic of South Sudan was a party to the non-OPEC agreement, but South Sudan's embassy official said Juba is planning to increase oil production as oil prices rise. The Gulf News reported:
We are planning to increase oil production as oil prices go up to increase our revenue and expand the ways of oil industry. We suffered the most due to low oil prices. Rise in oil prices is a good news for us." - Mayom Alier, Deputy Head of South Sudan mission in the United Arab Emirates.
South Sudan's oil production had fallen to 130,000 b/d, but Juba wants to reach 500,000 barrels per day. Such an increase of 370,000 b/d would offset all but 116,000 b/d of the Saudi cut.
Another African producer, Libya, announced it had increased production by another 85,000 b/d to 685,000 b/d. This is an increase of about 385,000 b/d since October. Libya is targeting another increase of over 200,000 b/d by March.
Nigeria is targeting 2.2 mmbd for 2017, an increase of 400,000 b/d. The other African OPEC and non-OPEC producers are unlikely to reduce their output given their economies. This would include Angola, Gabon and Sudan.
One non-OPEC producer contrarian is Oman. The Oil Ministry's Director of Marketing Ali Al-Riyami said on Oman TV that they have cut 45,000 barrels a day from 1.01 million.
Conclusions
Crude futures prices dropped 2.6% in the first trading session of 2017, marking the beginning of the cuts. It is becoming clearer that the expectations which OPEC set when it "pulled a rabbit out of a hat" at the OPEC meetings were misleading.
Disclosure: I/we have no positions in any stocks mentioned, and no plans to initiate any positions within the next 72 hours. I wrote this article myself, and it expresses my own opinions. I am not receiving compensation for it (other than from Seeking Alpha). I have no business relationship with any company whose stock is mentioned in this article.