OTC marijuana penny stocks make me nervous, very nervous. And that is because of their insane valuations. To put it simply, many of them are overvalued and have years, if not decades, of growth already priced into the stock. Don't let the name "penny stock" fool you; behind these small stocks hide huge market caps in the hundreds of millions, and share counts in the billions.
Despite the significant risks in this sector, the returns are quite simply astronomical.
I have watched marijuana stocks rise almost 20 percent a day for an entire week straight. The penny stock market is primarily retail driven, with relatively little algorithmic and institutional analysis. As a result, few other stocks have this level of market inefficiency. There is an opportunity here for retail profit that may not be present on the big exchanges.
Weighing the opportunities and risks of investing in OTC marijuana penny stocks, I have settled on what I believe is the least overvalued and most legitimate company in the sector: Growlife, Inc. (OTCQB:PHOT). Based on the extreme valuations in the industry, this stock could theoretically have returns of over 100 percent if it rose to the multiples of similar players in the industry.
Investment Thesis
Risk-tolerant investors may find an opportunity in Growlife based on its relatively small market cap compared to companies of similar size and profitability (or lack thereof).
The benefits of this relative undervaluation are twofold. They reflect a lower investor relations expenditure and better capital allocation. It also provides greater upside based on positive news in the marijuana industry. Because of these factors, investors who want exposure to this market should consider Growlife over the other alternatives
Growlife Background
Marijuana legalization efforts are making great strides in North America, especially Canada. As a result of these initiatives, lower-quality OTC marijuana stocks have rallied alongside more reputable firms trading on the Canadian exchanges.
American marijuana stocks should be uniformly assumed to be of lower quality than their Canadian counterparts simply because marijuana is still federally illegal in the United States and likely to remain so for a significant amount of time. This limits legitimate business opportunities in the space, making these stocks highly speculative.
There are some good qualities about Growlife that help it stand apart from other names in the industry. First off, Growlife is a fully reporting company with financial statements filed with the SEC. The contents of these filings may not be impressive, but it is reassuring to see them and know that the company is not a boiler room.
Unlike other names in the business, like Hemp (OTCPK:HEMP), Cannabis Science (OTCPK:CBIS), and Medical Marijuana (OTCPK:MJNA), Growlife's business strategy is on the supply side, not distribution. The company plans to provide industrial equipment for use in the cultivation of marijuana instead of the actual seeds or product. I like this strategy for three reasons: less competition, easier to scale, and legality. Marijuana growing equipment is significantly less regulated than the actual plant. Growlife also can supply producers in the Canadian market.
Is This Stock "Undervalued"?
Yes, even though by all rational means (fundamental analysis and valuation) Growlife is overvalued, it is staggeringly undervalued compared to the other players in the sector.
Cannabis Science with its market cap of over $150 million is a dilution machine (in my opinion). Its financial statements are filled with dilution.


It goes on for many pages like this, practically bi-weekly share issuance.
Medical Marijuana with its market cap of over $270 million probably owes most of its value to its unique name and ticker symbol. This company generates significantly more revenue than some of the others, but its business "plan" is murky and convoluted. MJNA is a holding company involved in many disparate firms.
I think investors would be better served buying individual stocks instead of a rapidly diluting portfolio. Nevertheless, there is potential in MJNA, especially because many of its portfolio companies' products are currently legal in the United States.
The market caps of these firms are optimistic.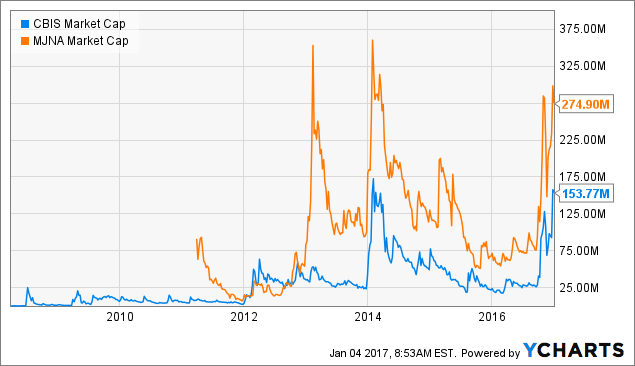 CBIS Market Cap data by YCharts
Both of these companies spend an inordinate amount of money on what is called "investor relations." I believe this is promoting the stock, which is unsurprisingly their primary source of cash. Shares outstanding number in the billions.
Note the significant divergence between market cap and share price. This reflects the amount of value the firms have extracted from stockholders through dilution - issuing more shares.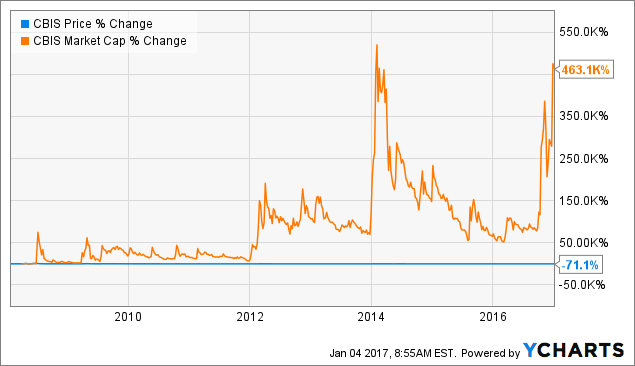 CBIS data by YCharts
But this article is not about those companies, and I want to focus on Growlife. For more information on CBIS and MJNA, read here and here.
Growlife's market cap of only $30 million at the time of writing would represent many multiples of its current price at $0.02 per share if the firm were ever to reach the market cap valuations of other stocks in the space. These stocks have similar (lack of) profitability, and share all the other sector risks/benefits.
Growlife actually generates significant revenue while CBIS, a stock valued significantly higher, doesn't. At the present moment, Growlife is valued at around 10x revenue, which is pretty good for this sector.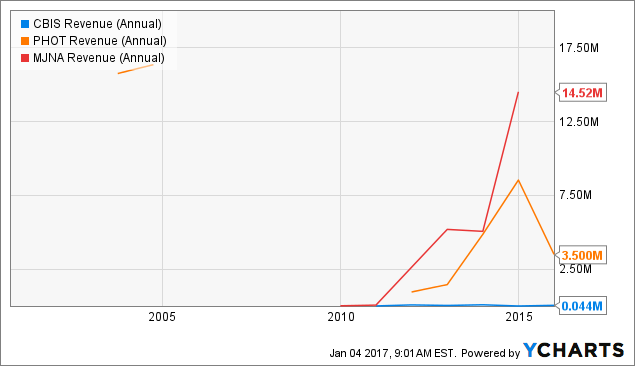 CBIS Revenue (Annual) data by YCharts
So why does Growlife have a relatively small market cap? I believe this is due to significantly less stock promotional activity from the company, reflecting what I believe is a more responsible management style than the competition. It also frees up more cash to be used in building the business.
Negatives
Negatives. Where do I start? First, let's look at the financial statements. Growlife's revenue declined by over 50% from 2014 to 2015. The company is unlikely to ever be profitable unless the United States legalizes marijuana.
The 2016 and 2017 filings should show us if Growlife benefits from legalization moves in Canada.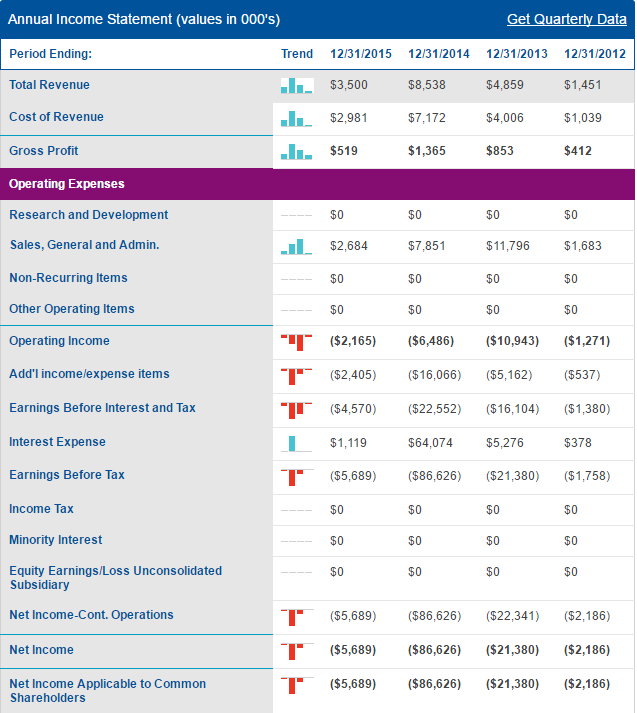 Debt is reasonable at around $2 million annually. The most worrying thing is the rapid increase of shares outstanding. When shares outstanding number in the billions, investors should take the hint.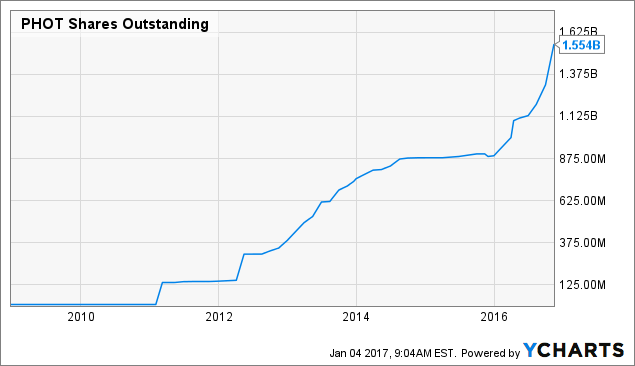 PHOT Shares Outstanding data by YCharts
Growlife, like many other firms in the OTC marijuana space, depends on YOUR MONEY to stay in business. Yes, retail investor. These companies sustain themselves by issuing new shares, and because they are money-losing operations with dubious futures, this indirectly is extracting money from shareholders.
I'm not saying you should stay away from these companies; after all, there is money to be made. Just understand what you are buying, and try not to be the one holding the bag if they issue 50 million more shares overnight.
Conclusion
The OTC marijuana market is full of lousy companies, make no mistake about that. Nevertheless, Growlife seems to be the least ridiculous out of the bunch. For this reason, PHOT is a good way for risk lovers to take advantage of the tremendous upside in the marijuana space that may result from favorable legalization news in 2017.
Growlife is a good nano-cap marijuana play because unlike some of the other options; the firm has signed financial statements and a good deal of transparency. Also, it operates as a supplier instead of a grower. There is less competition in this niche, and as a result, the company can take advantage of the Canadian market better than many of its brethren.
My speculative price target is 0.04 cents which represents around 100% upside from the current price. If the company were to rise to the multiples of comparable firms, it could be significantly higher.
Disclosure: I/we have no positions in any stocks mentioned, but may initiate a long position in PHOT over the next 72 hours.
I wrote this article myself, and it expresses my own opinions. I am not receiving compensation for it (other than from Seeking Alpha). I have no business relationship with any company whose stock is mentioned in this article.
Additional disclosure: In and out of Growlife Inc. in December. Profited from the trade.
Editor's Note: This article covers one or more stocks trading at less than $1 per share and/or with less than a $100 million market cap. Please be aware of the risks associated with these stocks.