Natural gas (NYSEARCA:UNG) prices were down again this morning, briefly trading below $3.25/MMBtu. The fundamental floor of $3.40/MMBtu was breached, and many of the traders we spoke to were feeling very uncertain about the current trading condition. The overwhelming majority expressed a day-by-day approach vs. taking outright long or short positions, and many aren't holding positions overnight fearing a weather model flip-flop creating increased price volatility.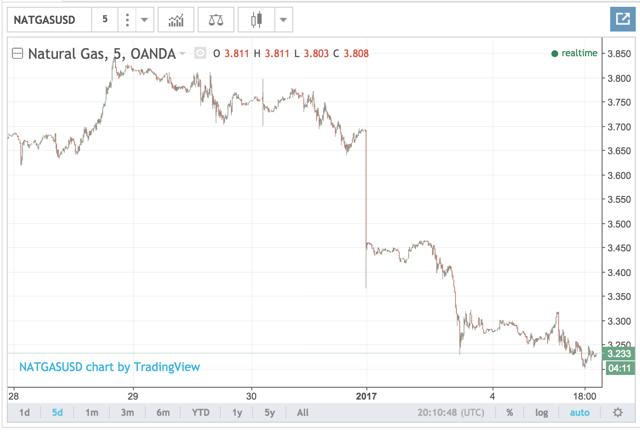 The weekend gap down was a very clear illustration of how a weather model flip could create widowmakers out of traders, and the recent weather model flip-flop contributes greatly to this increased volatility.
The latest bearish weather model revision saw us increase EOS to 1.47 Tcf now for April 2017. The weekly changes to these models could fluctuate between 50 and 70 Bcf, so you should expect more changes in the weeks ahead. The latest model run continues to show warmth persisting through most of the U.S., and the arctic air receding in Canada.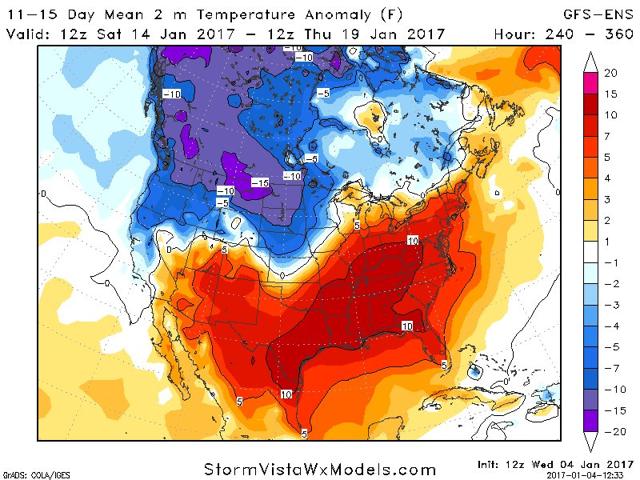 Source: BAMWX
You can find the GEFS weather model progressions here. Looking at the different model runs at the moment, you can see that the consensus points to warmth persisting across the U.S. with Canada remaining cold. Many of you might remember this, but HFI Research is largely long natural gas via Canadian natural gas producers. So, despite warm weather in the U.S., Canada is still expected to be very cold.
With natural gas hugging $3.25/MMBtu now, how much more downside could we see?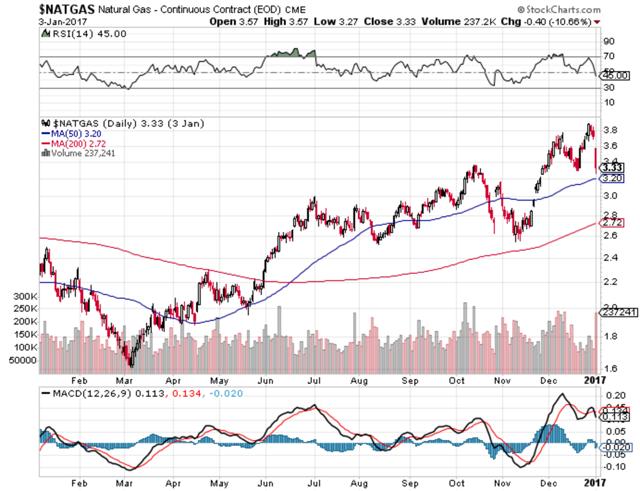 (Note: The above is a delayed one-day chart. The current price is $3.26.)
The nearest support is the 50-day moving average at $3.20, with $3 next and the 200-day next. Could we see natural gas hit $3? It's very possible if weather models remain bearish moving into the next several weeks, and animal instincts usually override any fundamental backdrop in the market. This presents an excellent trading opportunity for those who dare.
Remember, HFI Research remains bullish on natural gas prices via Canadian natural gas producers. We are long Bellatrix (NYSE:BXE), Advantage (NYSE:AAV), Painted Pony (OTCPK:PDPYF), Yangarra (OTCPK:YGRAF), Birchcliff (OTCPK:BIREF), and Kelt (OTC:KELTF). These producers should continue to benefit even if natural gas prices remain at current levels. But if our projection of the fundamentals are correct, then these producers will rise materially when gas prices reach over $4. We like bets where we can make money even if our forecast turns out wrong, as that can happen with natural gas given the uncertainty behind weather.
Eight- to 14-Day Outlook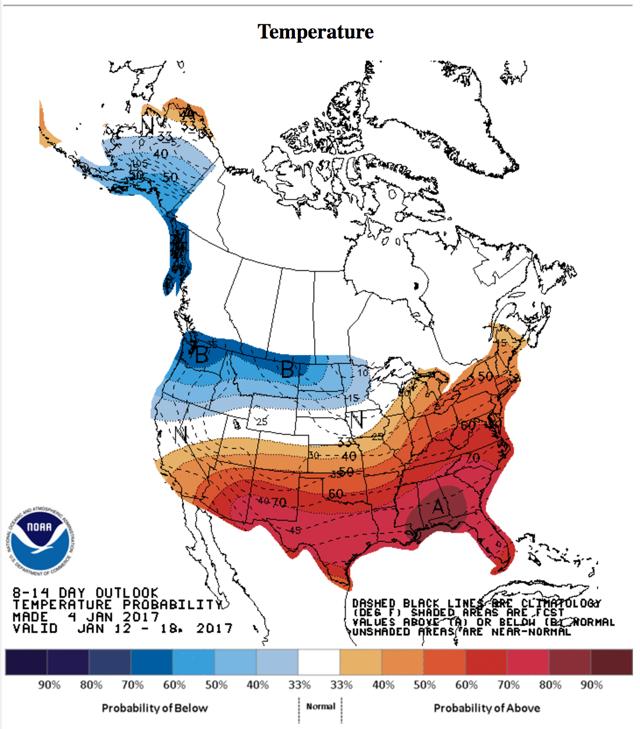 Over the weekend, we published our 2017 natural gas outlook detailing our bullish outlook on the underlying fundamentals. If you are interested, you can sign up here. Premium subscribers also receive material updates on natural gas along with our analysis.
Disclosure: I am/we are long BXE, AAV, BIREF, PDPYF, YGRAF, KELTF.
I wrote this article myself, and it expresses my own opinions. I am not receiving compensation for it (other than from Seeking Alpha). I have no business relationship with any company whose stock is mentioned in this article.
Editor's Note: This article covers one or more stocks trading at less than $1 per share and/or with less than a $100 million market cap. Please be aware of the risks associated with these stocks.