Now that we have entered the New Year, OPEC is all set to reduce its oil output. Late in 2016, OPEC had decided to reduce its output to the tune of 1.2 million barrels per day, and analysts are of the opinion that it will achieve around 70% compliance. But, if we add the potential production cuts by non-OPEC producers, which could take out another 558,000 bpd of production, the total oil production cuts this year should be enough to push prices above $60 per barrel, with the Bank of America forecasting a price of $70 per barrel by the middle of the year.
Now, if oil prices are going to average even $60 per barrel going forward, this will be great news for BP (NYSE:BP). I am saying this because at a $60 oil price, BP will witness strong growth in its operating cash flow, which, in turn, will lead to robust improvements in its stock price. Let's see how.
Gauging BP's performance in a $50 oil price scenario
In 2017, BP investors can expect the company to achieve robust cost reductions. I am saying this because of the fact that the company will have 500,000 barrels per day of new production this year with break-even costs of only $50 per barrel. In comparison, last year, BP's break-even costs were $55 per barrel, down from $60 per barrel in 2015.
Due to this new production coming online, BP will witness strong growth in its cash flow profile. In fact, even if oil prices were to remain at $50 per barrel, BP's pre-tax free cash flow in 2020 will increase by $7 billion to $8 billion. The following chart clearly shows the expected improvement in BP's free cash flow in 2020 at an oil price of $50 per barrel: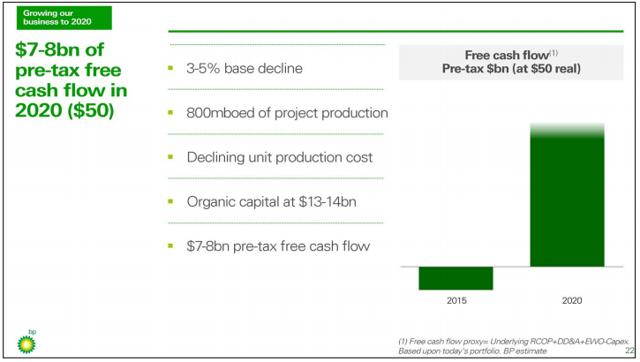 Source: BP
In the past year, BP has generated almost $6 billion in free cash flow, while its operating cash flow has remained at $14 billion. This means that in 2020, BP will generate around $13 billion in free cash flow if it adds $7 billion of FCF from its new production. Assuming that its capital expenses remain constant at 2017 levels of $13 billion, then BP's operating cash flow will be $26 billion in 2020.
This means that BP's operating cash flow is expected to rise by around 85% until the end of the decade as compared to what it has generated in the last twelve months. This will lead to strong growth in the company's stock price. Let me explain how.
Impact on the stock price
BP currently has a market capitalization of $127 billion and operating cash flow of $14 billion. This translates into a price to cash flow ratio of 9. Assuming that BP is able to keep this price to cash flow ratio intact in the long run, the company's market capitalization will increase to $234 billion by 2020 if it hits $26 billion in operating cash flow in 2020.
This means that as compared to its current market capitalization, BP will deliver around 85% upside based on its operating cash flow generation. This means that on an annual basis until 2020, BP is capable of delivering upside to the tune of almost 17% each year until the end of the decade. Now, I have assumed my calculations under the impression that oil prices will be at $50 per barrel in 2020, but as discussed earlier in the article, the price of oil is expected to rise to $60 per barrel this year itself.
At this level of oil pricing, investors can expect more upside in BP's cash flow performance since the price will be 20% higher than its own budgeted pricing. Assuming that BP's cash flow rises by another 20% along with the improvement in oil prices, its free cash flow will rise by another $1.5 billion in 2020 considering its expectation of $7-$8 billion in free cash flow generation.
As a result, BP will be able to deliver more upside going forward than forecasted above in light of a stronger oil pricing environment.
Conclusion
As oil prices are expected to stay above $50 per barrel going forward, BP will witness growth in its stock price on account of the growth in the company's operating cash flow. So, it will be a good idea to stay long BP going forward since the stock looks capable of delivering robust upside in the long run in light of the points discussed above.
Disclosure: I/we have no positions in any stocks mentioned, and no plans to initiate any positions within the next 72 hours.
I wrote this article myself, and it expresses my own opinions. I am not receiving compensation for it (other than from Seeking Alpha). I have no business relationship with any company whose stock is mentioned in this article.