Sirius XM (NASDAQ:SIRI) is a company that many investors fancy. The stock's single-digit price tag appeals to the superficial investor who prefers to own large share counts, while its $22 billion market capitalization makes it stable enough for the most skeptical investors.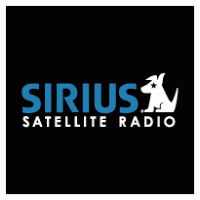 Roughly 18 months ago, I authored a piece on Sirius which cited strength in the auto sector as a reason for buying the stock. Despite the stock's 22% increase since the article's publication, I believe investors are currently facing a similar buying opportunity.
18 months ago, the leading concern about Sirius was its valuation. The stock was trading at 26 times forward earnings, certainly higher than the average stock in the S&P 500. Given the stock's rise, however, it appears as though the company's valuation was not a cause for concern for investors as expected.
In my opinion, best-of-breed companies with a reputation of consistency (like Sirius) warrant a higher valuation. For example, for years investors have had qualms about the valuations of companies like Starbucks (NASDAQ:SBUX), Facebook (NASDAQ:FB), and Amazon (NASDAQ:AMZN), just to name a few. By conventional valuation methods, these stocks have been overvalued for years. Yet, their best-of-breed status and consistency have allowed these stocks to keep rising in the face of doubters. In my opinion, Sirius falls into this category, and as such, the company's valuation should not be of concern.
In fact, despite Sirius' premium valuation, the stock currently trades at a cheaper multiple than it did 18 months ago. As of January 4, the company trades at 25 times forward earnings, and this cheaper multiple comes after the announcement of its first quarterly dividend. Management's decision to issue a dividend serves as a vote of confidence moving forward and should arguably lead to multiple expansion.
Along with trading at a relatively inexpensive valuation, Sirius will benefit from strong U.S. auto sales. Consulting firm LMC Automotive and Edmunds.com both believe 2016 auto sales will increase slightly to 17.5 million, which should be enough to eke out a record-setting year. It is worth noting that valid concerns about the auto sector are still swirling, namely higher interest rates and the rising price of oil.
In my last article on Sirius, I pointed out the stock's correlation with car manufacturers. I still believe this correlation is valid, which continues to support my belief that strong auto sales are meaningful for the company. The correlation between the price action of Sirius and several car manufacturers can be seen in the chart below. The correlation stems from the company' strong relationships with original equipment manufacturers (OEMs); as the amount of cars sold increases, so does Sirius' new user count. In the third quarter, the company achieved a record penetration rate of 76%.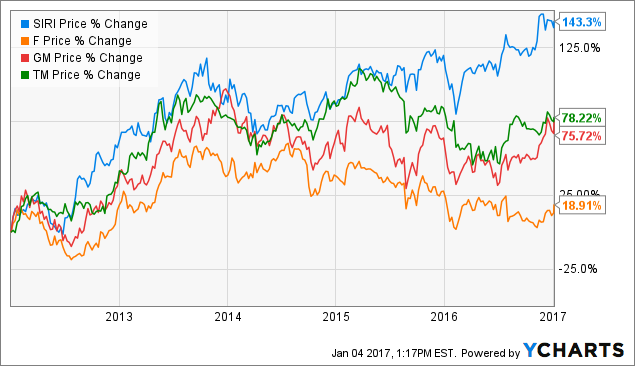 Aside from the above correlation, the company's third-quarter self-pay churn rate (the percentage of subscribers who leave the service) was 1.9%. Due to Sirius' low rate of attrition and high OEM penetration rate, auto sales simply need to be strong - not record-setting - to benefit the company.
And auto sales have certainly been strong. Today, Ford (NYSE:F) announced that U.S. auto sales in December increased by 0.3%, compared to an expected decline of 1.6%. Similarly, General Motors (NYSE:GM) announced a 10% increase in U.S. auto sales for the month of December, compared to an estimated increase of just 0.7%.
Sirius is a company with a track record of issuing conservative total subscriber guidance. Couple this fact with recent upside surprises in the auto sector, and it seems likely that the company could beat its own expectations for total subscribers when it reports earnings on February 7. Sirius' total subscriber count is a metric that many investors follow closely, as it is the primary means by which the company grows. Beating expectations for total subscribers during its upcoming earnings report could be the catalyst that sends the stock higher.
In Short
I believe recent improvements in Sirius' fundamentals and the strength of the auto sector make a strong case to buy the stock. The company has a history of consistency, currently trades at a relatively cheap valuation, and has restored confidence via its first-ever quarterly dividend. Recent unexpected strength in the auto sector bodes well for Sirius given its historical correlation with car manufacturers; the upside surprises in auto sales announced by Ford and General Motors could lead to an expectation-beating fourth quarter for Sirius.
Disclosure: I/we have no positions in any stocks mentioned, and no plans to initiate any positions within the next 72 hours.
I wrote this article myself, and it expresses my own opinions. I am not receiving compensation for it (other than from Seeking Alpha). I have no business relationship with any company whose stock is mentioned in this article.