Protalix BioTherapeutics (NYSE:PLX) is a clinical/commercial biotech company focused on the development and commercialization of recombinant therapeutic proteins based on its proprietary ProCellEx platform. More details about the company can be found in my December 28, 2016, article, "Protalix BioTherapeutics Receives $24M Order, Is Well Funded, And Has Significant Upside."
On May 1, 2012, Protalix and its partner Pfizer (NYSE:PFE) announced that the FDA approved ELELYSO (taliglucerase alfa) for injection. This is an enzyme replacement therapy (ERT) for the long-term treatment of adults with a confirmed diagnosis of type 1 Gaucher disease. This was the first FDA-approved plant cell-expressed drug derived from Protalix's proprietary manufacturing system ProCellEx.
David Aviezer, Ph.D., MBA, the then president and CEO of Protalix commented:
"We believe that this great news is a recognition of our technology, which is a plant cell manufacturing system from Protalix. This technology is the production process behind taliglucerase alfa and other plant-based Protalix product candidates using our ProCellEx, proprietary manufacturing system."
At the time of the FDA news, PLX traded at $7.6/share, which corresponded to a market cap of over $500M. This is 10 times higher than today's fully-diluted market cap.
Protalix Engineered Plant-Based Drugs Are Batting 1,000
Protalix was the first biotech company that gained FDA approval using a genetically-engineered plant cell-based protein to treat an unmet medical need. This has paved the way for its current and future drugs developed using the ProCellEx technology platform.
Let me first review yesterday's positive interim Phase 2 results for AIR DNase (alidornase alfa) to treat cystic fibrosis. This phase of the trial was a 28-day switch-over study in cystic fibrosis patients who were previously treated with Roche's (OTCQX:RHHBY) Pulmozyme (dornase alfa).
Moshe Manor, Protalix's president and chief executive officer, commented on the interim results:
"We are enthusiastic about the data generated in this trial as we were able to see meaningful improvements in efficacy in a way that have not been reported for a long time in the challenging CF space. We are looking forward to reporting full results from the study before the end of the first quarter of 2017."
Professor Eitan Kerem, chairman of pediatrics, head of the Cystic Fibrosis Center, Hadassah University Hospital, added:
"The preliminary efficacy results of alidornase alfa are very encouraging, even when compared to past trials of approved drugs for the treatment of CF. Although the study was performed on a small number of patients, the data is very encouraging since it shows clinically meaningful results. I look forward to following the results of upcoming trials of alidornase alfa. If the data continues to be as positive, clearly alidornase alfa will be a key treatment for all CF patients."
Key results shared by the company for this interim report were:
Interim Phase 2 data showed that alidornase alfa improved lung function by 4.1 points from baseline as measured by percent predicted forced expiratory volume in one second (ppFEV1). This compares favorably to a mean of 2.5 achieved by a commercially available CFTR modulator.
A mean reduction of approximately 60% in DNA content from baseline in sputa was observed, and a mean reduction of approximately 90% from baseline was observed for sputa visco-elasticity.
No serious adverse events were reported, and all adverse events that occurred during the study were mild and transient in nature.
Before I discuss the importance of the findings above, I believe that it is necessary for investors to understand some basics about cystic fibrosis.
Cystic fibrosis is a complex disease, and the types and severity of symptoms can differ widely from person to person.
In people with cystic fibrosis, a large defective gene or DNA causes a thick, buildup of mucus in the lungs allowing germs to multiply. Lung infections caused mostly by bacteria are a serious and chronic problem for many people living with the disease. Additionally, as the patient swallows these secretions, often while they are asleep, the pancreas becomes compromised as it is blocked and unable to secrete enzymes that normally break down food and enable the body to absorb vital nutrients. In the liver, the thick mucus can block the bile duct, causing liver disease. Men with cystic fibrosis are often to have children.
The cost of CF to the US economy has been estimated to exceed $20B as CF patients, their relatives, and even friends and coworkers can have their lives adversely affected in many ways.
Per the Cystic Fibrosis Foundation Registry, more than 30,000 people are living with cystic fibrosis in the United States and more than 70,000 worldwide. Approximately 1,000 new cases of CF are diagnosed each year. Most CF patients are Caucasians/Americans and estimated to carry the disease 1 in 2,500 to 3,500 individuals.
There are currently two main FDA-approved treatment classes being used to treat cystic fibrosis. One of them is mucus thinners like Roche's dornase alfa or Pulmozyme, and the other category is known as CFTR modulator therapies represented by ivacaftor (Kalydeco) and lumacaftor/ivacaftor (Orkambi). Together, they represent almost $2B in yearly sales with Pulmozyme reportedly representing $700M of that total in 2015 per GlobalData estimates.
Protalix's AIR DNase is a disruptor CF treatment going head-to-head against Pulmozyme, and indirectly against CFTR treatments.
AIR DNase is a plant cell recombinant form of deoxyribonuclease I (DNase I) with Actin Inhibition Resistance, or AIR, formulated and engineered exclusively by Protalix scientists. AIR DNase, which is administered via inhalation, cleaves large DNA that accumulates in the lungs, causing a viscosity reduction of the sputum, making it easier to clear up the lungs of CF patients. AIR DNase was designed to be very stable and resistant to chemical alterations.
It is believed that the molecule used in Pulmozyme tends to binds to actin. The actin-bound dornase alfa becomes enzymatically inactive and therefore unable to breakdown large DNA in CF patients' lungs.
With this background, I will now discuss the main two interim results from today's announcement and why I believe AIR DNase is a disruptor treatment that could make a big dent on sales of dornase alfa or Pulmozyme, and ivacaftor (Kalydeco) as well as lumacaftor/ivacaftor (Orkambi).
The easiest comparison of AIR DNase performance is with Pulmozyme because the mechanism of action is basically the same: to cleave large DNA strands resulting in lower mucus viscosity. This in turn makes phlegm and sputum easier to evacuate from the lungs, and helps prevent swallowing, thus minimizing liver, pancreas, digestive, and other complications.
The results so far are very dramatic. The ability of AIR DNase to resist actin binding contributed to a 60% reduction in DNA content from baseline in sputa. This in turn caused a mean reduction of approximately 90% from baseline for sputa viscosity. Remember that all these parameters are comparing to Pulmozyme performance. The 90% reduction in sputum viscosity is even better than the one observed in vitro in Phase 1.
There is no direct comparison against Kalydeco and Orkambi because they are different mechanisms used for treating CF. According to the Cystic Fibrosis Foundation:
"CFTR (cystic fibrosis transmembrane conductance regulator) modulator therapies are designed to correct the function of the defective protein made by the CF gene. Because different mutations cause different defects in the protein, the medications that have been developed so far are effective only in people with specific mutations."
Ivacaftor (Kalydeco) is prescribed for people aged 2 and older who have at least one of 10 different mutations in the CFTR gene. The lumacaftor/ivacaftor (Orkambi) combination therapy is prescribed for people aged 6 and older who have two copies of the F508del mutation, which is the most common CF mutation. Neither of these treatments can be administered to all CF patients because they only handle a few mutations of the CFTR gene. Although the concept for these treatments is great in that they attempt to address the root cause of the CF problem, they have great limitations.
But even though the mechanism of action of AIR DNase and CFTR modulators is radically different, the data released yesterday suggests superior performance of Protalix drug candidate over the competition. AIR DNase improved lung function by 4.1 points from baseline as measured by percent predicted forced expiratory volume in one second (ppFEV1) compared to a mean of 2.5 achieved by a commercially available CFTR modulator. The press release did not specify if Kalydeco or Orkambi was the CFTR modulator used for comparison.
Common side effects of Kalydeco include: Headache, upper respiratory tract infection (common cold, including sore throat, nasal or sinus congestion and runny nose), stomach pain, rash, nausea, dizziness.
Common side effects of Orkambi include: Shortness of breath and/or chest tightness, upper respiratory tract infection (common cold, including sore throat, nasal or sinus congestion, and runny nose), nausea, diarrhea, rash, fatigue, abnormal or irregular menstrual periods, increased bleeding, and flu-like symptoms including the flu.
Because AIR DNase will be able to treat any CF patient regardless of condition, or which gene mutation is causing cystic fibrosis, it would be a logical replacement for Pulmozyme, and a possible replacement therapy for Kalydeco and Orkambi. Its improved safety profile is another bonus, particularly over Kalydeco and Orkambi.
The company website does an excellent job discussing pegunigalsidase alfa, PRX 102, in Phase 3 for the treatment of Fabry disease. The data shown there clearly indicates that this molecule has many advantages over the molecules it aims to replace.
The website describes pegunigalsidase alfa as a:
"Plant cell culture expressed and a chemically modified version of the recombinant alpha-Galactosidase-A protein. Protein sub-units are covalently bound via chemical cross-linking using PEG chains, resulting in a more active and stable molecule than the current available versions. PRX 102 demonstrated enhanced circulatory half-life, with higher enzyme activity in target organs affected by Fabry disease."
Investors will also find excellent information on Phase 2 results of OPRX-106 for the treatment of ulcerative colitis. The website describes this compound as a:
"Plant cell-expressed recombinant human tumor necrosis factor receptor II fused to an IgG1 Fc domain (TNFRII-Fc), in development for oral administration. When administered orally and while passing through the digestive tract, the plant cells function as a natural delivery vehicle, having the unique attribute of a cellulose cell wall which makes them resistant to degradation compared to proteins produced via mammalian cell expression."
The following slide from the December 2, 2016, company presentation summarizes the status of the current pipeline: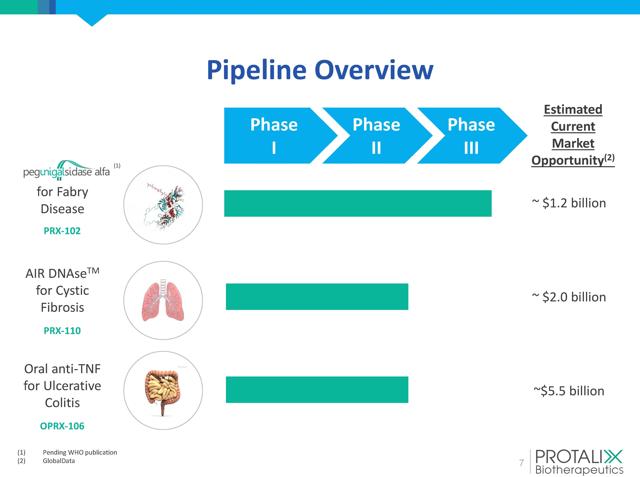 In summary, Protalix's plant-based, genetically-engineered molecules have many advantages over their mammal-derived counterparts. The key here is the ProCellEx proprietary platform which I discussed in some detail in my December 28, 2016, article.
Every step of every clinical trial performed thus far, including an already FDA-approved drug, demonstrates the robustness of the company's ProCellEx technological platform. It also shows the ingenuity and vision of the company's scientists to design molecules aimed at overcoming the limitations of currently available FDA-approved treatments.
Valuation
The current $50M fully-diluted market cap is only one-tenth of what it was after the company's first FDA approved drug. The company now has three programs with high probability of success, one in Phase 3 and the other two in Phase 2. At the time of the company's first FDA-approved drug, the pipeline was very weak. With almost $80M in cash, expected $40M revenues in 2017, one FDA-approved drug, and three potentially blockbuster drugs in the pipeline, the company should have a market cap of at least $250M. Analysts covering the stock have a STRONG BUY rating on the stock with a $2.4/share price target. This corresponds to a fully-diluted market cap of almost $300M.
The price action following the Phase 2 announcement was not a complete surprise to me. I believe once short-term traders did not see the spike, they got out and caused an initial sell-off. In my December 28, 2016, article, I discussed the recent significant institutional activity on the stock. I expect more of the same going forward. In fact, I anticipate a similar, steady upward trend for PLX in 2017 as we saw for AMD in 2016: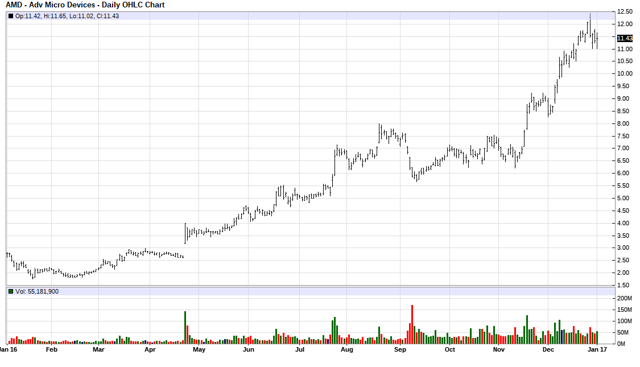 Potential partnerships
Rest assured the progress that Protalix is making on the clinical end is not going unnoticed by Big Pharma. Pfizer for instance is already in bed with it with its FDA-approved treatment for GD. Furthermore, PFE owns over 5 million shares of PLX, and it thinks very highly of Protalix as seen in this video. The other logical partner would be Roche. I don't think Roche would lose a $700M high-margin Pulmozyme revenue stream without a fight. Company officials already stated that they will be looking for partnerships as soon as the Phase 2 cystic fibrosis results would be known. Protalix's Pfizer partnership has already yielded over $100M since inception, and the money keeps flowing in as PLX makes the GD product for PFE.
Risks and Uncertainties
1) Unable to deliver the volumes of alfataliglicerase ordered by Brazil's Ministry of Health.
2) Instability in the region (Israel) potentially affecting production and operations in general.
3) Failure to meet top-line results in any of the clinical programs underway.
4) Unable to stay on course regarding forecasted cash burn thus requiring equity raises before 2019 as planned.
5) Loss of key talent to the competition.
Conclusions
PLX is grossly undervalued at current prices. I believe the stock performance in 2017 will start resembling AMD's performance in 2016 as seen in the latter's chart above.
PLX at today's prices offers significant upside with very little downside. This is because the company has stated, and the numbers show, that it is well funded at least through the end of 2019. And this does not even consider a potential partnership which would extend its runway to commercialize new products. Most biotech companies I know are more than eager to execute one equity raise after another causing significant erosion of shareholder value over time.
The success of the Phase 2 cystic fibrosis study thus far cannot be overstated. This is a significant, highly-disruptive program that I am confident will benefit shareholders greatly going forward. The two other programs in the pipeline are also on strong footing and they address a combined $6B addressable market.
I expect final cystic fibrosis Phase 2 results scheduled to be revealed before the end of 1Q 2017 to be a success. I believe this will accelerate the path to a partnership. Protalix now has more leverage to negotiate a favorable agreement than it did when it entered a partnership with Pfizer.
Investors interested in investing in PLX's shares should read all the risks and uncertainties as detailed in the most recent filings with the SEC, in addition to considering the ones that I've listed above.
Disclosure: I am/we are long PLX.
I wrote this article myself, and it expresses my own opinions. I am not receiving compensation for it (other than from Seeking Alpha). I have no business relationship with any company whose stock is mentioned in this article.
Editor's Note: This article covers one or more stocks trading at less than $1 per share and/or with less than a $100 million market cap. Please be aware of the risks associated with these stocks.