Two years ago I became intrigued by articles and comments on Seeking Alpha that touted common stocks that pay out over 10% as being a solution for retirees (and near-retirees) who had not saved enough to support their desired standard of living from the income generated by more mainstream strategies. The recommended investments were primarily real estate investment trusts investing in mortgages rather than real property (mREITs), business development corporations (BDCs) and closed-end funds (CEFs.) The theory expressed by the proponents of high-yield investing was that even if there's little or no growth in the value of the individual securities in the portfolio, the income thrown off by the higher dividends was enough to pay the retiree a substantial income and also generate an excess that could be plowed back into the portfolio, growing its value through reinvestment.
In summer 2015 I designed a back check study to see if it worked. My initial article reporting my findings in July 2015 is here. The next six month updates are here and here. This is my third update.
The study was simple: I found two ten-stock model portfolios suggested by proponents of high yield investment strategies (dubbed "50-50" and "MRHY" by their creators). I did not choose any parts of the model portfolios myself but relied on the suggested investments advanced by the proponents of each philosophy in late 2014. I then selected two index funds, SPDR S&P 500 ETF (NYSEARCA:SPY) and Vanguard High Dividend Yield ETF (NYSEARCA:VYM), for comparison. (I also created a ten-stock DGI portfolio based on a third party's suggested dividend growth stocks, which I tracked through July 2016, but mergers and spinoffs since then have rendered tracking that model too difficult, and I have now deleted it from the study.)
I checked the price each security was trading at on July 1, 2010 (or the earliest available date thereafter) and "bought" $50,000 worth of each of the individual securities in the portfolios. I did the same with each index fund with $500,000. I then looked up the total dividends paid out for each investment over the succeeding 12 months and added up the total dividends earned by each portfolio (counting each fund as its own "portfolio") during that year.
The stated objective and function of high yield investing was to provide both high income in retirement despite relatively modest savings, and growth of those savings through reinvestment of surplus dividends. Accordingly, I set a high initial withdrawal level - $45,000 per year out of a $500,000 portfolio. The excess of dividends earned in the high yield portfolios over $45,000 was reinvested pro rata in each of the stocks held in those portfolios. The index funds don't generate 9% income, so the shortfall between the dividends paid out on the index funds and $45,000 was covered by selling off a part of those holdings. I repeated the process for each of the portfolios each year thereafter, increasing the withdrawals by 3% per year.
This was not designed as a test of "trading" but of "investment." I have observed that a lot of writeups of the performance of portfolios over time tend to gloss over stocks that were sold because they had not performed as anticipated, leaving one to guess at how effective the initial game plan was. If you only talk about the winners and ignore the losers any plan will look good. Furthermore, if you can consistently buy low and sell high, it doesn't really matter what you're buying and selling - you'll profit regardless.
I was looking to see what works as a matter of overall investment philosophy, so the investments in the portfolios were unchanged throughout the study, except as required in one case due to a merger of two companies, which fortunately were both represented in the same portfolio.
The lineups looked like this:
50-50
Hercules Technology Growth Capital, Inc. (NASDAQ:HTGC), Ares Capital Corporation (NASDAQ:ARCC), Prospect Capital Corporation (NASDAQ:PSEC), Fifth Street Finance Corp. (FSC), Apollo Investmen Corporation (NASDAQ:AINV), Annaly Capital Management, Inc. (NYSE:NLY), Hatteras Financial Corp (which merged into NLY last year), Resource Capital Corp. (NYSE:RSO), American Capital Agency Corp. (NASDAQ:AGNC), and New York Mortgage Trust Inc. (NASDAQ:NYMT)
MRHY
Arlington Asset Investment Corp. (NYSE:AI), Calumet Specialty Products Partners LP (NASDAQ:CLMT), Ellington Financial LLC (NYSE:EFC), Horizon Technology Finance Corporation (NASDAQ:HRZN), KCAP Financial, Inc. (NASDAQ:KCAP), Medley Capital Corporation (NYSE:MCC), PennantPark Investment Corporation (NASDAQ:PNNT), Resource Capital Corp., TICC Capital Corp. (NASDAQ:TICC), and Western Asset Mortgage Capital Corporation (NYSE:WMC)
The high-yield portfolios started off strong (more on that later). But after a few years they started to stall. While each high-yield portfolio generated more income than the specified withdrawal at first, by 2015 the income produced by both high-yield portfolios was deteriorating. Despite reinvesting excess dividends from previous years, the income from both high-yield portfolios is now less than the specified withdrawal. Instead of reinvesting excess dividends, portions of the high-yield portfolios must be sold to meet the withdrawal level specified in the study.
Calculating the values of the high-yield portfolios and index funds after the annual withdrawals and reinvestment/sale in connection with that transaction at the start date of July 1, 2010, each anniversary and for YE 2016 produces this graph: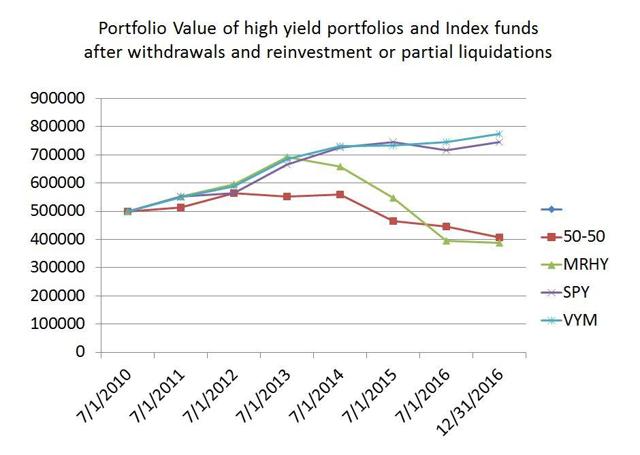 The annualized income produced by each of the four study targets produces this chart: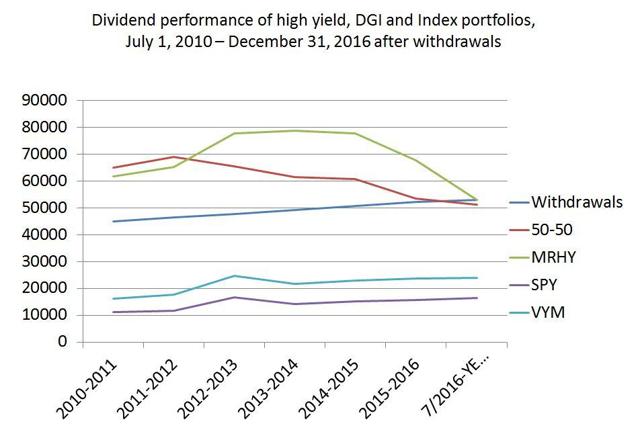 I started with 19 stocks suggested by the high-yield proponents (RSO was a duplicate choice, making both lists). HST has merged into NLY, leaving 18. Of those 18 chosen stocks, 12 have had their dividends cut and one has currently "suspended" dividend payments altogether. Both of the high-yield portfolios are in a "death spiral" where dividends don't meet the withdrawal need, and the corpus of the portfolio is shrinking while at the same time being consumed for income.
In contrast, the index funds continue to grow their value and annual income generation, despite having to liquidate enough shares each year to backfill the gap between their dividends and the specified withdrawal.
My study has been criticized on several counts. Some say that there are too few components of the high-yield portfolios to present a fair picture. But 19 separate holdings is pretty well-diversified. Overall, the difference between the performance of the MRHY stocks and the 50-50 ones is not significant; it is unlikely that expanding the investment universe to 30 or 40 stocks would lead to a different result.
A more apposite observation, however, is the fact that I unwittingly gave the high-yield contestants a leg up by back-testing to 2010 portfolios which were selected in late 2014 - no doubt based on their performance in the years preceding that date. This creates a form of survivor bias - obviously no high-yield investments that had proven to be dogs by 2014 would be selected, only ones that looked good based on their performance in the years immediately prior to their nomination.
Others suggested that the real use of high-yield investment strategy is not to generate income after retirement but to quickly build a portfolio that's big enough to generate a comfortable retirement income. By those standards, withdrawing funds each year defeated the purpose, which was to generate growth through the compounding effect created by reinvesting the dividends as they are paid.
I decided to reanalyze the data in a way that would correct for the last two observations. I reset the starting date to July 1, 2014, not long before the high-yield portfolios were suggested by their proponents, to see how they performed after they were picked instead of before. And instead of withdrawing income to live on each year, I reinvested the dividends annually, pro rata into each of the components of each portfolio.
The results were no different. Here is the 2 1/2-year chart showing the progress made by each investment studied: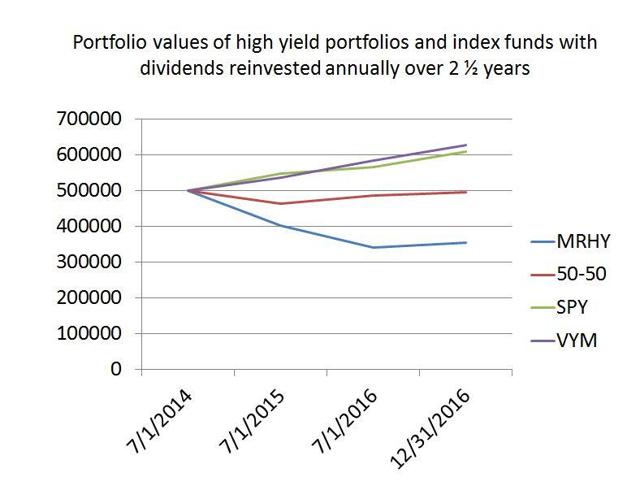 While the index funds both grew by about 10% per year, the high yield portfolios shrunk, despite reinvestment of their substantial dividends.
Conclusion
I would like to stress that I didn't pick the stocks in the portfolios studied - they were suggested by proponents of the high-yield investing philosophy. Further, there have been no economic crises during the period of the study. Sure, "stuff" has happened - Brexit, elections, commodity price fluctuations, the Fed doing what it does - but there is always something happening. What has happened in the past 2 1/2 or 6 1/2 years has been within the parameters of the usual "stuff." There have been some waves, but the economic seas have been relatively calm. I believe both studies are fair and their results and significance clear.
I also believe that there is a place for some selected high-yield investments in a retirement portfolio. But the theory that dumping your life savings into a portfolio composed exclusively of common stocks yielding over 10% is a magic solution to the problem of having failed to save enough for retirement, well...
...if you had happened to be reading Seeking Alpha back in 2014 and you read where the proponents of these investment philosophies each set out ten stocks for you to consider, and decided to invest an equal amount in each of them, and then reinvested the proceeds each year, you would be further from your goal of funding your retirement than when you started - and you would have wasted 2 1/2 years in the process.
Disclosure: I am/we are long RSO-PB.
I wrote this article myself, and it expresses my own opinions. I am not receiving compensation for it (other than from Seeking Alpha). I have no business relationship with any company whose stock is mentioned in this article.