Hopefully this article will help you grow your assets.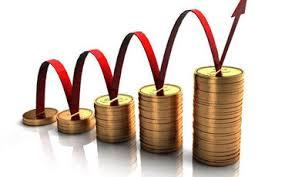 Young QTS Realty Trust Inc. (NYSE:QTS) is quickly making a name for itself in the Retail DataCenter space. It is growing quickly with a 120% CAGR in Operating FFO, a 32% CAGR in Adjusted EBITDA, a 29% CAGR in NOI, a 21% CAGR in Revenues, and a 22% CAGR in MRRs. On top of that the Retail DataCenter subsector (along with the Cloud Growth) is growing rapidly too. For instance, DataCenter storage is expected to rise from 4.7 zettabytes in 2015 to 15.3 zettabyes by 2020E (a 27% CAGR). The demographics are terrific for a young, well managed company (see charts below).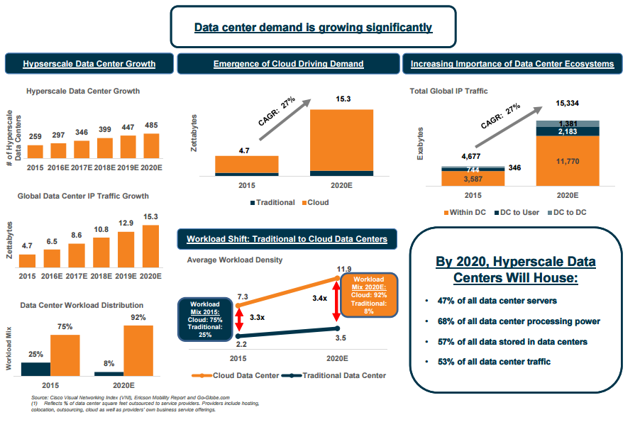 At Oracle Open World CEO Mark Hurd stated that "by 2025 80% of IT budgets will be spent on the cloud, almost all applications will be SaaS, and the number of corporate-owned data centers will decline by 80%."
Retail DataCenter QTS is a C1, C2, C3 DataCenter provider. The rough definitions are below:
C1 -- is big, strategic wholesale deals/leases.
C2 -- is Colocation.
C3 -- is cloud and managed services.
When customers contract for more services, the leases become that much more lucrative for QTS on a revenue per sq. ft. basis. QTS' charts below show the product diversification and the industry and tenant diversification.

Not surprisingly 39% of tenancy is Technology. However there is good diversification throughout most of the rest of QTS' tenants. It is also edifying to realize that 60% of MRR as of September 30, 2016 was from customers paying C2 and C3 costs.
QTS has a good debt structure (see charts below).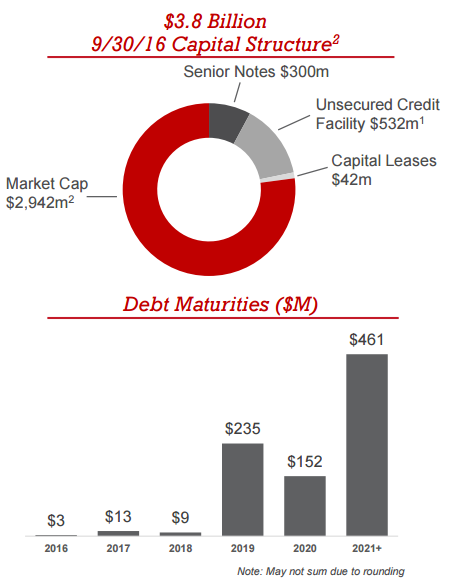 As readers can see, no appreciable amount of debt is due in the next two years. Even after that the debt coming due should not be a problem for QTS, especially since the company should have grown significantly by then.
QTS has a strong booked-not-billed MRR pipeline (see chart below). MRR is monthly recurring revenue.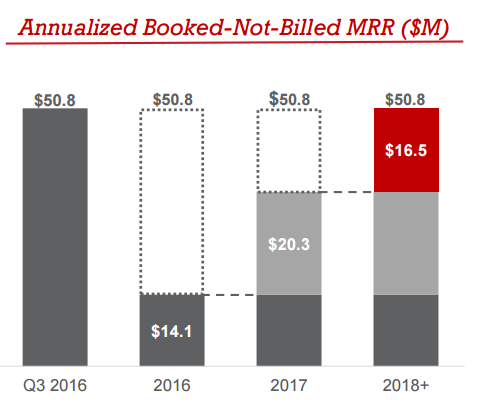 By itself this pipeline should give QTS a good amount of growth. More growth will almost certainly be added during those years. This practically guarantees QTS will see good growth for quite some time.
The Q3 2016 results give a picture of how QTS did most recently. The Net Income was $6.5 million ($0.12/share) -- a 20.6% decrease year over year. Operating FFO was $37.4 million -- an increase of 26.5% year over year. Operating FFOPS were $0.67/share -- an increase of 10% year over year. Reported FFO were $35.0 million -- an increase of 19.7% year over year. Reported FFOPS were $0.63/share -- an increase of 4.8% year over year. Adjusted EBITDA were $47.3 million -- an increase of 20.9% year over year. NOI was $64.6 million -- an increase of 14.4% year over year. Total Revenues were $103.5 million -- and increase of 16.4% year over year. MRR as of September 30, 2016 were $29.8 million -- an increase of 13.6% year over year.
Customer leases for Q3 2016 represented about $14.5 million in annualized rent, net of downgrades. This was a 55% improvement over the prior four quarter average leasing activity. This was driven partially by higher C1 pricing and more C2/C3 sales. Renewed leases totaled $10.7 million at an average rent of $1,204 per sq. ft. -- +0.8% higher than their previous rents. Rental churn was 1.1% for Q3 2016 and 4.8% for the first nine months of 2016. "Commenced" customer leases in Q3 2016 were up to $746 per sq. ft. from the prior four quarter average of $611 per sq. ft. This was mostly due to a higher mix of C2/C3 sales. QTS also achieved FedRAMP certification. This should put it in an even stronger position to win government deals.
QTS updated its FY2016 Guidance.

The midpoint of the Operating FFOPS was moved upward by +$0.01 per share. This gave the positive triumvirate for Q3 2016 as QTS beat on Operating FFOPS by +$0.03 at $0.67/share and on Revenues by $1.12 million at $103.47 million. This triumvirate is normally taken as a buy sign for a stock. The Price/Operating FFOPS multiple of $51.96/$2.61 = 19.9 is a bit high though. Remember that the Operating FFOPS growth was only 10% year over year in Q3 2016. Many other measures of growth are higher. However, if they are not on a per share basis, investors' money is not going to grow quickly. I estimate that the Price/Operating FFOPS multiple might more properly be in the range of 15-18. In other words QTS, while a good growing stock, is probably over valued at this time. Hence a HOLD rating is warranted in the short term, although investors will likely want to BUY QTS on a pullback below a Price/Operating FFOPS multiple of 18.
The roughly four year chart of QTS provides some technical direction for a trade/investment.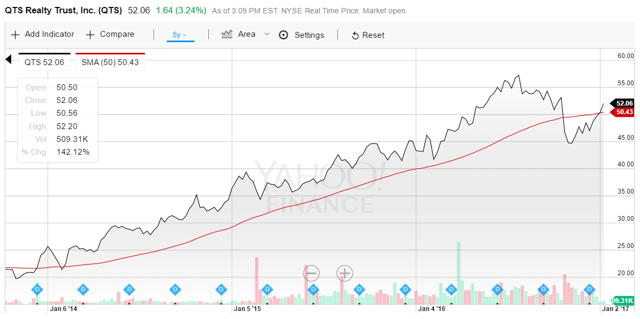 The uptrend in the chart above is a very strong one, although it does seem to be weakening technically of late. The fundamentals make one think that the uptrend will continue long term. However, the Price/Operating FFOPS multiple of roughly 20 makes one think that QTS may be a bit overbought at this time. The fundamentals and technicals make one think that it is probably appropriate to wait for a pullback to buy QTS stock. QTS is therefore a near term HOLD; but its fundamentals and the fundamentals of its industry make it a long term BUY. The 2.77% annual dividend helps one want to own the stock. The beta of 0.50 is very strong for a young stock.
NOTE: Some of the fundamental fiscal data above is from Yahoo Finance.
Good Luck Trading/Investing.
Disclosure: I/we have no positions in any stocks mentioned, and no plans to initiate any positions within the next 72 hours.
I wrote this article myself, and it expresses my own opinions. I am not receiving compensation for it (other than from Seeking Alpha). I have no business relationship with any company whose stock is mentioned in this article.