Timing the market is difficult. Timing to maximize income from dividends however is much simpler. While buying a stock before it goes ex-dividend should in theory not change your total return, it still allows you to maximize how fast you get back real money from your investments without selling anything. This week, precisely on January 6, three great dividend stocks with a yield above 3% go ex-dividend. I personally have owned two of them prior to that article and have initiated a first position in the third one now as well.
And here are the candidates:
AT&T (NYSE:T), a U.S. based telecommunications giant providing solutions across the following segments: Business Solutions, Entertainment Group, Consumer Mobility and International and sports a market cap of $264 billion
Verizon (NYSE:VZ), another U.S. based telecommunications major operating through the Wireless and Wireline segments with a market cap of $222 billion
Toronto-Dominion Bank (NYSE:TD), a Canadian bank offering financial products and services in the Canadian Retail, U.S. Retail and Wholesale Baking business segments with a market cap of $92 billion
So, let's take a look at each of these candidates and their investment case for long-term dividend investors.
Investment case for AT&T currently yielding 4.5%
In terms of stock price the company has enjoyed a very strong run lately rising from $36 to almost $44 which has seen its yield retreat from a rare 5.5% to around 4.5%. AT&T, as one of the market's heavy weights makes news almost every day but the big news came in October 2016 when the company announced a $85 billion mega-merger with Time Warner (NYSE:TWX). Since then the company has become largely known as the "new AT&T". Despite the stock price having significantly risen from its initial pullback following this news, I am long this company not for growth but for income, precisely for slowly rising and reliable dividend payments. The company has been growing its dividend for 32 consecutive years and is currently in a process of innovating. This innovation really started with the company's $48.5 billion DirecTV acquisition in 2015 and does now continue with the proposed Time Warner merger and the company's recently announced plans to test 5G DirecTV this year. There is certainly risk attached to investing in this stock and the primary risk I see is debt which is expected to jump from $117B to $183 post TWX acquisition and the company's borrowing cost which are set to increase following more debt and rising interest rates. Still, AT&T's large and reliable cash flows should allow the company to service its debt and grow its dividend going forward. The company goes ex-dividend on Friday and so needs to be bought tomorrow by investors in order to be eligible for that next dividend payment.
The case for Verizon currently yielding 4.2%
The recent stock price development of telecommunications major Verizon is closely mirroring that of AT&T and in fact the arguments for buying this stock are very similar as well.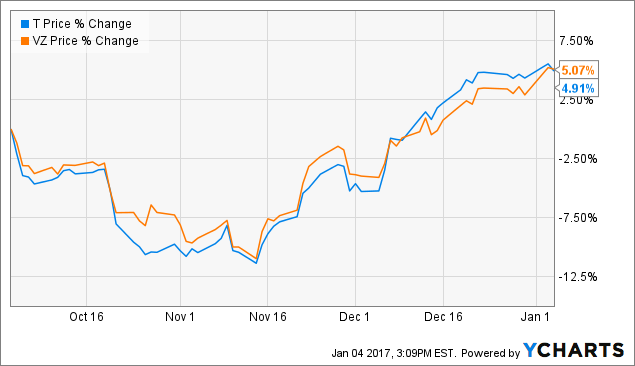 Verizon, the US market leader in wireless communications, is a cash-flow machine for dividend investors but with very marginal growth. Recent acquisitions of AOL and Yahoo create exciting growth opportunities and could catapult future dividends. While the AOL acquisition is already done and dusted the Yahoo one is still questionable giving the massive data leaks Yahoo has admitted over the last couple of months. It will be interesting to see how the company comments on that deal in its Jan 24 earnings call.
As mentioned above the share price has risen recently and is even trading at or near 52-week highs but in a market which is generally rising the stock still offers a compelling buying opportunity for dividend-hungry income investors and is even better as investors buying the stock before Jan 6 will already receive the first dividend by early February. The company has been raising its dividend for 10 consecutive years and boasting a payout ratio of 60% leaves room for future dividend growth.
Investment case for Toronto-Dominion Bank currently yielding 3.3%
This Toronto-based Canadian bank is an excellent dividend investment which is ignored by many investors just focusing on U.S. stocks. It is trading at 14 times earnings and yields 3.3%. It is one of the Big Five Canadian banks that should belong into every long-term oriented dividend portfolio, the others being The Royal Bank of Canada (NYSE:RY), Bank of Nova Scotia (NYSE:BNS), the Bank of Montreal (NYSE:BMO) and the Canadian Imperial Bank of Commerce (NYSE:CM). While the company's dividend growth streak is only 6 years old due to an approximately 20% cut during the big financial crisis in 2008/2009 its overall dividend track record is very impressive dating back in the late 19th century. Such a longevity is very rare and implies that the company is pursuing a rock-solid business model in a sector that has seen overblown excesses in both directions for decades. Its payout ratio of around 43% is moderate and leaves ample dividend growth potential for the future.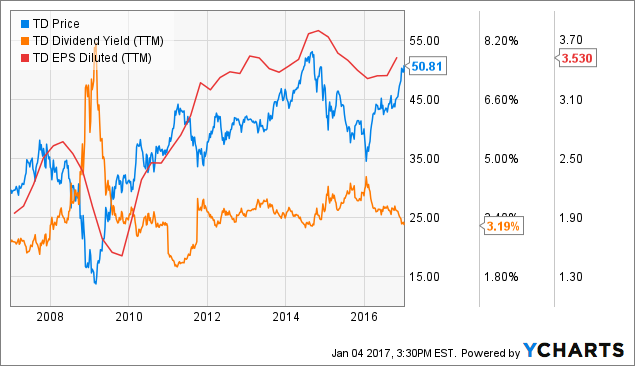 The stock is currently trading right at its 52-week high but at the current valuation the stock is still a buy. With interest rates set to increase, and potentially even faster than the market expects, I regard the Canadian banks as excellent dividend opportunities to benefit from this both in terms of stock price growth and dividend growth. As Toronto-Dominion Bank needs to be bought today in order to be eligible for the next dividend, I have only covered this stock here (the other Canadian banks have different ex-dividend dates).
In summary, dividend investors who want quick income from their investments without having to sell anything could screen the market for ex-dividend dates and time their purchases accordingly. With all three stocks mentioned here going ex-dividend on Jan 6, investors need to have the stock in their portfolio account before the market closes on Jan 5. Naturally, the "buy" or "not buy" decision should depend on far more factors than just the ex-dividend date but it is one variable to consider when trying to optimize your income.
What do you make of these stocks? Are they too expensive for you? Are you timing purchases in line with ex-dividend dates or not care at all about this?
Disclosure: I am/we are long T, VZ, TD, CM, RY, BNS, TWX.
I wrote this article myself, and it expresses my own opinions. I am not receiving compensation for it (other than from Seeking Alpha). I have no business relationship with any company whose stock is mentioned in this article.
Additional disclosure: I am not a financial professional and accept no responsibility for any investment decisions a reader makes. This article is presented for information purposes only. Furthermore, the figures cited are the product of the author's own research and may differ from those of other analysts. Always do your own due diligence when researching prospective investments.