Eaton Vance Risk-Managed Diversified Equity Income Fund (NYSE:ETJ) is an equity closed-end fund that invests in a diversified portfolio of common stocks and hedges its exposure by:
Buying out-of-the-money short-dated S&P 500 index put options.
Selling out-of-the-money S&P 500 index call options (of the same term as the put options)
The fund tries to maximize after-tax total return by seeking to minimize and defer federal income taxes.
(Data below is sourced from the Eaton Vance website unless otherwise stated.)
ETJ is currently selling at a 9.53% discount to NAV, which is above its average for the last year. But the fund has traded at higher discounts in the past, and the five-year average discount is about -10%.
Here is a five-year history of the ETJ premium/discount from CEFConnect: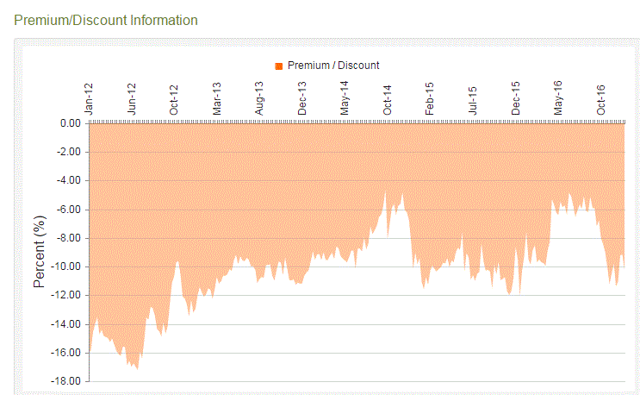 ETJ invests primarily in large-cap stocks with a small allocation to mid-caps. The top holdings are highly correlated with the S&P 500, which makes the S&P 500 option hedging more effective. Here are the fund's top ten holdings as of November 30, 2016:
Within the equity covered call CEF sector, I generally prefer funds that use index options over those that use options on individual stocks.
Aside from the tax advantage, options on stock indexes generally trade with a lower bid-asked spread and are more liquid. This means reduced "slippage" costs, resulting in less drag on performance. ETJ only uses options on the S&P 500 which are highly liquid.
This is a summary of the put and call options that they use. Note that 97% of the portfolio is hedged, which means ETJ has very low downside risk in return for giving up much of the upside returns.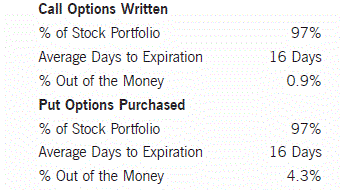 As with many covered call funds, the fund uses a high managed distribution plan where it is currently paying out $0.093 per month. At the end of 2012, ETJ converted from paying quarterly distributions to the current monthly distributions, and the fund has paid out the same $0.093 monthly distribution ever since.
Generally, most of the distributions are return of capital, which is intentional, since the fund tries to maximize after-tax total return. For example, the next monthly distribution of $0.093 is expected to be $0.0785 return of capital and $0.0145 income.
Given the high-double digit annual distribution rate, you should expect the fund's NAV to gradually fall over time. But by re-investing the distributions (either back into ETJ or into other investments), you can still get a decent after-tax total return.
That said, I consider ETJ to be more of a short-term swing trading stock to be owned when you want to get defensive, and not a long-term buy and hold stock that you put away and forget about.
Here is the total return NAV and price performance record of ETJ since 2008 compared to the S&P 500. Note how the fund outperforms in bear markets, but underperforms in bull markets because of its hedging activities.
| | | | |
| --- | --- | --- | --- |
| | ETJ NAV Performance | ETJ Price Performance | S&P 500 |
| 2008 | -4.57% | +6.32% | -37.00% |
| 2009 | +5.69% | +3.40% | +26.46% |
| 2010 | -0.71% | -10.25% | +15.06% |
| 2011 | -4.12% | -12.61% | +2.11% |
| 2012 | +3.91% | +11.36% | +16.00% |
| 2013 | +16.50% | +19.54% | +32.39% |
| 2014 | +3.67% | +4.24% | +13.69% |
| 2015 | +1.66% | +5.90% | +1.38% |
| 2016 | -0.25% | -0.76% | +11.96% |
| YTD | +0.90% | +1.67% | +1.45% |
(Source: Morningstar)
ETJ Fund Management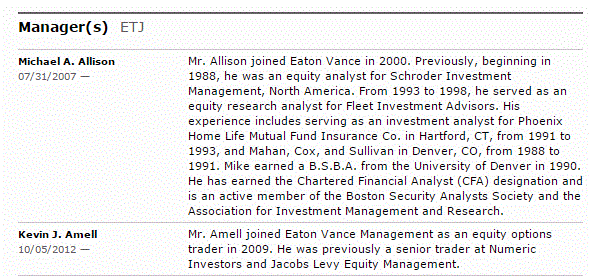 (Source: Morningstar)
The discount to NAV as of January 4 is -9.53%. The 1-year discount Z-score is -0.73 and the 1-year average discount is -8.02%, which means the current discount to NAV is almost one standard deviation below the average discount over the last year. (Source: CEFAnalyzer)
Alpha is Generated by Discount + High Distributions
The high distribution rate of 12.25% along with the 9.53% discount allows investors to capture a little bit of alpha by recovering a portion of the discount whenever a monthly distribution is paid out.
Whenever you recover NAV from a fund selling at a 9.53% discount, the percentage return is 1.00/0.9047, or about 10.5%. So the alpha generated by the 12.25% distribution is computed as:
(0.1225)*(0.105) = 0.0129, or about 1.29% a year in discount capture alpha.
Note that this is more than the 1.09% baseline expense ratio, so you are effectively getting fund management for free with a negative effective expense ratio of -0.2%.
ETJ pays monthly.
Total Assets = $641 million
Annual Distribution (Market) Rate= 12.25%
Fund Expense ratio = 1.09%
Discount to NAV = -9.53%
Portfolio Turnover rate = 77%
Average Daily Volume = 291,000
Average Dollar Volume = $2.6 million
Call Options (written) as a % of total assets = 97%
Put Options (owned) as a % of total assets = 97%
No leverage used
Because of the big market run-up after the Trump election, this may be a good time to own some ETJ in your portfolio as a partial hedge. It is liquid and easy to purchase. Because of its tax management policy, the fund can be a good holding in either a taxable account or an IRA.
Disclosure: I am/we are long ETJ.
I wrote this article myself, and it expresses my own opinions. I am not receiving compensation for it (other than from Seeking Alpha). I have no business relationship with any company whose stock is mentioned in this article.