New Gold (NYSEMKT:NGD) is a mid-tier gold producer, poised to become one of the gold majors. The Canadian company operates four gold mines located in safe jurisdictions (Canada, USA, Australia, Mexico) and it develops two new major gold mines. The Rainy River mine is under construction and it should be completed in summer of 2017. The Blackwater mine is in the permitting process, with the start of construction expected in 2018. Thanks to Rainy River and Blackwater, New Gold is in a unique position. It is going to grow its production rapidly, while maintaining a low level of political risks, as both Rainy River and Blackwater are located in Canada.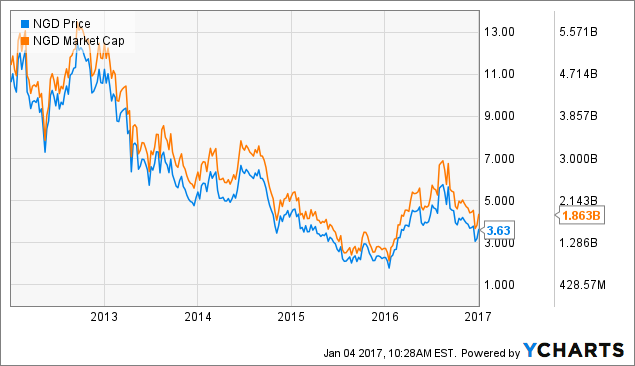 Although the prospects of New Gold are very good, its share price has declined significantly over the last couple of years. In late 2012, the market capitalisation of the company was more than $5.5 billion which is 190% more than the current market capitalisation of $1.86 billion. The main reason for the steep decline was the gold bear market. As the gold price started to grow again, New Gold's market value climbed back to $3 billion relatively quickly, only to fall back below $2 billion, as the gold price started to fall once again, in late 2016. It only shows how strong leverage to the gold price New Gold has, due to the relatively high AISC at two of its four operations. But thanks to Rainy River and Blackwater, it will be able to produce much more gold at significantly lower AISC, which means that the company will be far more profitable even at relatively low gold prices.
The current operations
New Gold operates four mines in four safe jurisdictions: New Afton (Canada), Mesquite (USA), Cerro San Pedro (Mexico) and Peak Mines (Australia). According to the production guidances, New Afton produced 90,000-100,000 toz gold and 75-85 million lb copper in 2016. Thanks to the significant copper byproduct (although given the value of the production, New Afton is a copper mine with gold as a byproduct), New Afton is able to produce gold at an AISC of $95-135/toz. Mesquite produced 130,000-140,000 toz gold in 2016, at an AISC of $1,015-1,055/toz. Peak Mines produced 80,000-90,000 toz gold at an AISC of $1,020-1,060/toz and Cerro San Pedro produced 60,000-70,000 toz gold at an AISC of $765-805/toz.
The New Afton mine is New Gold's most valuable operating mine right now. According to the resource and reserve estimates as of December 31, 2015, it has gold reserves of more than 1.2 million toz and gold resources of almost 1.4 million toz. Due to the significant copper credits, the mine is able to produce gold at AISC around $100/toz. Thanks to New Afton, New Gold's company level AISC was only $682/toz in Q3, 2016. The Cerro San Pedro mine has the second lowest AISC, but unfortunately, its mine life has come to an end and it will transition to residual leaching which means that its contribution to the total gold production will fall rapidly.

Source: New Gold
The Mesquite and Peak Mines have still several years of production ahead but their AISC is higher than $1,000/toz. They don't add to New Gold's earnings and cash-flow too much at the current gold price.
The Rainy River project
The Rainy River project is situated in Ontario. It is 100%-owned by New Gold. The deposit contains reserves of 3.81 million toz gold and 9.43 million toz silver and resources of 3.34 million toz gold and 10.93 million toz silver. The mine is under construction, with first gold production expected in summer of 2017. As of October 2016, the mine was 60% completed and $680 million out of the total initial capex of $1.045 billion was spent.

Source: New Gold
The mine should be able to produce 325,000 toz gold per year, at an AISC of $710/toz. It means that Rainy River will be able to double New Gold's post-Cerro San Pedro closure total gold production.
The Blackwater project
The British Columbia located Blackwater project has reserves of 8.17 million toz gold and 60.8 million toz silver and resources of 1.59 million toz gold and 9.3 million toz silver. According to the December 2013 feasibility study, the construction should cost $1.86 billion, including a contingency of $190 million. An initial mine life of 17 years is expected. The projected annual production equals 485,000 toz gold and 1.842 million toz silver over the first 9 years and 463,000 toz gold and 1.531 million toz silver over the first 14 years. The AISC should be only $685/toz of gold.

Source: New Gold
New Gold intends to finish environmental permitting in 2017 and the start of construction is expected in 2018. The biggest hurdle probably won't be the permitting process, but finalizing the financing package. As of September 30, New Gold had debt of $800 million ($300 million due in April 2020 and $500 million due in November 2022), a revolving credit facility worth $400 million and cash & cash equivalents of $151.2 million. However $124 million of the revolving facility was used to issue letters of credit for mine closure obligations and the rest should be used to complete the Rainy River construction. At the current gold price, the company should be able to generate cash-flow of approximately $120 million in 2017 (assuming that the New Afton, Mesquite and Peak Mines mines will reach similar production levels and AISC as in 2016 and that Rainy River won't be able to generate any positive cash-flow in 2017). From 2018, it should grow to more than $250 million, if the Rainy River ramp-up goes well. It means that New Gold should be able to finance approximately 1/3 of Blackwater capex from cash-flow. The rest, approximately $1 billion, must be financed via a debt or sale of a gold stream or via an equity financing.
Finalization of the Blackwater financing will be a major milestone as it will have a significant impact on the upside potential of New Gold's shares.
Conclusion
The market value of New Gold is approximately $1.86 billion. That's definitely not too much for a company that is going to produce more than 600,000 toz gold per year at an AISC of approximately $730/toz, from 2018. And after the Blackwater mine is completed (probably sometimes in 2020), New Gold should reach an annual production of more than 1 million toz gold, at an AISC of slightly more than $710/toz. If the current gold price of $1,150/toz prevails, New Gold should be able to generate earnings of $200-300 million (depending on the structure and terms of the Blackwater financing package). It means that the share price has the potential to double over the next 3-4 years, even at the current low gold price. It is not that bad for a company that operates in safe jurisdictions and that has a track record of successful mining operations. Not to mention that the growth potential is even bigger, if the gold price starts to grow again.
Disclosure: I/we have no positions in any stocks mentioned, and no plans to initiate any positions within the next 72 hours.
I wrote this article myself, and it expresses my own opinions. I am not receiving compensation for it (other than from Seeking Alpha). I have no business relationship with any company whose stock is mentioned in this article.