Thesis: Twitter is relatively cheap at just over $16 per share and could see continued buyout interest in 2017. There is also some level of hope for the company as a standalone entity with its developing monetization initiatives.
Overview
As of the time I write this, Twitter (NYSE:TWTR) is priced at just $16.38 per share, the cheapest it's been in nearly six months.
Is TWTR a viable long on the basis of a prospective sale versus its potentially more muted downside as growth-stagnating enterprise? Monthly active user ("MAU") growth has been flattening recently, although it has managed to meaningfully break above the 300 million barrier, with successive growth in the first three quarters of 2016.
And the market hasn't responded well to the shakeouts at the executive level, including the recent resignation of China boss Kathy Chen. Of course, one could naturally interpret this as the market pricing in uncertainty by becoming more cautious with respect to the company's valuation.
With that said, what is Twitter's downside? The market is sensitive to the $14 level. During Twitter's low points during 2016 - May and June notably - the stock hovered around that price. That's not to say that the stock can't go lower, but based on May's price action there is a clear level of sensitivity to $14 especially.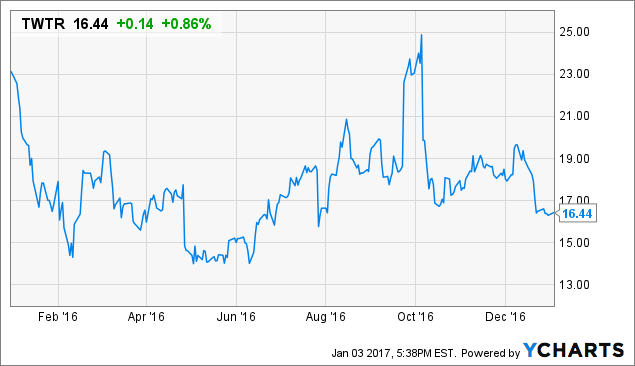 In early October when rumors were in effect, Twitter priced up to over $25 per share briefly, while it's price absent sale interest (before and after the spike) was somewhere in the $16-$19 range. Accordingly, as for a per share sale price, I believe it's very possible that TWTR would likely fetch in the high-$20's to $30+ in a sale.
If we go by a very recent high-profile deal - Microsoft's (NASDAQ:MSFT) acquisition of LinkedIn (LNKD) - where the latter was acquired at 6.1x forward sales, the sell-side's median projection of $2.8 billion in FY2017 sales median projection would project an enterprise value of $17.1 billion. Making corrections for cash and debt, (adding the $3.66 billion in cash and subtracting the $1.65 billion in debt), we would get to about $27 per share, for a control premium of about 65%.
There is some level of interest, but potential acquirers - Google (NASDAQ:GOOG)(NASDAQ:GOOGL), Salesforce (NYSE:CRM), Disney (NYSE:DIS), AT&T (NYSE:T), and whoever else - may dispute paying a takeover premium of 100%. When rumors swirled of a potential sale back in September and October, the main stumbling block was indeed price.
While Twitter has encountered difficulties over the past few years, it is not at the point at which it necessarily needs to be a motivated seller. Twitter management may have enough confidence in the platform to avoid taking "lowball" mid-$20's offers and selling at that level is all the more unappealing when three years ago (January 3, 2014, to be exact), Twitter was trading at $69.00.
Salesforce has shown strong signs of interest in the past although I don't see a clear level of business overlap/synergies. Salesforce specializes in customer engagement tools and Twitter is more of a broadcasting platform with a level of social networking functionality. Google makes the most sense to me from a financial perspective. Twitter would be under little to no pressure to perform financially in the early going given Google's robust financials and numerous other cash-flow positive business outlets. The issues with a Google acquisition is a potential (likely?) anti-trust conflict, and consequent blocking, from the US Department of Justice.
Nevertheless, Google is likely not as warm on purchasing Twitter as it was in the past on the basis that social media doesn't truly have that much of an impact its core business model. In other words, Google may have missed the boat on acquiring a dominant social media platform, but having a hand in that market is simply not as important as it ostensibly was a few years ago. Google also lacks an existing platform that would make for seamless integration.
Massive Chinese conglomerates, including Alibaba (NYSE:BABA) ($213 billion market cap) or Tencent Holding Ltd. (OTCPK:TCEHY) ($230 billion market cap plus stock trading near an all-time high), likely have interest. But there are definite complications for a Chinese company's ability to wade through the red tape and other legal restrictions regarding a potential purchase of this magnitude.
Disney makes plenty of sense given the broadcasting overlap and could provide a complementary add-in to its struggling ESPN network to better cross-market and disperse its content. A major media or telecommunications company, such as Time Warner (TWC), AT&T , or Verizon (NYSE:VZ) also have the requisite degree of business overlap, financial capability, credit quality, and transformative aspirations to make a deal work.
The upcoming year should also be positive for M&A generally. Interest rates remain very low and stock valuations remain among all-time highs, which ensures that debt and equity capital funding will remain attractive forms of currency for prospective acquisitions.
Valuation
Traditional valuation means nothing in the event of a sale, but we can still get a feel for where a pre-earnings company such as Twitter should trade on the basis of revenue multiples. Even if we conservatively assume that Twitter only matches its FY2016 revenue of about $2.6 billion, and this value is applied to a fairly cheap revenue multiple of 3x, this suggests a $7.8 billion enterprise value.
To get a rough approximation of the equity value, making corrections for cash and debt, we get a total value of $9.8 billion. At about 710 million shares outstanding that gets us to a price of ~$13.80 per share or about 16% downside. At a multiple of just 2.5x, that would get us to ~$12 per share or 27% downside. An ultra-cheap multiple of 2x (unlikely), would result in a share price just above $10 for 37% downside.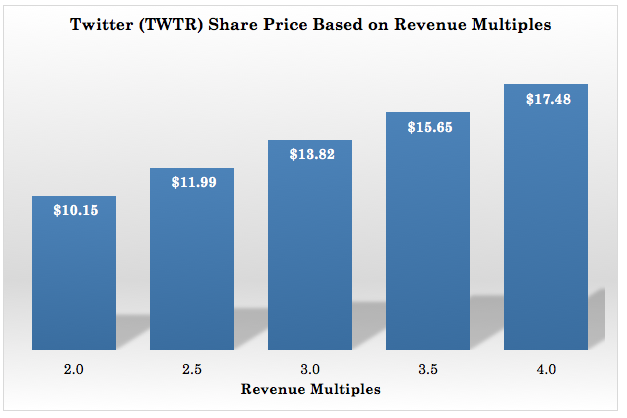 (Source: author)
However, we have to factor in that in the event of a sale Twitter is likely to nearly double from today's price just above $16 per share. If we consider 37% our downside and 65%+ upside, the risk/reward fundamentals appear to be favorable. For a market trading on an estimated 5%-6% forward annual returns expectations, Twitter's provides an uncommon level of potential upside.
Moreover, there is value in the brand itself. Twitter is one of the most popular online brands in the world and is one of the most common online marketing and engagement tools available. It is the 8th-most popular website in the world according to SimilarWeb and the 14th-most popular according to Alexa. The platform's partial transformation from a social network to a broadcasting outlet creates potential to augment is advertising monetization capabilities down the line.
Content and business marketing will remain key elements to Twitter's ad revenues, but it simply cannot compete with Facebook (NASDAQ:FB) on the basis of price at the moment. Twitter will have difficult ever competing with Facebook in advertising due to the fact that the latter's mass appeal is, and will always be, inherently better. There is great difficulty inherent in marketing short-form text-based messages (Twitter) over the text/image combinations that also happen to be wrapped up in the appeal of a real-life social networking platform (Facebook).
Conclusion
A sale of the company is currently Twitter's best bet and buyout rumors are likely to continue through 2017. Without a takeover, there is still some hope that Twitter can perform on its own merits. MAU growth has stagnated but is still seeing some marginal increases as of late. Monetization efforts through a broadcasting-oriented transformation are appropriate for a platform of Twitter's niche. Moreover, it works to open up further sale interest among companies such as Disney or a major media corporation.
Even if MAU growth remains flat and its Periscope and Moments products fail to attract a significant number of users, the downside appears much more limited. From the vantage point of Twitter at $16, I believe the risk/reward appears skewed to the upside. If things go very badly for Twitter with growth stagnation and mediocre reception for its monetization initiatives, and it re-rates down to a revenue multiple of 2x (currently 3.8x), that's a bit less than 40% downside. If things go well and it attracts M&A interest and there is a buyer willing to pay the ~$20 billion price tag (of which there could be several), we could be looking at close to 100% upside from current share prices.
Accordingly, I believe two scenarios are likely for Twitter going forward: (1) it is either purchased outright by a larger tech or media conglomerate or (2) its MAU growth continues to stall and Twitter becomes more of a motivated buyer. Hence, I believe buying Twitter at this juncture is an investment that can either go really well, or just a little bit wrong.
--
Catalysts
- Sales of the company (primary)
- Twitter continues to MAU slowly and monetize a greater portion through its partial transformation to a broadcasting platform
Risks
- Sale fails to materialize
- Company is too expensive to acquire at over $20 billion
- MAU growth continues to stagnate and its upcoming monetization efforts and new products (e.g., Periscope, Moments) are too niche-y and fail to appeal to a broad user base
Disclosure: I am/we are long TWTR, GOOG.
I wrote this article myself, and it expresses my own opinions. I am not receiving compensation for it (other than from Seeking Alpha). I have no business relationship with any company whose stock is mentioned in this article.