The State of Construction: Overview
Every couple of months, we look at the current state of the construction industry. While much of the focus in recent years has been on interest rates, we believe that any analysis of residential and commercial real estate valuations must begin and end with a thorough analysis of the commodity actually being sold: rentable space.
The "rentable space market" is driven on the demand side by economic and income growth and on the supply side by construction activity. Vacancy, effective rent growth, and the underlying net asset value of the real estate asset is driven by the supply/demand curve for this space market.
Through a series of charts, we present the current state of the "supply" curve for this space market. We encourage readers to follow our Seeking Alpha page (click 'Follow' at the top) for monthly updates.
Construction Spending
Private construction spending has stabilized in recent months after late-summer softness. This week's release of the November data showed private construction spending rose 0.95% month over month and is now up 4.5% year over year. Residential construction activity has continued to slow in recent months while nonresidential construction has stabilized.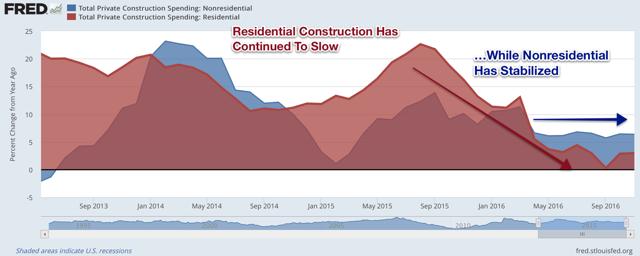 Residential construction spending is still well below its 2006 peak while nonresidential construction now exceeds its 2008 peak by 5%. Note that these are nominal figures and have not been adjusted down for inflation. Inflation in the construction sector has been significant since 2013 (about 4.5% per year), as we will detail throughout this piece. Thus, the "real" growth in rental space has been more moderate than the nominal construction spending data might suggest.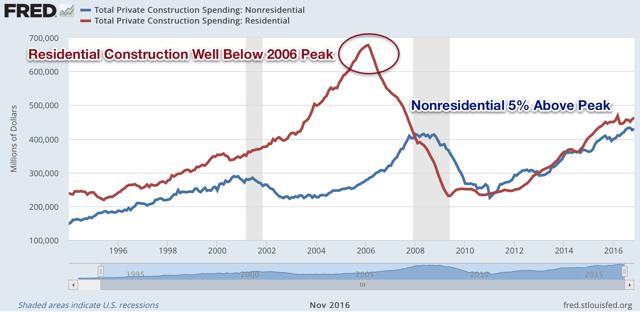 We break down the nonresidential data further to isolate the "investable" real estate sectors. Office construction spending now exceeds its 2008 peak by more than 10%. Commercial construction spending (which includes warehouses and retail) has seen a more moderate recovery and is still 20% below 2008 levels. Lodging construction nearly shut-off after the recession, but has seen considerably growth over the last two years. Again, keep in mind that these are nominal spending figures.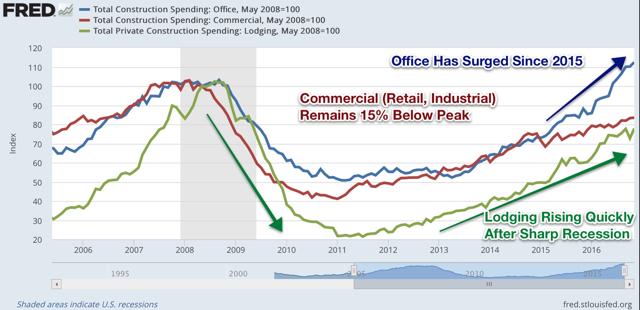 Housing Permits & Starts
Building permits, a leading indicator of future residential construction, is reported monthly and broken down into single family and multifamily permits. Permitting activity peaked in 2006 with an annualized rate of over 2.2 million permits per year before bottoming out in 2011 at roughly 600,000 per year. Below, we stack single family permits atop multifamily permits. Multifamily construction, particularly in the Class A luxury category, has been the bright spot in the otherwise sluggish housing recovery.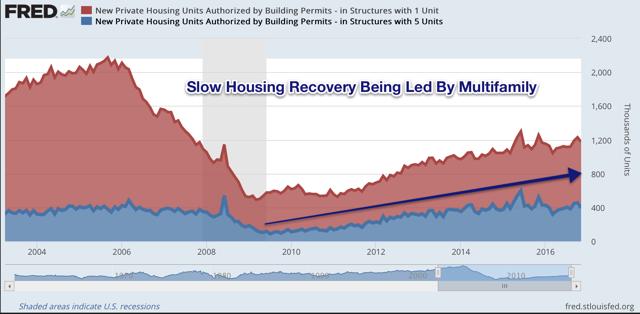 While single family housing permits have slowly marched higher, multi-family has been more volatile, spiking in early 2015, declining until mid-2016, and recently re-accelerating. Oversupply in the Class A multifamily space has been no secret, especially in coastal markets like NYC, SF, and LA. These have been and will continue to be significant concerns for multifamily REITs like AvalonBay (NYSE:AVB) and Equity Residential (NYSE:EQR).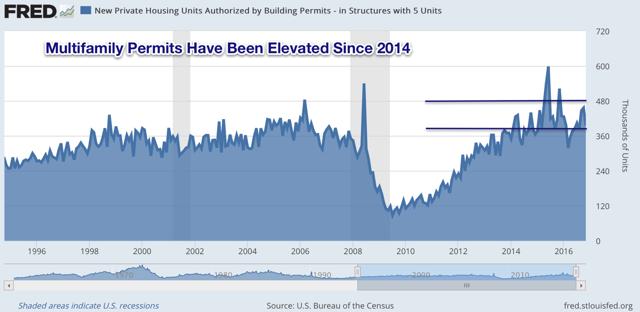 The mini-surge in multi-family permitting between early 2015 and early 2016 is just beginning to hit the market. The November data showed the highest annualized rate of completions in nearly 30 years. As a result of the new supply, we expect to see softness in the apartment rental markets through 2017 with rent growth decelerating down from record levels.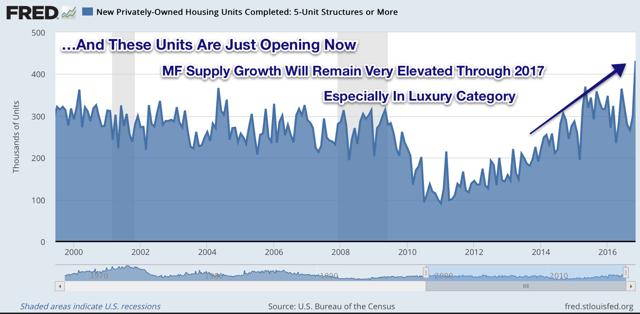 Construction Employment
Construction employment, another coincident indicator reported monthly, can also tell us a lot about the current state of the market. In many ways, construction employment is a better indicator of the "real" production of new space, as it essentially adjusts and normalizes some of the inflation-effects of the aforementioned construction spending data.
ADP Nonfarm Private Construction Payrolls Employment have declined in four of the past seven months following 30 months of consecutive growth.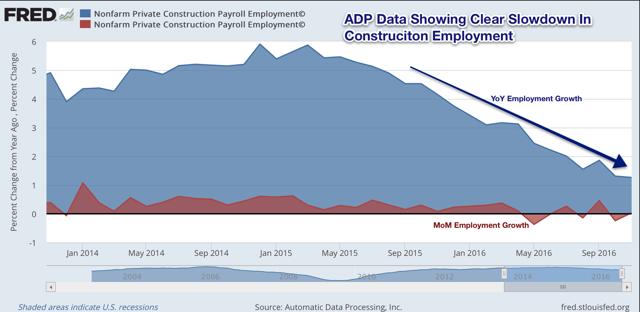 Data released from the BLS shows a similar - but not as pronounced - trend of deceleration in construction employment. We note below the strong hiring that occurred between mid-2015 and mid-2016, coinciding with the mini-boom in multifamily construction.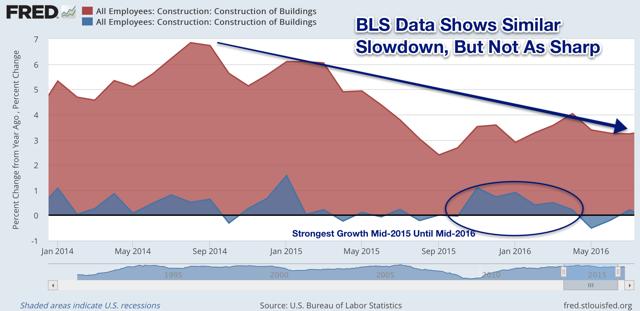 Looking at this another way, we can see that construction employment is still only 90% of the pre-recession highs while total nonfarm employment is 5% higher.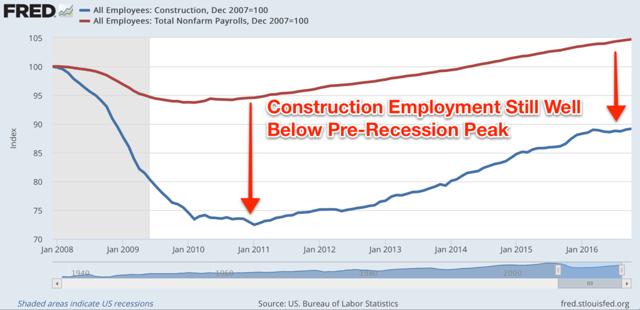 The sharp slowdown in construction employment over the past six months is perhaps the most convincing evidence of a significant moderation in construction activity.
Supply and Demand in the Lending Markets
The Federal Reserve Board's Quarterly "Senior Loan Officer Opinion Survey on Bank Lending Practices" is one of the best leading indicators of future construction. Reported supply and demand for commercial real estate loans tends to lead construction spending by 12-18 months and completions by 24-36 months. Every quarter, surveyors ask senior loan officers to report the supply and demand conditions for commercial real estate loans.
On the supply side, the data reports the net percentage of banks reporting tighter credit standards for commercial real estate loans. Q4 data, released in November, showed that lending standards continued to tighten for the fourth consecutive quarter, particularly in the multifamily space.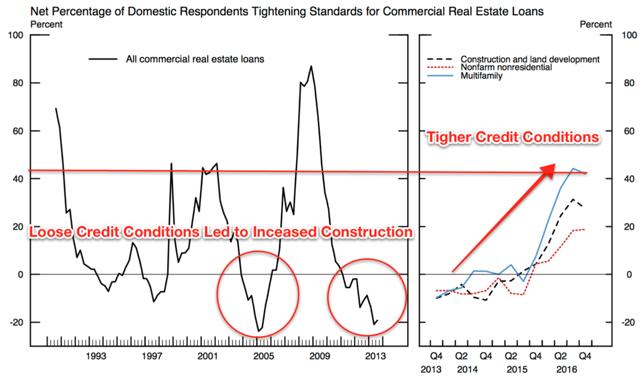 Demand for these loans, though, continues to be strong, but is undoubtedly decelerating.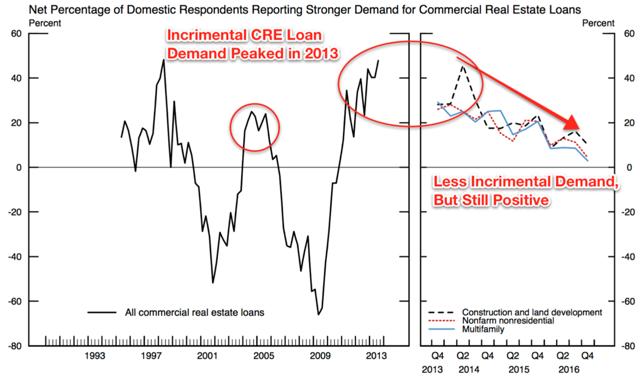 Together, these metrics indicate that construction spending should continue to moderate in coming months. Whether or not the peak in construction activity that occurred in 2015 will result in considerable oversupply in the rentable space market, though, remains to be seen.
Construction Costs
We break down construction costs into five categories: land, labor, materials, financing, and regulatory. Rising construction costs tend to discourage marginal new construction projects and increase the value of real estate assets by increasing replacement costs. Developers are less willing to build "on spec" if they may be left holding a very expensive and illiquid asset, or if they are unable to finance it with a positive spread.
Below, we show the PPI for construction materials stacked atop the average hourly earnings for construction employees. We note that this is only two of the five cost inputs we noted above. Lower commodity costs benefited builders through 2015, but the strong recovery in oil and other construction-related commodities have once again pushed construction costs of labor and materials above 4% inflation per year.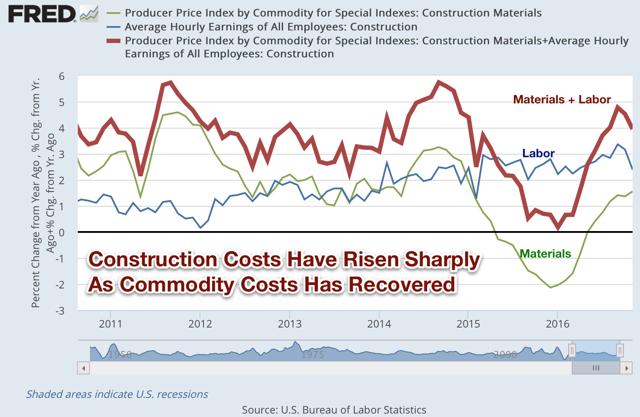 Tight labor markets for construction labor have pushed up construction wages considerably since 2007. The mini-boom in 2015 and 2016 resulted in a significant shortage of construction workers, pushing up wages to a 3.5% YoY rate by late summer of this year. In October and November, though, we saw a softening of the construction labor markets. Again, this is consistent with a decline or deceleration in construction activity.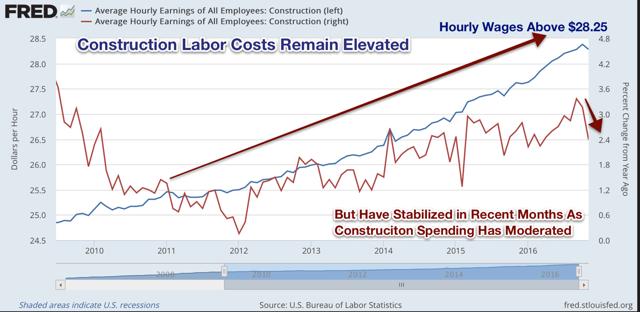 Turner Construction releases a construction cost index every quarter, which is also a very important and useful indicator that we use.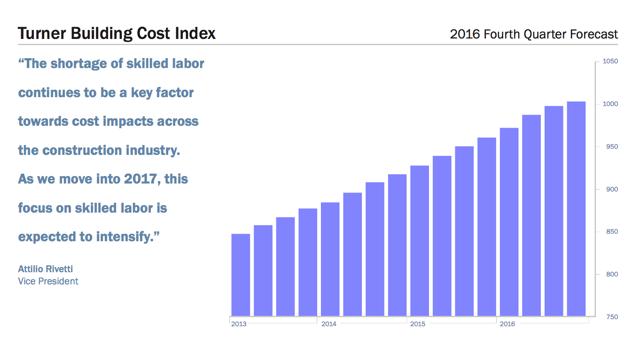 (Turner Construction)
Turner notes that construction costs have risen over 4% every year since 2013 and are on pace to rise nearly 5% in 2016. Between 2013 and 2016, construction costs will have risen nearly 20%.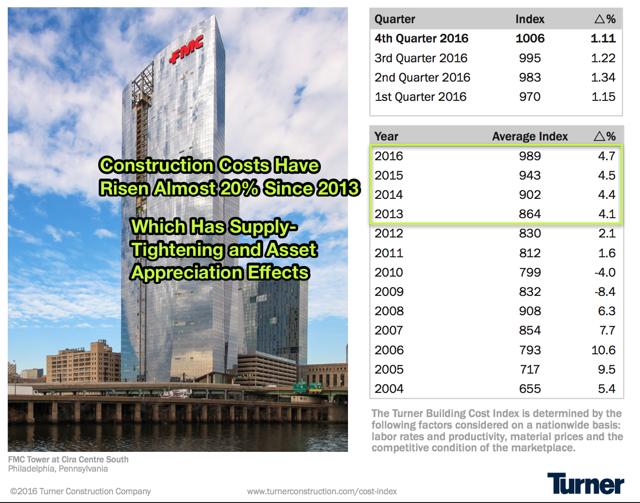 Regulatory costs are often overlooked as primary drivers of construction cost inflation. The National Association of Homebuilders estimates that regulatory costs add roughly $85,000 to the cost of the average single family home, which is up nearly 30% from 2011. The financing impact of Basel III, along with the increased power granted to local zoning and planning commissions to shut down new development projects cannot be overlooked as significant drags on new construction.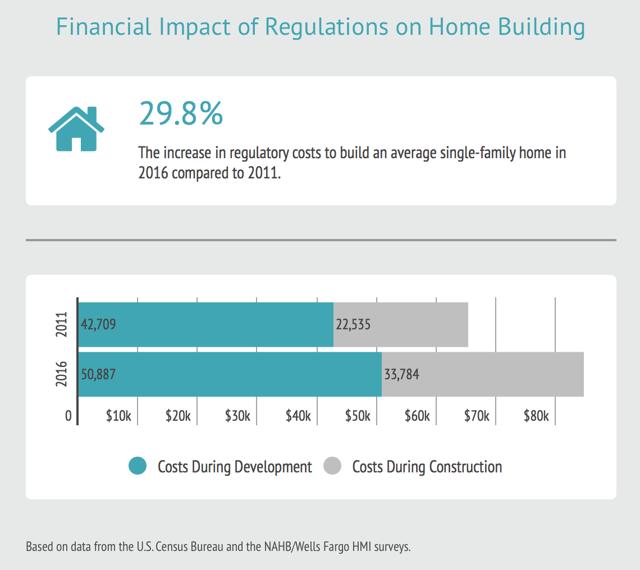 Architecture Billings Index
The Architecture Billings Index is reported monthly by the AIA and is one of the better leading indicators of future construction activity, particularly nonresidential construction, which can be difficult to forecast. Not all projects that are planned end up being started, though, particularly if economic variables significantly change between the architecture inquiry and groundbreaking of the project so the ABI can send misleading signals. In the same light, projects planned years ago may suddenly become economically feasible and thus, might not show up in the data.
The ABI increased modestly in October and November after two consecutive declines in August and September, which was the first time this occurred since 2012.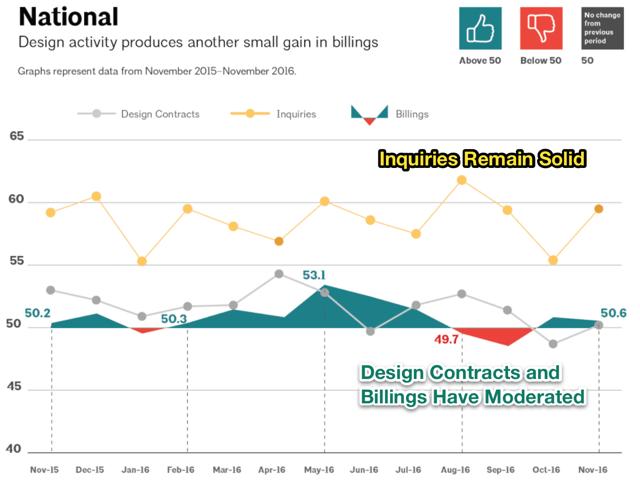 On the sector-level, residential construction billings showed a small resurgence, which is concerning, considering the already worrying levels of supply coming online through the next several years.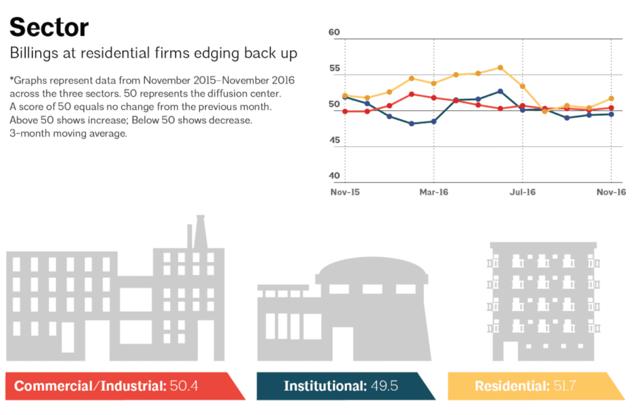 Signs from Rental Markets
The success of REITs (NYSEARCA:VNQ) and (NYSEARCA:IYR) is largely dependent upon their ability to maintain or raise effective rents and keep vacancy low. REITs and other real estate asset owners benefit from "tight" rental space markets where there is limited supply and healthy demand.
Tightness in space markets can be difficult to measure using publicly released data, but we present a metric, Rent Growth/Inflation Spread, that reasonably estimates conditions in the residential space market. We studied the relationship and have found that when rental conditions are "tight," rent growth tends to predictably outpace broader CPI inflation and vice versa. This spread widens when rental conditions are tighter and narrows or becomes negative when there is oversupply in the residential rental space markets.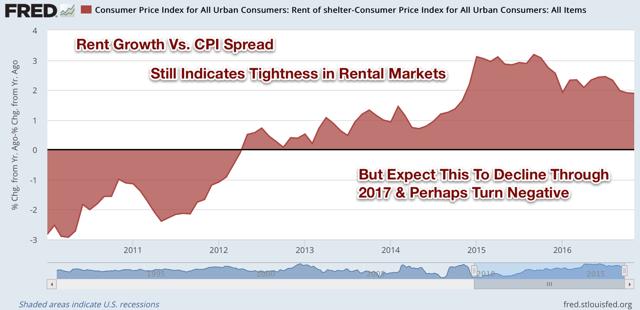 The National Multifamily Housing Council also presents a survey-based analysis of conditions in the residential rental space markets. Their Market Tightness Index is a coincident indicator, while the Equity Financing and Debt Financing Indexes are leading indicators. The quarterly survey has not been updated since our last update, but we recap what we wrote previous.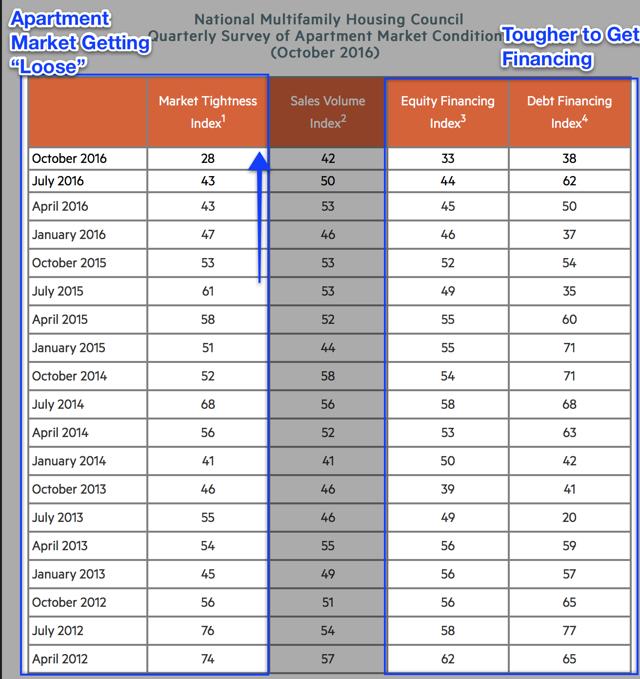 (National Multifamily Housing Council)
October survey showed that the apartment markets are getting "loose," meaning that pricing power for landlords is decreasing. The 28 reading was the lowest since the end of the recession. The ability to finance new projects, though, also decreased to a similar degree. This seems to indicate that there will be considerable weakness from the "mini-boom" in residential construction that has begun to hit the market, but that future construction will likely become far more difficult.
Bottom Line
In recent years, we have seen far too much focus on interest rates as determinants of real estate valuations. While interest rates are certainly a primary determinate of capitalization rates, the other "edge" of the double-edge sword is often ignored: higher rates tend to moderate or depress future construction activity.
Seven years into the recovery, lower interest rates have not resulted in the typical boom-bust cycle in the construction sector. High cost of construction labor and tight lending and land-use zoning regulations have slowed construction growth and could very well extend the real estate cycle for several more years.
Much has changed politically since our last report. We expect the unified Republican government to prioritize infrastructure spending early on in the next administration as it is a relatively uncontroversial, bipartisan issue. We expect a significant increase in public construction spending beginning in late 2017 or early 2018. The public construction sector has been relatively quiet in recent years, and we theorize that increased public construction spending will "crowd out" the private sector, especially in the construction labor markets. Combined with the existing headwinds, our forecast for private construction spending is slightly lower than in our last report.
There are undoubtedly pockets of concern. The multifamily sector, for instance, will see more new units hit the market in 2017 than any time in the past 30+ years. Most of those units will be in the "luxury" category, which is already seeing near-zero rent growth in many major markets. Lodging, too, has seen a dramatic increase in construction activity. This supply boom in lodging, though, comes after a near-shutdown in new supply growth after the recession and comes as hotel occupancy in 2016 was near a record high.
While it is difficult to make a direct 'play' on the domestic commercial construction industry due to the international diversification of many of the largest commercial construction firms, there are several companies to research further. Fluor Corporation (NYSE:FLR), Jacobs (NYSE:JEC), KBR (NYSE:KBR) and equipment makers including Deere (NYSE:DE), Caterpillar (NYSE:CAT) and Manitowoc (NYSE:MTW). The commercial engineering and construction ETF (NYSEARCA:PKB) is one of the few ETFs that tracks commercial construction.
Beneath all of the analysis of interest rates and cap rates, we reiterate that real estate is fundamentally a commodity business. The supply/demand characteristics of the "rentable space" market, which remains tight, will ultimately determine the longer-term valuation of real estate assets.
Disclosure: I am/we are long AVB, EQR, CAT, DE.
I wrote this article myself, and it expresses my own opinions. I am not receiving compensation for it (other than from Seeking Alpha). I have no business relationship with any company whose stock is mentioned in this article.
Additional disclosure: All of our research is for educational purpose only, always provided free of charge exclusively on Seeking Alpha. Recommendations and commentary are purely theoretical and not intended as investment advice. Information presented is believed to be factual and up-to-date, but we do not guarantee its accuracy and it should not be regarded as a complete analysis of the subjects discussed. For investment advice, consult your financial advisor.