General Motors (NYSE: GM) reported its December sales on Wednesday, and the results were fantastic. The American automaker's December sales were up 10% Y/Y, and broke last years record for annual units sold. It is great to see an American company turn things around like they have since the bailout. General Motors is doing a lot of things right. We will review what GM is doing right, the market tailwinds that are helping things, and the major concern I have regarding General Motors as a long term investment.

The decline, then a comeback
When it comes to business model execution, General Motors is doing a lot of things right. General Motors developed a reputation in the early nineties for poor quality, and less impressive models compared to foreign competition. GM share holders were then wiped out during the bailout as the government worked with GM to restructure the company and re-enter the market with a new IPO. As GM was getting back on its feet, numerous recalls in the years following the bailout slowed GM's recovery, and further tarnished the brand. Over the last several years however, General Motors has turned the corner. General Motors has stepped up its game, and put quality products into market. In addition to quality products, General Motors has made strides with satisfying customers with top notch customer service. This has rejuvenated General Motors' image among consumers as a positive one, which has shown in sales. Unit sales have climbed every year since the recession, with 2016 marking another high.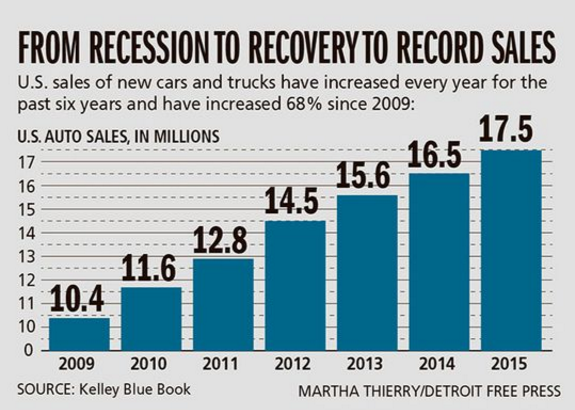 General Motors has also boosted its profitability with a constant rise in operating margin. Selling more cars at higher profit, has enabled earnings per share to rise from $2.89 to what will be around $6 per share in 2016 (per management during third quarter earnings call).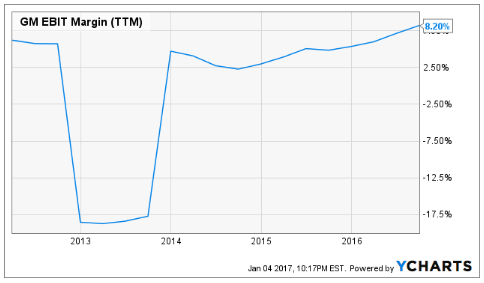 The performance is bringing in the cash. During its Q3 earnings call management forecasted year-end free cash flows to be $6B. Through Q3, free cash flow is already up $2.7B over last year's third quarter. There are factors pointing to continued prosperity in 2017.
Automotive sales are one of the largest indicators of the economy. Consumer sentiment hit a 15 year high at the end of December. When consumers are confident - they are much more willing to make big ticket purchases. Additionally, General Motors took market share in the month of December - which combined with its huge unit sales number in December, indicate a lot of momentum to continue into Q1. A formal forecast should come from management this month, but indications are positive as GM will be launching multiple new "crossover" body style vehicles, and continuing to increase efficiency and lower costs throughout the company.
The opportunity to avoid past mistakes
With General Motors doing so well operationally, it has a great opportunity to clean up its balance sheet. General Motors' largest question mark as a long term holding is the handling of its debt load. While the company is doing a fantastic job expanding margins, and building up cash ($25.75B in cash on the balance sheet), net debt still has continued to climb (net debt subtracts out cash, so even in the face of cash generation the debt load is rising).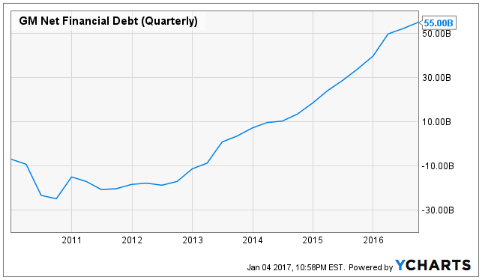 This is very concerning for the long term outlook of the company as interest rates continue to rise, making refinancing a potentially costly action down the road. When the company was bailed out during the recession, the automaker had over $170B in debt, and a $50B pension liability. Most of this debt was wiped out when GM restructured. In the present day, the balance sheet is back to carrying $79B in total debt, and a pension liability of an additional $21B. General Motors just completed a $5B share buyback (at least the buyback is productive given absurdly cheap valuation of shares), and will be finalizing another round of buybacks in the near future.
The long term question is what happens when demand slips, and sales are no longer breaking records? Or when economic conditions or political volatility shake consumers? Even in the face of record breaking sales, expanding margins, cash flows, and earnings growth - the balance sheet is still deteriorating. Things are OK right now, debt is nowhere near bailout levels. Its juicy dividend of $1.52 per share, yielding 4.32% is only taking up 39% of free cash flow. General Motors still has the opportunity to begin reducing its debt and bracing for an inevitable future reversal of fortune. There will be another recession at some point. But the automaker needs to be careful with its debt. Didn't they learn the first time?
Shares are priced with a margin of safety
Even given the growing risk on the balance sheet, there is upside given the valuation of shares alone. Over the last year, shares are up 9% and the stock still trades at only 6X full year 2016 earnings. At its median 10 year P/E ratio of 10.5, shares would be priced at $65 per share. The consensus among analysts is that GM will continue to grow earnings from here at a 8% clip over the next five years. Throw in a dividend that yields over 4%, and General Motors looks like a bargain compared to the rest of the market. The market can continue to ignore the value in General Motors, and investors can still see 10-12% returns before factoring in any possible P/E expansion. But its handling of its balance sheet is borderline reckless. Given the flack General Motors still gets for its huge loss inflicted on tax payers, I don't see the government or public being so generous should GM get itself into fiscal trouble again (nothing would happen anyway without share holder equity again being destroyed).
Conclusion
Depending on who you ask, General Motors is both an American comeback story and a tainted legacy propped up by the government. The bottom line is that General Motors is firing on all cylinders and is back to growing profits, and at a level never seen before. However, old habits die hard and GM needs to get its continually deteriorating balance sheet on the straight and narrow. No matter how good things look now, it won't matter if economic conditions weaken and cash flows dwindle with a large debt load. Ultimately, shares are trading at a nice discount and warrant a look. Just keep an eye on that balance sheet.
If you liked this article, please find my profile icon at the top of this page, and hit the "Follow" button. I enjoy engaging with those who comment, and am always looking for feedback that allows me to improve on the content I provide. As always, thanks for reading.
Disclosure: I/we have no positions in any stocks mentioned, and no plans to initiate any positions within the next 72 hours. I wrote this article myself, and it expresses my own opinions. I am not receiving compensation for it (other than from Seeking Alpha). I have no business relationship with any company whose stock is mentioned in this article.