Summary of Results:
First-off I would like to thank everyone in advance for reading, I hope you all had a Merry Christmas and Happy New Year. I would also like to say I have noticed already that I am more deliberate in my investment planning now that I have been writing these articles and I hope that this will provide value to the readers as well. Please comment if you have questions or things you think I should add for future installments.
Now that the holidays are over and I have a bit more free time to sit and write I am going to show performance for the last two months as well as provide a bit of insight into my plans for 2017. Overall since the last installment at the end of October, we have seen moderate growth over two months and are ending the year slightly up in total value and with a few small dividend increases.
November Recap:

As you can see the portfolio stayed pretty flat earning $226 in dividends in November, but ending up only $59 ahead of October month-end, although this was an improvement from the loss in October.
December Recap:

December was a far better performance overall, $195 of dividend income and an overall gain in the month of just over $1,500. All told since the end of September when I started this series, my total return has been 1.9% (or 7.7% annualized). On a combined basis for both of my accounts.
The big winners since the end of September have been HollyFrontier (NYSE:HFC) up 34% and Associated Bank (NYSE:ASB) up 27% the big losers have been Realty Income (NYSE:O) down 15% and Phillip Morris International (NYSE:PM) down 10%.
I consolidated a bunch of different investment accounts throughout the year (adding about $40,000 throughout the year) so I don't have a great set of full year comparables to use here but fortunately E-trade has built-in charts for both of my accounts and will let me compare to the index. Account numbers omitted.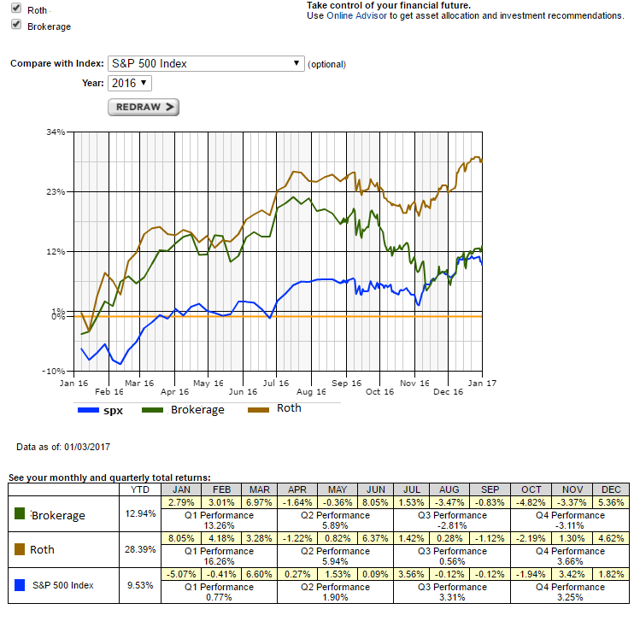 Based on these charts my overall performance and mix of stocks appear to have performed well however my brokerage account did suffer quite a bit in the 3rd and 4th quarters and as the larger account this drove a big drop in the outperformance we had seen earlier in the year. I look forward to having full year comparables going forward in this series and I hope that my strategy of picking high quality dividend stocks will continue to outperform the index. I am also not entirely sure how E-trade calculates these return percentages so it will be good to see the growth in absolute terms as well.
What are my plans for 2017?
For 2017 I have a few competing goals, as always I will continue to acquire my retirement nest egg, while researching stocks as time permits, that said I will also be saving for a potential home purchase in the future, so my free funds will be split between these goals. Therefore I will warn you all in advance my deposits might be intermittent.
This morning I maxed out my Roth contributions for 2017 (partially by liquidating a position in my brokerage account and transferring those funds to the Roth), but I also added a bit of money too. Feel free to guess which stock(s) I moved into my Roth. The answer will be in the next installment.
I might also be adding an additional account to my E-trade as well, as I recently inherited part of a traditional IRA from my grandmother who passed away. I will have to work out the details if I decide to move that account to E-trade or if I decide to leave it with its current broker, if I do move it I will write a separate article on the tax issues associated with beneficiary IRAs and my experience.
Investment-wise I intend to continue building out full positions in my core holdings while scouring the market for new opportunities.
My Predictions for 2017
Since most financial writers seem to be doing this, I may as well see how wrong I can be.
Overall I am bullish for the recent stock rally to continue into 2017 and I think the new administration will be positive for economic growth.
(If you don't care about my ideas for tax reform you can skip the section blocked below.)
If I were an advisor to the president-elect I would make tax reform one of the first goals of the administration, as well as a much-needed infrastructure bill. For tax reform the focus should be on creating an environment where companies want to earn profit in the US, rather than in foreign countries where taxes are lower and cash gets left overseas unused. Trump has indicated a desire to drop the corporate tax rate to 15 or 25% and to have a repatriation holiday. While these are both steps in the right direction, the real key for any success in this area will be moving to a territorial tax system instead of our current global tax regime. Alternatively (and my preferred plan) would be to scrap the US corporate tax altogether, and instead remove the favorable tax treatment of dividends and capital gains. This would eliminate the existing compliance burden and incentives to shift profit overseas, while also making the tax code more progressive, allowing billionaires like Warren Buffet to pay their normal marginal tax rate (currently 39%) while more normal people would pay 15-25%. The benefit for shareholders would come in the form of higher payouts as companies would now have 35% more net income to distribute to shareholders in the form of dividends. So it is a win-win. Also, to alleviate concerns that companies would simply hoard their cash to avoid any tax payments, we already have methods to resolve this in the accumulated earnings tax, which could be used to discourage this behavior should it become necessary.
Overall themes for 2017 I am bullish on industrials, energy/O&G, consumer discretionary, financials and tech in a broad sense. I think that regulatory reform should feed growth in financials, infrastructure deals and a repatriation holiday should help industrials, regulatory reform in the EPA should help O&G, and an overall increase in economic growth with help consumer spending in general. I think that health insurance could suffer in the short-term with the looming possibility of an Obamacare repeal, and I think that defense and aerospace stocks could be in for volatility given Trump's recent disputes with the likes of Boeing and Lockheed Martin. I also think this might finally be the year to avoid bonds as the fed raises rates.
Thanks for reading!
Disclosure: I am/we are long ALL STOCKS IN THE PORTFOLIO SECTION.
I wrote this article myself, and it expresses my own opinions. I am not receiving compensation for it (other than from Seeking Alpha). I have no business relationship with any company whose stock is mentioned in this article.