Introduction
After the markets closed on the last day of the 2016 financial year, the National Bank of Greece (OTCPK:NBGGY) and KBC Group (OTCPK:KBCSF) (OTCPK:KBCSY) agreed to a transaction which will benefit both European Banks. The regulators have been pushing NBG to sell assets to improve its capital ratios and it does look like the Greek bank definitely wanted to sign the transaction before the end of the year.
The OTC listing of the National Bank of Greece has a trading volume of several million shares per day. KBC Group is a bit less liquid in terms of volume with an average daily volume of 35,000 shares (keep in mind 1 KBCSY share represents just 0.5 common share of KBC Group) and despite an average dollar volume of $1M, I would recommend you to trade in the company's shares through the facilities of Euronext Brussels where KBC is part of the BEL 20 index. The ticker symbol on Euronext is KBC. The average dollar volume in Brussels is approximately $48M (45M EUR). KBC Group is also included in the MSCI Belgium index (NYSEARCA:EWK) where it's the second largest holding, and the company is also part of the MSCI Europe Financials Sector (NASDAQ:EUFN).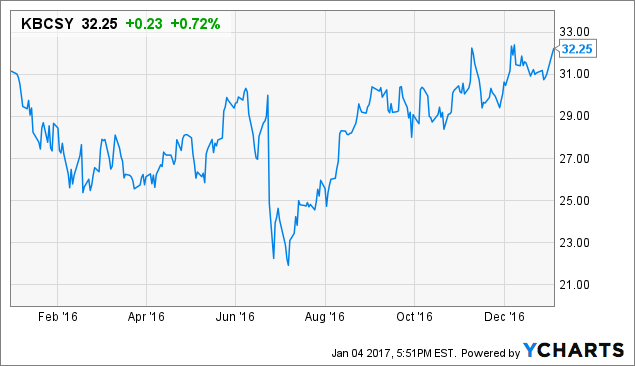 As this article is focusing on a transaction between two European banks with all transaction details reported in Euro, all amounts mentioned in this article are in EUR as well, unless indicated otherwise.
The deal in a nutshell
NBG has agreed to sell UBB (bank) and Interlease (a leasing company) to KBC Group. UBB is the fourth largest bank in Bulgaria with an 8% market share (but a higher market share of 11% on the retail market) whilst Interlease has a 13% market share in Bulgaria on the leasing market.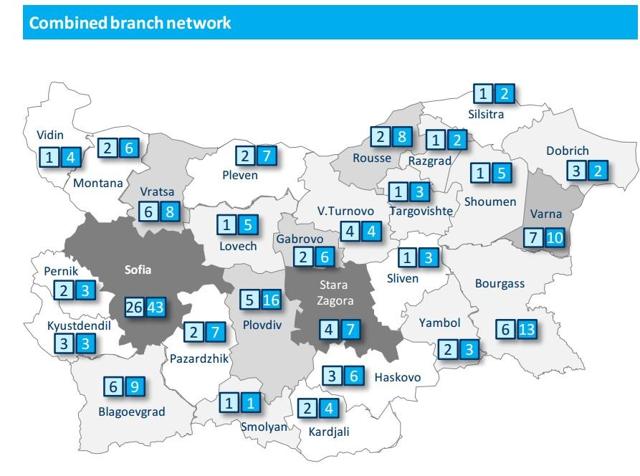 Source: company presentation
The total value of the transaction is 610M EUR, and this takes a pre-closing special dividend into account, so NBG will actually receive close to 800M EUR for selling its banking and insurance business in Bulgaria. According to National Bank of Greece, the 610M EUR represents a multiple of 1.1 times the tangible book value of both companies, but this is where it gets really interesting.
I also wanted to check up on how KBC Group was describing the acquisition, and KBC has added an additional sidenote to the P/TBV ratio. According to the Belgian banking group, the price/TBV isn't 1.1 but 1.29 once they take 'the negative Net Asset Value adjustments' into consideration which 'have been identified during the due diligence process'.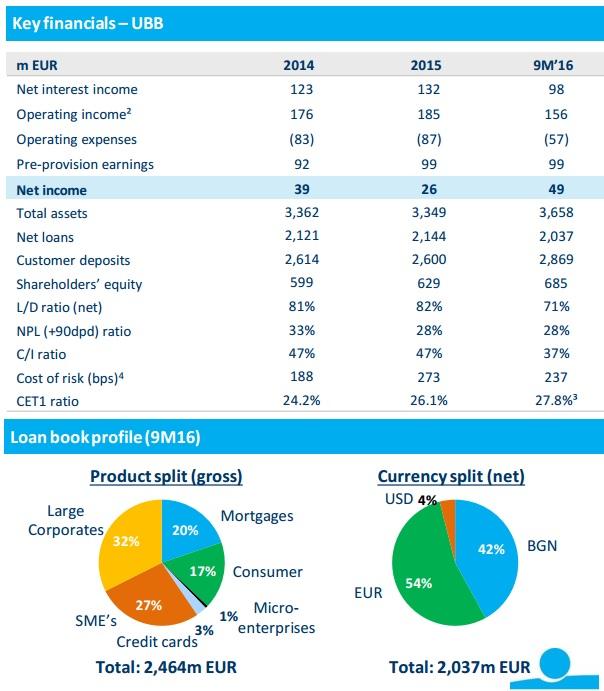 Source: Company presentation
No additional details were given, but it's remarkable to see how the acquirer openly discusses issues it encountered during the formal due diligence period, and this could raise questions about how NBG's tangible book value has been calculated and whether the TBV might be overstated. This actually somewhat confirms George Kesarios' thesis the books of the Greek banks are 'cooked'.
A win-win situation for both parties, but KBC seems to be the winner
The advantage for NBG is obviously pretty simple. Ever since the collapse of the banking system in 2008 and the collapse of the Greek economy, the bank has been under additional scrutiny and pressure from the regulators to sell non-core assets to shore up their capital position. Back in 2015, NBG already sold a majority stake in the Turkish Finansbank to the Qatar National Bank for 2.75B EUR and the repayment of 800M EUR of debt.
As it had been a year since NBG sold an asset, we wouldn't be surprised the bank was asked by the European and national regulators to complete another sale transaction as it's 'interesting' to come to an agreement literally right before the end of the year. With the 800M EUR cash inflow, NBG expects its capital ratio to increase by 100 base points, which is a very important step forward to regain its financial health again.
The bank's pro forma CET1 ratio was 16.9%, and the cash inflow will further reduce the need to count on the Emergency Liquidity Assistance program. Unfortunately, the NBG wasn't included in last summer's stress test investigation, but we would expect the bank to report on its (pro forma) capital ratios when it discloses its financial results.
After carefully reading the details of the agreement, I do think KBC Group is getting the best deal out of it. Yes, NBG takes home 800M EUR in cash to strengthen its balance sheet, but KBC, whose business model is hybrid as it's cross-selling banking and insurance products) suddenly becomes the third largest pure banking player in Bulgaria and the largest bank-insurer in the country. That's an incredibly important step forward as even though KBC had defined Bulgaria to be a core market in a 2009 strategic review, its Bulgarian operations remained very limited, until now.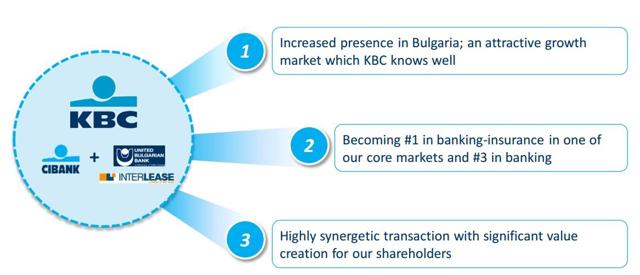 Source: company presentation
This acquisition catapults KBC into the 'major league' and as the bank has a top-4 status in all of its core (and non-core but important) markets (Belgium, Czech Republic, Hungary and Slovakia), the Bulgarian acquisition will have a positive impact on its performance in the country. KBC Group officially expects a synergy advantage of 20M EUR by 2023, and already 8M EUR in 2017, confirming the accretive nature of the transaction.
KBC Group's capital ratio will be impacted, but this should be a non-event in the longer run
Whereas NBG's CET1 ratio will increase due to the cash inflow, KBC Group's CET1 ratio will actually decrease and the banks internal model has calculated an impact of 54 basis points on its CET 1 ratio, as it's acquiring the assets in cash.
A 54 basis point drop is relatively substantial, but it's nothing to worry about as KBC Group is one of the best capitalized banks in the Eurozone with a CET1 ratio of 15.3% as of at the end of the third quarter. The pro forma capital ratio would now decrease to 14.7%, but the average analyst estimates were calling for a Q4 profit of 500M EUR, which would pretty much take care of the purchase price.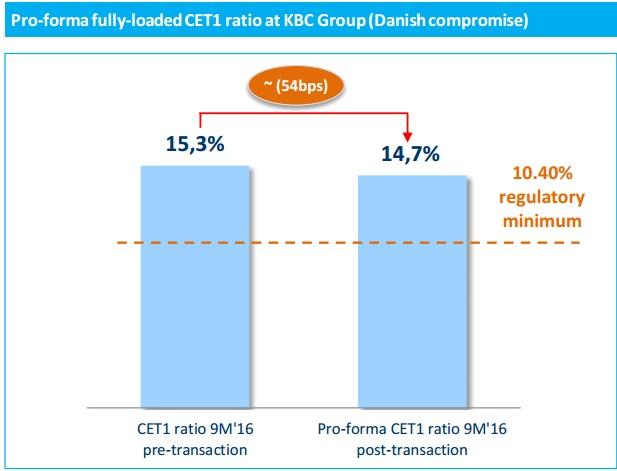 Source: company presentation
However, the bank also paid a 1 EUR interim dividend in the final quarter, and as this resulted in an additional cash outflow of 420M EUR, I think the CET1 ratio at the end of 2016 will be in the 14.5-14.75% region.
Rebuilding the capital ratio will be a bit slower in 2017 as KBC will restart paying a dividend. It looks like the company will be paying 60% of its net income as a dividend now the bank has repaid all government support from the Global Financial Crisis-era. Assuming a full-year net income of 2B EUR, approximately 800M EUR will be added to the bank's reserves, so the CET1 ratio should be back at 15% by the end of next year, the latest (note, this CET1 ratio is based on the current Basel rules and don't take any changes in the calculation of risk capital into account, as the negotiations are ongoing).
Investment thesis
This deal seems to be absolutely excellent for KBC Group. In the first nine months of the year, UBB Bank generated a net income of 49M EUR, and would be expected to generate a full-year profit of 60M EUR. Throw in an additional 20M EUR in synergy benefits from 2023 on (and 8M in 2017), and KBC is paying a very fair (well, actually a cheap) price (less than 8 times the net income after taking synergy advantages into account) to become the largest bank-insurance company in Bulgaria. The Bulgarian banking landscape is very fragmented, so I wouldn't rule out additional (smaller) acquisitions to strengthen its position.
And as the Bulgarian GDP is expected to increase by 3.7% per year in the next few years, the banking system will gain popularity as well because even though UBB is the fourth largest bank in the country, its total assets are worth less than 4B EUR! With an average ROA of 1.2%, an increase in the asset base to 8B EUR (as more customers will be inclined to open an account at a credible large player rather than a small regional bank), the net income could easily increase to 100M EUR per year, and I think that's what KBC is betting on.
NBG is doing a good job in selling non-core assets and strengthening its balance sheet, but KBC Group seems to be the winner!
Disclosure: I/we have no positions in any stocks mentioned, and no plans to initiate any positions within the next 72 hours.
I wrote this article myself, and it expresses my own opinions. I am not receiving compensation for it (other than from Seeking Alpha). I have no business relationship with any company whose stock is mentioned in this article.
Additional disclosure: I have no direct position in any company, but an indirect LONG position in KBC Group through a mono-holding.
Editor's Note: This article covers one or more stocks trading at less than $1 per share and/or with less than a $100 million market cap. Please be aware of the risks associated with these stocks.