Emerging markets have disrupted the world economic order to become the largest share of global GDP according to IMF figures. Aside from the investment opportunities (long or short) in emerging market assets, they now take on a new level of importance in driving global growth... and risks.
This article looks at a couple of key charts from the 2016 End of Year Special Edition showing the rise of emerging markets, the cyclical outlook for emerging market economies, and some of the key macro risks for the year ahead.
1. Global share of GDP
On IMF data, Emerging & Developing economies as a group grew to become the dominant contributors to global GDP in 2008. While China was a key part, it wasn't the only thing going on, with the rest of EM (excluding China) still accounting for more than 40% of world GDP.
It's worth pausing to reflect on this, because if these trends continue it will mean an even greater share of economic clout to emerging economies over time, and ultimately you tend to find that politics follow economics, and an eventual shift in political clout will follow.
We're already seeing this with the transition to a multi-polar world, away from the old system of American and Western dominance. But setting that aside for now, the key implication for investors right now is that global growth prospects now by definition depend more on emerging markets than developed economies.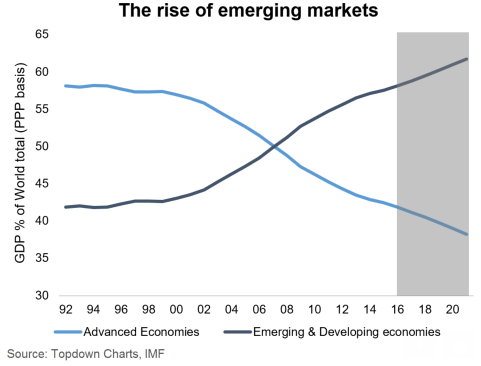 2. The cyclical outlook for emerging markets
Given the importance of emerging market economies to the global economy, it's thus critical to have a good grasp of the economic and monetary policy cycle. The chart below shows a composite view of the leading economic indicators for emerging markets and a weighted average monetary policy interest rate.
After a round of hiking in 2015 (thanks to US dollar strength forcing them to hike), emerging markets were able to switch back into easing mode as economic cycle indicators sunk into recessionary territory. Now, with the previous monetary policy stimulus, stabilization in currencies, and rebound in commodities, the cyclical indicators for emerging market economies have begun to turn up to their strongest level in years.
For emerging market equities themselves this means a more supportive macro backdrop, which means a tailwind for earnings. But given the importance of emerging markets to the global economy, the turn in the cycle will mean a more positive outlook globally and thus a transition from a deflationary to reflationary global macro setting; which is a bearish scenario for global bonds.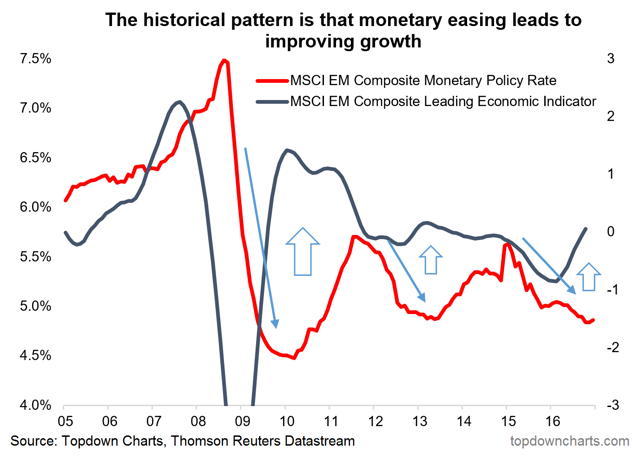 3. US dollar risks
The mortal enemy of emerging markets remains the US dollar as the chart below shows (times of a strengthening dollar tend to see the worst performance for emerging market equities). There's certainly a possibility that on this front the worst is over, with significant adjustments in currencies vs the US dollar already having taken place - indeed many EM currencies are now cheap vs an increasingly overvalued US dollar.
But as I noted elsewhere, there may still be further upside for the US dollar. So the outlook for emerging markets remains complex, with an improving economic outlook on the one hand and the prospect of a stronger dollar on the other.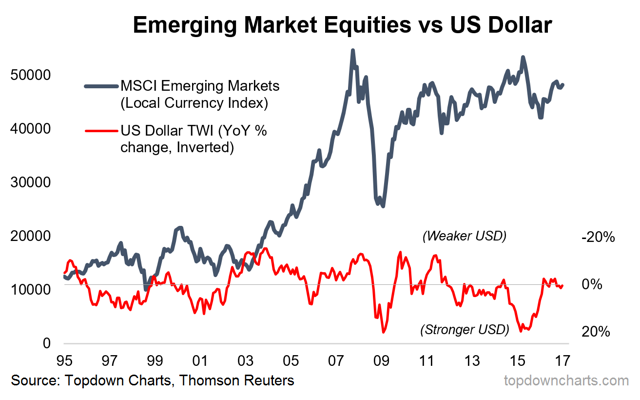 Summary
Emerging markets have become the largest contributor to global GDP. This has important implications for the global economy and means investors need to have a good understanding of the economic cycle and monetary policy outlook for emerging markets.
At present, the cyclical indicators for emerging markets are on an improving path following a period of monetary policy easing (and with help from rebounding commodities, and stabilization in currencies).
But the matter of currencies remains an important one, and a further round of strength in the US dollar may not only derail the emerging recovery in emerging markets, but disrupt global growth in the process.
So what's an investor to do?
The positive cyclical dynamics in emerging markets reinforce the bear case for global bonds (thus a bearish bias on bond exposure is warranted), while also supportive for emerging market equities, all else equal.
It's not until the US dollar really gets away does that base case unravel. So it's a matter of stay the course, but be nimble and keep an eye on the risks.
Bottom line: The increasing importance of emerging markets in the global economy means investors need to pay closer attention whether exposed directly or indirectly. At present emerging markets are seeing positive cyclical dynamics, but remain vulnerable to any further surge in the US dollar.
Disclosure: I/we have no positions in any stocks mentioned, and no plans to initiate any positions within the next 72 hours.
I wrote this article myself, and it expresses my own opinions. I am not receiving compensation for it (other than from Seeking Alpha). I have no business relationship with any company whose stock is mentioned in this article.