Truth is ever to be found in simplicity, and not in the multiplicity and confusion of things.

- Sir Isaac Newton, Mathematician
In an article on Monday, I provided a list of my top 10 REITs for Mom, and Omega Healthcare Investors (NYSE:OHI) was one of those picks.
On the surface, OHI appears to be a complicated investment, at least in the eyes of Mr. Market. Shares in the pure-play healthcare REIT have been hammered, and the words "sleep well at night" have all but faded from recent memory.
Yet, many investors (including me) have stayed the course, hoping that at some point valuations will normalize and returns will no longer dampen spirits.
Perhaps the market is confused? Or maybe, just maybe, the answer lies in the underlying ingredients of the business model.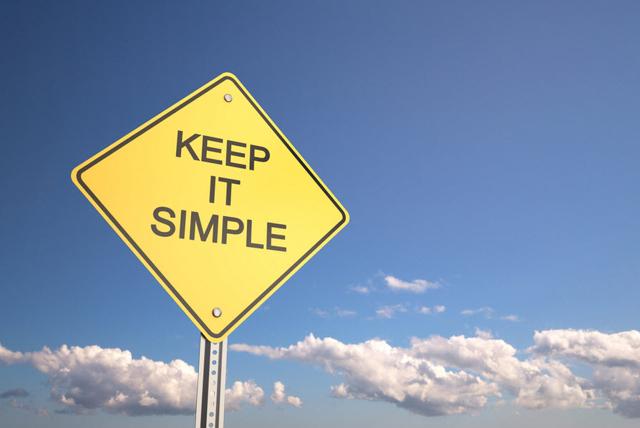 Go Back In Time
Back in the late 1990s, OHI faltered after cuts to Medicare and Medicaid drained the company's business clients. As federal budget cuts rippled through the system, OHI became wounded. Several of its tenants went into bankruptcy, and that set in motion a massive dividend cut, as the stock fell under $2.00 a share in 2001.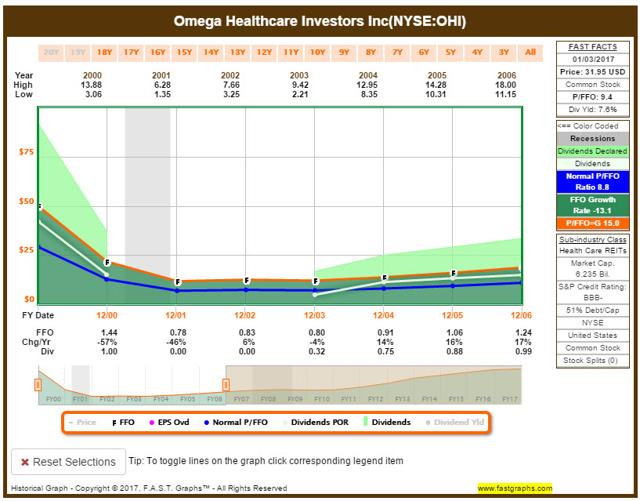 OHI's senior management team moved on, and under new leadership, the company slowly recovered.
Propelled by increased investor demand for medical real estate and changes wrought by healthcare reform, OHI's portfolio has almost quadrupled from 256 facilities at the beginning of 2009 to 983 at the end of Q3-16.

However, increasing competition and cost pressures, in part prompted by healthcare reform, have changed real estate needs, as hospitals release patients earlier, often into nursing care, and move more care into outpatient clinics. Some are responding to cost pressures by consolidating in order to achieve economies of scale.
The entire healthcare system is going through a major change, partially driven by the ACA and what the Centers for Medicare and Medicaid Services is doing, and now also being driven by the market. The new bundling programs have created a level of complexity, and many operators are under pressure to respond to the new business climate.
The issues today are much different than those in the late 1990s.
Today, the fear - or cloud in assisted living - has more to do with the complex regulations that have put stress on operator coverage. These days, it's more of an evolution than a game changer, and it essentially boils down to survival of the fittest. Government programs and increased regulation have forced REITs like OHI to become more complex as penalties have increased and regulators have become more aggressive.
Perhaps the Trump Administration will simplify matters?
Tom Price was recently named the U.S. Health and Human Services Secretary by President-elect Donald Trump. In a Forbes article, Dr. Steven Walsh, president of the Medical Association of Georgia, said:
Dr. Price understands that there is a critical need to reduce the administrative burden that has been placed on today's physician - so they can focus on patient care - and he knows that we need to reduce the amount of control the federal government and big health insurance companies have on our healthcare system.
Dr. Price's background as a physician, state legislator, and U.S. congressman provide unique perspectives and credibility in understanding how healthcare legislation impacts patient care and public health. Given his statements in the past, we suspect Price will focus on improving the expansion of Medicaid and providing patients access to high-quality affordable care.
Given Price's appointment by President-elect Trump, we suspect that the administration will simplify the payment systems by significantly reducing regulation. In other words, Price will likely allow the market to work it out, not the government.
By creating a simpler and less hostile environment (less aggressive and pro-business), operators will be likely become less burdened, and eventually, we see the cloud going away. Remember, this is not a supply and demand issue, it's a complexity issue.
Prepared For Risks
Keep in mind, the clouds did not form for Assisted Living Operators in 2016, the shift in reimbursement commenced years ago. The problem today is that operators are now faced with risks on multiple battlefields: reimbursements, DOJ investigations (big fines), etc. If an operator has 2 or 3 battles taking places at one time, it can lead to reduced cash flows (which we are now seeing).
As I alluded to above, OHI has 983 facilities in 42 states and the UK, operated by 83 third-party operators. Here's a snapshot of the largest operators: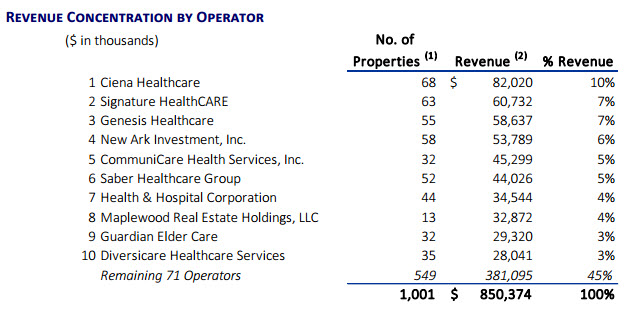 Back in 2000, the company had just a handful of operators, and the business model was not nearly as diversified as it is today. Also, remember that back in the late 1990s, the fallout was due to a bad payment scheme - more of a fiscal issue - and the new changes are simply to make patient care more efficient, in order to deal with the massive volume of new patients entering the system.
So, over the years, OHI has become a much more risk-averse REIT with a fine-tuned portfolio with well-managed lease expirations.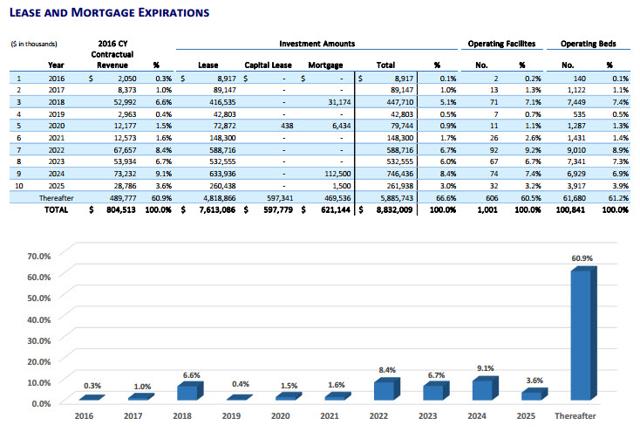 Fortunately, it saw no tenant hiccups in 2016 (no leases were re-traded), and the company is likely to close over $1.5 billion in new deals in 2016 (and around $100 million in dispositions).

OHI does compete with Care Capital Properties (NYSE:CCO) and Quality Care Properties (NYSE:QCP); however, the company has a size and experience advantage. In other words, OHI is "battle-tested", and the management team has been quite successful in managing risk for over 15 years. Bullet-proof? No. Battle-tested? Yes.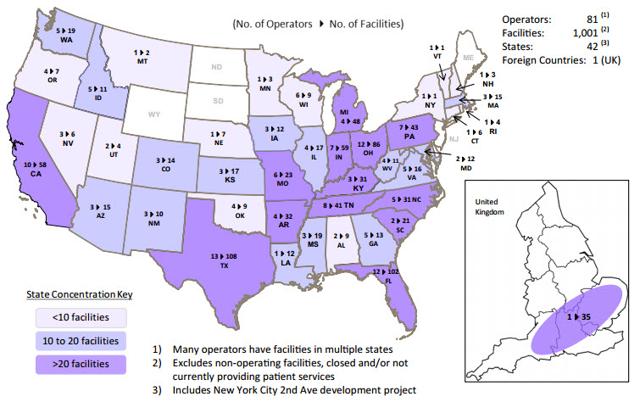 Strong Balance Sheet
In June 2016, OHI priced $700 million 4.375% senior unsecured seven year notes that were issued on July 12th. Proceeds from the issuance were used to repay all outstanding borrowings under the company's credit facility.

OHI's balance sheet remains extremely strong. As of Q3-16, its net debt-to-adjusted pro forma annualized EBITDA was just under 4.9x, and the fixed charge coverage ratio was 4.6x.

EBITDARM and EBITDAR coverage for the 12-month period ended June 30th were at 1.72 and 1.35x, up slightly from the March 2016 trailing 12-month, which were at 1.71 and 1.34x, respectively. Overall, the REIT's rent coverages, occupancy, and quality mix have remained very consistent over the last four quarters.
In March, Fitch Ratings affirmed OHI's ratings, including its long-term issuer default, unsecured revolving credit facility, senior unsecured notes, and senior unsecured term loan ratings at BBB-, as well as its subordinated debt rating at BB+. The rating agency also assigned a BBB- rating to the company's $350 million senior unsecured term loan due 2021. The company's ratings outlook is stable.

Fitch said in a note that it expects OHI's robust credit metrics to provide the company with adequate buffer against the possible effects of tenant-related operating headwinds amid Medicare reimbursement changes and regulatory/licensing risk.
Specifically, the rating agency noted that the REIT has maintained "low" leverage levels since 2011 and is likely to sustain its leverage in the 4x-5x range in the next 12-24 months. OHI also has "strong" fixed charge coverage, reaching 4.2x during the 2015 full year as opposed to 3.7x in 2014, Fitch said. It added that the company is expected to have "exceptionally strong" liquidity in the near term, with no debt maturities through 2017.
The Dividend Machine
One of the things that is most attractive (to me) about OHI is the company's very steady and reliable dividend growth.
Keep in mind that the leases are triple net (tenant pays for taxes, insurance, and maintenance), and the annual lease escalations range from 2.5% to 3.0% per year. When you combined leverage, the annual growth rate is around 4.0%.
What does this mean?
OHI could stop growing (or slow down acquisitions) and still continue to generate around 4% growth per year. Also, although cap rates have increased (from around 9% to 10%), its cost of capital (debt = 5%, equity =10%), provide nice margins (10% cap rate - 7.5% WACC = 250 bps) for new deals.
Here's my point... OHI's earnings model has not slowed down. The company has the same drivers in place to generate sustainable and predictable dividend growth. There is certainly operator pressure, but the dividends that OHI generates are certainly sound.
In Q3-16, the company's Adjusted FFO for the third quarter was $0.83 per share and funds available for distribution (or FAD) were $0.75 per share. The adjusted FFO was at the low end of the guidance range, as the bulk of the anticipated $400 million-plus in new investment activity occurred at the very end of the quarter. (The chart below reads AFFO and reflects OHI's FAD.):

The company increased the low end of the fourth-quarter guidance range, revising up from $0.83-0.86 per share to $0.85-0.86 per share. This reflects the anticipated run rate, including all of the acquisitions completed to date. OHI updated its 2016 full-year adjusted FFO guidance range to $3.38-3.39 per share, which reflects the new fourth-quarter guidance. Here's a snapshot of its historical FAD:

We decided to provide our 2017 FFO growth estimates for OHI and its peer group:

OHI bumped its quarterly common dividend to $0.61 per share, consistent with its plan to maintain dividend growth of $.01 per quarter. The company has now increased the dividend for 17 consecutive quarters. The dividend payout ratio remains very conservative at $0.73 of adjusted FFO and 81% of FAD.

Note that it has increased the dividend by an average of 9% per year from 2006 to 2016. We are forecasting OHI to grow its dividend by around 7% in 2017.

Note that in August 2016, the company posted its revenue models on the website, breaking down Medicare payments by major diagnostic category and bundles. The analysis (on the website) compares the national breakdown and OHI for each major category. This means that the company can now accurately predict Medicare revenue that may be subject to existing or proposed bundling programs.
As CMS introduces potential new bundling pilots, this data will allow OHI to immediately determine Medicare revenue that will be subject to the new proposed programs. This provides investors with more transparency, but also serves as a good indicator of predictability.
Mom's Gotta' Like This REIT
Now let's keep the last section really simple.
OHI is cheap based on a variety of metrics, such as P/FFO...:

... and dividend yield:

The company's P/FFO multiple is 9.4x. However, looking back over the last 12 years (since 2004), OHI has been trading at an average P/FFO multiple of 12.4x.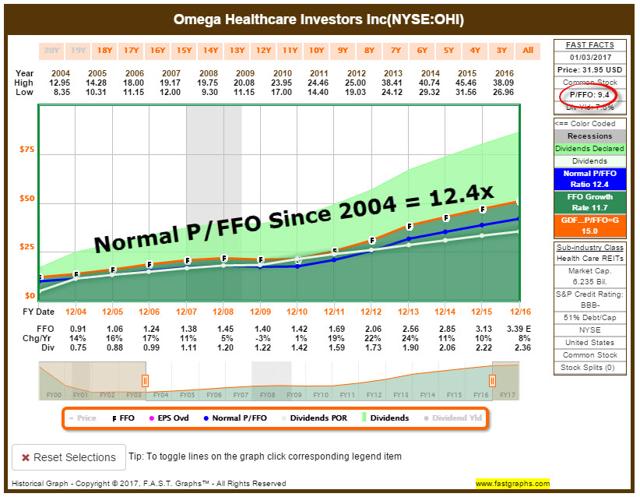 Even since 2010 (past 6 years), its P/FFO multiple has been at 12.5x.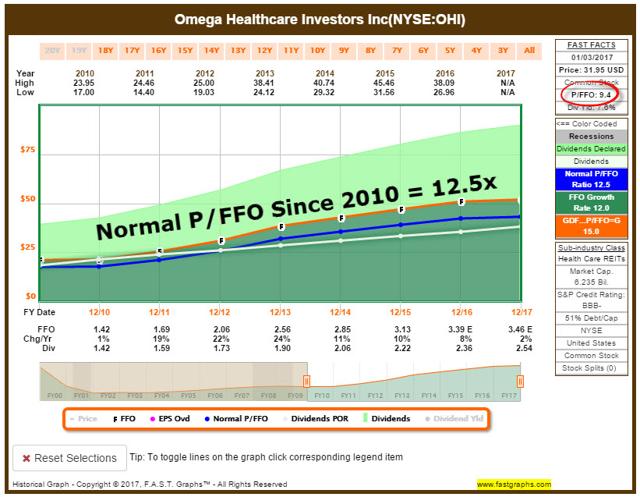 How much revenue would OHI have to lose in order to get back to a 12x multiple? My back-of-the-napkin estimate is around $100 million. In other words, it would take $100 million in lost rents to lose that much value, and I see no reason to believe the company could take that kind of smackdown (as it did in 1999). The business model has evolved into a more diverse platform with strong liquidity. There is plenty of margin of safety as it relates to the dividend, and there's also plenty of safety as it relates to the share price today: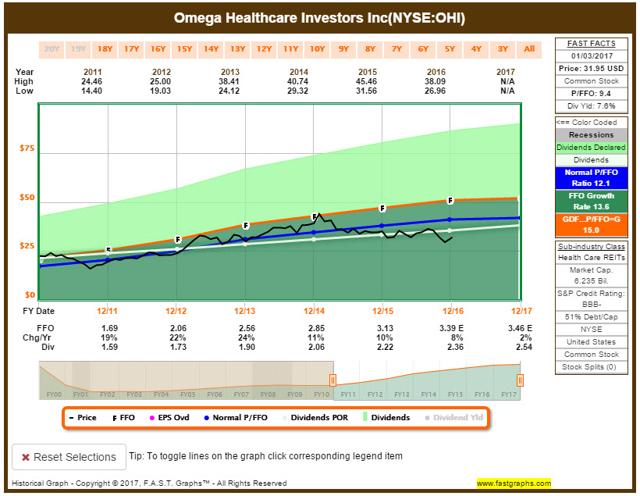 How long will the clouds linger? Your guess is as good as mine, but I do believe the Trump administration provides the best possible catalyst, and that's why I started the article with the following quote:
Truth is ever to be found in simplicity, and not in the multiplicity and confusion of things.

- Sir Isaac Newton, Mathematician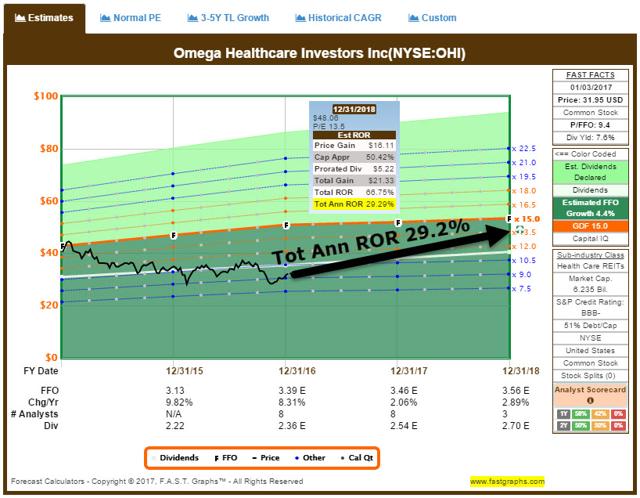 Author Note: Brad Thomas is a Wall Street writer, and that means he is not always right with his predictions or recommendations. That also applies to his grammar. Please excuse any typos, and be assured that he will do his best to correct any errors, if they are overlooked.
Finally, this article is free, and the sole purpose for writing it is to assist with research, while also providing a forum for second-level thinking. If you have not followed him, please take five seconds and click his name above (top of the page).
Sources: F.A.S.T. Graphs and OHI Filings.
REITs mentioned: LTC Properties (NYSE:LTC), Healthcare Trust of America (NYSE:HTA), Ventas, Inc. (NYSE:VTR), Welltower, Inc. (NYSE:HCN), CareTrust REIT (NASDAQ:CTRE), Healthcare Realty Trust Inc. (NYSE:HR), National Health Investors (NYSE:NHI), Universal Health Realty Income Trust (NYSE:UHT), Sabra Health Care REIT (NASDAQ:SBRA), Physicians Realty Trust (NYSE:DOC), HCP, Inc. (NYSE:HCP), Medical Properties Trust (NYSE:MPW), Senior Housing Properties Trust (NYSE:SNH), New Senior Investment Group (NYSE:SNR), Community Healthcare Trust (NYSE:CHCT).
Disclaimer: This article is intended to provide information to interested parties. As I have no knowledge of individual investor circumstances, goals, and/or portfolio concentration or diversification, readers are expected to complete their own due diligence before purchasing any stocks mentioned or recommended.
Disclosure: I am/we are long O, DLR, VTR, HTA , STAG, GPT, ROIC, HCN, OHI, LXP, KIM, WPC, DOC, EXR, MYCC, TCO, SKT, UBA, STWD, CONE, BRX, CLDT, HST, APTS, FPI, CORR, NHI, CCP, CTRE, WPG, KRG, SNR, LADR, PEB, BXMT, IRM, CIO, LTC, DEA, NSA, HASI, VER, SRG, SPG.
I wrote this article myself, and it expresses my own opinions. I am not receiving compensation for it (other than from Seeking Alpha). I have no business relationship with any company whose stock is mentioned in this article.