Glencore PLC (OTCMKTS: OTCPK:GLNCY) is a $50 billion commodity and tradings firm that has had a difficult time since the start of the market crash. The company's stock price has had a difficult time since the start of the commodity crash that has seen $10s of billions in investor capital wiped out. The combination of the company's low stock price, the decisions the company has made, and the recovering commodity markets makes the company, as we will see, a strong investment at the present time.
Introduction
Glencore PLC is an Anglo-Swiss multinational trading and mining company with headquarters in Baar, Switzerland. The company, in its present form, was created in 2013 through a merger between Glencore and Xstrata. The company is one of the largest commodity traders in the world and also has significant assets in the production of commodities. This makes the company one of the majors of the worldwide commodity business.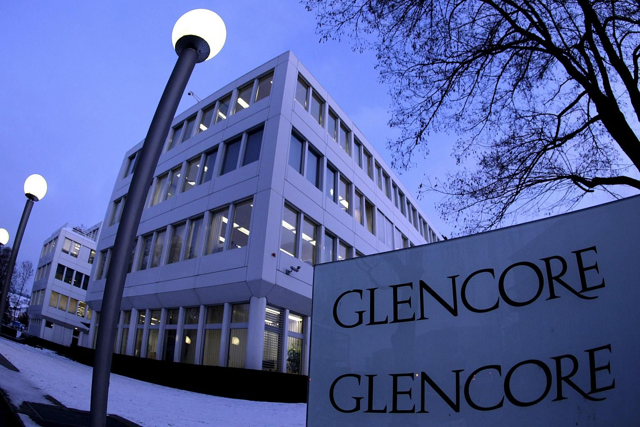 Despite its size, Glencore has had a difficult time since the peak of the commodity cycle like many other commodity companies. Glencore's stock peaked in 2012 at almost $16 per share. From that point, the company's stock dropped down with a mid-2014 peak at just under $13 per share. However, since the start of the oil crash, the company's stock price dropped much faster to an early-2016 low of just over $2 per share.
While the company's stock price has since recovered significantly to present stock prices of just under $7 per share, the company still has significant room to grow.
Glencore Financial Strength
Glencore, as we can see above, has had an incredibly difficult time since the start of the commodity crash. Part of this is because the company took advantage of a high commodity price cycle along with low interest rates to take on a massive amount of debt. As a result, one of the company's primary focuses, especially after the broader commodity markets took a downward turn along with the oil markets in mid-2014 has been to reduce its debt pile. The company has done an admirable job so far.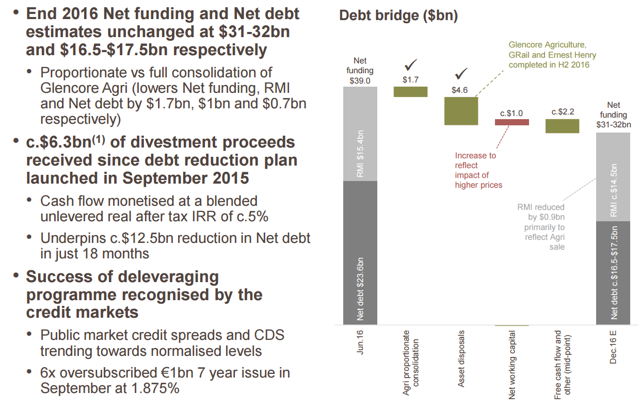 Glencore Net Debt - Glencore Investor Presentation
As of June 2016, Glencore had net debt of $23.6 billion and readily marketable inventories (NASDAQ:RMI) of $15.4 billion for a total net funding of $39.0 billion. However, as a result of primarily asset sales and free cash flow, the company's net funding should decrease to $31-32 billion.
In fact, Glencore success in deleveraging has made the company well recognized in the capital markets. The company's recent low yield (1.875% 7 year debt issue) for 1 billion pounds was an astounding six times oversubscribed. That means that even in these difficult debt markets, Glencore has cheap and easy access to capital.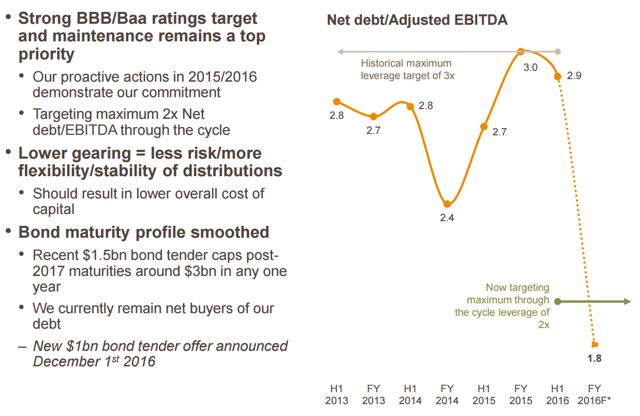 Glencore Net Debt to EBITDA Ratio - Glencore Investor Presentation
The success in Glencore's balance sheet is better reflected through the company's net debt / adjusted EBITDA ratio. SInce the commodity crash began in 2013 until 2016, the company's ratio has stayed in the high-2s all the way up to the company's maximum target of 3. However, since then, the company has managed to rapidly reduce this ratio to just 1.8. That is a result of the company remaining a net buyer of its debt. And shows the strength of the company's balance sheet.
More importantly, as the company improves its balance it encounters a win-win situation. Because not only does the company's lower debt load make it easier for the company to handle a drawn out oil crash, but the company's credit rating improves. This improvement in the company's credit rating allows the company to issue additional low cost debt. This decreases the company's annual interest payments helping its strength even more.
Glencore Earnings
Now that we have discussed how Glencore has improving its financial strength in detail, it is now time to continue by discussing the company's earnings.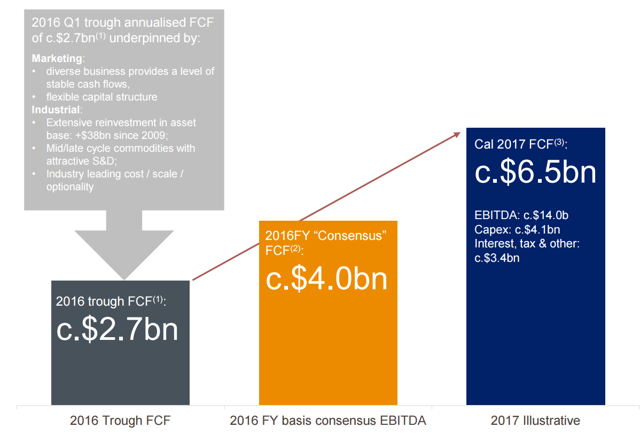 Glencore Free Cash Flow Improvements - Glencore Investor Presentation
Despite being in a difficult market environment, Glencore has managed to maintain a strongly cash generative portfolio as a result of its size in the markets and quality assets. The company's 1Q 2016 trough free cash flow dropped to $2.7 billion. This was underpinned by the company's continued reinvestment in its asset base along with its industry leading portfolio.
As a result, for 2016 overall, Glencore anticipates that its free cash flow will be a very respectable $4.0 billion, not bad for a company with a market cap of $50 billion. By 2017, Glencore anticipates that its free cash flow will grow to $6.5 billion with an astounding $14 billion of EBITDA. The company will have $4.1 billion in capex and another $3.4 billion in interest and taxes.
However, despite these costs, the company's incredibly impressive market cap to free cash flow ratio of 7.7 shows the company's earnings strength.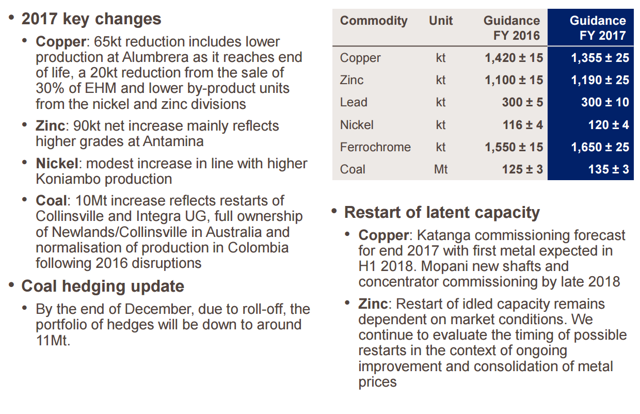 Glencore 2017 Key Changes - Glencore Investor Presentation
As we can see here, Glencore's increase in earnings come from a number of key changes in 2017. The company anticipates lower copper production as its major Alumbrera mine reaches end of life. However, the company anticipates increases in zinc, nickel, and coal production that should help offset it. The company also has to deal with a roll-off of its coal hedges that should hurt earnings.
However, looking at the company's future, we see that things look bright. The company is anticipating a new copper mine starting up in 1H 2018. This should help the company's copper production to recover after the Alumbrera mine hits its end of life. At the same time, the company has significant Zinc capacity. A restart in idled Zinc capacity could help to provide the company with increased future earnings.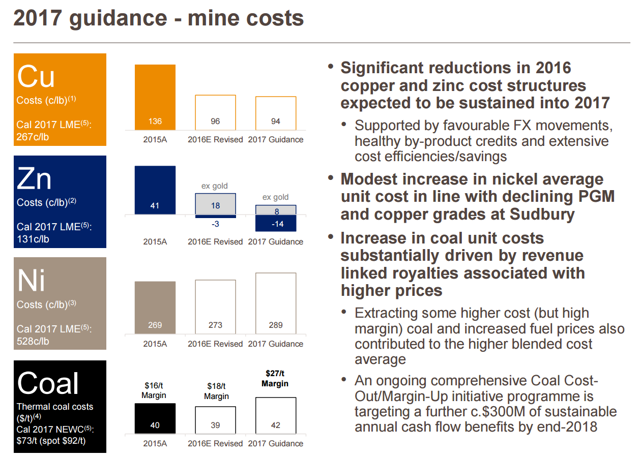 Glencore 2017 Net Costs - Glencore Investor Presentation
At the same time, Glencore's earnings should be helped by the company's program of cost reductions. The company anticipates its 2015 costs per pound declining by just over 30% from 2015 until 2017. At the same time, the company's zinc costs should go negative as a result of gold produced in these mines and the company's shut-down of non-profitable assets.
And while the company's nickel and coal costs are expected to increase slightly, the company's costs should continue to decrease significantly. This should significantly help the company's future earnings.
Conclusion
Glencore has had a difficult time since the start of the crash. Since the company's 2011 commodity highs, the company has watched its stock price drop by more than 50% to its present prices. And that counts the fact that the company's stock price has more than tripled since its early 2016 lows. However, despite these difficulties, Glencore is a $50 billion commodity giant.
Despite these difficulties, Glencore has immense future potential. The company has been decreasing its debt load, a debt load that decreased by $6 billion from mid-2016 to year-end. The company anticipates it will continue to have strong earnings, with more than $6 billion in cash flow in 2017. This should continue to help the company's debt load to decrease. Combining this decrease in debt load with the company's improved earnings from decreasing costs and increasing production, and we can see the production that Glencore has.
This makes Glencore a strong investment at the present time.
Disclosure: I am/we are long GLNCY.
I wrote this article myself, and it expresses my own opinions. I am not receiving compensation for it (other than from Seeking Alpha). I have no business relationship with any company whose stock is mentioned in this article.
Editor's Note: This article discusses one or more securities that do not trade on a major U.S. exchange. Please be aware of the risks associated with these stocks.