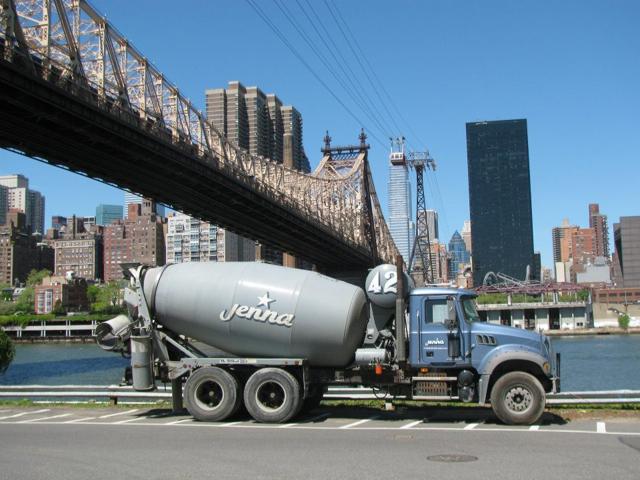 Truck from Jenna Concrete, a recent bolt-on acquisition made by USCR in 2016. (Source: Company Website.)
Business Summary
In layman terms, U.S. Concrete's (NASDAQ:USCR) principal business is purchasing cement, mixing it, and delivering the ready-mix to project sites. USCR produces ready-mixed concrete in the U.S., mainly in northern Texas, western / southern Texas, northern California and the New York / New Jersey / Washington, D.C. area. For the 12 months ended September 30, 2016, Northern Texas comprised 27% of consolidated revenue, Western & Southern Texas 11%, northern California 27% and New York, New Jersey, and D.C. comprised 33%. The company's two reportable segments are (1) ready-mixed concrete and (2) aggregate products, which produces crushed stone, sand, and gravel.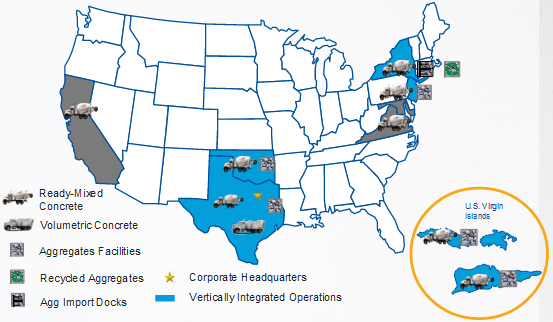 Source: Company Investor Presentation, November 2016.
Recent Acquisitions
2015 saw USCR making a number of acquisitions with Ferrara Bros. in New York, Colonial Concrete in New Jersey, Heavy Materials and Spartan Concrete in the U.S. Virgin Islands, Right Away Redy Mix in California, DuBrook Concrete in Virginia, and Wantage Stone in New Jersey. Overall, 7 acquisitions were made in a single year. In aggregate, U.S. Concrete took control of 22 new ready-mixed concrete plants, 268 mixer trucks, and 3 quarries with rights to an additional 77 acres in New Jersey.
In 2016, USCR made a series of acquisitions in New York: Greco Brothers Concrete in Brooklyn, Nycon Supply in Queens, Jenna Concrete in the Bronx, and Kings Ready Mix in Brooklyn.
As of September 30, 2016, USCR had 154 concrete plants, 16 volumetric ready-mixed concrete facilities, and 15 producing aggregates facilities. They sold 7.8M cubic yards of ready-mixed concrete and 5.6M tons of aggregates.
Profitability
Over a three year period from 2013 to 2015, revenue increased from $598 million in 2013 to $704 million in 2014, and $975 million in 2015. Income from operations increased from $21 million, $45 million, and $74 million, respectively. The bottom line is lumpy, with the same periods showing a $20 million loss in 2013, a $20.6 million net profit in 2014, and a $5.4 million loss in 2015.
The company boasts some competitive moats including strong market presence in their operating regions and favorable exposure to commercial projects with higher margins and barriers to entry in which they routinely win supply contracts for some of the largest, most prestigious commercial projects including the San Francisco Bay Bridge in California, World Trade Center Complex in New York, and 49er Stadium in California.
Donald Trump's Presidency Should Benefit U.S. Concrete Over the Next Decade
Some bullish investors might be fixated on Donald Trump's infamous wall on the Mexican border, but since it seems more likely that the wall will be made from simple metal fencing rather than some grandiose, Great-Wall-of-China-esque structure, it makes no sense to factor that variable into the bull case.
I am however, bullish on Trump's proposed $1 trillion investment in infrastructure over a 10-year period which would benefit USCR directly. As more funds from the government come down the pipeline, USCR is a prime candidate to supply product to highway projects and bridges (which the company already has plenty of experience in.) And with the 2015 acquisitions, the company basically strengthened its supply chain and logistics prior to the election, setting itself up to benefit from Trump's affinity to construction and the repair of aging infrastructure.
The caveat is that there is some lag-time involved. CEO Bill Sandbrook stated in late-December 2016 that Trump's infrastructure spending plans probably would not benefit the company until 2018 or 2019. Furthermore, Sandbrook stated that 15% of the company's revenue comes from infrastructure while 61% comes from commercial projects, although I assume the percentage mix should skew towards the former come 2018-2019.
Valuation - Only Suitable For Momentum Investors
USCR's market cap is approximately $1.05 billion at $66.65 per share and the price has been on the rise since earnings in November. Prior to that, USCR shares have been on a tear since emerging from bankruptcy in late 2010.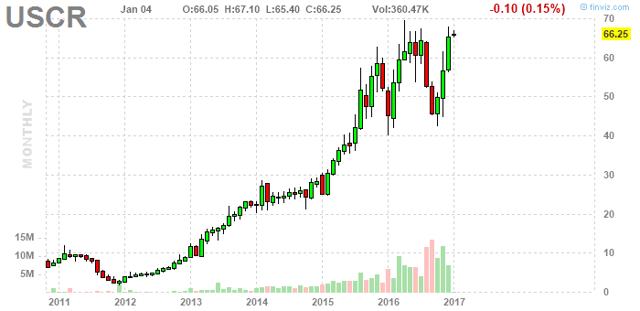 Weekly chart.
Technically the chart appears to top out at the $67 range, but with the recent acquisition spree and several macro factors including Trump's infrastructure ambitions, and the favorable construction environment (US construction spending at highest level in 10 years), USCR has a lot of potential contracts to bid on for the next decade and a much more robust asset base in which to service those contracts.
Rising Debt Levels Should Be Monitored Closely
As of September 30, 2016, USCR had $452.5 million in total debt, and it appears they had refinanced the previous $200M 2018 senior notes from 2015; increasing the loan principal, lowering the interest from 8.5% to 6.375%, and extending the maturity to 2024.
On January 4, 2017, USCR proposed to raise an additional $200 million in yet another senior notes offering, which would essentially bring total debt to $652.5 million. The company plans to use the proceeds for further bolt-on acquisitions in a very fragmented industry. According to USCR, many concrete business owners are still keen on selling their companies despite the recovery due to still-lingering fears over the 2007-2008 financial crisis.
With momentum pointing towards a potential boom in the construction industry, USCR could be a great momentum play on the construction cycle over the next decade (which requires quite a degree of speculation.) If the company's bulking-up process proves to be for naught in the event of some macro disaster, then the company could find itself easily overleveraged. However, USCR did generate $146.4 million adjusted EBITDA in 2016 compared to $113.7 million in 2015 (p12, EX-99.2 of 1/4/17 8-K), so if the stars align, there is a lot of profit potential to be had with the company only sporting a market cap of $1 billion and so many potential projects in the pipeline that USCR now has increased capacity to service.
Disclosure: I/we have no positions in any stocks mentioned, and no plans to initiate any positions within the next 72 hours.
I wrote this article myself, and it expresses my own opinions. I am not receiving compensation for it (other than from Seeking Alpha). I have no business relationship with any company whose stock is mentioned in this article.