By Parke Shall
We think 2017 is going to be the year to not only bet against the market, but also to bet against the surging US dollar. Since President elect Trump was announced in the beginning of November, both equity markets and the US dollar have risen substantially, as you can see in the chart below: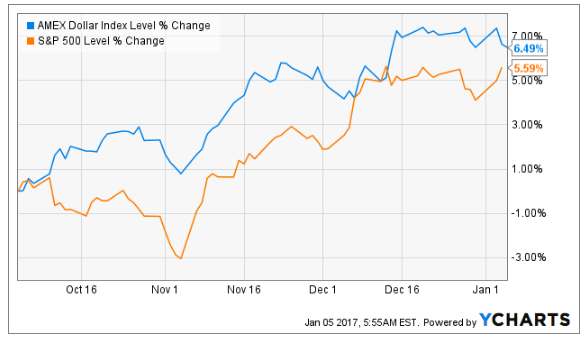 Without repeating what we have said in previous articles, equity markets have risen on the expectation of lower corporate tax rates and loosening of regulation across all sectors. With stocks already priced expensively coming into this election, we feel that this further extension of the market has already priced in a 100% best case scenario when it comes to tax cuts and loosening regulation. We feel as though there is little room for error at this point and then if Trump cannot get through all of the changes that he wants in a timely and efficient fashion, that in and of itself will be cause for equity markets to correct.
You can read more about these thoughts in several articles that we have written recently:
As the FOMC has finally hiked rates and talks about plans for future rate hikes next year, the dollar has gotten stronger. This is strength that we do not believe is going to last. As Donald Trump looks to repatriate a lot of cash that is overseas, he will be adding a lot of new cash to the domestic money supply.
The only way the dollar can keep moving higher is if the Federal Reserve continues to be clinical in hiking interest rates and stays out of the picture when it comes to the equity markets going forward. We have so many bubbles that are close to, or in the midst of bursting, that we feel this is going to be a near impossibility.
Student loan debt is completely out of control in this country and a majority of this debt is backed by the government. This was a fundamentally flawed idea of a program when it started, for the government to think that it should subsidize everybody's education, and the government is going to have to foot the bill when students simply stop paying. Data from student loans is already alarming, but as this credit cycle turns and interest rates rise, we are going to see even fewer paying off their debt obligations for things like student loans going forward. The easing that will have to be performed by the FOMC would likely severely weaken the dollar.
We have a similar bubble in the US auto industry. Subprime lending in the auto industry has been out of control for the last year or two and as defaults start to rise, the game of "pass the hot potato" with debt begins. Anytime this game begins, whether it is with subprime auto debt or Puerto Rican bonds, somebody is going to wind up as the losing counterparty. There is no doubt that this counterparty will look to the government for help when it comes time to pay the piper. Our entire system of privatizing profits and socializing losses is built systematically to weaken the dollar.
President elect Trump ran his entire campaign on the notion that the Chinese are manipulating their currency. Though Mr. Trump has not been articulate enough to explain the mechanics of what this means, what he is essentially saying is that a weaker currency encourages exports and encourages other countries to import items as their domestic currency goes further. This is why so many manufacturers in the US import from China. They can get more bang for their buck buying Chinese product and, as a result, manufacturing is no longer done domestically.
The notion that President elect Trump wants the dollar to get much stronger doesn't make sense to us. His whole platform is based on restarting manufacturing in the United States and, ostensibly, not only providing that product domestically but also internationally. If Mr. Trump wants other countries to buy from us and if he wants the Chinese to stop "manipulating their currency" what he is really talking about is a weaker dollar. At the very least, he's talking about a dollar that doesn't get much stronger against other global currencies.
We can't help but continue to feel that 2017 is going to be recession territory. Once the reality of Mr. Trump's inauguration hits, investors will realize that the market has overextended itself both on valuation and on hope for what the next four years will bring. We believe that we are going to enter into a period of stagflation, at least until the Trump administration can work to finalize exactly how they plan on rebuilding the country's infrastructure and securing jobs and manufacturing here.
We actually think that the Trump administration will be fairly successful in getting this done, we just don't think the effect on equity markets is going to be as euphoric as some people think. We are talking about a huge rotation in the macroeconomic picture for the country and, while you can argue that this may be good over the course of the long term, it is ultimately going to create short-term volatility that does not mix well with equity markets.
Finally, part of our theory on why the dollar will get weaker simply relies on a game of chicken with the FOMC. How far will markets be allowed to move lower before the Fed feels like they need to step in and print more money? The Fed has been nothing short of spineless over the last couple of years and we don't think it is going to take much for them to back off of their plans for three rate hikes. As a matter of fact, we will be astounded if the Federal Reserve raises rates three times in the coming year. We think the tail will continue to wag the dog and that the Fed will be at the behest of what equity markets are doing on a microscopic level, as they have been.
We think the Fed will overshoot their inflation goal that they continue to point to as a reason for not raising rates and we think that eventually this will lead to a larger loss of confidence, not only in the dollar but in our Central Bank.
Though we are not claiming we will see a full catastrophe in 2017, when we do get to the point in the future where the Federal Reserve is unable to curb disaster by printing money and the FOMC coming to the rescue eventually fails to stabilize equity markets, we're going to see a period of volatility that is going to make the government wish they had simply let bubbles burst the way that they should have.
Nothing from a macroeconomic picture gives us confidence about the dollar for equity markets heading into 2017. While we maintain a portfolio of core long positions, we have selected these based on individual company catalysts and valuations that we believe will not move in tandem with the broader markets. For hedges not only do we short companies that we believe are overextended or worthless, but we also routinely make short bets on both the dollar and US equity indices. We plan on continuing this strategy for 2017.
Disclosure: I/we have no positions in any stocks mentioned, and no plans to initiate any positions within the next 72 hours.
I wrote this article myself, and it expresses my own opinions. I am not receiving compensation for it (other than from Seeking Alpha). I have no business relationship with any company whose stock is mentioned in this article.