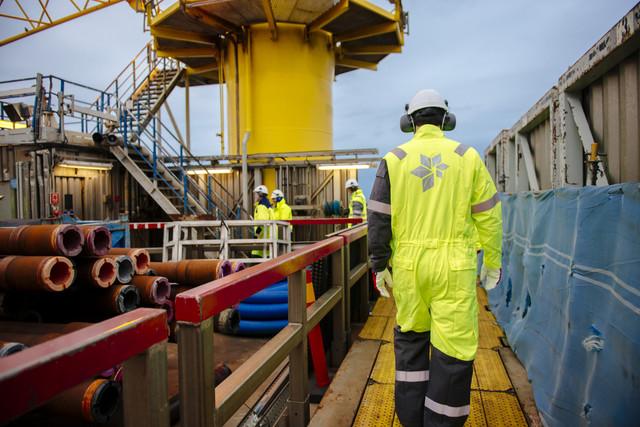 Courtesy: Oil&gaspeople.
Investment Thesis:
I am totally convinced that an increase in oil and gasoline prices is extremely beneficial for the entire oil industry, not specifically for one particular branch of exploration versus another, as some analysts have argued recently and I intend to prove it today again.
Many have stated that the US shale will see an increase in exploration CapEx and the offshore will only follow months or years later, if ever needed.
Investing in shale makes sense on paper, because investment in shale rewards the oil majors with a quick return in cash flow limited at a few years instead of decades.
A graph published by Rystad in February 2016 explains why it is paramount for the oil majors, especially when cash flow is scarce.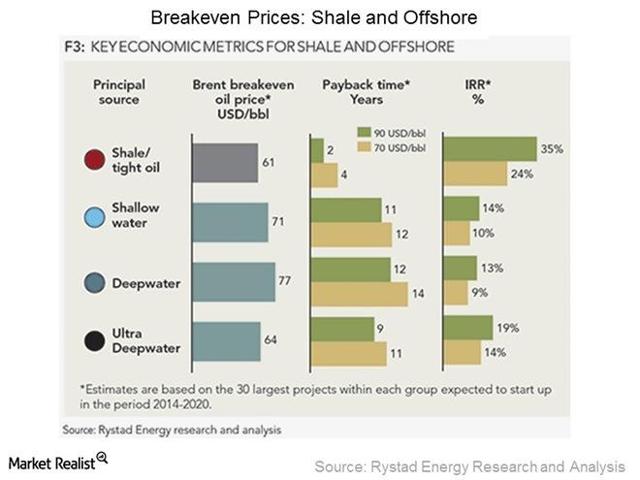 The question is not really the "brent breakeven oil price" for each of the different source of production which is not extremely different and vary from $61 to $77 per barrel (let's assume an actual 2017 lower cost now at a range of $55 to $70):
Shale/Tight oil
Shallow Water
DeepWater
Ultra-Deepwater
The difference is to be found in the payback time counted in years for each source or the Internal Rate of Return -- IRR -- which is the rate of growth a project is expected to generate and will justify this seemingly logical choice. I could demonstrate the same idea using the concept of "short cycle alternative" and "optionality" that presents the shale.
Let's assume the prices of oil on average at $56 per barrel, which is what we have today. The payback time for shale might be around 6 to 7 years, versus approximately 14 years for the ultra-deepwater, which has nearly the same breakeven oil price as shale.
However, an article from offshoreEnergyToday said:
Large-scale developments with proprietary designs do not have the optionality of shale developments. Many long-lead offshore and oil sands projects have already been sanctioned and some have much of the major capital costs sunk - making full project break-even figures much less relevant than shale investments with steep production curves.
My point is that we should not conclude too fast and in a Manichean way the demise of the offshore industry, because it is unprofessional and basically untrue. The offshore drilling is still in a hibernation state for another year, but starts to move slowly again.
The oil majors are showing the right scheme and it is far from an empty/full glass of water, but rather a half full or half empty glass of water, meaning that CapEx will be balanced between the different sources, when oil prices will hit the breakeven level.
Today, I will present another proof that oil prices are beneficial for offshore drilling as well as shale/onshore, and refusing to admit the situation as a fact, can result to serious mistakes in investing down the road.
Demonstration:
Let's see what Mr. Tim Dodson, Executive Vice President for Exploration in Statoil (STO) said the other day:
Taking advantage of our own improvements and changed market conditions, we have been able to get more wells, more acreage and more seismic data for our exploration investments in later years, this allows us to firm up a strong drilling program for 2017, totaling around 30 exploration wells as operator and partner. The upcoming well program is balanced between proven, well known basins and new frontier opportunities,
Note: the exploration drilling plans are dependent on permitting, rig availability and partner approvals.
I - For the Offshore Norway segment:
In Norway, the 5 to 7 exploration wells [cost about $25 million per well] that are scheduled are in the Barents Sea which is the core of the drilling activity.
In The Norwegian Sea and the North Sea, the ambition is to prove near field volumes to prolong the productive lifetime of existing infrastructure and determine the growth potential.
In total, Statoil expects 16-18 NCS exploration wells to be completed in 2017. New discoveries are crucial to counteract decline on the NCS.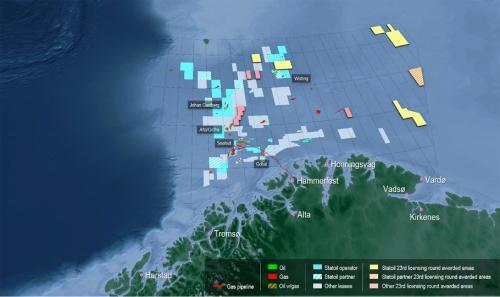 Map: Johan Castberg and Hoop/Wisting area and other opportunities.
This is good news for Transocean (NYSE:RIG), Seadrill (NYSE:SDRL) and other harsh environment drillers.
[II] Offshore Internationally.
Brazil Carcara pre-salt discovery operated interest have been acquired by Statoil in July 2016 and is now an important part of Statoil focus. The Carcará discovery is located in Block BM-S-8, in the pre-salt area of the Santos Basin, approximately 230km off the coast of São Paulo. The Carcará well showed a continuous column of at least 471 meters of 31º API oil with more than 400 meters of microbial carbonates, with excellent porosity and permeability conditions. Statoil is well positioned for operatorship of a unitized Carcará field following this transaction and the license round will provide an opportunity to scale up the position in the field. Statoil estimates the recoverable volumes within the BM-S-8 license to be in the range of 700 to 1,300 million boe.
Statoil is stepping up exploration also in the UK, with plans for three Statoil operated exploration wells in 2017.
Also in the Gulf of Mexico, Indonesia and Suriname as partner.
[III] Onshore International.
Statoil is also partnering in onshore exploration drilling planned in Russia and Turkey.
Statoil and Rosneft are actively implementing the strategic cooperation agreement signed in May 2012. This cooperation is an important step towards building Statoil's strong position in Russia in the long term.
In May 2016 Statoil entered a binding letter agreement into two exploration licenses in the Thrace region in Turkey.
Conclusion:
Statoil is another oil majors who exhibits new interest in exploration offshore and increase exploration CapEx by 30% in 2017 compared to 2016. I have shown that it is not unique and recently BP (NYSE:BP) acquired interests in two large Gas field in Senegal/Mauritania and Egypt.
To access my article about BP please [Click here].
Another recent example is ExxonMobil (NYSE:XOM) with the lizar discovery in Guyana and the new interest in the Suriname.
To access my article about XOM please [Click here].
And it is not only oil majors but National Oil Companies such as the Indian ONGC as well.
The recent shale expansion of the past several years has pushed momentarily the offshore exploration somewhat in the backseat, especially with cash scarcity due to low oil prices.
Oil majors have reduced exploration CapEx significantly the past two or three years and Offshore exploration suffered the most.
However, as soon as oil prices are approaching the "sweet spot" estimated at $55 to $65 a barrel we see an immediate change in strategy.
The timing really could not have been more perfect.
Oil majors are now planning for 2017 exploration CapEx and the oil prices -- and Natural Gas price -- outlook is showing a positive trend.
The effect has been quite fast for the US shale, which saw a sharp increase in drilling wells.
However, the offshore segment has not been left out, and we can see that projects are ready for exploration again.
Unlike the Shale it will not translate immediately to a drilling activity, due to the size and the nature of the investment involved in deep waters.
However, we can see a change and a potential increase in tendering activity shaping up which will be visible in about 8 to 12 months in my opinion. This is what investors must recognize when investing in the offshore drilling sector versus the Shale sector. It is just a matter of timing.
Important note: Do not forget to follow me on the oil sector. Thank you for your support.
Disclosure: I am/we are long RIG, BP, XOM, STO. I wrote this article myself, and it expresses my own opinions. I am not receiving compensation for it (other than from Seeking Alpha). I have no business relationship with any company whose stock is mentioned in this article.