The market has experienced a strong rally ever since Trump was elected, and this has made it tougher to find bargains. Energy, industrial, and financial sector stocks have seen huge gains in recent weeks. Meanwhile, biotech and drug stocks which were hit hard in late 2016, due to election year rhetoric calling for price controls, were also hit by tax-loss selling. I think many of the stocks in the energy, industrial, and financial sectors are now overbought and therefore it is a great time to take profits in these names. By contrast, there are some real bargains in the biotech and drug sector, so it makes sense to rotate into this asset class now. Just look at the charts for the some of the hottest sectors in the past several weeks and you can see why it is time to rotate into biotech and drugs stocks:
The Financial, Industrial And Energy Stocks Are Overbought: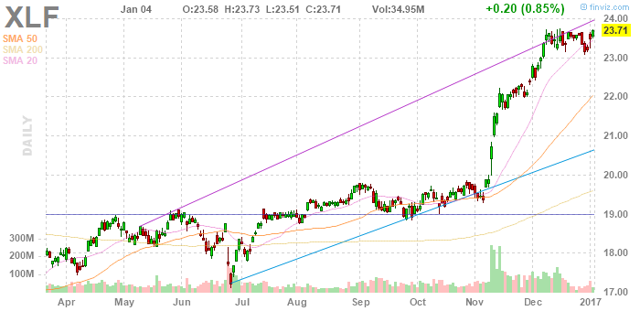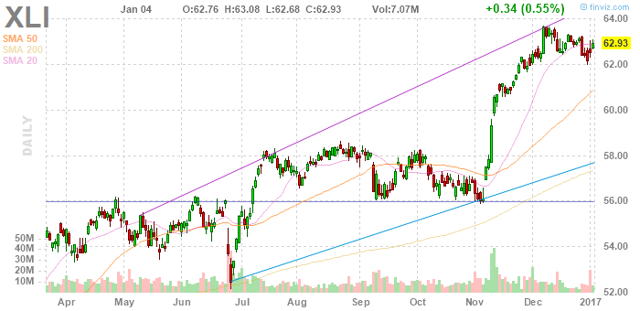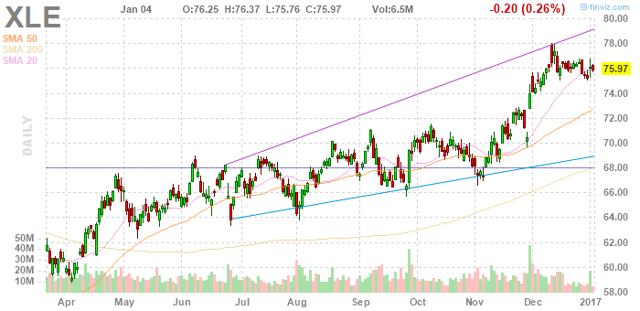 Now Take A Look At The Charts For The Drug and Biotech Sectors: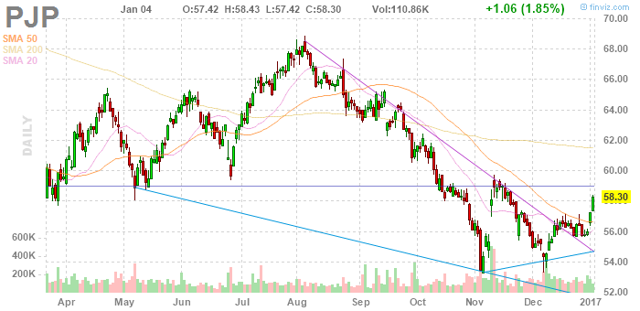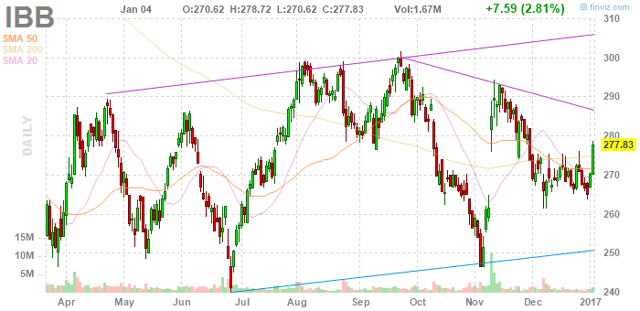 I am looking for value in this market and with the huge run we have seen in financial, energy, and industrial stocks, I think it is time to sell those and rotate into the laggards of 2016. I believe a lot of good news is priced into the market leaders right now and I don't think campaign rhetoric is going to lead to industry-killing price controls for the drug and biotech sector. In fact, Seeking Alpha reported that a number of firms implemented price hikes for many drugs, which took effect on January 1, 2017.
Because of all this, I have been doing a lot of research on which biotech and drugs stocks are undervalued and could have significant upside in 2017. For example, I recently wrote about a small biotech firm and declared it a strong buy because it trades for just over $1 per share, it has a pipeline candidate that could be approved by the FDA in 2017, and a recent analyst price target of $4 per share, which suggests it is deeply undervalued. However, I am also looking at large cap stocks that may not have as much upside but could still provide significant gains into 2017. With this in mind, let's take a look at some stocks that appear too cheap to ignore: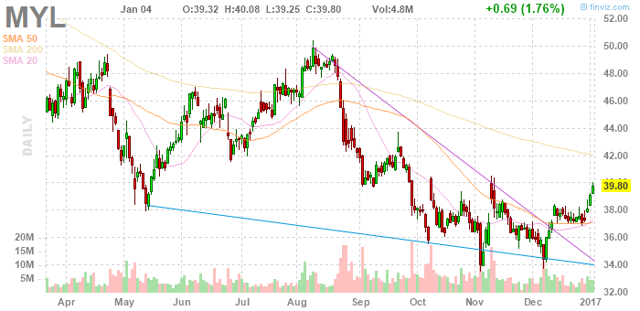 Mylan N.V. (NASDAQ:MYL) has taken a tremendous amount of heat for price hikes it made on its EpiPen, which is an allergy-reaction injector. While it is true that the company raised prices over the past several years, it is also true that there have been generic products on the market competing with the EpiPen, so this is a clear case of the market deciding what the value of a product is. This is not a situation where a company that has no competition took advantage of consumers because they had no other choice. The ability to raise prices and make EpiPen almost a household name also shows what a masterful job Mylan has done with branding this product.
I think that politicians have been attacking companies like Mylan because it's easy to blame drug makers, especially in an election year. However, I think all this EpiPen bashing is going to fade because we still live in a free market economy. I also think bashing EpiPen over its $600 "list" price makes for great headlines, but when you look into the situation more deeply and realize that it has generic competition and that Mylan also recently agreed to release a generic version for about $300, this is all much ado about nothing. It's worth noting that while the $600 list price for EpiPen makes the headlines, the truth is that the company offers significant discounts and rebates which result in a far lower net price in many cases. Finally, on a personal note, I know someone who recently was charged $800 for a simple blood test at their local hospital. If we are living in the era of $800 blood tests, I would say paying $600 (or probably much less after discounts) for a portable device that saves your life is cheap. In spite of the trashing and lack of appreciation some politicians seem to have for this sector, I really hope that other biotech and drug firms will come out with more lifesaving devices and treatments that cost as little as $600.
As the chart above shows, Mylan shares were trading for about $50 in August, and then were hammered down to around $34 per share in November and December as campaign rhetoric and tax-loss selling took its toll. However, the stock has been showing some strength lately and it now trades for $39 per share which is still incredibly cheap. The company is expected to earn $5.38 per share in 2017, and that implies a price to earnings ratio of just a little over 7 times. It is interesting to note that around 18 months ago, Teva Pharmaceutical Industries (NYSE:TEVA) made a bid for Mylan at $82 per share, but the board rejected the offer. I don't think Mylan's business is worth half of what it was worth back when that bid was made, and that is just one more reason why it makes sense to buy this bargain now.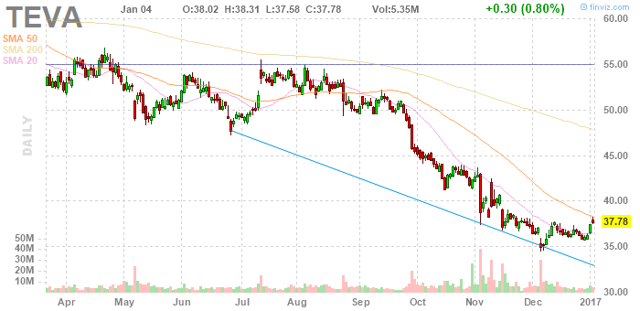 Teva Pharmaceutical shares have also been under significant pressure over the last few months; however, as the chart above shows, the stock has clearly been putting in a bottom in the last four weeks and has even started to head a little higher. Teva is primarily a generic drug maker and because of this, it does not seem to get as much respect as it deserves. It is one of the largest drug companies in the world. While Teva may not have the growth or upside potential of a much smaller firm or a potentially cutting-edge biotech, it has a lot to offer especially at the current share price which is a bargain. As a generic drug maker, its business is much more stable and predictable and it also does not have to invest as much (as some firms) on research and development. It also does not have as much risk as a company that has to invest millions on a new drug candidate, only to see it potentially fail. Furthermore, if there is concern about rising healthcare costs, then Teva can be part of the solution because generic drugs have huge cost benefits in many cases.
Teva shares have seen selling pressure over the past few months due to concerns about price controls and it has had some company-specific issues as well. For example, there was an allegation of bribery by the U.S. Government. However, that overhang was recently removed from this stock because just a couple of weeks ago it announced a settlement for $519 million. Teva shares were also impacted in November when it released earnings for the third quarter. The company reported a profit of $1.31 per share and that actually beat analyst expectations of $1.28 per share. However, the company also issued weaker than expected guidance for the fourth quarter with revenues now expected to range between $6.2 to $6.5 billion and earnings per share ranging from $1.34 to $1.44 per share. Analysts were expecting revenues of $6.48 billion and earnings of $1.42 per share, so unless the company posts revenues and profits that are both on the high end of its estimates, it will not meet analyst expectations. However, in the big picture scheme of things, a few cents above or below estimates does not make a big difference to me when the stock is trading at such a cheap valuation.
Teva shares appear to be trading at bargain-like levels at this time. Analysts expect the company to earn about $5.50 per share in 2017. With the stock trading at about $37.50 per share, this implies a price to earnings ratio of just around 7 times earnings. That is way too cheap considering the average stock in the S&P 500 Index (NYSEARCA:SPY) now trades for over 18 times earnings. Another big plus is that Teva offers a generous dividend of $1.36 per share and that is equivalent to a yield of just over 3.5%. On January 3, 2017, analysts at Maxim Group reiterated a buy rating on Teva shares but slightly lowered the price target on the stock from $52 to $49 per share. A $49 price target still suggests upside of about 25% and investors will be rewarded while waiting by collecting the 3.5% yield.
Data is sourced from Yahoo Finance. No guarantees or representations
are made. Hawkinvest is not a registered investment advisor and does
not provide specific investment advice. The information is for
informational purposes only. You should always consult a financial
advisor.
Disclosure: I am/we are long MYL, TEVA.
I wrote this article myself, and it expresses my own opinions. I am not receiving compensation for it (other than from Seeking Alpha). I have no business relationship with any company whose stock is mentioned in this article.