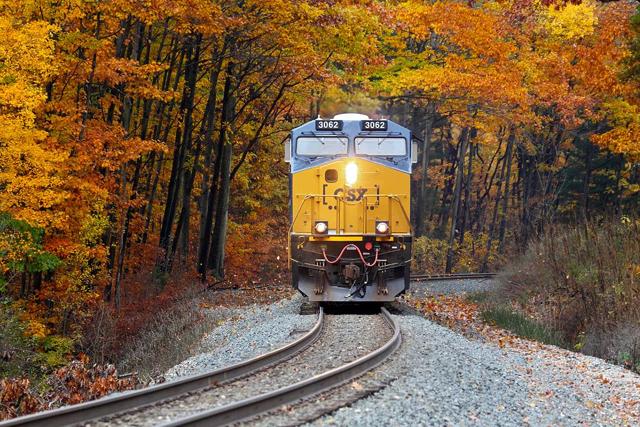 CSX Corporation (NYSE:CSX) is set to report quarterly earnings January 17th. Analysts expect revenue of $2.83 billion and EPS of $0.48. The revenue estimate implies a 4.4% increase sequentially and 5.6% Y/Y. Investors should focus on the following key items.
Will Coal Lead The Way?
Rail traffic for 2016 was down by the high-single digits, but turned up in the month of December. In December U.S. carloads were up 2.8% versus December 2015. 13 of 20 carload commodity categories saw gains, including coal, which was up 4.2%. Excluding coal, rail traffic was only up 2% Y/Y. If rail traffic turns, particularly coal volume, then that could have an outsized impact on CSX's top line going forward.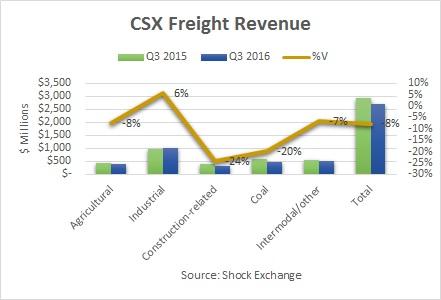 The company's Q3 revenue fell 8% Y/Y. Coal and construction related were the biggest decliners at 20% and 24%, respectively. Coal represents 17% of revenue - same as Q3 2015. Coal volume has declined consistently due to a shift to clean energy. Given its outsized share of CSX's revenue, coal's rebound could potentially be a boon to the stock.
One of president-elect Donald Trump's goals was to help revive coal demand and prices, which could potentially revive communities tied to the commodity. The prospects of CSX, Union Pacific (NYSE:UNP) and Norfolk Southern (NYSE:NSC) could hinge on whether Trump can deliver. That said, a 4.4% sequential increase in revenue could imply that coal is back for the near term.
EBITDA Margins
To counteract top-line erosion, railroads have cut costs en masse. EBITDA margins for Canadian National (NYSE:CNI) and Canadian Pacific (NYSE:CP) are north of 50% - downright gaudy. Canadian Pacific CEO has practically embarrassed U.S. railroads for not being as efficient as their Canadian counterparts. CSX's margins were 43% in Q3, slightly up from 42% in Q2. Declining fuel costs are already baked in, but cuts to labor and material costs (47% of total revenue) could potentially close the gap between CSX, Canadian Pacific, and Canadian National.
Continued revenue declines could mute any cost-cutting efforts. I have always felt that, for CSX, rising coal prices would be the biggest boon to margins. It would drive revenue without major increases in costs. CSX could test this thesis with its Q4 earnings report. Management's outlook for coal could drive CSX higher due a potential outsized impact on margins.
Conclusion
I have been bearish on rail stocks and CSX in particular. CSX still trades at 9.7x run-rate EBITDA - outside my 8x range for cyclical names. When the facts change, then so will my investment thesis.
Disclosure: I/we have no positions in any stocks mentioned, and no plans to initiate any positions within the next 72 hours.
I wrote this article myself, and it expresses my own opinions. I am not receiving compensation for it. I have no business relationship with any company whose stock is mentioned in this article.