2016 hasn't been a stellar year for Novartis (NYSE:NVS) (OTCPK:NVSEF) with the stock down around 15%, underperforming the STOXX Europe 600 Health Care (SXDP Index) by more than 500 bps.
There are two main concerns behind investor's skepticism in the stock right now:
1. The management has confused the investor base with comments around M&A. Historically, Novartis had pursued bolt-on acquisitions of around $2-5 billion, but in 2016, there were a lot of discussions around potential involvement of Novartis in a "transformational M&A," as for example a merger with AstraZeneca (NYSE:AZN). Unfortunately, investors hadn't taken this discussion well, and the management communication about that was not great.
2. There is huge skepticism in the investor community around the recovery of Alcon because despite the "turnaround plan" announced at FY15, Novartis has not been able to show any top line growth, and in the meantime, Alcon's operating margin in the Q3/2016 results has touched 14.3% from around 35% two years ago.
Looking forward, though I like the company's long-term strategy and diversification approach, with exposure to Pharmaceuticals (primary care and specialty medicines), Sandoz (generic and biosimilar pharmaceuticals), and Alcon (eye care), I don't think Novartis is strongly poised to outperform from the current valuation of 14.7 2017 P/E because it will still suffer from a lot of headwinds:
Entresto is the key growth driver of the Pharmaceutical Division, but it has experienced a slow launch in 2015 and 2016 for 2 key reasons: 1) Lack of US primary care sales force, and 2) prior authorizations adopted by US payors. Despite heavy extra investments by Novartis behind Entresto in 2016 and the decision to build a new primary care sales force in the US, there has not been any tangible inflection in the launch trajectory. For these reasons, I think there is a risk that Novartis will not be able to reach the guidance of $200 mln for Entresto in FY 2016 and of $5 bln of peak sales for the drug and this would be a material setback for the long-term prospects of the company.
Novartis has been unsuccessful with the turnaround of Alcon in 2016 and they haven't provided any visibility on when there will be a trough for this division. I believe Alcon's issues are structural and they are related to the lack of investments in innovation in the past 5 years made by Novartis, so I'm not sure they have the right expertise to execute this turnaround. Thus, I think Alcon is set to further underperform in 2017, weighing negatively on group results.
Cosentyx has been a strong growth driver for the Pharmaceutical Division, exceeding expectations thanks to a strong launch in the Psoriasis market. I'm worried about a potential slowdown in 2017, given the competition from Eli Lilly's (NYSE:LLY) Taltz and the likely launch of AZN's/Valeant's Brodalumab by 1Q17. I would not be surprised to see in 2017 more pressure on pricing by the PBM given the presence of many drugs with similar efficacy in the same therapeutic indication.
Given the pressure on these 3 key growth drivers, I would not be surprised if Novartis provides guidance for FY 2017 of "Flat Core Operating Income" versus 2016.
At 14.7x 2017E EPS, shares trade in line with the diversified biopharma group, despite lower visibility on some key growth drivers, even if the valuation is in line with the 10-year historical one (absolute and relative), as shown by the following analysis.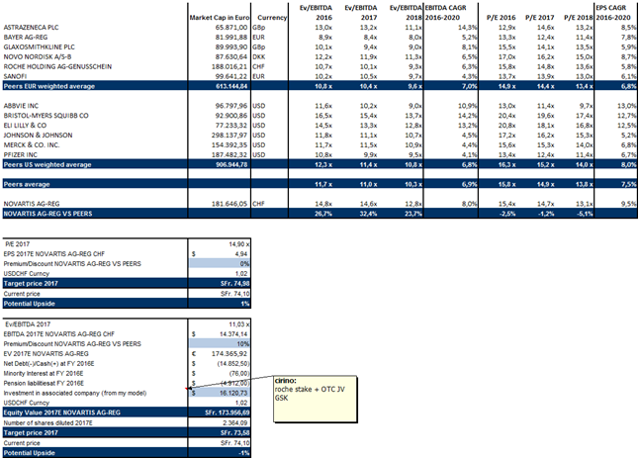 Source: Own Valuation Model, data from Bloomberg Terminal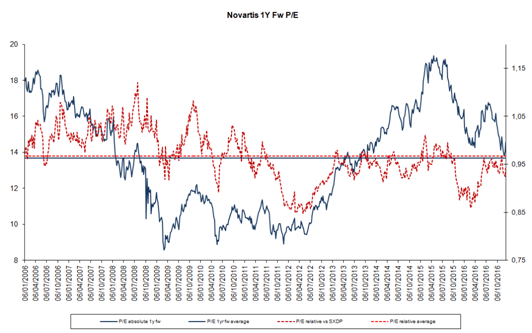 Source: Own Valuation Model, data from Bloomberg Terminal
Novartis could benefit from a broad pipeline with several upcoming catalysts (Serelaxin, RTH258, Siponimod), but I don't see any of these assets as a multibillion opportunity that could radically change the long-term picture.
During 2017, there will be further discussions around potential involvement of Novartis in a "transformational M&A," given persistent pressure in some key growth drivers and the possibility for Novartis to have firepower of more than $30 bln from the disposal of 3 assets: 1) The put on Consumer JV with GlaxoSmithKline (NYSE:GSK), 2) the Roche (OTCQX:RHHBY) stake and 3) the Alcon division.
In summary, Novartis trades at a fair valuation for a conglomerate that offers solid long-term fundamentals and exposure to interesting therapeutic areas like oncology, biosimilar and ophthalmology, but that will still face a lot of headwinds in 2017; thus, with negative earnings momentum, I don't think the stock is poised to outperform.
Disclosure: I/we have no positions in any stocks mentioned, and no plans to initiate any positions within the next 72 hours.
I wrote this article myself, and it expresses my own opinions. I am not receiving compensation for it (other than from Seeking Alpha). I have no business relationship with any company whose stock is mentioned in this article.
Additional disclosure: Not investment advice. I am not an investment adviser.
Editor's Note: This article discusses one or more securities that do not trade on a major U.S. exchange. Please be aware of the risks associated with these stocks.