MPLX LP (NYSE: MPLX), the MLP formed by Marathon Petroleum (NYSE: MPC) in 2012, primarily engages in crude oil and refined products logistics. After the acquisition of MarkWest Energy, natural gas gathering and processing forms a major chunk of the company's operations.
MPLX stock has been trading range-bound for quite some time now. MPLX is one the few midstream companies that ended 2016 in red when the broader midstream sector ended the year with gains.

Source: ycharts.com
MPC eliminates incentive distribution rights
Marathon Petroleum's recent announcement of getting rid of incentive distribution rights for MPLX is surely positive news for the MLP. Not only will it reduce MPLX's cost of capital, but also allow it to deliver its targeted double digit distribution growth.
Marathon Petroleum, which owns MPLX's general partner, is currently at the top tier of MPLX's incentive distribution rights scale. This entitles MPC for 50% interest in distributions above $0.39 per unit. Not only does this restrict future distribution growth for LP unit holders but the incentive distribution rights also increase MPLX's cost of capital.
Moving towards more balanced mix
By the end of 2017, Marathon Petroleum plans to offer MPLX assets contributing $1.4 billion of annual EBITDA, accelerating the earlier plan of these drop-downs to happen over three years.

Source: MPLX investor presentation
The dropdowns will provide additional stable cash flow to MPLX to support continued strong growth in distributions. MPLX forecasts 2017 distribution growth rate of 12% to 15%. The company expects to achieve a double-digit distribution growth rate for 2018.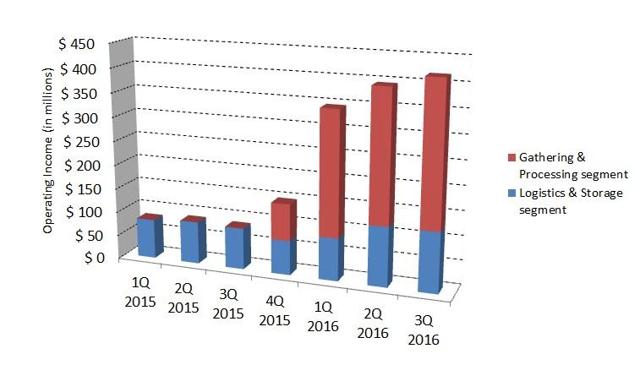 Source: MPLX filings
As seen in the above graph, MPLX's business mix tilted heavily towards gathering and processing after MarkWest acquisition. For the latest quarter, MPLX's gathering and processing segment contributed to as much as 70% of the company's operating income.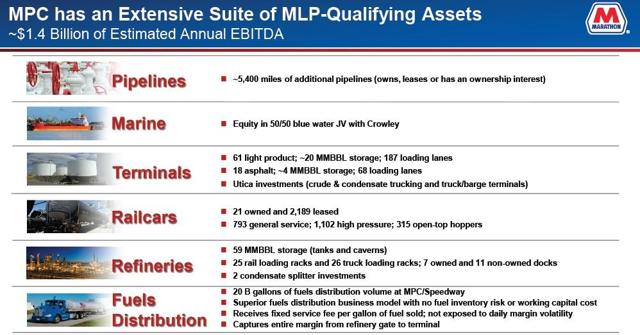 Source: MPC investor presentation
As the above slide shows, the MLP-qualifying assets that MPC may drop-down to MPLX are diverse. Once the 2017 planned drop-downs are complete, it'll make MPLX's business mix more diversified with a healthy mix of logistics and storage and gathering and processing operations.
The biggest strength of the company's logistics asset base is that it is highly integrated with MPC's refining system, thereby providing high level of cash flow stability. This will be further enhanced following the planned drop-downs.
While the company's logistics and storage operations are strong, its gathering and processing operations too are fee-based and located in prolific Marcellus and Utica shales. Marcellus and Utica shale plays, which account for majority of MPLX's gathering, processing, and fractionating operations, are growing production consistently when production in the rest of the US has declined. This is captured in the slide below.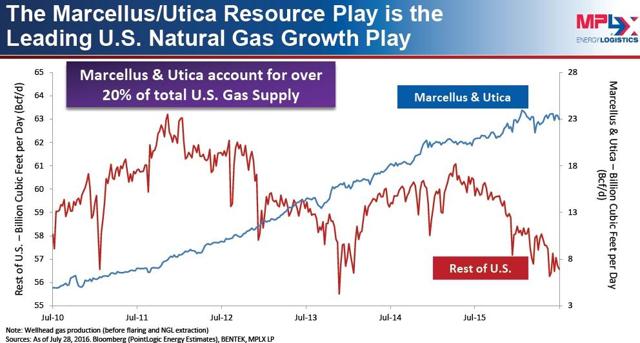 Source: MPLX investor presentation
MPLX's operations in these key shale plays offers it a definite long-term advantage.
Reasonable leverage
MPLX plans to finance the dropdown transactions with debt and equity in equal proportions. The equity financing is to come from MPLX units issued to MPC. MPLX expects the pro-forma net leverage to be ≤4.0x after the dropdown and IDR exchange transactions.
Valuation
I'll now turn my attention to valuation of MPLX to see if it indeed offers a buying opportunity. MPLX is currently trading at an EV/EBITDA ratio of nearly 13.5. This is lower compared to an average of nearly 14.7 for Phillips 66 Partners (NYSE: PSXP), Valero Energy Partners (NYSE: VLP), and Shell Midstream Partners (NYSE: SHLX).
Considering that gathering and processing operations currently form a major part of MPLX's operations, it is useful to also compare its ratio with MLPs with gathering and processing operations. MPLX's EV/EBITDA stands close to the average of 13.2 for Summit Midstream Partners (NYSE: SMLP), DCP Midstream Partners (NYSE: DPM), EQT Midstream Partners (NYSE: EQM), Western Gas Partners (NYSE: WES), ONEOK Partners (NYSE: OKS), Cone Midstream Partners (NYSE: CNNX), and Antero Midstream Partners (NYSE: AM).
MPLX currently yields 5.8%, much higher than 3.5% for SHLX or 4.3% for PSXP. Additionally, the company expects double-digit distribution growth through 2018.
So, MPLX looks undervalued related to some and fairly valued related to other MLPs in the space. Add to it the catalysts discussed so far, it makes the MLP a buy for me.
Disclosure: I/we have no positions in any stocks mentioned, and no plans to initiate any positions within the next 72 hours.
I wrote this article myself, and it expresses my own opinions. I am not receiving compensation for it (other than from Seeking Alpha). I have no business relationship with any company whose stock is mentioned in this article.