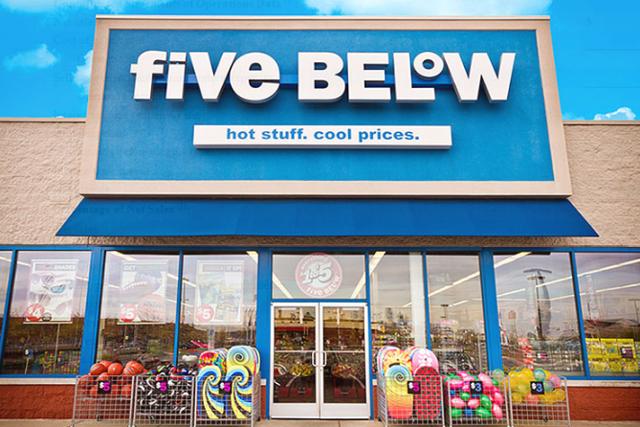 Five Below (NASDAQ:FIVE) is probably my favorite retail pick in the entire market right now and the reason is simple; FIVE represents tremendous growth at a reasonable price. That doesn't mean the stock is cheap in a traditional sense, but it does mean that given what's on the horizon in terms of growth - and the levers FIVE can pull to get there - this stock will have proven a bargain at $40 down the road. The company's combination of torrid sales growth and constant margin expansion are unique and make FIVE the most attractive retailer out there today.
But what makes it so good? The combination of store expansion as well as continuous improvement in comp sales keeps the top line growing at 20% or better each year. This year is no exception as comps in the low single-digit range are complemented by a bunch of new store openings. This is the primary lever for growth FIVE can pull over the next several years as it is a very long way from its ultimate goal in terms of store count. FIVE is roughly one-quarter of the size it wants to be when it is mature, so huge revenue growth numbers are here to stay.
But what I'm more excited about - and the focus of this article - is margin growth. FIVE continues to leverage its fixed costs in order to grow operating margins but as well as it has done, it has a very long runway here and that's where additional earnings growth is going to come from. Ultimately, store base growth isn't the primary reason to buy FIVE; margin growth is the reason to buy FIVE. To illustrate my point of constant improvement as well as seeing how far FIVE could continue to grow, I've pulled a table from the company's Q3 10-Q.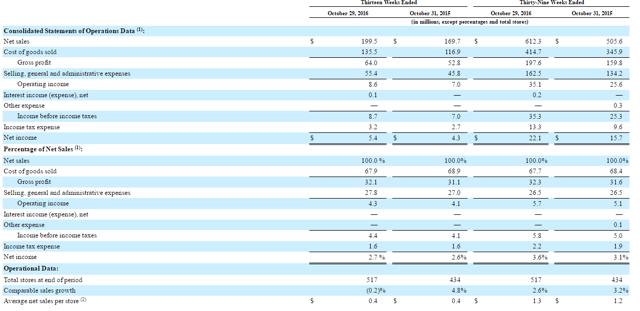 There's a lot of info on here but focus on the percentage of net sales numbers, particularly with respect to gross margins and SG&A costs. Any growing retailer has lots of investments it has to make in its supply chain and back office costs in order to support growth. With FIVE expanding its store base as rapidly as it is, those costs are huge. That's why we see SG&A costs flat as a percentage of revenue, despite the fact that revenue was up roughly 20% Y/Y. FIVE has a lot of investing left to do with respect to SG&A costs and at some point in the future, those investments will slow down. That means that FIVE will be able to leverage those SG&A costs down as a percentage of revenue to perhaps the low 20s, which is a very achievable number considering it is only 26.5% during the fastest growth stage the company will see. There is at least 400 bps of future leverage in SG&A costs and part of that will come from lower stock-based compensation.
FIVE is in the midst of investing in its personnel with stock awards as a piece of the total compensation picture. The options it is granting are expensive but they have an average duration of better than six years, meaning that FIVE is investing for the long term. Again, these costs are expensive upfront but will diminish over time and in the case of stock-based compensation, the grants are ensuring critical personnel have plenty of incentives to stick around.
Apart from that, FIVE is already seeing leverage in its supply chain despite the fact that it is still building it out. Quadrupling the current store count is going to take a lot of infrastructure and the fact that FIVE is already leveraging on its supply chain costs means it is actually ahead of schedule with respect to margin growth. FIVE's model prohibits widespread price increases and that's fine; FIVE creates margin expansion via leveraging its buying and supply chain costs down through volume. It is doing exactly that as gross margins were up 70bps in the first three quarters of this year. That's a really terrific result and I don't see why this sort of thing cannot continue for years to come. As FIVE continues to build its store count that leverage from volume will get easier and easier, leading to operating margin expansion. We've already seen that and we know it works.
So what do we do with this information? FIVE doesn't look cheap at 25.3 times 2017 earnings but given its EPS growth rates in the low 20s, it is only going for just over 1X its projected growth rate. That does make it cheap and that is why I still think it is the most attractive retailer in this market. But for that to continue, we have to see a strong Q4 report.
FIVE will report its critical Q4 in a few weeks and that will determine the short to medium term direction of the stock. I still think it is cheap at 25 times earnings but if Q4 was weak in terms of comps or margins, investors may bail. Q4 is absolutely vital to FIVE as it gets a huge percentage of its revenue and profits from those three months. I'll be very keen to see comp sales growth continue for FIVE (it didn't in Q3, which was a setback) and above all, I need to see continued margin expansion. FIVE should be able to produce margin expansion without the benefit of higher comps but that would certainly help.
The bottom line in FIVE is that this company is still very early on in its lifecycle. It is going to have many times the number of stores it does right now and those stores will be much more profitable than they are right now when all is said and done. Those things are a long way off from today but FIVE's impeccable track record would suggest the odds of success are high. The model is proven and we know it works, and further there is a lot of additional margin leverage FIVE should produce between here and there. That means that if the store base increases by three or four times from here and operating margins go from ~10% to ~15% - which is very achievable - total profit will have increased by 4.5 to 6 times its current level. That means this stock is very cheap at 25 times earnings so I'm in for the long term. We must keep an eye on Q4 margins but for now, FIVE remains on track with its critical margin expansion, reiterating that it is a strong buy.
Disclosure: I am/we are long FIVE.
I wrote this article myself, and it expresses my own opinions. I am not receiving compensation for it (other than from Seeking Alpha). I have no business relationship with any company whose stock is mentioned in this article.