Have you noticed that Yahoo has managed to make a lot of headlines during the past year but none of them on the desirable side? It's as if every time the company attempts to reorganize its game plan and unveil new offerings to its consumer base, something happens to foul it up. Enormous data breaches, highly scrutinized leadership, and a possible acquisition by a telecommunications company (do telecom and Web marriages ever work out?) are just some of the events Yahoo has endured lately. Everyone is watching.
But we think good news is (finally!) on the way. The undervaluation of Yahoo's Asian cross holdings should not last much longer because the deal to sell Verizon (NYSE:VZ) the American Yahoo core should close in 1Q17 and the new Republican administration is widely expected to cut the corporate tax rate to 15%. In 2Q17, Yahoo appears likely to sell its Yahoo Japan shares, merge away or liquidate its Alibaba (NYSE:BABA) stock and distribute remaining cash. Today Verizon signaled to the debt markets that it sought $5.5bn to finance the long-awaited purchase of Yahoo's core business.
Today's approximate $38.50 closing price represents a 30% discount to the $54.83 sum of the parts, or a $16.33/share spread. If we taxed/discounted the entire structure at 15%, we get $54.83 * (1-15%) = $46.61, or a 20% upside from $38.50.
Yahoo has its core business ($5.07/shr), a pile of Alibaba stock ($34.89/shr), a heap of Yahoo Japan (OTCPK:YAHOY) ($8.07/shr) and a giant stack of net cash ($6.80/shr): $5.07 Core + $34.89 BABA + $8.07 4689 JP + $6.80 Cash = $54.83 total. Verizon will pay about $730mm in cash to close out Yahoo's 21mm share equity incentive plans, so the per share estimates above benefit modestly.
The downside? If we put both the Alibaba and Yahoo Japan stakes on 40% discounts, respectively, cash on a 10% discount and fix Yahoo core at the take-out price, the downside is about $37.00 or -4% from $38.50. Another way to think about the downside in Yahoo is to reflect on the downside in BABA. We don't have a view on the BABA downside because we hedge it out. That said, for the fiscal year ended March 2017E, BABA is expected by the Street to earn $3.16/share (+81% y/y) on $21.7bn of sales (+14% y/y).
Long 1 Yahoo share and short 0.4 shares of BABA (the so-called 'Yahoo stub trade') has had fits and starts; see below. This chart does not hedge out Yahoo Japan. Key drivers have been IRS announcements and company comments. Many investors have owned the stub on swap, a higher return, capital-efficient (albeit more volatile) approach that appears poised to finally work.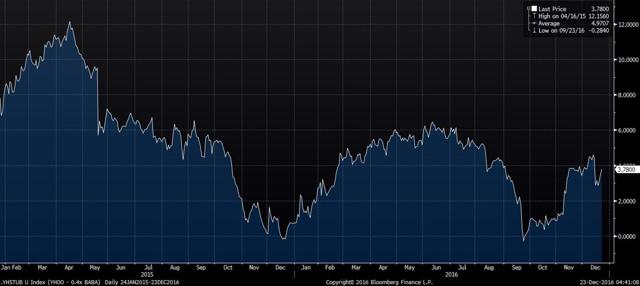 Some have argued that the Yahoo remains will be acquired in an all-stock deal by the Alibaba mothership. Reasonable people may differ as to the likelihood of a deal but we can all agree that given the choice, Alibaba would prefer not to have a $30bn liquid alternative to its own stock floating around forever, particularly when that alternative persistently trades at some discount and represents 15% of their own company.
If the tax rate stays at 40%, bears may argue that Alibaba will bide its time, talk down the chance of a deal and then make a lowball offer. If the tax rate changes to 15%, bulls would argue that BABA will wait until Verizon has cleared away the American Yahoo core and then take a clean shot at an all-stock offer at some small discount to parity. The board's task is to move the conversation away from tax discount and toward merger premium by creating a competitive bidding process. The fairness standards of the Delaware courts support the bull case.
Verizon expects to close the purchase of the Yahoo US core operation during 1Q17, and last week received approval from European regulators. Also in the news this month, Yahoo disclosed a billion-user data breach that was thought to have taken place in 2013. The breach news represents the second such case following the announcement of the transaction. The New York Times DealProfessor seems to think no one cares about the data breach (or for that matter any of the other recent data breaches by other companies).
In response, Verizon may seek a price cut. But based on conversations with Verizon, they still like the asset, and although they may or may not get it cheaper, they are still doing the deal. Let Yahoo cut the price by a billion dollars, or let them not cut the price by a billion dollars. Yahoo has roughly a billion Yahoo shares outstanding. Cut the price of the Yahoo core and one cuts the proceeds paid to Yahoo by about a buck a share. Yahoo closed at $38.50 yesterday, so a $1 change in price is a 2.6% change in value.
With limited downside, a hard catalyst, and favorable tax and fiscal policy, at long last, the Yahoo trade appears ripe (whether stub trade or outright long).
Additional disclosure: The information contained herein does not constitute an offer to sell, or a solicitation of an offer to buy any security or otherwise enter into any transaction. Before making an investment decision consult with tax and legal counsel and a financial advisor to determine your suitability. This information does not purport to be complete and is no guarantee of future results. In evaluating the information, you should know that it could have been previously provided to other persons who could have already acted on it. An investor should not invest unless it is prepared to lose all or a substantial portion of its investment. Sutton View Capital LLC is organized in the United States under the laws of the State of Delaware, which laws limit the personal liability of members, including but not limited to the author.
Disclosure: I am/we are long YHOO.
I wrote this article myself, and it expresses my own opinions. I am not receiving compensation for it (other than from Seeking Alpha). I have no business relationship with any company whose stock is mentioned in this article.