High Risks
My first background article addressing the wonder chemical graphene for Seeking Alpha cautions investors to the high risks involved:
· There are few publicly traded companies.
· They are in the R&D stage of development, or in
· Mining minerals that carry heavy baggage from governments
· Seed stage of developing with unconfirmed products for commercial and healthcare applications, and
· Companies are hindered by high costs and first stage technology for producing graphene in mass quantity.
Unending Growth Potential
Nevertheless, it is the most exciting new industry since the digital revolution. Materials & Chemicals Market Research News just released a report affirming, "We expect that China's graphene market size will grow at a compound annual rate of over 90% in 2016-2020." It also lists more than a dozen companies engaged in mining minerals, R&D, and commercialization of graphene.
My biochemist educated son forwards science articles to me practically every day. Articles about graphene awakened me to the ways graphene will change our lives. The potential for graphene commercialization is seemingly unending, a sui generis.
Information about new applications of graphene in science publications out in the few short weeks since my article in Seeking Alpha detail applications for graphene having the potential to detect cancer cells, improve 3-D printing, make ammunition and guns more efficient and effective, produce a super-strong silk that conducts electricity, helps other materials handle 1,000 times more current than regular materials, build better, safer and longer lasting lithium ion batteries (demand is growing 20% per year), fuel cells, and nuclear reactors.
How to Proceed with Investments
Fundamentally sound statistical and technical analyses do not yet apply to any pure graphene companies. Stock picking is a worthless endeavor unless investors do the grunt work. I suggest investors find a company that is:
· Led by an experienced business management team,
· Sticking with a strong sensible business plan,
· Deep pocketed with enough cash secured to carry it out, and
· Led by a business management team that complements the R&D people.
In my earlier article I addressed three small companies with long term potential for growth and profitability:
Haydale Graphene Industries (OTC:HDGHF)
Graphene 3D Labs (OTCQB:GPHBF)
Applied Graphene Materials (OTCPK:APGMF)
Early Birds
Here is a brief analysis of several listed in the MCMRNews. The first two exemplify the risky business of graphite mining companies. The third investors ought to seriously investigate commercializes graphene with marketability.
Northern Graphite Corp (OTCQX: NGPHF) is a start-up company with no revenues but listing a $10m market cap. More than 5,000 are traded almost daily. This Ottawa, CN based company mines graphite. It cannot control fluctuating world prices on the downside. NGPHF touts the company produces "the highest percentage of large flake material, the best infrastructure, the lowest capital costs and the lowest unit operating costs...the highest margins" in an industry with exponentially growing demand for graphene.
The share price 42-weeks high was 47 cents. A share sells today for 20 cents. Insiders hold seven percent of the shares, and institutions hold 1.27% shares. StreetAuthority last May describes the stock as "basically a publicly traded business plan." NGPHF reports a chest of $658,000 down from a $1.5 six months ago. Then company reports securing 100% interest in the Bissett Creek graphite property located in Ontario.
A Seeking Alpha contributor suggested in May 2015 that Focus Graphite (OTCQX: FCSMF) was not transparent in its use of money raised from stock sales, nor explains "or how it will create value" in the graphite market. They are still listed with shares at 5 cents down from 22 cents. On December 28, 2016, Critical Metals reported FCSMF raised $212,500 from the sale of 2.125M shares. It too is a mining company producing graphite concentrate.
A Stand-Out Company
Graphene NanoChem PLC (OTCPK: GRPEF) is a very interesting company selling for 16 cents per share. It is a commercialization company "that designs, formulates, manufactures and markets a range of nano-enhanced solutions, from chemicals to performance materials." GRPEF focuses on the oil and gas sectors: fuel additives, oilfield chemicals, and performance chemicals. Its Advanced Materials Division uses graphene nanomaterials for production of chemical synthesis processes, and uses graphene dispersion to enable application for specific performance uses and product commercialization. The company does not intend to become a market supplier of graphene nanomaterials, but uses the proprietary technology for enhancing strategic partnerships in commercialization initiatives. The company headquarters are in Kuala Lumpur, Malaysia.
On December 28, 2016 it was announced Graphene NanoChem won its first order for $360,000 causing shares. The share price spiked from a penny trade to 48 cents. Shares currently nearly touch 16 cents. 4,000 barrels of a smart fluid were sold for use in China to make shale drilling faster and improve environmental and economic qualities in two wells. If successful, GRPEF may be tapped to supply its smart fluid to more than 300 other wells China expects to drill in the near future. It is partnering with Scomi for drilling in Southeast Asia.
GRPEF is emerging as one of the most promising publicly traded companies. Management wants to design and commercialize its own products. They are decisively defining their target market, and management has little intention of allowing debt-fueled profligacy. Theirs is a tight business plan demonstrating confidence and determination to build the business in their image and maintain control of their future.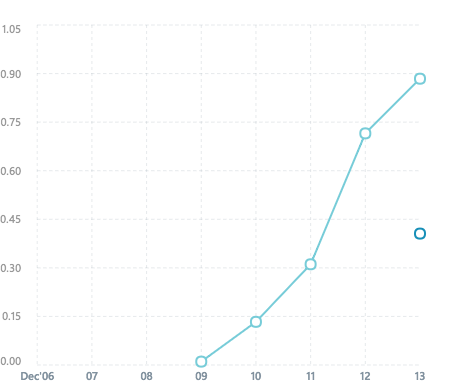 The company and entire industry can rely on Dr. Seuss who wrote, "Oh, the places you'll go! There is fun to be done! There are points to be scored. There are games to be won. And the magical things you can do with (graphene) will make you the winning-est winner of all."
Disclosure: I/we have no positions in any stocks mentioned, and no plans to initiate any positions within the next 72 hours.
I wrote this article myself, and it expresses my own opinions. I am not receiving compensation for it (other than from Seeking Alpha). I have no business relationship with any company whose stock is mentioned in this article.
Editor's Note: This article covers one or more stocks trading at less than $1 per share and/or with less than a $100 million market cap. Please be aware of the risks associated with these stocks.