Hereditary Angioedema (HAE) is one of key growth franchise for Shire (NASDAQ:SHPG) (OTCPK:SHPGF), accounting for around $1.2B in sales in 2016 (~10% of sales) and still growing at a mid-teens rate.
What is HAE and how can be treated
"Hereditary Angioedema is a very rare and potentially life-threatening genetic condition that occurs in about 1 in 10,000 to 1 in 50,000 people. HAE symptoms include episodes of edema (swelling) in various body parts including the hands, feet, face and airway. In addition, patients often have bouts of excruciating abdominal pain, nausea and vomiting that is caused by swelling in the intestinal wall. Airway swelling is particularly dangerous and can lead to death by asphyxiation."
(Source)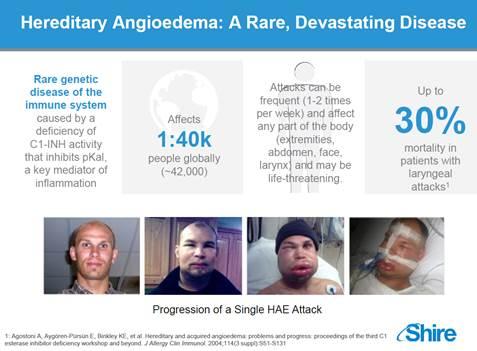 Source: Shire's Dyax Acquisition Presentation, 2th November 2015
Until now, there is neither a cure for patients who suffer from HAE attacks nor a therapeutic concept to prevent these attacks completely. Current HAE treatment options focus on providing rapid relief during attacks ("acute treatment") or on the prevention of symptoms in patients who experience a high frequency of attacks ("Long-term prophylaxis") or who undergo dental or surgical procedures, which may trigger an attack.
Shire's portfolio of assets in HAE
Shire currently dominates the HAE market with the leading treatment for both the long-term prophylaxis, called Cinryze, and the Acute Setting, called Firazyr.
Cinryze is the only drug approved in U.S. for the prophylaxis treatment of HAE. It is administered by intravenous (or IV) injection, usually 3x weekly. The drug has been approved after the Phase 3 study showed that IV Cinryze (1000 IU) generates about c50% response rate, with the average length of HAE attack reduced from 3.4 days with placebo to 2.1 days with Cinryze in the patient population. The only drug with comparable efficacy is CSL's Berinert, but it's not approved in U.S. for prophylaxis treatment so it's mainly used outside US for acute treatment.
Instead, FIRAZYR is used to treat acute attacks of hereditary angioedema in adults 18 years of age and older. The only meaningful competitor in U.S. is Kalbitor (recently acquired by Shire with the acquisition of Dyax in November 2015), but the market has been dominated by Firazyr given the fast onset of action and the possibility of self-administration.
Shire's Pipeline in HAE
Shire announced the acquisition of Dyax in November 2015 for an upfront cash payment of $5.9 billion plus potential additional $646 million for CVRs linked to the pipeline development of Dyax's lead asset, DX-2930.
"We see DX-2930 as best in class breakthrough opportunity. We have the relationships, clinical expertise, patient identification and management to bring DX-2930 to the next stage of development."
Source: Flemming Ornskov, Shire' CEO, Shire's Dyax Acquisition Conference Call, 2th November 2015
Shire's enthusiasm for this acquisition comes from the extraordinary results of the Dyax's lead asset (DX-2930, now called SHP643) in the Phase 1b trial in HAE published in 2015.
The main takeaways from DX-2930's Phase I in 37 patients were:
HAE attack rate was 0 in the 300 mg group and 0.045 attacks per week in the 400 mg group, compared to 0.37 attacks per week in the placebo group.
100% reduction for the 300 mg dose group (p< 0.0001) and an 88% reduction for the 400 mg dose group (p=0.005) for HAE Attack rate vs. placebo.
No safety signal in treatment-emergent adverse events, clinical laboratory results, vital signs, or electrocardiograms.
Subcutaneous injection was well tolerated.
The added advantage of potential fortnightly or monthly dosing (Vs. twice weekly infusion for Cinryze).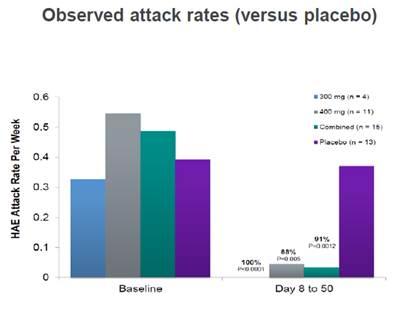 Source: Shire's Dyax Acquisition Presentation, 2th November 2015
In few words, DX-2930 offers potentially better efficacy and more convenient dosing for patients suffering from HAE and it has a clear strategic fit within Shire's hereditary angioedema portfolio offering next generation therapy to expand Shire's industry-leading portfolio.
The next key catalyst for Shire to strengthen their position in HAE is DX-2930's Phase III study that will readout in 2Q17. If it will replicate the strong results showed in the Phase I trial, DX-2930 could generate global sales of up to $2.0 billion annually in HAE, driven by market expansion, increasing prophylactic treatment and cannibalizing partiallyexisting Cinryze and Firazyr franchise. In this way, Shire would be able to protect their leading position in HAE from potential competition coming in 2017/2018 from new agents (see next section) and for potential generic competition on Firazyr from 2019, given that SHP643 has regulatory exclusivity beyond 2030.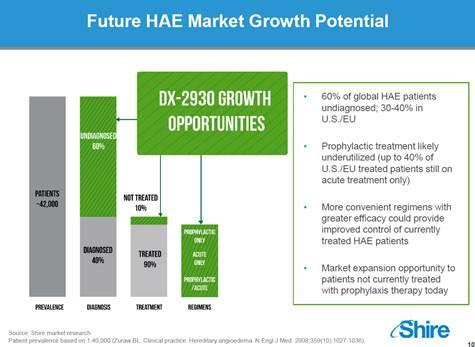 Source: Shire's Dyax Acquisition Presentation, 2th November 2015
New competition coming
There are some competitors who are developing new treatment for HAE:
Biocryst, who is developing an oral drug for the treatment of HAE. The most important drug, Avoralstat, failed to demonstrate a statistically lower mean attack rate vs. placebo in the Phase II trial. They have also a second compound, called BCX7353, but it's still in early stage and it doesn't look like a threat from early clinical data.
CSL will launch in 2017 a subcutaneous formulation of Berinert. CSL's Haegarda showed a 95% reduction in HAE attacks (P<0.001) at the highest dose (60IU/kg twice per week) while Cinryze (1000 IU) showed a c50% response rate. On the negative side, the injection is painful injection site reactions with the CSL sub cut formulation were relatively high (28-35% of patients)
Shire is also developing a subcutaneous formulation of Cinryze, with Phase III results expected for end-2017, as potential defense if DX-2930 will fail in the Phase III trial.
Conclusion
HAE is clearly one of the strongest franchises of Shire right now, but some new treatment options could be launched over next couple of years. Despite that, there isn't any product from the competitors that looks able to impact Shire leadership and in particular if SHp643 will replicate the strongest data from the Phase II trial, I think Shire will dominate the HAE market for the foreseeable future, with the possibility to double the sales generated in this franchise over the next decade.
Disclosure: I/we have no positions in any stocks mentioned, and no plans to initiate any positions within the next 72 hours.
I wrote this article myself, and it expresses my own opinions. I am not receiving compensation for it (other than from Seeking Alpha). I have no business relationship with any company whose stock is mentioned in this article.
Additional disclosure: Not investment advice. I am not an investment adviser.
Editor's Note: This article discusses one or more securities that do not trade on a major U.S. exchange. Please be aware of the risks associated with these stocks.