Playing Brazil Both Ways
In the summer of 2015, we presented a hedged bet against Brazil, and last summer, we presented a hedged bet on Brazil set to end now. We used the same methodology for both set-ups and both worked out. We recap them below.
Betting Against Brazil
In an article written on August 28th, 2015 (Betting Against Brazil), we presented a hedged bet against Brazil. The bet was the ProShares UltraShort Brazil Capped ETF (NYSEARCA:BZQ), which is designed to generate -2x the daily return of the MSCI Brazil 25/50 index, which, in turn, is designed to measure the performance of the broader Brazilian stock market, including bellwethers like Petrobras (NYSE:PBR), Itau Unibanco (NYSE:ITUB), Banco Bradesco (NYSE:BBD), and Vale (NYSE:VALE) that also trade in the US (we'll get to the hedge in a moment).
In that article, we mentioned some of the parade of horribles comprising Brazil's economic and political situations at the time, but it wasn't the news from Brazil that brought BZQ to our attention. It was that ETF showing up in Portfolio Armor's daily ranking of hedgeable securities.
The Daily Ranking
Each trading day, the Portfolio Armor website applies 2 screens to avoid bad investments to every stock and exchange-traded product with options traded on it in the U.S. That's a universe of over 3,000 securities, but the number of them passing both screens varies: As of Wednesday's close, for example, 926 securities passed both screens, but there have been times when fewer than 300 have passed both screens.
The site then uses an analysis of price history and option market sentiment to estimate potential returns for each security over the next several months. Then it subtracts hedging costs, and ranks each security by its potential return, net of hedging costs, or its net potential return (we went into more detail on this process, and how we tested it in "Backtesting The Hedged Portfolio Method"). In the site's daily ranking at the end of August 2015, BZQ was the 32nd highest-ranked security overall and the highest-ranking ETF (the top 31 names then were stocks).
The Hedge On The Bet
The hedge on BZQ was the optimal collar below, which was designed to limit an investor's downside risk to a drawdown of no more than 13% over the next several months, while not capping his potential upside at less than 13% (screen captures were from the Portfolio Armor iOS app).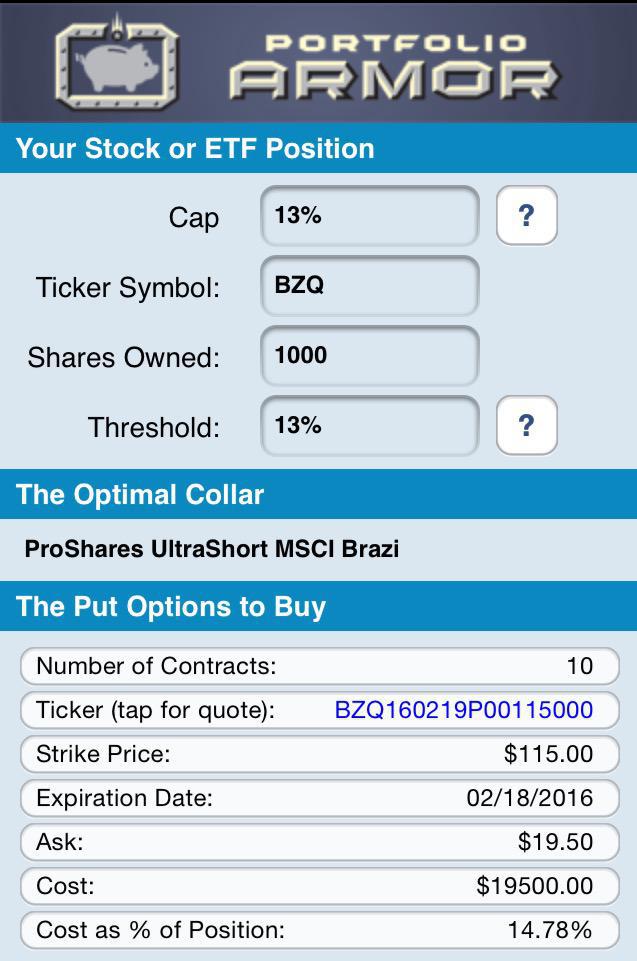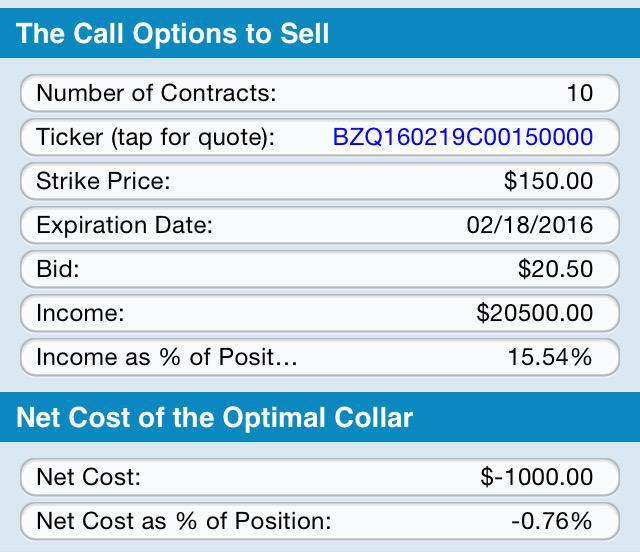 We used a 13% cap because that was the potential return estimated for BZQ by our site at the time. Note that the net cost of this collar was negative, meaning the investor would have collected $1,000, or an amount equal to 0.76% of his position value when opening the hedge.
Performance Of The Hedged Bet Against Brazil
BZQ had climbed about 23.4% by late February, as the chart below shows.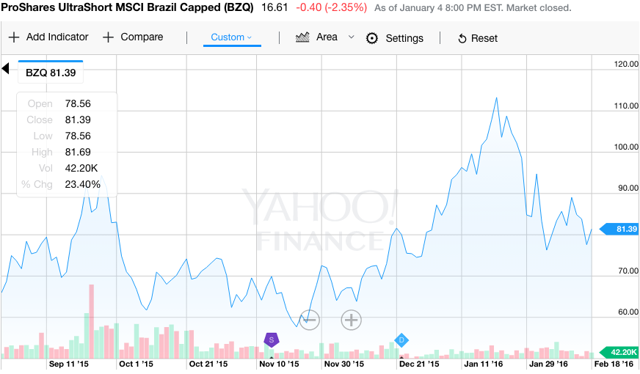 An investor who was hedged with the collar above was up about 14.5% net of hedging cost.
Betting On Brazil
Six months ago, we saw the bullish Brazil ETF, the iShares MSCI Brazil Capped (NYSEARCA:EWZ), appear among the top five ETFs on our site, so we wrote it was time for a hedged bet on Brazil. At the time, our site estimated a potential return of 17% for EWZ over the next 6 months, so we presented the optimal collar below, which was capped at 17%: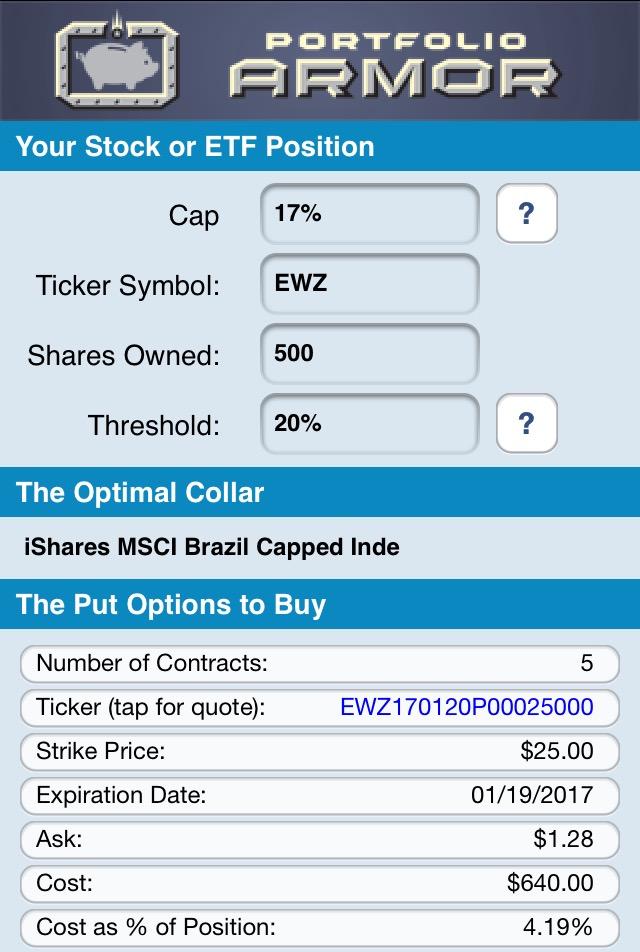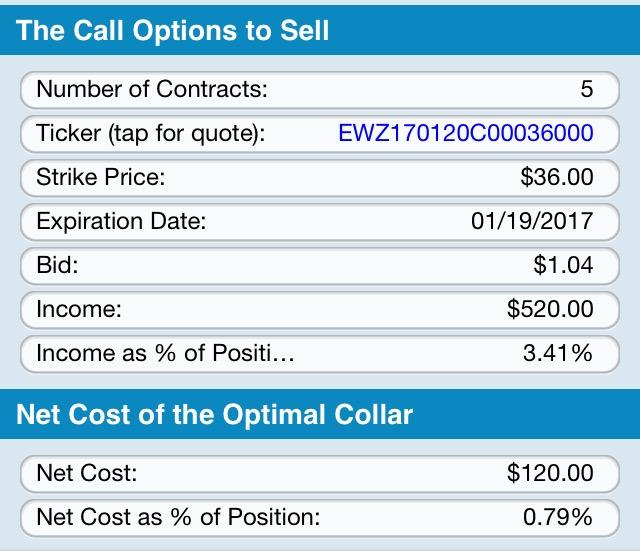 This time the net cost was positive, as you can see above: $120, or 0.79% of position value.
Performance Of The Hedged Bet On Brazil
Here's how EWZ has done since: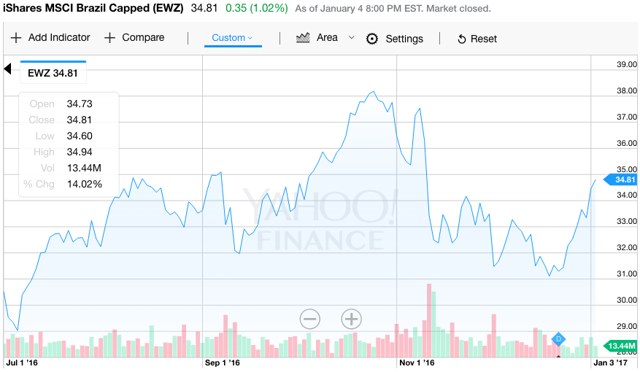 An investor exiting his hedged position on Wednesday would have had to pay about $138 to buy-to-close the call leg of the collar expiring later this month, so net of that and net of the hedging cost he paid up front, he would have been up 12.3% as of Wednesday.
More Hedged Bets
So both bets would have generated low double-digit returns with limited risk. In a future article, we'll present a hedged bet on our site's current top-ranked ETF. For recent hedged bets we've presented, see this post on United (NYSE:UAL) and this on Bank of America (NYSE:BAC). For one we got wrong, see this on the VanEck Vectors Gold Miners ETF (NYSEARCA:GDX).
Disclosure: I/we have no positions in any stocks mentioned, and no plans to initiate any positions within the next 72 hours.
I wrote this article myself, and it expresses my own opinions. I am not receiving compensation for it (other than from Seeking Alpha). I have no business relationship with any company whose stock is mentioned in this article.