Sometime around 2012, Disney (NYSE:DIS) became a beast of a stock. Those who are lucky to remember buying DIS at $20 now likely regret not buying more. But were they lucky - or did they simply have better foresight than most investors?
The answer is that it does not matter. DIS is where it is now. The only question that remains is whether to buy more.
DIS is currently trading at above $105. It couldn't possibly trade higher, could it? As I said, in 2012, DIS began surging in a somewhat unnatural pattern.
Earnings Justify Price
However, as you will see below, the takeoff is justified by actual earnings growth: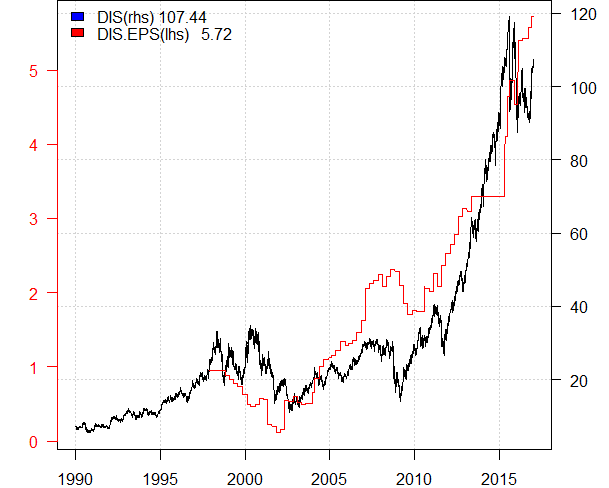 If you look closely, you'll see that the earnings growth actually began in 2004. So, to answer that unnecessary question, I believe it's highly likely that buyers of DIS in 2004-2007 were the investors with real foresight. Buyers after 2008 were also smart, but the trend was already in place.
Again, looking at the EPS trend above, we don't see a slowdown in earnings growth. If you bought at $20 and find trouble justifying buying at $100, just take another look at the EPS growth - it's practically vertical. And with a mid-term pullback in 2015, I think another buy-in is certainly justifiable.
Disney's Growth Rampage
No matter how you slice it - quarter to quarter or year to year - DIS is still on an EPS growth rampage: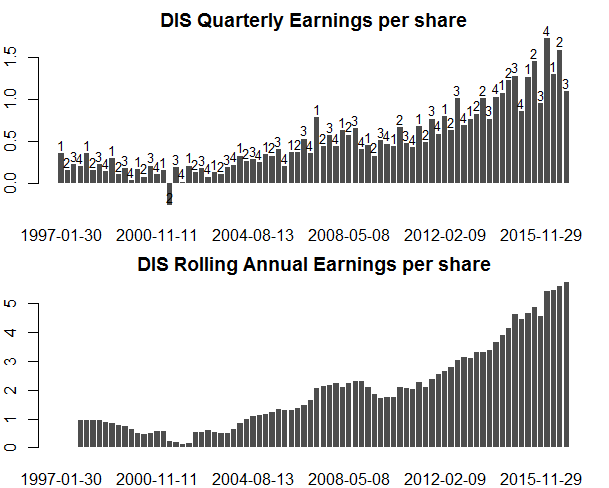 I make myself into a broken record stating that earnings drive stock price, but investors still look to other metrics for their buying signals. One popular metric is discounted cash flow (NYSE:DCF), which is somewhat subjective in that it requires input from the user. We must make assumptions about future growth to measure stock price based on ... future growth.
Somewhat ironic, but the general theory still holds. In addition, my own analyses of stocks on a DCF metric show that DCF trends can predict stock price movements. This emphasis on trends is key, as most investors simply look to the difference between current stock price and DCF price; we should also consider the movement of the DCF price.
My DIS DCF Analysis
I ran my DCF analysis for DIS. The results follow: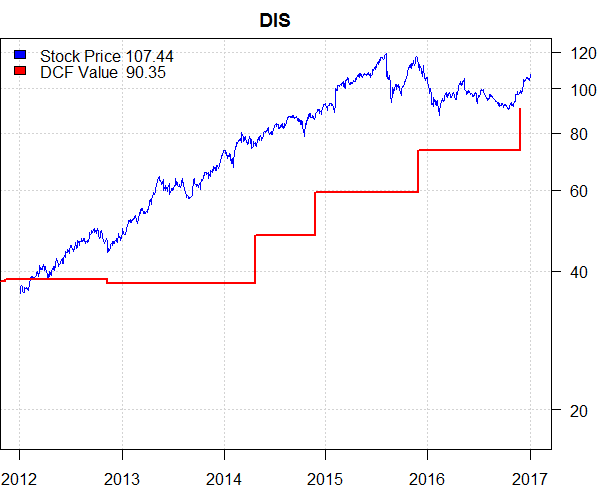 As you can see, DCF valuation is consistently lower than the real stock price. Thus, we should not look to the DCF valuation as an indication of stock growth. However, the trend of DCF is consistent with the trend of the stock, implying that as long as DCF grows, we should expect the stock price to follow.
As DIS's DCF valuation is growing at the same speed as it has been since 2012. I'm showing 2012 as the cutoff point, as the volatility regime changed at that time. But even if we look pre-2012 numbers, we still see DCF price movements leading the stock, both upward and downward: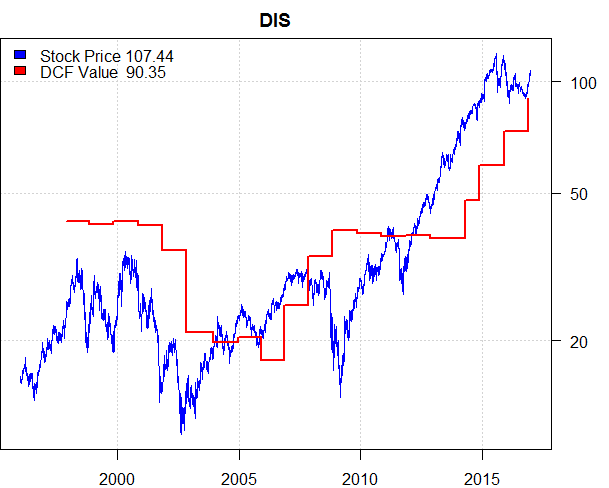 DIS investors do have it hard, however, in that the company is so newsworthy that every piece of news seems to be an impetus to buy or sell. The most recent piece of news is a recall of DIS sweatshirts that might pose a choking risk to children. Sell, sell, sell!
This is the problem with holding DIS. The news is just too prevalent. We could choose any type of news on which to base our analyses or positions, but we will still be ignoring all the other available information.
For the most part, I recommend DIS holders ignore most news. I have previously dug through different aspects of DIS attempting to find statistically significant patterns. The closest I came to succeeding was a moderate pattern related to DIS animated releases.
Buy DIS One Month After Movie Releases
In this previous article on the topic, I recommended buying DIS one month after an animated movie release. For an investor with a dollar-cost-averaging strategy, this would allow you to reset your buying points at a few times per year. The most recent buying time would be now, roughly one month after the release of "Moana."
I recently noticed a surge in call buying in DIS. A little over a week ago, the put/call ratio was at 1/1. Now it's 1/4, which is highly bullish and representative of speculation on the long side.
However, we are over a month out from earnings, so I see no reason for such strong speculation. I recommend DIS fence-sitters to wait for a pullback and buy at the end of January. Right now the technical are showing DIS as being overbought; my seasonal analyses also show DIS being its strongest at the end of January and onward.
Note: Get my articles as soon as they are published by clicking the big orange "follow" button at the top of this page. Make sure you choose "real-time alerts." All unlabeled figures were created by me from data pulled from Yahoo and ADVN through R. Charts with blue backgrounds are from Etrade Pro. Fundamental charts are taken from a paid subscription at simplywall.st.
Learn More about Earnings
"Exposing Earnings," my earnings prediction newsletter, is now live here on Seeking Alpha. In this newsletter, we employ both fundamental and pattern analyses to predict price movements of specific companies after specific earnings. I offer specific strategies for playing those earnings reports. To date, we are 94% accurate on earnings report predictions.
Disclosure: I/we have no positions in any stocks mentioned, and no plans to initiate any positions within the next 72 hours.
I wrote this article myself, and it expresses my own opinions. I am not receiving compensation for it (other than from Seeking Alpha). I have no business relationship with any company whose stock is mentioned in this article.