The EIA reported a storage draw of -49 Bcf, bringing the total storage number to 3.311 Tcf. This compares to the -98 Bcf draw last year and the -107 Bcf draw for the five-year average.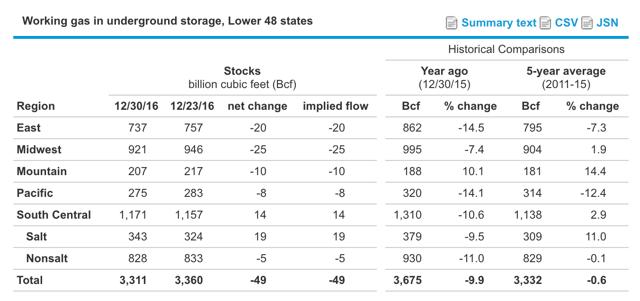 Going into this report, a Reuters survey of 17 traders and analysts pegged the average at -82 Bcf with a range between -61 Bcf and -135 Bcf. We expected -68 Bcf, and while our draw was much lower than the average, we were off by 19 Bcf.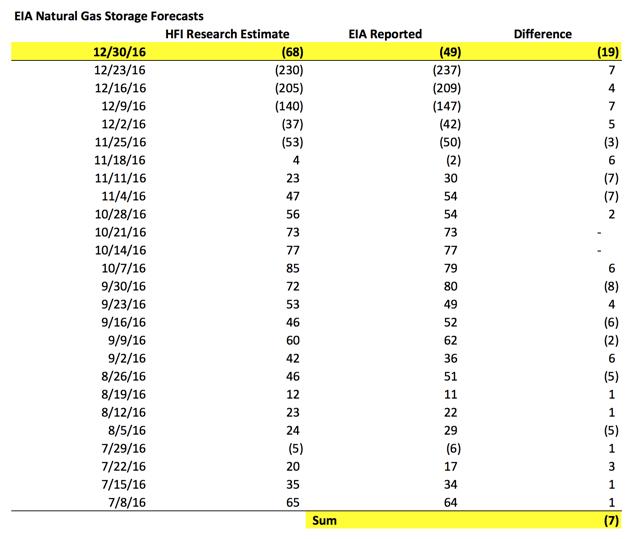 Natural Gas Storage Forecast Track Record; Source: HFI Research
Now, before we go into the specifics of this report, we warned last week that this storage report could come in below our draw estimate. Here's what we said: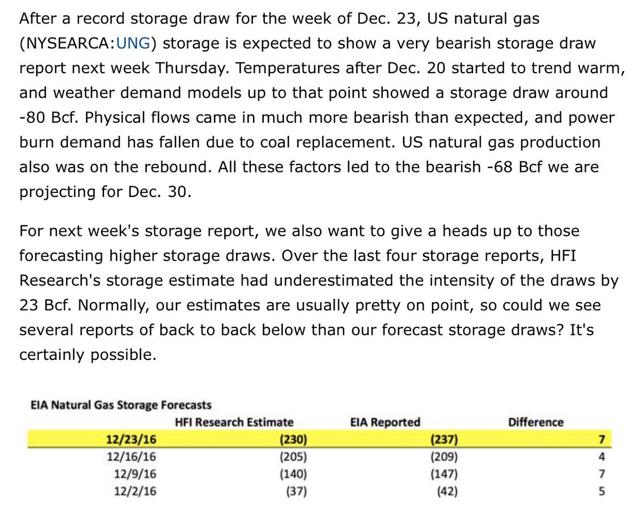 EIA reported four weeks in a row of storage draws that were higher than our forecast. Looking at our track record, deviations usually only lasted two weeks at most, but this one was four weeks in the making. We thought that there would be an adjustment, but we made the mistake of believing the adjustments would come in slowly. Obviously, that wasn't the case given the magnitude of how much consensus was off by.
For natural gas traders, this report is a one-time catch-up due to over-reporting by the EIA for the last four weeks. Actual storage flow was not that bearish, and the sell-off immediately following the storage report is already recovering. We think this one-time adjustment is one and done.
If you are interested in seeing our projections four weeks in advance, you can sign up here. Premium subscribers will also get daily updates on natural gas fundamentals along with any material weather model updates.
Disclosure: I/we have no positions in any stocks mentioned, and no plans to initiate any positions within the next 72 hours.
I wrote this article myself, and it expresses my own opinions. I am not receiving compensation for it (other than from Seeking Alpha). I have no business relationship with any company whose stock is mentioned in this article.