After a very strong manufacturing ISM this week, we are seeing a non-manufacturing beat today.

Source: DailyFX
Services were expected to drop a bit in the last month of 2016, but remained at the same level as we saw one month earlier. The NMI index remains at numbers that are indicative of a very solid economy.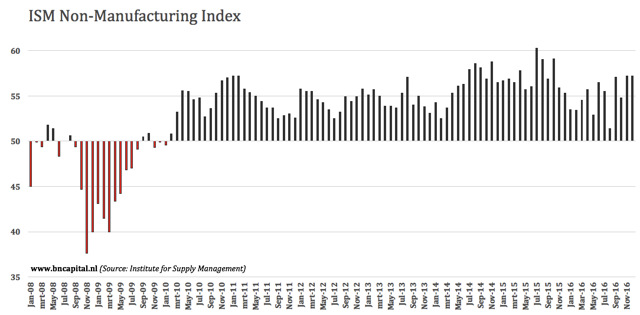 Overall business activity in the service sector stayed solid above 60 points while the NMI/PMI didn't change at all. New orders went up almost 5 points to 61.6 in December. This indicates that the underlying fundamentals in this sector are rock solid.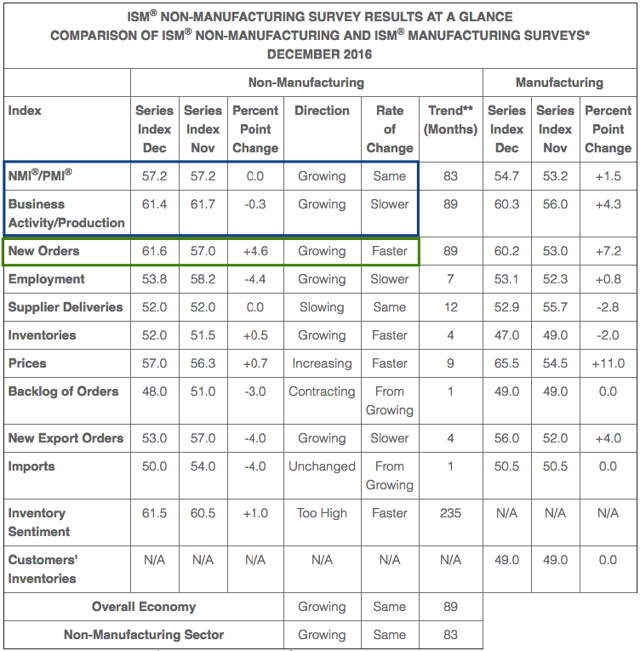 Source: Institute for Supply Management
Employment fell 4.4 points to 53.8. I expected this since regional manufacturing reports pointed towards lower job growth. I know that manufacturing reports are completely different from services reports like the one we got today. However, job indicators tend to have a high correlation. I will write an extra article about the job market outlook going into tomorrow's NFP report.
Mining, retail trade and finance came in very strong in December. Especially mining shows us that cyclical industries are performing very well. It is also a confirmation of this week's strong ISM report.

Retail remains one of the top performers in the retail industry. I will do an extra retail review over the next few days. This also increases the chances that we will see much higher retail growth in the first quarter of this year.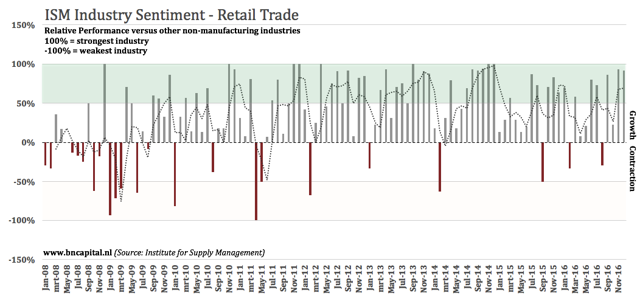 Conclusion
Today's non-manufacturing report shows that services are doing great. The US economy is seeing both strong manufacturing growth and very strong services sentiment. I expect to see much higher growth among coincident indicators like retail sales in the first quarter of this year.
Many thanks for reading my article. Please leave a comment below if you have questions or remarks.
Disclosure: I/we have no positions in any stocks mentioned, and no plans to initiate any positions within the next 72 hours.
I wrote this article myself, and it expresses my own opinions. I am not receiving compensation for it (other than from Seeking Alpha). I have no business relationship with any company whose stock is mentioned in this article.