For a while, we had been arguing that the crude oil complex was unbalanced and that either 1) net imports were going to drop significantly, 2) crude oil stocks were going to increase significantly, or 3) inventories of refined products were going to go substantially higher. In this week, we got 1) and 3), that is, imports fell by a staggering amount to levels well below normal and inventories of refined products increased by an exceptionally large number. Even with the drop in crude oil stocks, the combined increase in crude oil and refined product inventories was exceptionally large.
After increasing during the European trading session following more bullish API numbers, crude oil prices (NYSE: USO) dropped by about $0.80/bbl immediately after the report was released and then dropped another $0.40/bbl.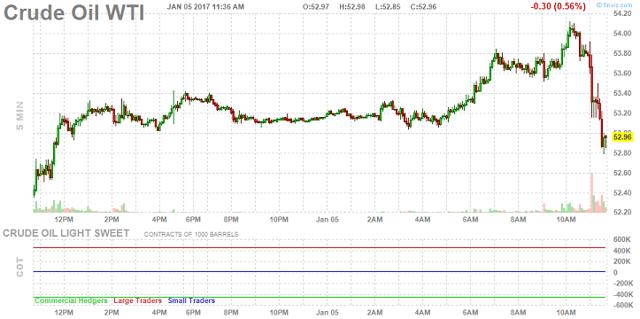 Source: Finviz.com
Stocks:
* Crude oil inventories decreased by 7.1 million barrels.
* Gasoline inventories increased by 8.3 million barrels.
* Distillate inventories increased by 10.1 million barrels.
A very large drop in crude oil stocks driven by a decrease in imports of about the same size, combined with an exceptionally large build in inventories of gasoline and distillates.
Even with imports being repressed during the week, the rise in crude oil + refined products was remarkably steep.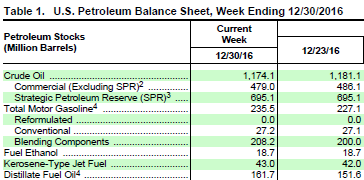 Source: EIA
Production and Refinery Utilization:
* Domestic production stayed mostly unchanged for the week both in Alaska and the Lower 48.
* Production in the Contiguous United States (excluding Alaska) remained unchanged for the week.
* Net imports decreased by 1,043 mbpd. Despite this large drop in imports, to levels well below normal for the season, the full petroleum and refined products complex increased inventories significantly.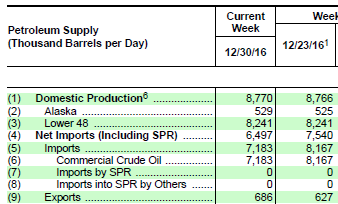 Source: EIA
* Refinery utilization increased by 100 basis points during the week to more normal, but still weak, refinery utilization levels. We note that refiners have been running reduced runs in the last couple of months, given, among other factors, high inventory levels of refined products.

Source: EIA
Cushing, Oklahoma:
* Cushing, Oklahoma, inventories increased by 1.1 million barrels. This increase happened despite the large drop in overall crude oil stocks. Cushing inventories are now less than a million barrels below the historical highs reached during May of this year, and Cushing is essentially again at maximum operating capacity.
* Gulf Coast inventories did benefit from the decrease in overall crude oil stocks and fell by 7.1 million barrels during the week, which is just short of the total decrease in net imports during the same period. In other words, since imports enter the U.S. through the Gulf Coast and imports were repressed this week, crude oil stocks in that region fell by almost the same amount as the crude oil volumes that were not imported.

Source: EIA
Conclusion:
This was a very bearish weekly report for crude oil fundamentals, where crude oil stocks fell only because imports were repressed during the week to levels well below normal. The decrease was concentrated in the Gulf Coast. Every other variable was very bearish, with combined stocks of gasoline and distillates increasing by a remarkable 18.4 million barrels and Cushing, Oklahoma, inventories jumping to levels just short of historical highs.
In conclusion, very bearish for crude oil prices, overpowering at least temporarily, the news leaked from Saudi Arabia about price increases/volume reductions.
Disclosure: I/we have no positions in any stocks mentioned, and no plans to initiate any positions within the next 72 hours.
I wrote this article myself, and it expresses my own opinions. I am not receiving compensation for it (other than from Seeking Alpha). I have no business relationship with any company whose stock is mentioned in this article.