By Doug Short
The economic mover and shaker this week is Friday's employment report from the Bureau of Labor Statistics. This monthly report contains a wealth of data for economists, the most publicized being the month-over-month change in Total Nonfarm Employment (the PAYEMS series in the FRED repository). Today, we have the ADP December estimate of 153K new nonfarm private employment jobs, a drop from November's 215K, which was a tiny downward revision of 1K. October was revised upward by 5K.
The 153K estimate came in below the Investing.com consensus of 170K for the ADP number.
The Investing.com forecast for the forthcoming BLS report is for 178K nonfarm new jobs (the actual PAYEMS number) and the unemployment rate to rise from 4.6% to 4.7%.
Here is an excerpt from today's ADP report:
"As we exit 2016, it's interesting to note that the private sector generated an average of 174,000 jobs per month, down from 209,000 in 2015," said Ahu Yildirmaz, vice president and head of the ADP Research Institute. "And while job gains in December were slightly below our monthly average, the U.S. labor market has experienced unprecedented seven years of growth that has brought us to near full employment. As we enter 2017, the tightening labor market will likely slow the growth."

Mark Zandi, chief economist of Moody's Analytics, said, "Job growth remains strong but is slowing. The gap between employment growth in the service economy and losses on the goods side persists. Smaller companies are struggling to maintain payrolls while large companies are expanding at a healthy pace."
Here is a visualization of the two series over the previous 12 months: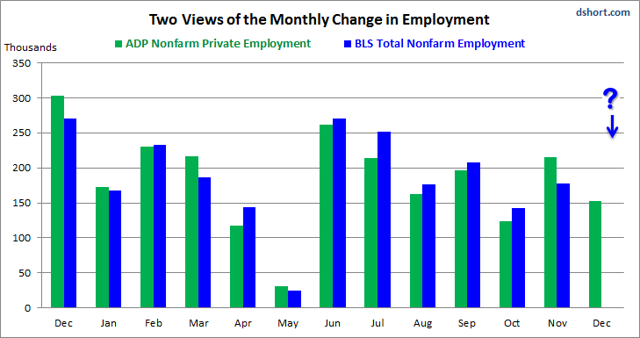 The key difference between the two series is that the BLS series is for Nonfarm Payrolls while ADP tracks private employment.