I first heard about Avid Technology (NASDAQ:AVID) through a contact of mine. Going forward, I'll refer to her as "P."
P works for the entertainment subsidiary of a large multinational conglomerate. She configures film editing systems and provides technical support for them. The systems are powered by Avid's Media Composer software and are paired with their storage hardware. Her post-production department consists of a team of Avid technicians that work full-time on the studio lot, and even provide after-hours support.
About a month ago, I read "The Magic Formula," and I became interested in testing the strategy. When I first used their screener, I saw Avid on the list. In my mind, P was a good place to start some general research since she is an Avid Certified Technician that could provide a boots on the ground perspective, and offer some special insights into the industry's reliance on Avid.
Investment Thesis and Insights
Avid is a turnaround story. Media Composer and ProTools are such good products that they are industry standards, but the company has seen declining revenues, declining earnings, and negative cash flow for years now. It has gone through a CEO change, and recently just announced their new CFO. They're also in the process of restructuring and have warned of adverse affects to their financials. The stock has taken a beating and is clearly trending down since 2005. In short, Avid is a bet on management being able to execute a turnaround of a good company.
Circling back to P, I learned that Avid is the standard as far as her organization is concerned. Out of approximately 100 editing systems in her post-production department, 95% are powered by Avid Media Composer, and work in conjunction with Avid ISIS for storage. The other 5% are Final Cut systems that "very rarely get used" according to P. Keep in mind that these numbers are only for feature film editing, and not representative of what they use for broadcast television. Television gets handled outside of P's department. While this small sample isn't necessarily an accurate representation of the entire industry, it does provide some insights for us to start with.
I sought out more insights from another industry insider named M. He manages a post-production department for a major studio, and he provided me with his thoughts on Avid. To the best of his knowledge, "all major studios and post production facilities have invested a considerable amount in Avid's products and most creative talent is fluent in their software." He was very blunt about the strength of the competition. He referred to Apple (NASDAQ:AAPL) and Adobe (NASDAQ:ADBE) as "potential serious competitors that could potentially be a threat long-term," and stated that, "as long as Avid continues to focus on their client's creative and technical needs, I suspect they should remain the major player within the studio." I asked M how it would affect his department if Avid disappeared, and he responded, "we would need to evaluate other product offerings that are able to fulfill our client's needs as well as the studio's technical requirements all while being fiscally responsible." What I gathered from the special insights of these insiders is that the industry's reliance on Avid is quite substantial.
According to Greenblatt, to utilize the Magic Formula strategy successfully, we must understand "two basic concepts." Those concepts are that, "buying good companies at bargain prices makes sense," and that, "it can take Mr. Market several years to recognize a bargain." For me, Avid clearly exceeds both of these criteria. Being an industry standard proves that they're definitely a good company, and perhaps even a great company. If they weren't a great company, I don't believe they'd be the industry standard. Additionally, each major low that Avid's stock has made over the last two decades has produced massive rallies of anywhere from 100% to 800%, confirming that Mr. Market eventually recognized the bargain, and handsomely rewarded investors that saw value at those lows.
The investment thesis here is a simple one: management will succeed in completing the restructuring by mid-2017 and improving the company's financials. In my mind, the worst case scenario is M&A activity due to their major role in film and television. This is too good of a company with too important of a product to just disappear.
Fundamentals
Avid's restructuring and deteriorating financials provide the opportunity here.
Annual revenue and annual earnings have been declining since 2012, and there has been no positive annual free cash flow since 2014. They've also been undergoing cost cutting programs in order to "more efficiently operate in a leaner, and more directed cost structure." It was made clear in their 2015 Annual Report that during the transition to a recurring revenue model, "revenue, deferred revenue, and cash flow from operations will be adversely affected..."
Adjusted EBITDA has improved significantly this year at $90.81m as of Q3, which already exceeds the $55.15m they posted for the full year in 2015. Earnings are also shaping up. Quarterly results for 2016 so far reflect that they're on pace to have their best year of earnings since 2013. We're potentially at an earnings trough here. Avid also guided for positive cash flow of $25m to $40m for 2017 and $40m to $60m for 2018.
Doing some comparisons of competitors and their multiples gave me interesting results:
On a P/E basis, Avid is cheap. It's currently at 4.78, while AAPL is at 14.03, ADBE is at 52.72, Belden (NYSE:BDC) is at 23.80, and SNE (NYSE:SNE) at 75.84. According to Reuters, the industry P/E is 17.30. I assigned a multiple of 12 to Avid and came up with a share price of $12.70, and a multiple of 15 to come up with $15.87
On a price/sales basis, Avid also looks cheap. It has a lowly P/S of 0.35 compared to AAPL at 2.89, ADBE at 9.33, Autodesk (NASDAQ:ADSK) at 7.81, BDC at 1.40, and SNE at 0.54. Using Reuters again, we see that the industry P/S is 1.31. If my math is right, using this multiple gives us a share price of $12.80
Looking at EV/EBITDA, Avid comes in at 3.80 while AAPL is at 9.05, ADBE is at 26.54, BDC is 10.20, and SNE is at 6.14. Using a multiple of 7 gave me a valuation of $15.65.
I also experimented with simple discounted cash flow models using interest rates between 8% and 10%, as well as some conservative cash flow numbers and aggressive cash flow numbers. I came up with valuations ranging from $6 on the conservative side to $14 on the aggressive side.
Other Seeking Alpha Contributors have voiced concerns about the company's accounting. Readers should take this into consideration as there are class action lawsuits pending. I encourage readers to delve further in to some of these issues that have been highlighted and to take them into consideration with respect to your risk tolerance.
Technicals
When it comes to integrating technical analysis with value investing, I'm a big fan of watching for RSI divergences. They've worked well for me in the past. A good recent example is Potash (NYSE:POT). As Avid's price broke down to new 52-week lows, its RSI has continued to strengthen. I've provided a chart below and also a chart of Potash to show the similarity. Using the RSI divergence to layer in to Potash has given me a return of 15.6% as of 1/4/2017. In my opinion, this is a textbook RSI divergence. It has provided a very tradeable bounce, as the stock is now 15% off its 52-week lows.
Avid Daily RSI Divergence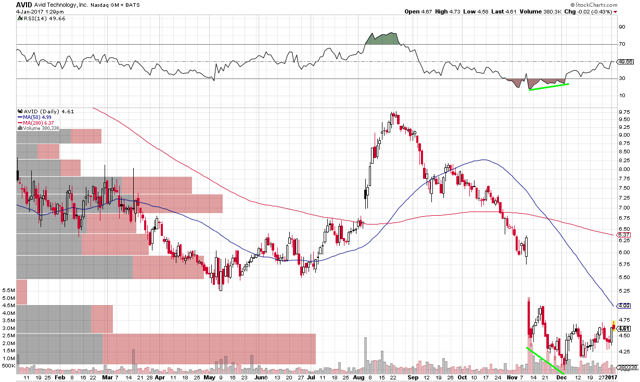 Potash Daily RSI Divergence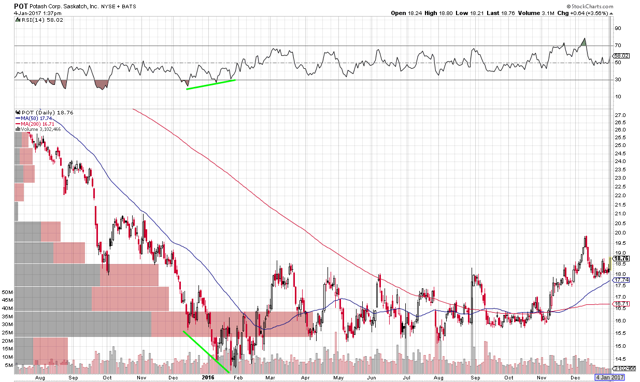 Avid is a compelling value story. It's clear to me that the stock is cheap relative to its peers especially when viewed in the context of having industry standard products. Avid is my favorite stock idea for 2017, and I believe there is an incredible amount of upside potential here. A return of 200% would not surprise me at all. Management will turn this ship around, and if they don't, someone else will step in to buy this company.
Catalysts
Success in completing the restructuring as expected by mid-2017 will lead to accelerating growth in adjusted EBITDA and adjusted free cash flow.
Continued acceleration of growth in key metrics such as Media Central Licenses Sold and Active Paid Subscribers.
Potential for M&A activity due to their industry leadership: at a current market cap of $189m, a competitor like Apple or Adobe could easily purchase this company. Belden has also been making some acquisitions in this space.
Disclosure: I am/we are long AVID, CSCO, OGZPY, POT, TWTR.
I wrote this article myself, and it expresses my own opinions. I am not receiving compensation for it (other than from Seeking Alpha). I have no business relationship with any company whose stock is mentioned in this article.
Additional disclosure: I plan to continue layering in as price permits. Please do your due diligence since I am not a CPA and I have no formal education in accounting.