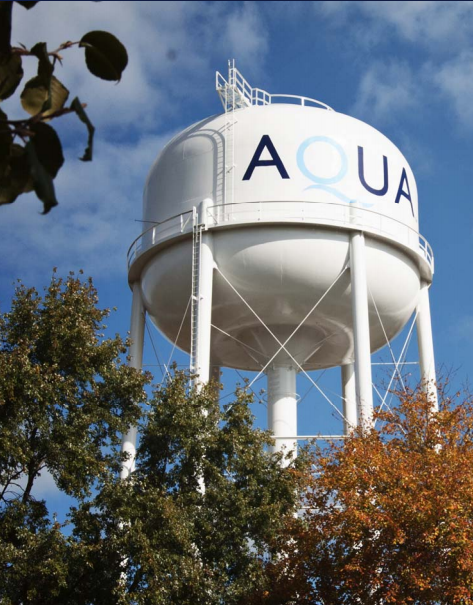 Aqua America (NYSE:WTR) is a water and waste water utility company that has operations in 8 states, including the state I live in (Virginia). After a dividend increase earlier this year, and a 6 month price decline of almost 14%, it is now trading below my buy target price. Although it was at an even better price in November, it's still a buy today.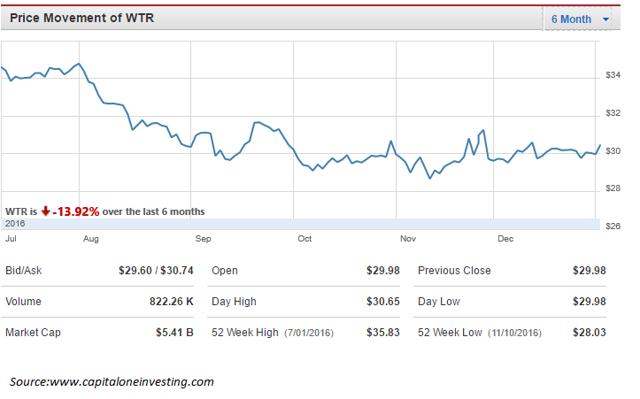 Is WTR a good investment partner?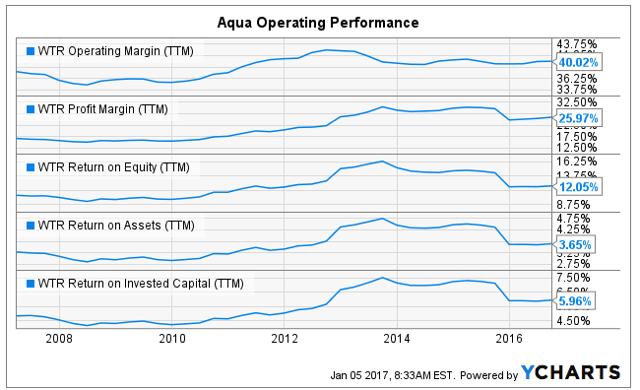 The chart above tracks several company performance measures. For operating margin, profit margin, return on equity, return on assets and return on invested capital, WTR is doing better than it was 10 years ago. It's not doing quite as well as it was during the period between 2012 and 2014, but it has still improved over the last 10 years.
This presentation, found on the WTR website, provides a very good over-view of the company's operations and performance. While I recommend reading the whole thing, I have included the most important slides to determine if WTR is a good investment partner.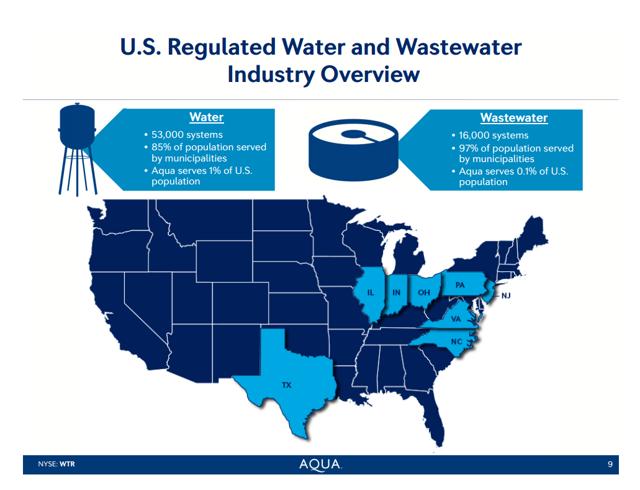 This first slide, show the potential market for WTR. WTR currently serves only a small portion of this market, leaving a lot of room to grow. This slide also provides evidence that WTR management's decision to focus on acquiring municipal systems has the potential to grow the company for years to come.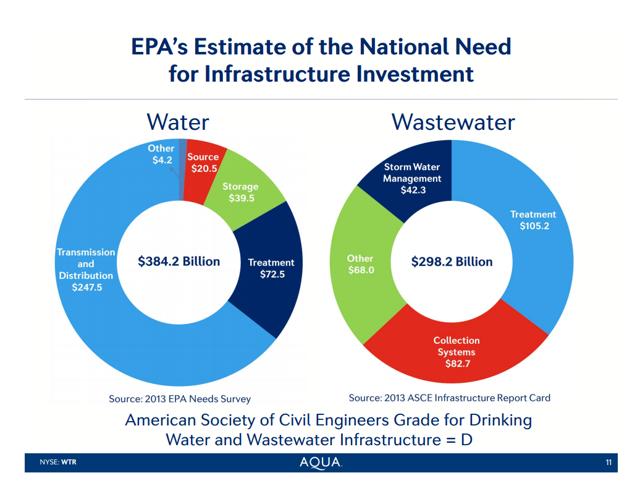 This next slide shows that not only is their growth potential in acquisitions, but also in organically growing existing systems to meet increased demand. These first two slides, together, show that WTR is operating in a market with a lot of potential growth in the future. As an investment partner, I want a company that is in a growing market because it's easier to grow earnings when the number of customers is increasing. In a growing market a utility doesn't have to do anything fancy, just add capacity in a cost effective manner. And as these two slides show, WTR has two ways to add to its capacity either by acquiring municipal systems or adding infrastructure to the systems it already owns.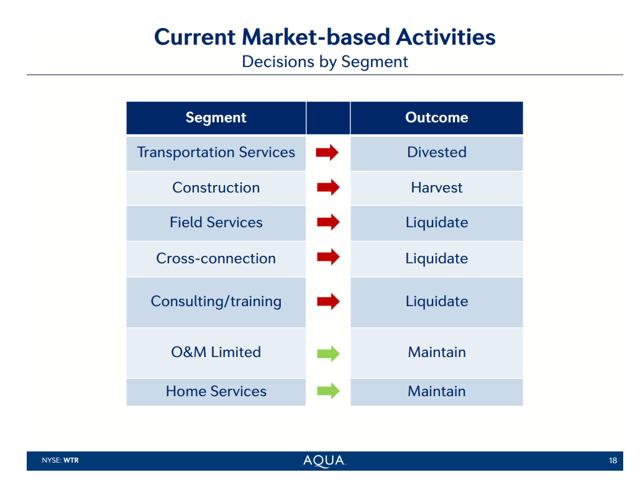 The slide above is important because it shows WTR's plan for what to do with its Market-based business. For the most part this area of the business hasn't produced much in the way of revenues for WTR, and even worse, it has been a significant drag on earnings. By disposing or shrinking those parts that produce the least revenue or have the biggest drag on earnings, WTR is actively working to improve earnings in the future.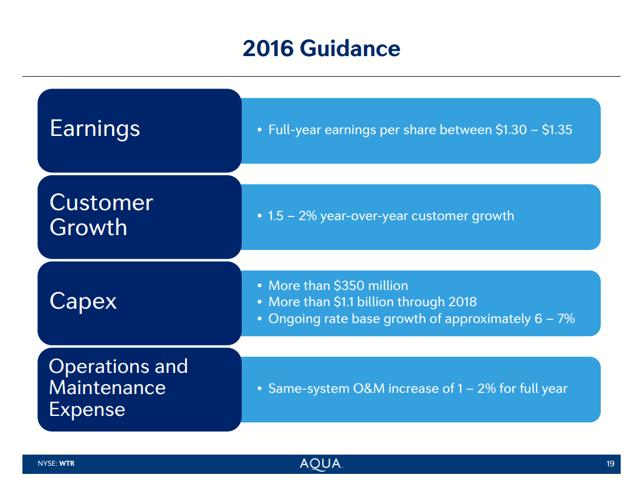 This slide shows WTR's guidance for the 2016 fiscal year (which has 1 more quarter to run). A solid growth plan that is achievable is a must for a good investment partner as I want a company that carefully maps out how to achieve its goals so it can ensure that it has the assets in place to handle any issues with achieving those goals.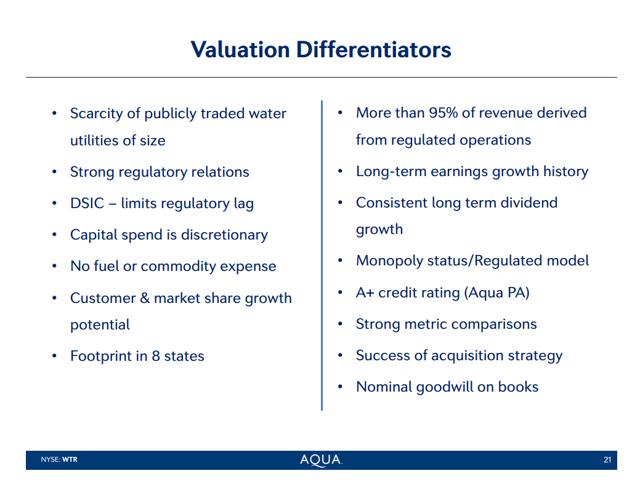 This next slide is important for a couple of reasons. First it shows that management has looked to see what the company's strengths are, and has plans to use those strengths to grow the company. Second, as infrastructure development is a capital intensive process and thus often requires borrowing, it's good to see that the company has a solid A+ credit rating to help keep borrowing costs down. And the third thing shown here is that management recognizes that investors see dividends and dividend growth as important. Finally, I like seeing that there isn't a lot of goodwill on the books. Goodwill typically results when a company buys assets for more than their market value. By not having much, that tends to show that WTR has struck reasonably good deals when it has acquired assets.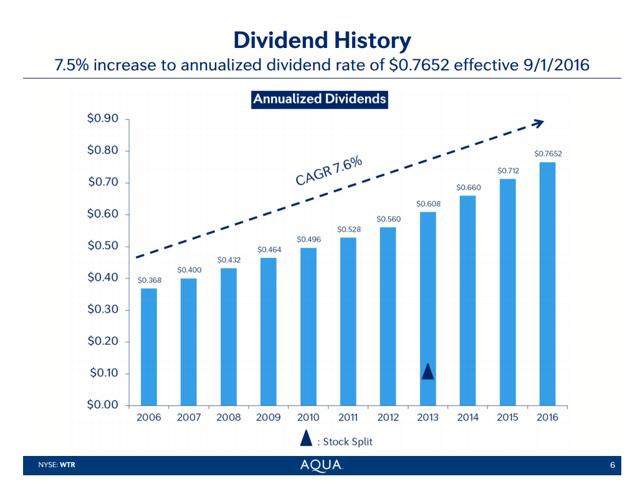 The slide above is another slide that I look for in investor presentations, because it shows that management places value on increasing the dividend. Since I want a growing stream of dividends from my portfolio, a company where management places value on increasing that dividend is a better investment partner than a company whose management doesn't see much value in increasing the dividend.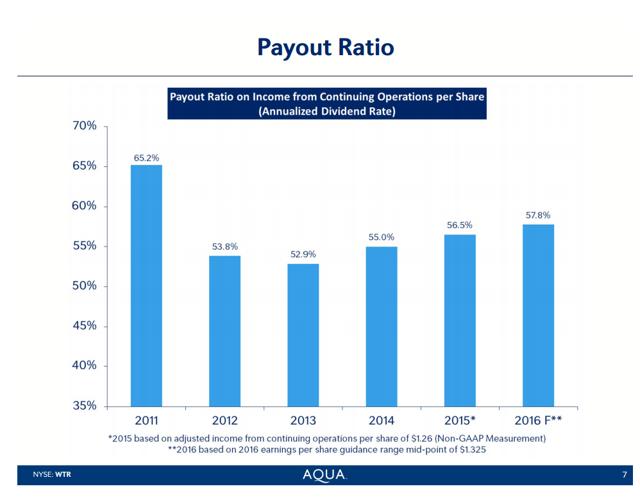 This final slide is important because it shows that the current payout ratio is a bit below where it was in 2011. This is important because it shows that there is some ability to grow the dividend faster than earnings and room to keep up dividend growth even if for some reason earnings growth slowed.
The final piece of the puzzle comes from this article by SA contributor Dividend Sensei. It's a very good article comparing WTR to AWK, but my main takeaway from the article is an estimate of EPS growth of 8%-11%. That number will be important in calculating out a good price to pay for WTR.
From the above information, I see a company operating in a growing market, with dependable profits and good credit that pays a rising dividend. These characteristics are exactly what I want in an investment partner.
What's a good price?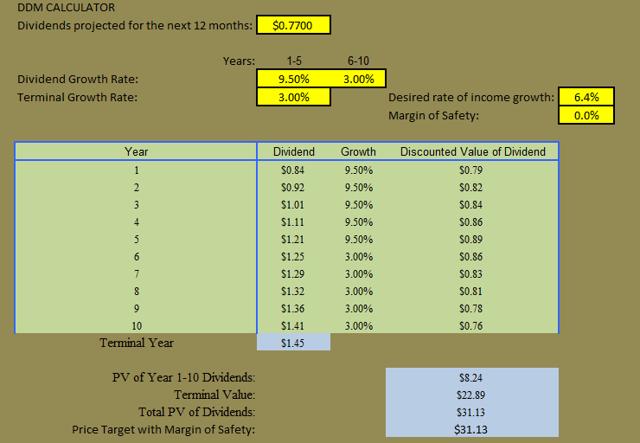 To figure out a good price, I do a DDM calculation using my Excel® based DDM calculator (pictured above, you can see the web-based calculator I based it on here and read a discussion on how the formulas were developed here). With of WTR management projecting EPS growth of 8-11% and management targeting a payout ratio of around 60%-70%, I think it's reasonable that dividend growth will fall into the middle of the range of EPS growth. Using the same terminal dividend growth rate I do for all utilities, 3%, and my standard discount rate of 6.4%, the PV of projected dividend payments works out to be $31.13. As such, I think a price target of $31 will produce a good result. Current the market is trading in the $30-$31 range, so the stock is trading at a good value.
Can options help?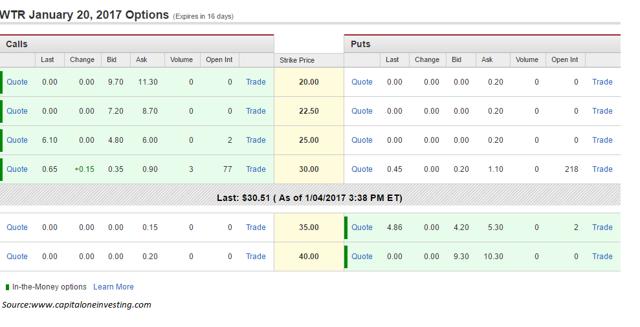 Option contracts are a bit thin for WTR. However, for the January expiration date the $30 put contract has some potential. While the bid-ask spread is very wide, it should be possible to get $0.65 from selling the $30 put with the January expiration date. With only 16 days till expiration, getting about 85% of a full years dividend payment is a good price as long as your broker's commission charge is reasonable. At just $30 a share, it wouldn't take a lot of money to write 2 or 3 contracts to help spread the commission costs.
Conclusion
WTR is a profitable utility company growing its business and selling below my target price (even if it isn't much below that price). It provides the stability of revenue and earnings that are found in utilities that operation in a regulated market, while being different than the many gas and electric companies. While I don't have the free cash to add it to my portfolio at this time, it is on my watch list and will be purchased when I have the cash.
Note: I hope you all got something out of this article. I do appreciate the time you took reading it. If you are one of those who follow me here, I appreciate it; if you'd like to include yourself amongst those individuals, please hit the "Follow" button next to my name as well as following other contributors whose work you enjoy. As always, please leave any feedback and questions you may have in the comments below.
Disclaimer: This article is intended to provide information to interested parties. As I have no knowledge of individual investor circumstances, goals, and/or portfolio concentration or diversification, readers are expected to complete their own due diligence before purchasing any stocks mentioned or recommended. The price I call fair valued is not a prediction of future price but only the price at which I consider the stock to be of value for its dividends.
Disclosure: I/we have no positions in any stocks mentioned, and no plans to initiate any positions within the next 72 hours.
I wrote this article myself, and it expresses my own opinions. I am not receiving compensation for it (other than from Seeking Alpha). I have no business relationship with any company whose stock is mentioned in this article.