How can you value a company like Tesla (NASDAQ:TSLA)? On one hand, it could change the world beyond all recognition, and on the other, it could go bust trying.
You could try to use all the usual tools, but they all seem to say Tesla is incredibly overvalued and the stock should be dropping like a stone. Meanwhile it's trading exactly where it was 12 months ago.
Bulls and bears both have plenty of ammo, and it shows. Just look at the yearly chart: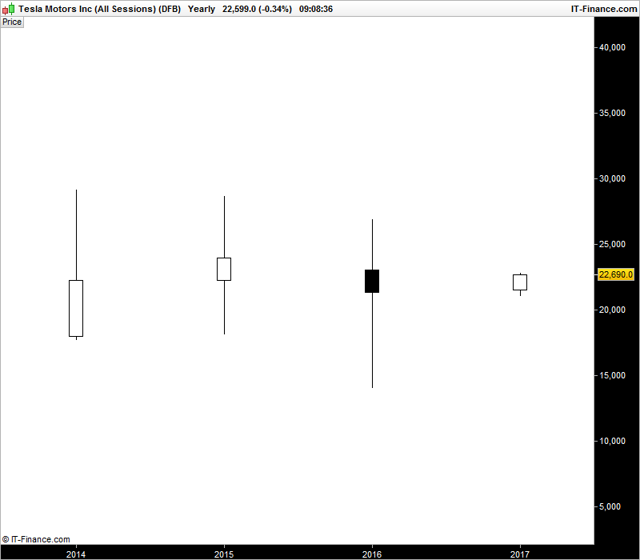 This shows complete indecision and long-term investors on both sides chasing their own shadows. Eventually, the current deadlock will break, but I don't want to spend three years rolling over puts (or calls) to participate.
To make money trading Tesla, I think the best approach is to take medium-term swing trades in both directions. There are moves up and down based on sentiment, short-term catalysts and positioning in the stock. The best way to time these swings is to use technical analysis.
An Update
In my last articles here and here, I suggested some shorter-term trades. Firstly, I bought November puts and long-dated calls into October earnings. I suggested to cover the puts at new lows and buy the stock at $179.
The recommendation was based on a repeating pattern on the charts: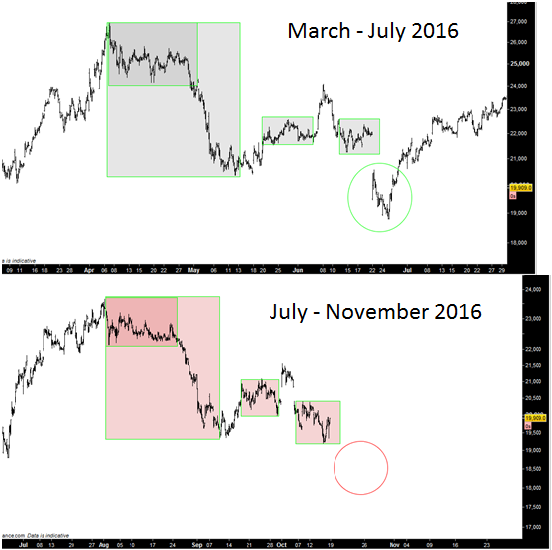 I must admit the $179 buy was a tad fortunate (the low was $178.4), but it was called a month in advance, so please don't call it hindsight.
This trade has now been closed and the target of $216 reached and exceeded. I closed a tad early at $211, but I tend to get itchy fingers when targets are close. I still hold the longer-term calls, which I plan to hold as long as I can.
Anyway, the point of this article isn't just to update the trade and showboat a bit. If I'm completely honest, my first article attempted to look at the bigger picture trend and it was off the mark. I'm now focused on smaller swings within the range, so on that note....
The Next Trade
Just because a long trade has hit its target, it doesn't necessarily mean a good short trade has set up. This is not a bearish chart: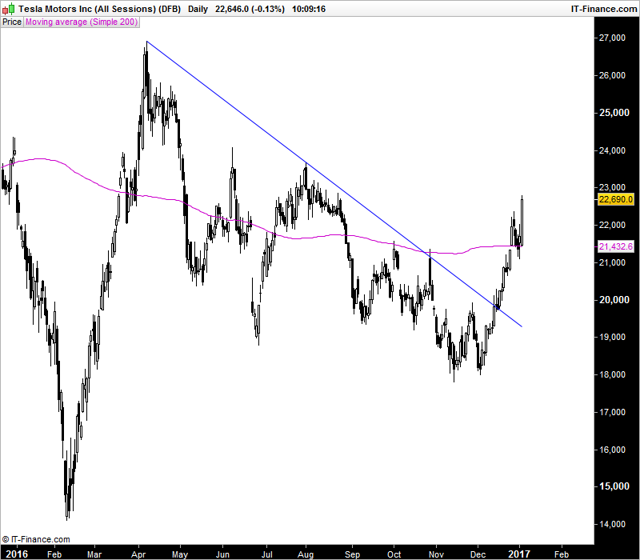 Breaking trendline resistance and the 200dma after a corrective looking decline is technically very bullish.
However, I view price charts in a slightly different way. Two lines don't tell you very much. Just look at how many times price has crossed the 200dma and what happened each time. I'm not sure that gives you any kind of edge at all. I want to know how the participants are behaving. What tends to happen when price breaks out and bulls have the upper hand?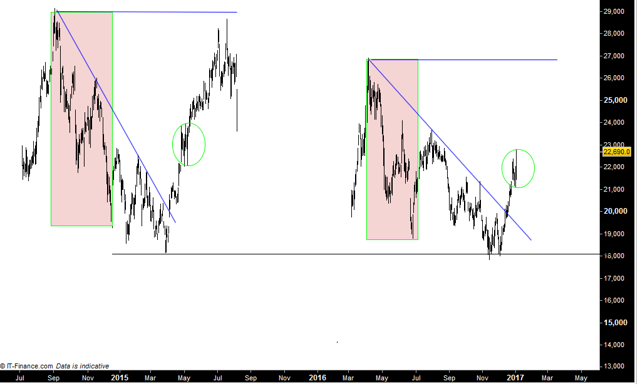 The above comparison is from the daily chart. I just rubbed out the price action in the middle to make the repetition stand out.
Actually, the middle section I deleted still has the same character as shown above, even if it doesn't look quite as similar: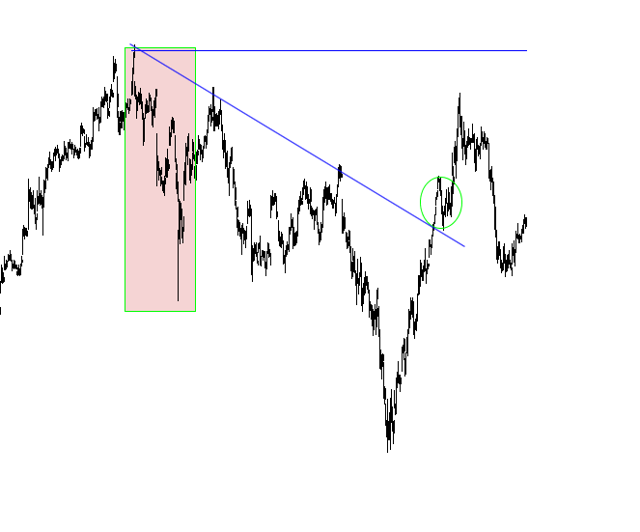 This tells us once price breaks resistance, it will likely get back near the previous highs and fall again. It seems a long way up at the moment, but actually it's only 10% higher, and we must consider how powerful the moves up tend to be in this stock. The rally at the beginning of 2016 covered 90% in two months while the subsequent decline only spanned 33% in seven months. These seven months have sent traders half to sleep, and it's perhaps recency bias when we think the move up will fizzle out and turn back down.
Due to the strength of previous rallies, I will only consider shorts above $250. This will allow me a defined stop above the $269 high.
I'm not sure if I can hold my calls to this figure - I am trailing a stop, which is currently at $209 - but as I said earlier, closing trades and opening trades are two different things.
Drivers
Q4 production and deliveries were announced on Tuesday after the bell, and they missed targets yet again. Odd then for the stock to close +4.5% up after initially gapping down.
This is what generally happens in a bull run. Any move down on bad news quickly recovers. Any good news is met with new highs.
This is what I said in my last article,
Now that the SolarCity merger is complete, the focus will be on Q4 earnings and there may be a welcome break in the bearish narrative. The charts suggest anything less than terrible news flow could lead to a decent bounce.
It's a ridiculously simple outlook compared to some of the commentaries I see on Tesla. But I am of the opinion I have more chance predicting the reaction to news than the news itself. Will Q4 earnings be good or bad? I have no idea, but if price reaches a shorting area, I will take the trade no matter what the chatter is at the time.
Conclusions
The Tesla story is a very interesting one, but I treat the stock like any other - it's there to trade and try to make money from.
My approach to trading a stock like Tesla with no clear direction is to play both directions. I don't need to be involved in the middle of the range. I am waiting patiently for >$250 where I see a fresh edge.
As the great Jesse Livermore said,
There is only one side of the market and it is not the bull side or the bear side, but the right side.
Disclosure: I am/we are long TSLA.
I wrote this article myself, and it expresses my own opinions. I am not receiving compensation for it (other than from Seeking Alpha). I have no business relationship with any company whose stock is mentioned in this article.
Additional disclosure: I am long calls