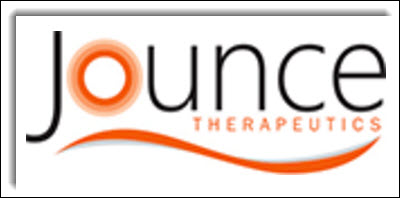 Quick Take
Cancer therapy biopharma company Jounce Therapeutics (NASDAQ:JNCE) has filed to raise $75 million in an IPO.
The company is developing cancer immunotherapies and has inked a major collaboration agreement with Celgene (NASDAQ:CELG) along with a $225 million upfront milestone payment and $36.1 million investment.
Jounce is well capitalized, has top-tier management and investors, and has gained serious interest from an important player in the immunotherapy space.
Company
Jounce was founded to understand the immune system within tumors to prioritize and develop promising immunotherapeutic treatments.
Richard Murray, Ph.D. is President and CEO, joining the firm in 2014 after being Senior Vice President of Biologics and Vaccines Research at Merck & Co.
Elizabeth Trehu, M.D. is Chief Medical Officer and was previously the same at Promedior.
Institutional shareholders include top-tier biopharma venture capital firm Third Rock Ventures (53.5% ownership pre-IPO), Fidelity Investments (12.1%) and Celgene (11.4%). CEO Murray owns 2.5%.
Technology
Jounce is developing a proprietary Translational Science Platform that it says can more quickly identify new cancer immunotherapies.
Its pipeline currently consists of lead candidate JTX-2011, a 'clinical stage monoclonal antibody that binds to and activates ICOS, a protein on the surface of certain T cells commonly found in many solid tumors.'
The candidate promises to stimulate a T cell immune response against solid tumors.
Below is a graphic showing the current status of the company's development pipeline: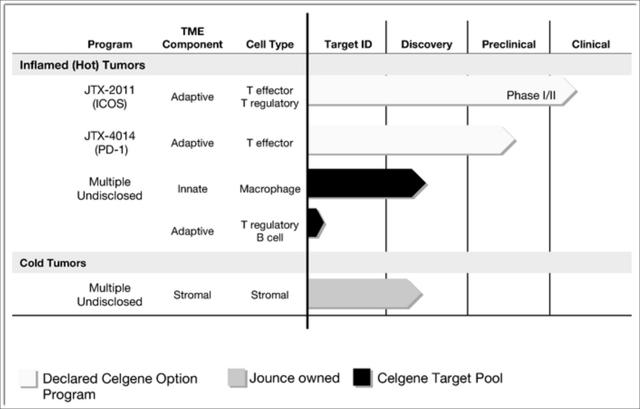 (Source: Jounce Therapeutics S-1)
Jounce Chief Scientific Officer Deborah Law provides an overview of cancer immunotherapy and the company's approach in this video:
(Source: Cambridge Healthtech YouTube)
Jounce expects safety data from its Phase 1/2 trial in 1H 2017 and 'preliminary efficacy proof of concept data' in 2H 2017 for single agent and combination settings.
Notably, investor Celgene has recently inked a collaboration agreement with Jounce, which included a $225 million upfront payment and a $36.1 million investment.
In return, Celgene has received exclusive options to develop and commercialize JTX-2011 and JTX-2014.
Jounce may earn additional payments upon the successful completion of various clinical, regulatory and/or commercialization milestones.
Market and Competition
According to a 2017 report by Radiant Insights, the cancer immunotherapies market is expected to grow from $16.9 billion in 2015 to $75.8 billion in 2022, a stunning CAGR of 23.9%.
The report goes on to state that there are '2,037 products in active development in the cancer immunotherapy pipeline and that the leading indications for treatment currently are:
Breast cancer
Melanoma
Non-small-cell lung cancer
Ovarian cancer
With such a large pipeline of candidates, all of the major pharma companies have numerous immunotherapies either under development or optioned:
Some of the above treatments are not focused on solid tumors as Jounce is.
Financials
Jounce's recent financial results are typical for a development stage biopharma, although the company has received a large milestone payment in the current year as collaboration revenue.
Development milestone amounts are 'lumpy,' but in Jounce's case, are large.
Below are the company's operational results for the past two years and nine months (Audited GAAP for full years):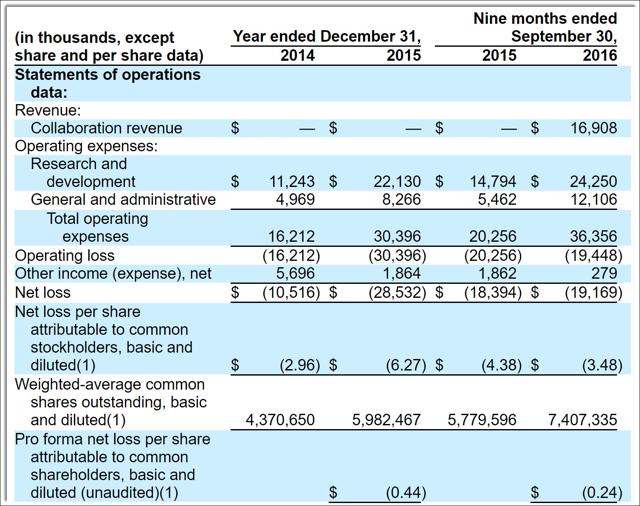 (Source: Jounce Therapeutics S-1)
As of September 30, 2016, Jounce had $271.4 million in cash on hand and $5 million in current liabilities excluding deferred revenue.
IPO Details
Jounce intends to raise $75 million in its IPO, but has not provided an expected share price range or proposed post-IPO market cap.
The company intends to use the net proceeds from the IPO to continue to advance its two lead candidates, JTX-2011 and JTX-4014 through clinical trials and to expand its Translational Science Platform.
It isn't known whether or to what degree existing institutional shareholders will support the IPO with share purchases, or if they will stand pat, or sell shares into the IPO.
Listed managers for the IPO are J.P. Morgan, Cowen and Company, Wells Fargo Securities and Baird.
Commentary
Jounce Therapeutics is in an enviable position for a Phase 1/2 stage biopharma.
It has a large cash pile from its collaboration deal with Celgene, although the deal takes some of the potential upside from its two lead candidates off the table in return for the investment and sizable initial milestone payment of $225 million.
Additionally, cancer immunotherapy market(s) are large and forecasted to grow at a tremendous rate over the next five years, so Jounce is well positioned to bring a successful pipeline to market, assuming passage of clinical trials.
While we don't know the expected share price range or proposed post-IPO valuation, Jounce is definitely a worthy candidate for biopharma investors betting on its ability to shepherd promising candidates through the regulatory process in collaboration with Celgene.
Management has big pharma experience at senior levels, and the company is backed by top-tier biopharma venture capital firm Third Rock Ventures, so its 'pedigree' couldn't be much better.
I am favorably inclined toward the IPO, depending on valuation and other details, and will provide an update as we learn more.
I write about technology IPOs, follow-ons, secondaries, and M&A deals. If you want to receive future articles automatically, click the +Follow link next to my name at the top of this article.
Disclosure: I/we have no positions in any stocks mentioned, and no plans to initiate any positions within the next 72 hours. I wrote this article myself, and it expresses my own opinions. I am not receiving compensation for it (other than from Seeking Alpha). I have no business relationship with any company whose stock is mentioned in this article.