Investment Thesis
Fairfax Financial (OTCPK:FRFHF) has a solid long-term track record of compounding shareholder value (book value per share and share price) at a CAGR of 20%+ since 1985. The current P/BV of 1.2x is quite attractive as the business continues to grow and the acquisition of Allied World provides investors with plenty of upside. My analysis implies a share price IRR of 12% - 19% over the next 10 years for Fairfax.
Excellent Track Record
Fairfax Financial is a well-diversified Canadian holding company mainly comprised of property & casualty insurance and reinsurance companies.
Managing the Float: Fairfax manages the insurance float generated by its insurance companies and invests it for the long term. The stated mission of the company is "to build long term shareholder value by achieving a high rate of compound growth in book value per share over the long term." The goal is to compound at 15% annually. The firm has a solid track record as you will see below.
Insurance Business: On the insurance side of the business the goal is to underwrite business at a profit only even if that means walking away from business in poor environments. The company has a solid balance sheet.
Fairfax is run by Prem Watsa, who since 1985 at the helm has put together an impressive enough track record to be called the "Warren Buffett of Canada". Under his leadership, Fairfax has compounded book value per share at 20% per year (since 1985) and the stock price has also followed at ~20% per year.
It is very difficult to find a company with such a fantastic long-term track record of creating shareholder value: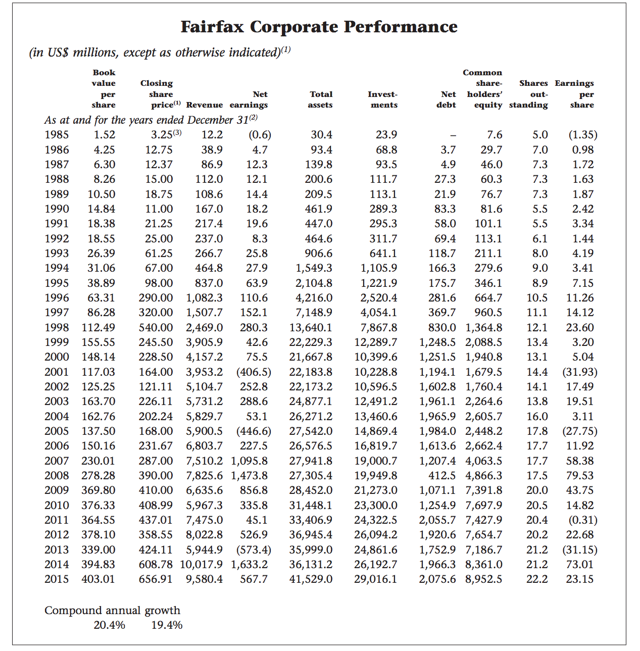 Source: Fairfax Financial 2015 Annual Report.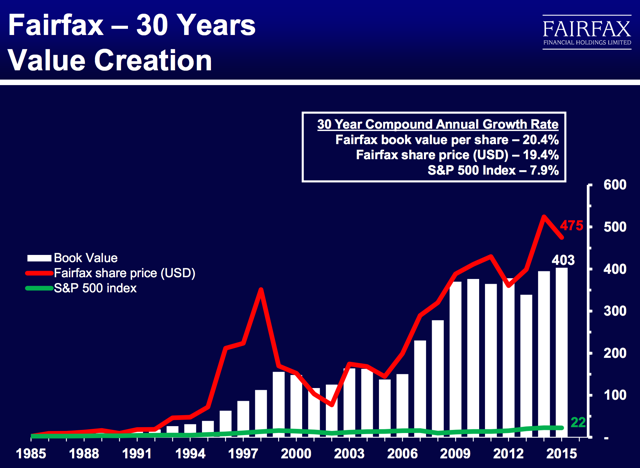 Source: Fairfax Financial Annual Meeting Presentation.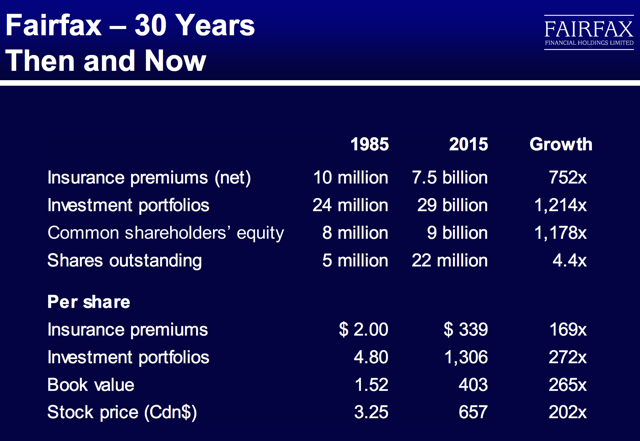 Source: Fairfax Financial Annual Meeting Presentation.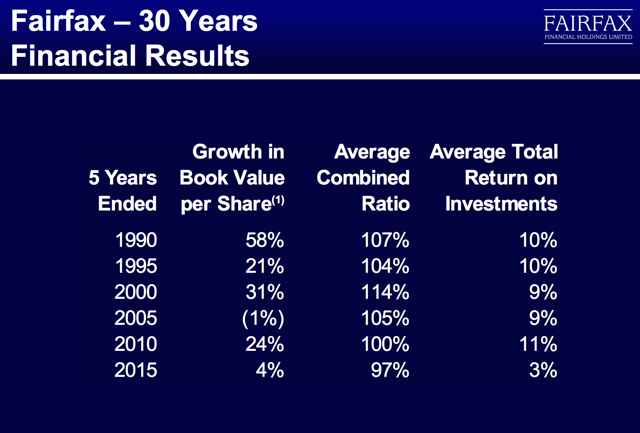 Source: Fairfax Financial Annual Meeting Presentation.
The insurance subsidiaries of Fairfax have demonstrated strong financial performance, and all have a solid combined ratio under 100% (see chart below).
Insurance 101: If the combined ratio is under 100%, the insurer is said to be profitable from its underwriting activities. This is because the ratio represents the costs associated with generating an insurer's business. A ratio of over 100% indicates an operating loss.
The following are the 3 large insurance subsidiaries of Fairfax:
1) OdysseyRe, based in Stamford, Connecticut, underwrites treaty and facultative reinsurance as well as specialty insurance business on a global basis, with principal locations in the United States, Toronto, London, Paris, Singapore and Latin America. In 2015, OdysseyRe's gross premiums written were US$2,404.0 million. At year-end, the company had shareholders' equity of US$3,958.2 million and there were over 940 employees.
2) Zenith National Insurance Corp., based in Woodland Hills, California, Zenith is primarily engaged in the workers' compensation insurance business in the United States. Zenith conducts business in 46 states and the District of Columbia through independent agencies. In 2015, Zenith's net premiums written were US$770 million. At year-end 2015, the company had statutory surplus of US$622 million and had approximately 1,500 employees.
3) Northbridge Financial Corporation, based in Toronto is a leading commercial property and casualty insurance management company that offers a wide range of innovative solutions to Canadian businesses through its market facing brands: Northbridge Insurance, TruShield Insurance and Federated Insurance. At year-end 2015, the company had net written premiums of Cdn$1.1 billion, shareholders' equity of C$2 billion and employed over 1,400 people.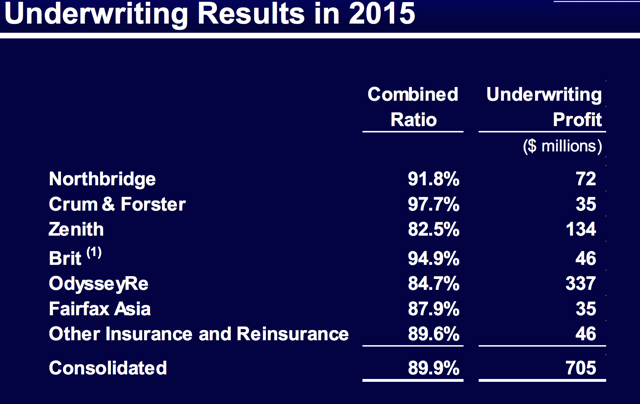 Source: Fairfax Financial Annual Meeting Presentation.
Fairfax continues to grow its non-insurance businesses, which include investments in excellent restaurants and retail in Canada and the U.S., Fairfax India (OTCPK:FFXDF) , Thomas Cook India, etc.
In December 2016 (so last month), Fairfax announced that it was buying Switzerland-based insurance company Allied World Assurance, (NYSE:AWH) in a US$4.9 billion cash and stock deal. Allied specializes in protecting the interests of Fortune 1000 companies through its casualty and professional liability insurance lines (59% of which are generated in North America). Fairfax will get a strong specialty insurer to add to its stable of insurance companies. Allied World will get the solid investment expertise of Prem Watsa, one of the Canada's most respected investors, plus the financial firepower to grow its business. The acquisition of Allied adds a ~$9 billion investment portfolio to Fairfax. Given Fairfax's solid track record of investing its float, there is significant upside in the future from investing the float from Allied World.
The company has a solid management team led by Prem Watsa. I have personally met them and I can say with confidence that they are focused on creating long-term shareholder value and have no interest in gambling with shareholders' money.
I would suggest potential investors to read up more on the company in the publicly available financial statements available on Sedar website.
Attractive Valuation
A company that has compounded shareholder value (BV and share price) at 20%+ since 1985 is trading at a P/BV of 1.2x. Wow!
Also, today Fairfax has a market cap of $15 billion, while Berkshire Hathaway (NYSE:BRK.A) (NYSE:BRK.B) has a market cap of $400 billion. So Fairfax has a long-run way ahead of it over the next 20-30 years.
Fairfax currently trades at around C$650.00 or US$480.00 per share. The current book value per share is US$406.00 (Q3, 2016).
The P/BV per share is around 1.2x. Since 1985, it has traded at a P/B values from ~1.0x to 4.5x with an average of ~2.0x.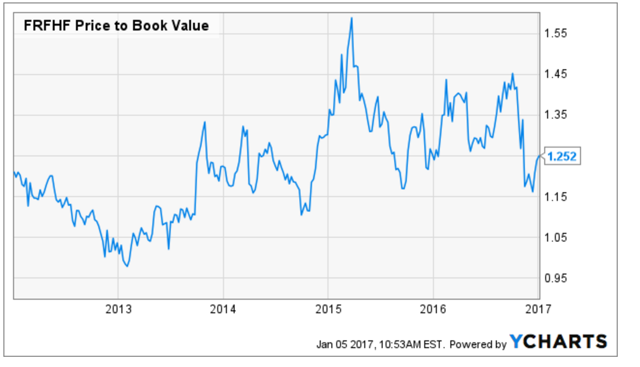 My analysis shows that if over the next 10 years, Fairfax can grow book value at a CAGR of 12% - 15%, then at a P/BV multiple of 1.1x - 1.4x, the implied target price in 10 years would be ~$1400 - $2300, implying an IRR of 12% - 19%.
Recommendation:
Fairfax is a fantastic compounding machine trading at an attractive valuation, and I strongly recommend the stock for long-term investors.
Disclosure: I am/we are long FRFHF.
I wrote this article myself, and it expresses my own opinions. I am not receiving compensation for it (other than from Seeking Alpha). I have no business relationship with any company whose stock is mentioned in this article.
Editor's Note: This article discusses one or more securities that do not trade on a major U.S. exchange. Please be aware of the risks associated with these stocks.