When Yellen opened her beak in mid December, gold (NYSEARCA:GLD) took a final plunge sending bullish sentiment to its lowest level in 2 years. Swooping down on gold bugs, she carried away 2016 profits from those with the least conviction. This sent the Gold Miners Index (NYSEARCA:GDX) tumbling to 6-month lows, and left many miners for dead. While this was certainly an unwelcome development, it served its purpose as a final flush to shake the weakest hands out of the sector. Today the GDX sits 23% higher, despite many trotting out with bearish forecasts for gold this year. While the move over the past 10 trading days in the miners has been powerful, I don't see any indication it's time to take profits yet. Gold is setting itself up a date with $1,200/oz, and the GDX has broken out of its descending channel that's been in place since August.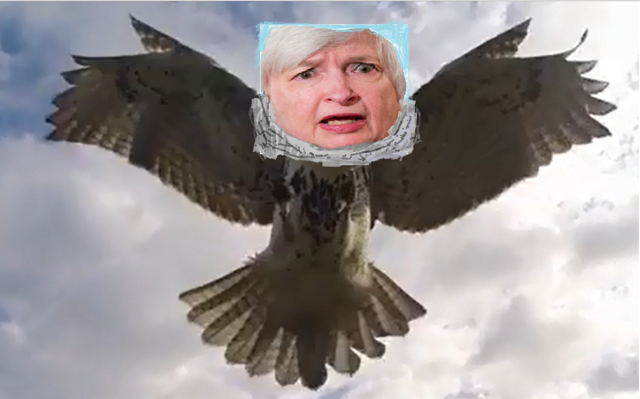 Over the past few weeks I've been very vocal about my positioning in gold, and shared my thoughts in my December 29th article "Gold: All Systems Go, Ready For Liftoff". I shared my custom built sentiment chart on gold, which uses Daily Sentiment Index Data to help time bottoms and tops for the metal. The following is an excerpt from my article:
"This unprecedented bearishness in the metal has set up a launch pad for my sentiment system. Due to sentiment data staying so low for so long, all of the sentiment moving averages have begun to converge at a reading of 10% bulls. Setups like these are extremely powerful and have the ability to support strong moves without the asset class getting overbought.

Gold is currently in bull mode and above its sentiment moving averages. It recorded three buy signals in the past three weeks. This is telling us to be prepared for a reversal off the lows, and is giving us an opportunity to position long the metal. In addition to being long a half position in gold, I am currently at my largest net long position in mining stocks since February."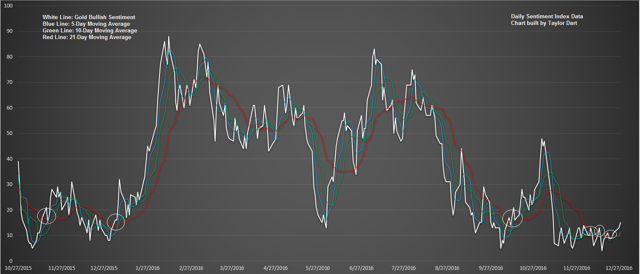 (Source: Daily Sentiment Index, Author's Chart)

Source: Daily Sentiment Index, Author's Chart)
The above sentiment chart went along with my article, and showed how bullish sentiment for gold had climbed above all of its moving averages. This was similar to the late 2015 sentiment buy signal, except this setup was coiled like a spring. As we can see all the moving averages were converging at the 10% bulls level, unlike in early 2016 where the bottom was a little more messy. Since December 29th, gold has moved nearly 3% higher, and the miners have been catapulted above resistance.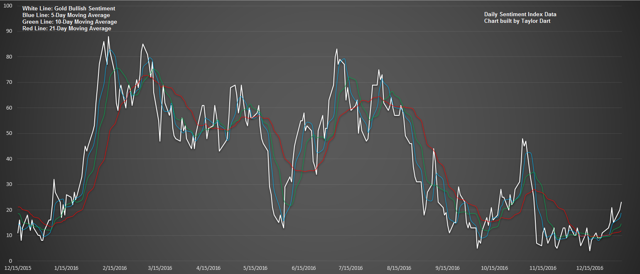 (Source: Daily Sentiment Index, Author's Chart)
Taking a look at the current sentiment chart above, we are nowhere near overbought yet. Despite gold moving from $1,140/oz to $1,180/oz, bullish sentiment is still below 25%. This means that there are still 3 bears for every 1 bull in the metal, and we have a long way to go before exuberance moves into the yellow metal. As we can see from the above setup, it could not be more bullish. Bullish sentiment has crossed above its moving averages, and all of the moving averages are now trending higher. The 21-day moving average should support gold on any pullbacks, and currently sits at 12% bulls. This tells us that it's very likely that the dips in gold will be bought going forward, and $1,120/oz was likely the low. Based on the current setup of the sentiment chart for gold, we look similar to how we did in mid January of last year. Gold was just beginning its new trend, and bullish sentiment was finally beginning to creep back into the commodity.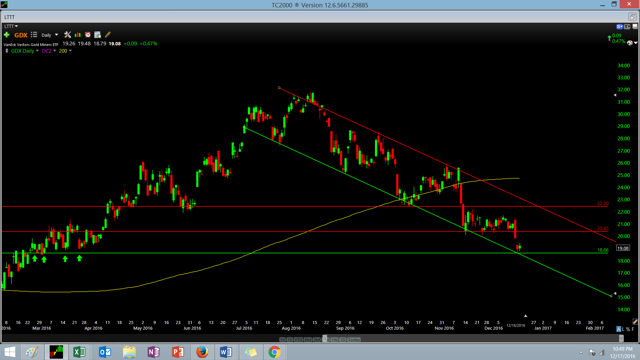 (Source: TC2000.com)
My article "Bears Get Fat, Perma-Bears Get Slaughtered" provided a stark warning to the bears that it was not wise to be doubling down below $20.00 on the GDX. Despite the GDX falling 50% from its 52-week highs, shorts were increasing their positions in the miners. I shared this chart of the Gold Miners Index, and showed how it was sitting at its most likely level to bounce from. Not only was it sitting on horizontal resistance, but it was also sitting at the bottom of its descending channel. This support level has provided a trampoline for price, as the index has launched off of it to the $23.00 level it sits at currently. While this has certainly provided a nice move for the miners, things are only now starting to get interesting for the bulls.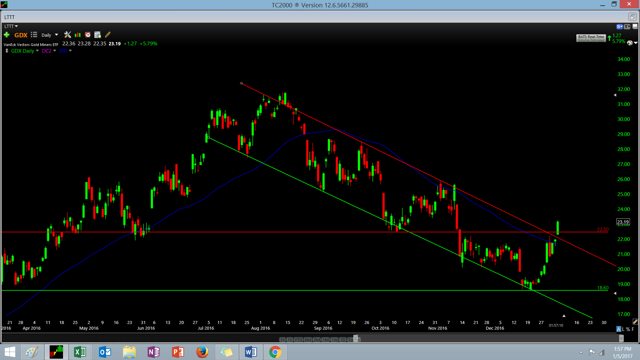 (Source: TC2000.com)
The Gold Miners Index has broken out of its descending channel, has made a false breakdown below $22.50 to trap aggressive bears, and is back above its 50-day moving average. These are all extremely positive developments for the index, and shorts that dug their feet in are now standing on hot coals. The move below $22.50 is beginning to look like a very well executed bear trap, and the longer we stay above $22.50, the more trouble the bears are in. The 50-day moving average is currently down-sloping, but within 10 trading days should begin to flatten out and begin to act as support. If the bears cannot yank the GDX back down below $22.50 and hold it there very soon, they are going to regret not cashing in their profits while they had the chance.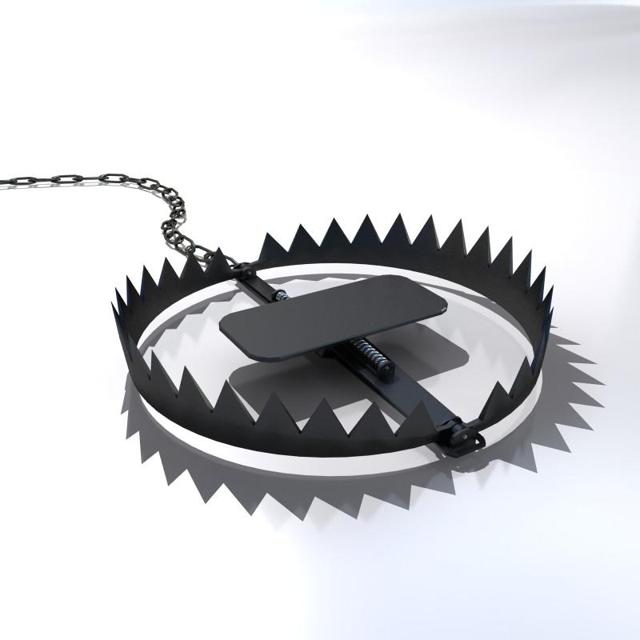 Moving onto the technicals on gold, the commodity has bounced exactly where it needed to from an obscure level I mentioned in a previous article. Gold was stuck in a descending channel between 2013 and 2015, and finally broke out of this channel in Q1 2016. This pullback to $1,130/oz actually left the metal sitting right on top of its previous descending channel. Due to the stiff resistance that the top of this descending channel provided over 2 years, it would only make sense it would act as support now that the channel had seen a breakout. As we can see from the chart posted at the time, gold has seen a nice bounce off of this technical level.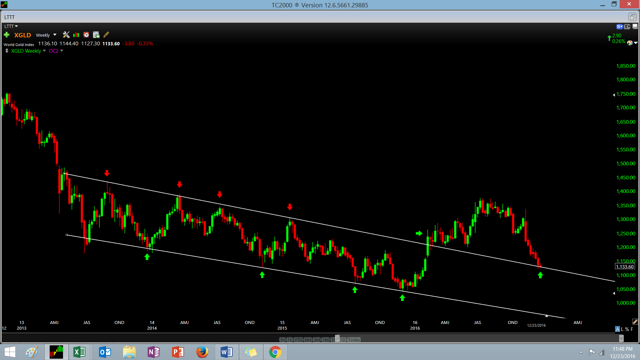 (Source: TC2000.com)
(Source: TC2000.com)
Taking a look at the current chart of this descending channel, gold is still holding on where it has to. The metal formed an inside week at the channel support, and has thus far shown follow through from this support. The bulls want to see this level hold going forward, as it supports the thesis for a bull market in gold. A breakout from this channel was a massive development for the bull thesis in 2016, and we do want to see the metal fall back inside this channel.
So what's next for the bears? Do they have any outs left?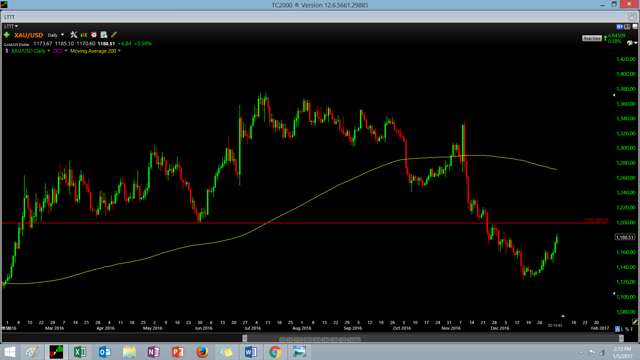 (Source: TC2000.com)
Fortunately for the gold bears that decided to sit through this explosive move in the miners, they may have 2 aces left in their hole. The price of gold had very strong support at $1,200/oz, and this level will likely see a battle between both the bull and bear camps. If the bears can hold gold at $1,200/oz, they may be able to mount a reversal. In terms of the GDX, the bears have one last level to defend them, the 200-day moving average. The 200-day moving average is my line in the sand for bull and bear markets, and it is currently moving sideways above the index. Moving averages with a flat slope typically are not very strong barriers, but regardless this is an important level that bears would like to defend going forward. The 200-day moving average currently sits at $24.79, and bears need to come with their claws sharpened to ward off bulls if we reach there.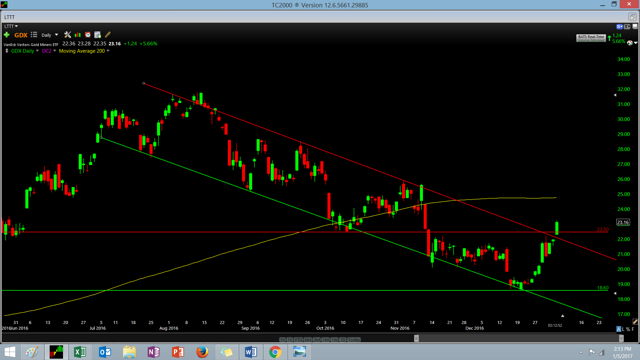 (Source: TC2000.com)
Summary
The bears made a massive mistake by getting more aggressive at the lows, but they can't say that I didn't warn them. I applauded their tenacity riding the index down as far as they did, but their misstep was doubling down below $20.00 on the GDX. All traders are allowed to make mistakes, but the bears will compound their mistake if they continue to stay stubborn. The Gold Miners Index has cleared the majority of technical resistance, and has broken out on the weekly chart. The bears last stand is at $1,200/oz for gold, and based on the bullish alignment of my sentiment chart, I don't know that it will be the stiff resistance they're hoping for.
I remain 45% net long the mining stocks, and have not taken any profits yet. Gold is setting itself up for a powerful bull market if it can keep this price action up, and I see very little risk for bulls at this juncture. The $1,200/oz level will be a very important test to see if this is an oversold bounce, or the potential for a new bull market. For those who got long with me during tax-loss season at the lows in December, we have very little risk even if the GDX drops back to $20.00. Conversely, we have a significant amount of upside if this breakout on the GDX weekly chart is for real.
My top 5 mining positions in terms of size, in no particular order are:
1. Mariana Resources (OTC:MRLDF)
2. Torex Gold (OTCPK:TORXF)
3. Guyana Goldfields (OTCPK:GUYFF)
4. Osisko Mining (OTCPK:OBNNF)
5. B2Gold (NYSEMKT:BTG)
Do you have a favorite gold stock that I've yet to cover? If so please share it with us in the comments section, and I will do my best to take a look at it, and potentially feature it in an article down the road.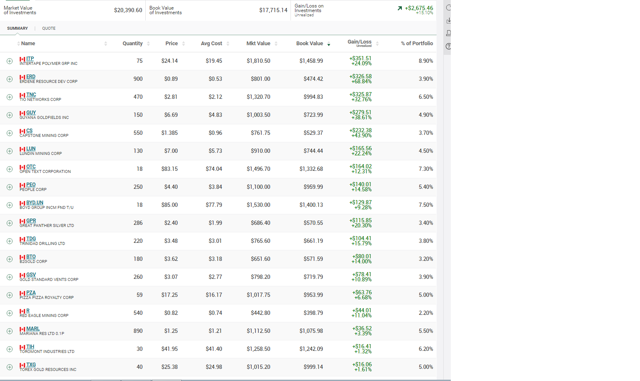 (Source: TD WebBroker Account)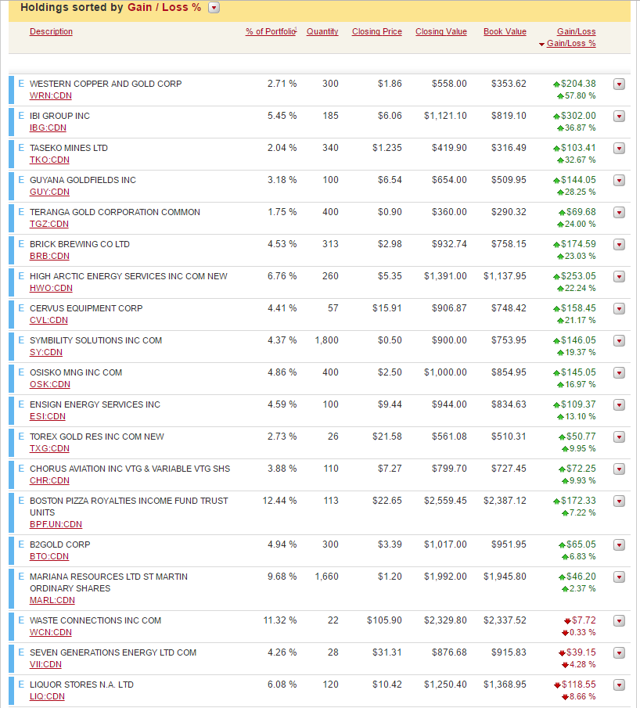 (Source: CIBC Investors Edge Account)
For full transparency, I have shown all of my positions above in my main two investment accounts. My money remains where my mouth is, and I hope that some of my readers were able to position themselves accordingly for this over the past couple weeks.
Disclosure: I am/we are long GLD, MRLDF, BTG, TORXF, GUYFF, OBNNF.
I wrote this article myself, and it expresses my own opinions. I am not receiving compensation for it (other than from Seeking Alpha). I have no business relationship with any company whose stock is mentioned in this article.
Additional disclosure: If you liked this article and found it useful, please feel free to follow me by clicking on my name next to my avatar at the top of this article. I also invite you to follow me at www.twitter.com/TaylorDart01 where I routinely share my entries, exits, and stops on new positions, as well as updating followers on sentiment data on markets I am following.